We-Learn Weekly: October 13, 2021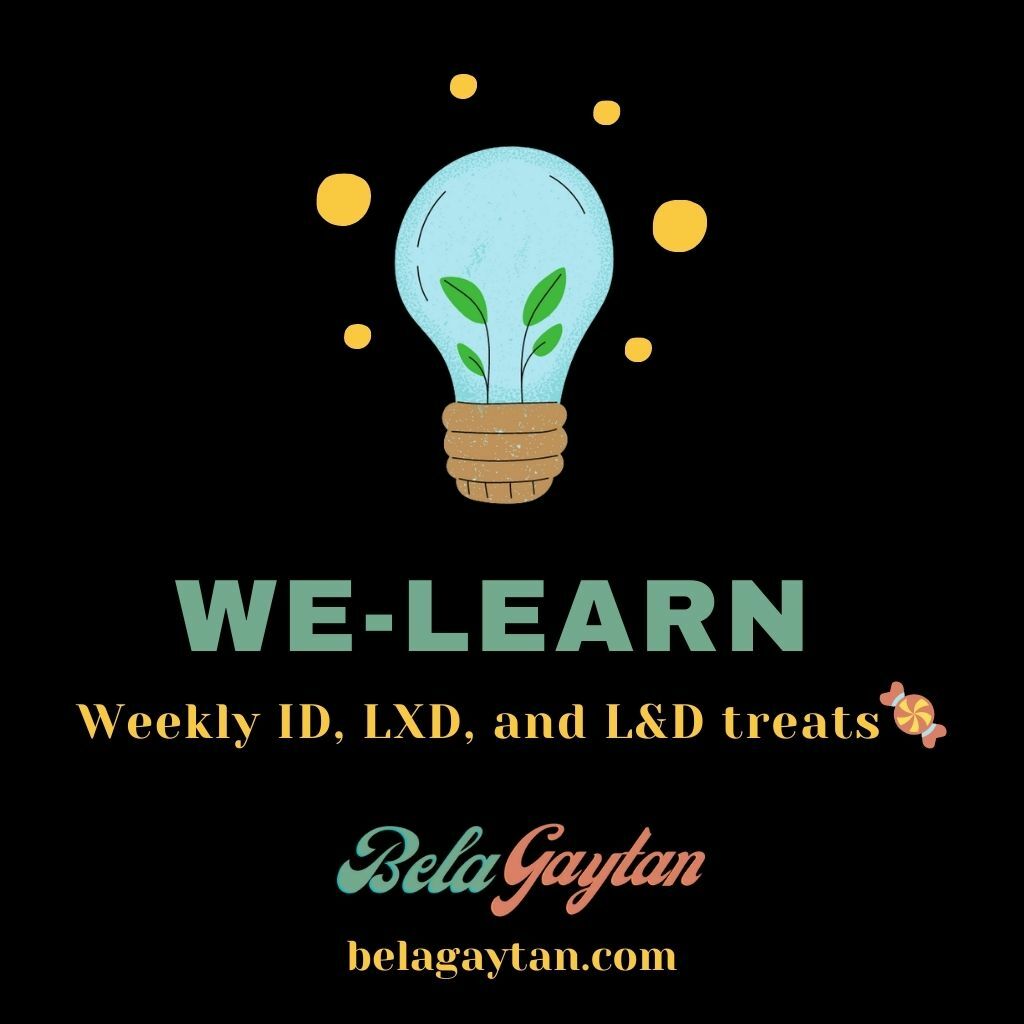 This week's sweets: Edcamp focusing on cognition, onboarding new hires, Asana, leading learning teams, productivity, accessibility, and STAR interview method!
I've got your ID, LXD, and L&D sweet spots covered with another We-Learn goodie drop! Enjoy! 🍭🍬🍫 Also, hop on over to Katie Del Bagno's page and be sure to give her a follow. Each Friday, she posts her curated L&D Weekly Round chock full of fabulous finds!
If you have any resources or events you feel would be helpful to the community, be sure to contact me with the details so I can share the goodies with everyone!
Note: Clicking on the titles below will take you directly to the resources being offered. I've also included the links in the description, as well as other helpful links.
You may also read this and support me on Medium.
✨ Edcamp: Design for Learning — Cognition, October 23, 2021
I will be moderating another Edcamp: Design for Learning event on October 23, 2021! This session is focused on cognition, including attention, cognitive load, meaningful encoding, feedback, and metacognitive thinking. Register to attend — I'd love to see you there!
✨ New Hire Roadmap eBook
eLearning Industry is offering the eBook "New Hire Roadmap: All the Employee Onboarding Resources You Need From Day 1 to Day 90 and Beyond" by 360 Learning as a free download. Christopher Pappas, the founder of eLearning Industry, says that "this eBook guides you through every step of the onboarding process, from key characteristics to data analysis. It even includes success stories to highlight the power of collaborative onboarding action".
✨ Asana Scale Summit, October 20, 2021
Register for the Asana Scale Summit on October 20,2021, to learn how Asana can help your team adapt to business challenges with clarity, flexibility, and confidence.
✨ Leading Learning Teams
Tim Slade of The eLearning Designer's Academy and Brandon Carson, founder of L&D Cares, answered questions on leading learning teams in this episode of ATD's Ask a Trainer video series.
✨ Why Making Yourself a Priority Boosts Your Productivity
Lifehack published an excellent article "Why Making Yourself a Priority Boosts Productivity" by Kimanzi Constable. Kimanzi breaks down how you'll be able to create bandwidth to focus on your goals, build clarity, and optimize yourself for sustainable productivity.
✨ Accessibility Basics
The Learning Guild offers a publication on Accessibility Basics by Dr. Jane Bozarth. It's a collection of 18 previously published articles from Learning Solutions magazine on creating work more accessible.
✨ How to Use the STAR Interview Response Method
In a recent mock interview hosted by Devlin Peck with Alyssa Clark of ServiceNow and Min Tang, Min totally rocked the interview and blew us away with her responses. Min revealed that she uses the STAR method when responding to interview questions. The Balance Careers offers an article by Alison Doyle: How to Use the STAR Interview Response Method.
Image description: a black background displays a light blue lightbulb with a plant growing inside (the logo for Bela's website) with yellow dots surrounding it. Beneath is "We-Learn, Weekly ID, LXD, and L&D treats" along with "Bela Gaytan" and "belagaytan.com" in green, coral, and yellow colors.
Enjoy this post?

Buy Bela Gaytan, M.Ed. a coffee