We-Learn Weekly: October 6, 2021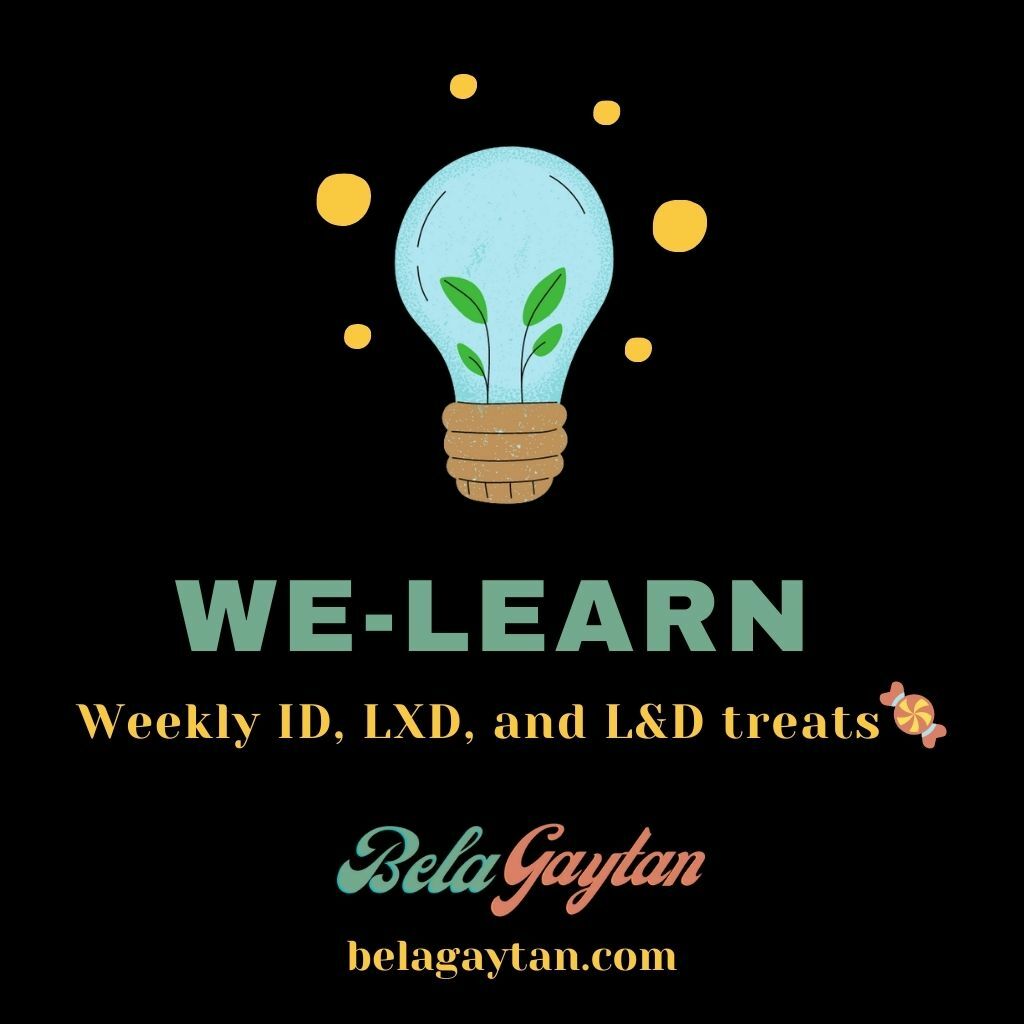 This week's sweets: Latino small business support, accessible visual content, free ID tools, LGBTQ+ & ally tech leadership training, 12 UX design competencies, learner variability tool, and launching an eLearning startup!
Happy Wednesday, happy We-Learn treats day! Enjoy these super sweet, freaking awesome resources that are sure to hit everyone's ID, LXD, and L&D sweet spots! 🍭🍬🍫
Thankfully I had these prepared beforehand, as I am feeling absolutely horrible today, after getting my 3rd COVID vaccine dose on Monday. I have a fever, feel like I've been run over by a truck, headache, and dizziness… but it's worth it! Being disabled and considered immunocompromised, I'm thankful that the 3rd dose was made available to me. 🙏🏽
If you have any resources or events you feel would be helpful to the community, be sure to contact me with the details so I can share the goodies with everyone!
Note: Clicking on the titles below will take you directly to the resources being offered. I've also included the links in the description, as well as other helpful links.
Alt-text (also in photo): a black background displays a light blue lightbulb with a plant growing inside (the logo for Bela's website) with yellow dots surrounding it. Beneath is "We-Learn, Weekly ID, LXD, and L&D treats" along with "Bela Gaytan" and "belagaytan.com" in green, coral, and yellow colors.
Grow with Google and the United States Hispanic Chamber of Commerce (USHCC) are celebrating Latino Heritage Month by offering a live-streamed Latino Small Business Meetup on YouTube for Latino small business owners. Attendees will also have access to sign up for a limited number of one-on-one coaching session from Googlers!
Claudio Luis Vera wrote a great blog post on Stark Labs with some of the best accessibility practices to implement with images and visual content.
In Tom McDowall's 5-Minute Toolbox, he offers up a plethora of free instructional design tools.
Out in Tech's Leadership Training Institutes prepare intersectional tech leaders to drive meaningful and measurable change. Whether you are LGBTQ+ or an ally to the community, a C-level executive or a new graduate, you'll spend time together working through challenges and creating solutions that bring tech closer to becoming a better, inclusive place for us all. Register for the event taking place on October 14!
Ward Andrews of DrawBackwards wrote a brilliant blog post on how to train and develop the 12 competencies of UX design. Bonus: each competency includes tips on how to get started!
Digital Promise has created a fantastic free tool that translates the science of learner variability into easily accessible learner factor maps and strategies to improve educational product design and classroom practice. Access the Learner Variability Navigator to choose a model representing your interests, identify factors, and receive strategies to apply.
eLearning Industry is offering the free downloadable eBook: "Breaking Into the Industry: How to Launch a Successful eLearning Startup and Land New Contracts". This guide walks you through the process of finding your niche and lists some of the best practices for your eLearning startup business.
Enjoy this post?

Buy Bela Gaytan, M.Ed. a coffee