Moving to Quito
Hello wonderful supporters (and potential new supporters)!
I am making this post visible to the public. If you're new, please consider supporting me through Buy Me a Coffee. Living the life as an independent artist in foreign countries is neither easy nor inexpensive. I'm a very hard-working artist and constantly hustling to sell my work, but it's my hope that through this revolutionary system of Buy Me a Coffee that I'll be able to get just a little bit of consistent income to take some of the pressure off. Your support means the world to me.
We are finally settled down in Quito (somewhat)!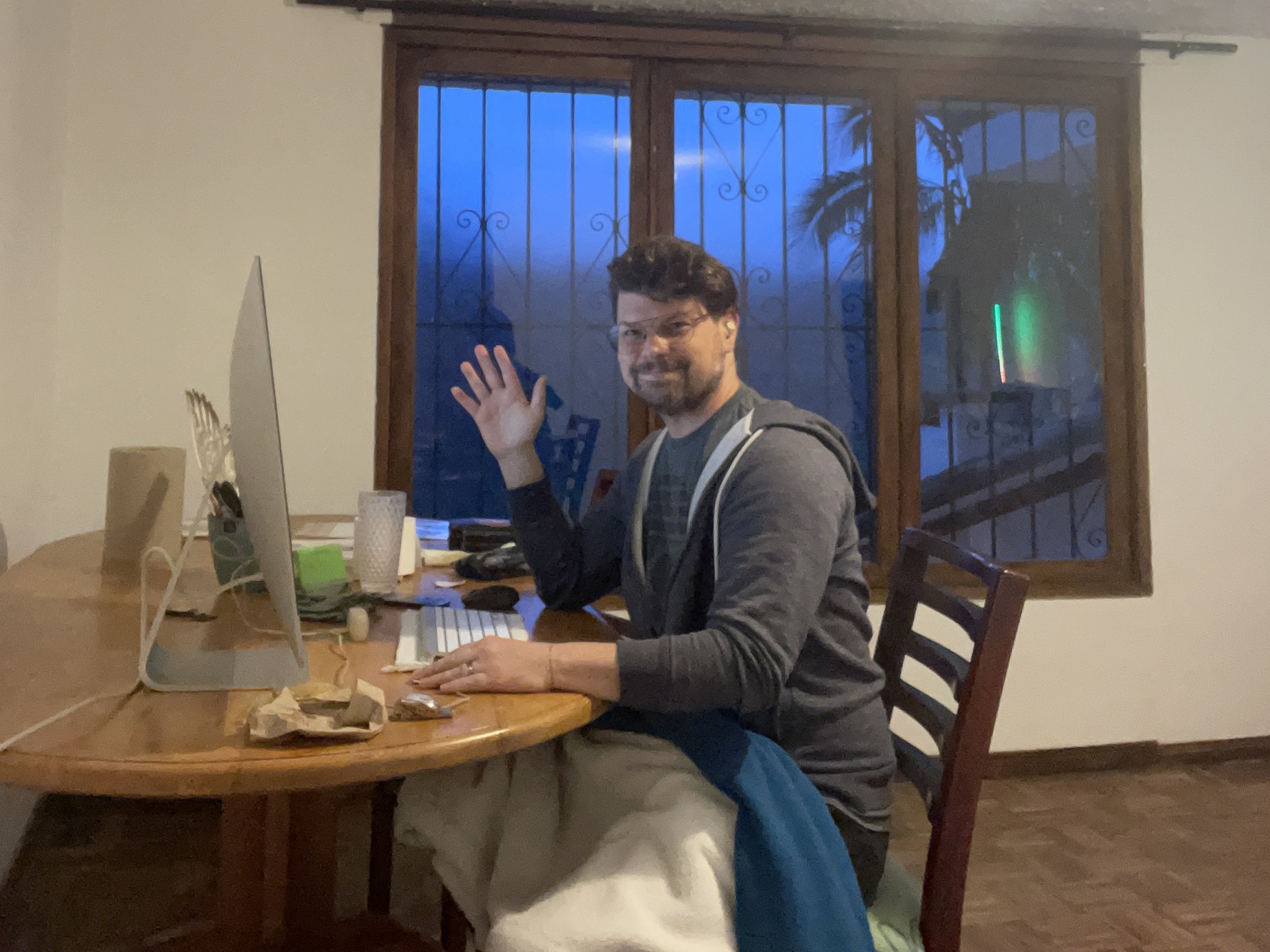 I am sitting here in my new studio, sipping some Airborne trying to will the last vestiges of Covid out of my system. In truth, it may already be gone. I am still coughing, but I was coughing before I tested positive, and the feel of the cough is different. It feels like recovery. Tests are not free here (my rapid test was $30), so we are just waiting about 10 days and hoping for the best. Jeff will most likely have to take a test before he starts teaching in person next week.
As another interesting aside, when I got the results for my test, I received them through email. The actual body of the email was blank and there was a pdf attached. The pdf only showed my positive test result and had no additional instructions on protocols or symptoms or anything. It's so strange how differently different countries handle these things. I'm sure if we tested positive in Vietnam, the whole neighborhood would be notified and we would have been strictly told what to do and when.
My husband is upstairs giving a PE class in English to several Ecuadorian students over Zoom. I am amazed at his ability to adapt. He is an amazing individual.
I've started and restarted this post several times, trying to figure out what matters and what doesn't. Between trying to settle in and being sick with Covid, it was also very hard to focus. And now, as I'm finally getting to this, I'm realizing this is going to be a long post (It's so nice to have energy again!). Feel free to read as much or as little as you like. Let me know with a comment if this is just too much information or if you're finding it interesting. I promise I will be posting more art-related content very soon!
A brief respite in Chicago
We spent about a week in Chicago between Vietnam and Quito. We arrived in Chicago just after Christmas and left a few days into the new year. We stayed at a friend's place and, aside from them, we saw only my family (it was great to spend some unexpected time with them so close to Christmas). I also delivered two pieces of art to two different people that happened to need delivering in the Chicago area.
It was very strange to be in Chicago and not try to see friends after not having visited for over two years because of Covid. I didn't even tell close friends that we were there. Since Omicron was ramping up, we were too nervous of getting sick, which would prevent us from traveling to Ecuador, and Jeff was meant to start work a couple of days after our flight was scheduled to arrive. About half way into the week, I came down with a cold. Jeff had purchased a few home tests in Vietnam before we left, so I took one to give us some peace of mind. I was negative, fortunately. We would need negative PRC covid tests to fly to Ecuador, but I'll get to that later. Let me try to recap our journeys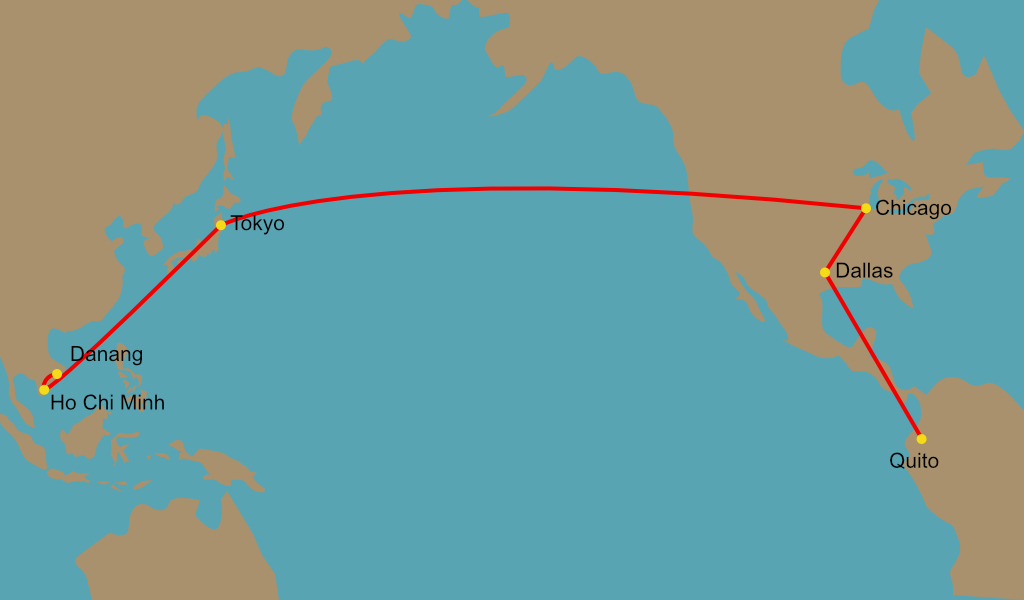 Our travels
Danang to Ho Chi Minh
Our first leg of travel was from Da Nang to Ho Chi Minh. This domestic flight was relatively simple, aside from having so much luggage. We didn't need Covid tests to fly, which was great. It turned out that we were able to store most of our bags at the airport overnight for a pretty small fee (about $10). It was totally worth it not to lug them back and forth to the airport - we would have had to take two taxis!
We had decided to spend a night in Ho Chi Minh before our flight back to Chicago, which turned out to be absolutely necessary, because we found out that we needed to wait 24 hours for the Covid test results necessary to fly to Chicago. Our tests were $228 each, if you can believe it. We weren't even sure if it was absolutely necessary that we got PCR tests, but we could not get a definitive answer from anyone (even United's website just said "test"), so we erred on the side of caution and spent the money (rapid tests would have been about $45 each).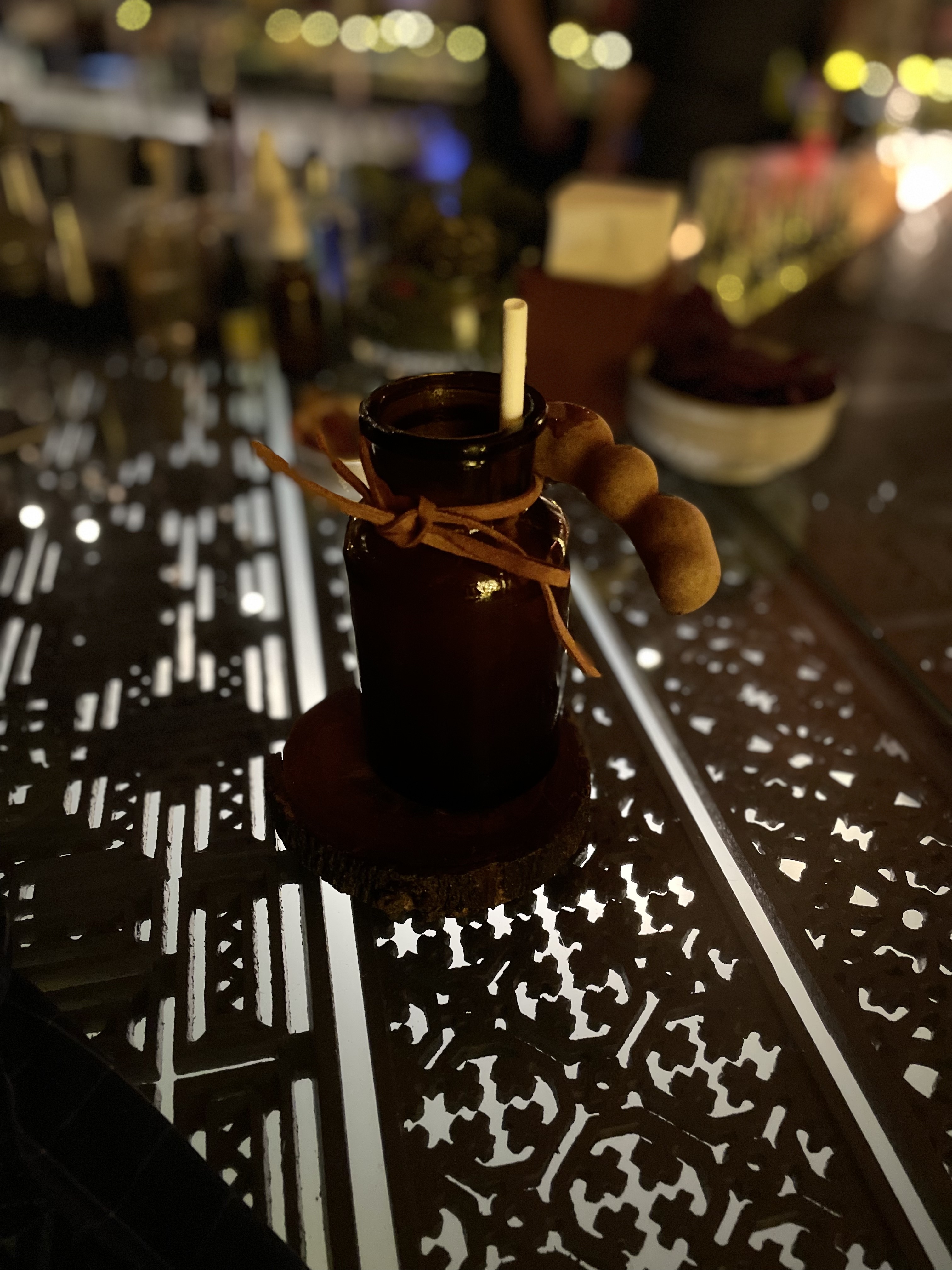 Fancy cocktail with Tamarind at a nice hotel in Ho Chi Minh
We got to say goodbye to a couple of our favorite restaurants in Ho Chi Minh, but the city was pretty locked down still, so we couldn't say goodbye to the one couple we are friends with in the city.
Exiting Vietnam
Leaving Vietnam ended up being somewhat difficult, but not as bad as we'd been told. We arrived at the airport about 4 hours early. In order to check into our flight, we needed to show our Covid tests and our visas. As I'd mentioned in a previous post, Jeff didn't have a current visa, because his school never furnished one. Jeff was told to go to the immigration office to discuss his situation. I waited with our 7 pieces of luggage while Jeff went to immigration. I waited about an hour or so, and it was getting closer to the time that we needed to check in. Jeff came back as he had been told to go to the check-in desk and then come back to immigration. We were able to finish checking in and we carried our carry-on luggage to where the immigration line was, which was right next to the immigration office. I waited with our again and this time could see the office from where I waited. After another half hour, Jeff came out of the office with two immigration officers and they walked to one of the immigration kiosks. A few moments later, he was finished. He asked if he could go get his bags and was curtly told "no."
To fully illustrate this, let me list off all of what I had to manage to carry through the immigration line by myself. I had two rolling carry-on bags, my backpack, jeff's duffel bag, two heavy winter coats, plus I had a large tube (about 3 feet long and 5 inch diameter) in which I was carrying several large pieces of art, and a collapsible dolly, which I use to roll around my 27" iMac computer box, which I've now carried with me to six different cities in three different countries on three different continents.
At first, I felt totally defeated - how was I supposed to carry all this stuff? I collected myself and took several minutes to calmly try to figure it out while Jeff watched sympathetically from the other side of the immigration kiosks.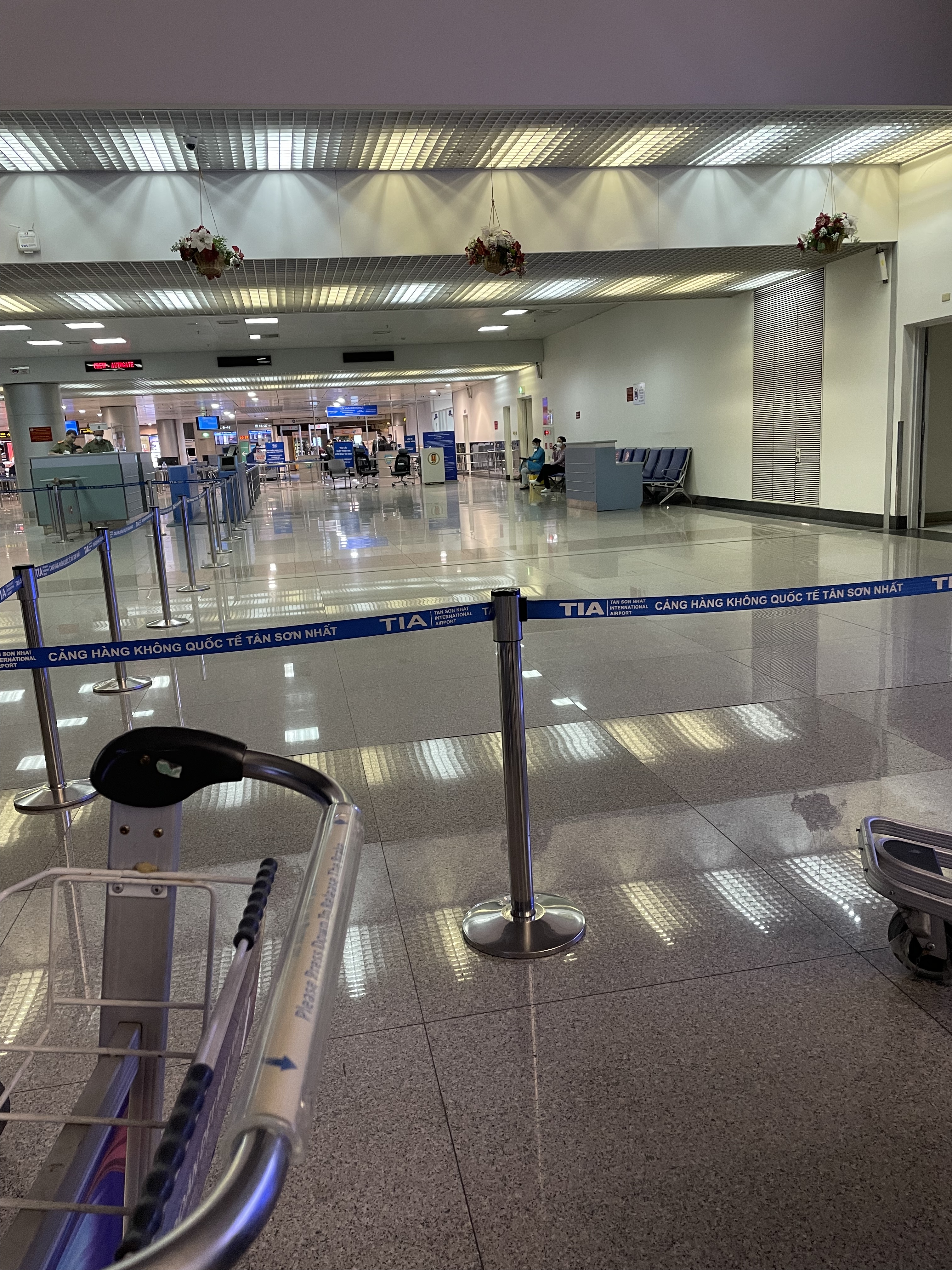 Looking toward immigration, Ho Chi Minh airport
I used the dolly to stack one of the suitcases, the duffel bag and the coats, using bungee cords to hold everything in place. I wore the backpack and the tube on my shoulders and rolled the two items to move forward.
At immigration, I surrendered my passport and my pseudo-legal TRC (Temporary Residence Card). Again, let me explain.
There is a cottage industry in Vietnam of "businesses" (often, travel agencies) who "sponsor" foreigners to get them work visas with TRC's to stay in the country. Because Vietnam doesn't recognize same sex spouses with regard to furnishing spousal residence cards, I needed to acquire my own way of staying the in the country. Mine was a two year TRC. We'd heard they were going to be increasing restrictions on these things, so of course that was a minor worry. Also of some concern was that I'd never shown anyone this visa in any official capacity. We'd paid close to two thousand dollars for this visa and there was this pervasive fear that it was counterfeit or something.
She gave my visa a cursory glance and then scanned my passport with the computer. There was a beep that didn't sound like a great beep, and the look in her eyes shifted almost imperceptibly. This was a brand new passport I have never traveled with. My old passport was expiring and I had to get a new one through the American embassy in Ho Chi Minh a year prior in order to get my pseudo-legal business visa, so it didn't have an entry stamp into Vietnam, which they always check to monitor how long you've been in the country. She asked if I had my old passport, but it was in my checked luggage. I was sweating profusely at this point and breathing heavily into my mask. I remembered that I had a picture in my phone of my old entry stamps, but she interrupted me, saying it was okay, and waved me forward.
Success!
Now through security!
Fortunately, Jeff was able to take his own luggage back at this point.
As I placed my iPad, my laptop, iphone charging battery, iPhone, shoes, wallet, sweatshirt all into their own trays, I lifted my mask away from my face and a hearty trickle of moisture poured onto the floor. An unsavory detail, I know, but it's what happened. Can you tell I am a nervous traveler?
Inside my carry-on was a card game (Splendor in the house!) with sets of chips kind of like poker chips, which resulted in my carry-on being flagged and I had to partially unpack my fastidiously packed bag. Ugh.
Waved on again.
Onward to Japan
Honestly, the worst was over. We had a comfortable flight to Tokyo, where we had an 8 hour layover and I had the tastiest Ramen I've ever had. I also tried Japanese whiskey for the first time.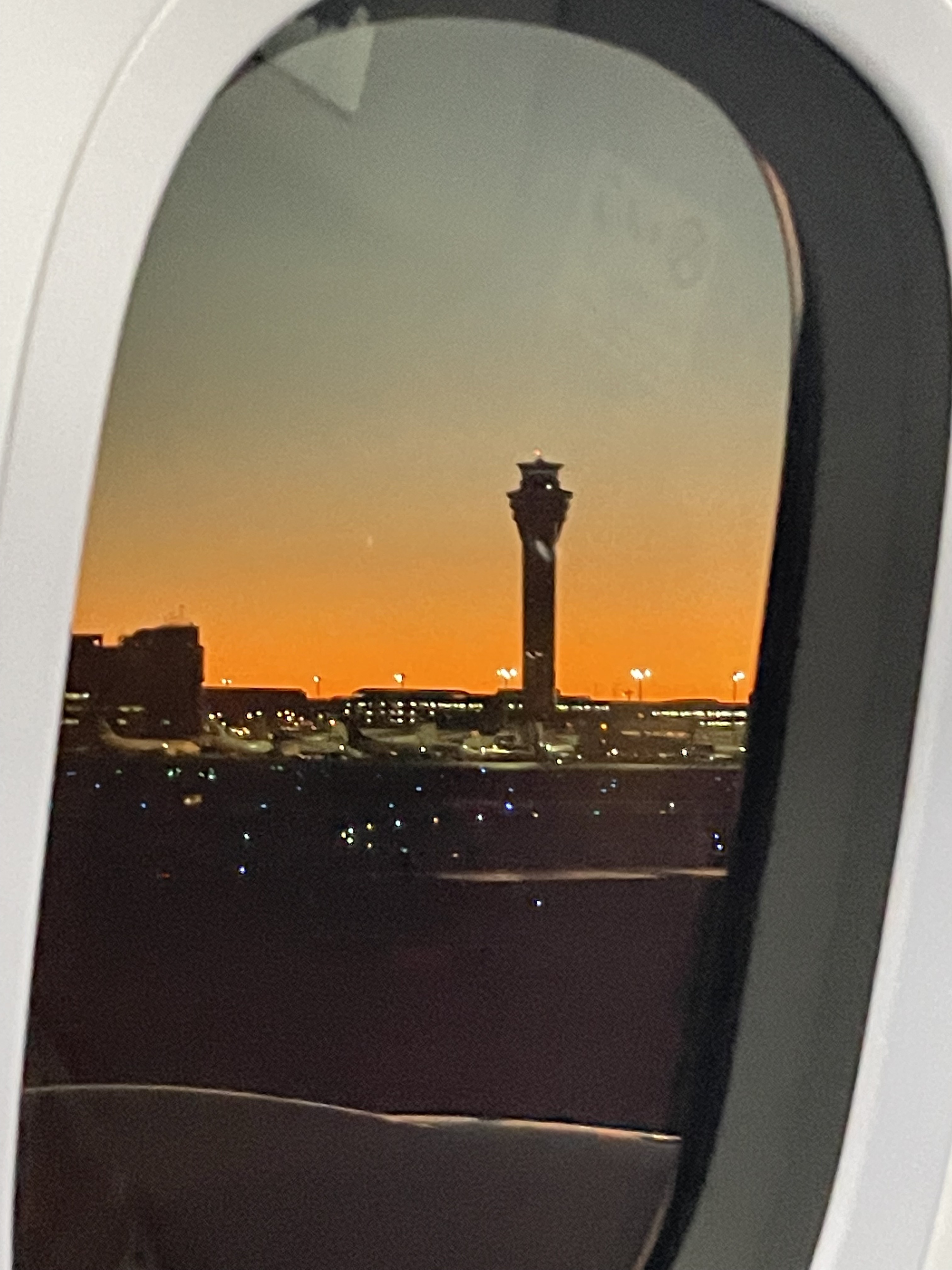 Tokyo airport at sunrise
Japan had been on my short list of places to visit and I'm very sad to have left Asia without visiting Japan or many of the other places we were so close to, but Covid ruined many things for many people.
I've told this story in non-chronological order. I'm sorry about that. I've already talked about our stay in Chicago, so all that is left is the final leg of our journey.
Heading to Quito
Our flight to Quito required proof of negative covid tests. At least this time, it was clear that we needed PCR tests. The problem was that all the places in Chicago were overrun because of the rise in Omicron cases. We needed our tests to be within 72 hours of flying, but many places were not guaranteeing results in 24 hours. We ended up using a service at O'Hare airport. Again, they were pricey at $225 each, but they guaranteed same day results. We signed up for appointments at the testing clinic at 10 am. Our flight was at 4 o'clock.
The testing center was slightly away from the terminal, and despite speaking English, it was difficult to convince our Lyft driver to take us to this location instead of the departures area, but it happened.
One would think that our appointment would make for smooth sailing, but unfortunately when we arrived, there was a line about a football field in length and we were told that the appointment merely got us into the queue. Fortunately, we had arrived at 9:30. We waited in that line for about an hour and a half, with all 7 pieces of our luggage. The results of the test would be emailed to us. Fingers crossed we didn't have Covid, am I right?
We had to wait until 2:00 o'clock for our results and we couldn't check in until we got them. O'Hare is not a well-designed airport. There are few seating areas outside of check-in and security but we eventually did find a little seating area. There were also no food vendors outside of security. Not even a coffee shop. We rode in an elevator that made me feel embarrassed for the city of Chicago. I can't imagine what someone visiting from another country might think when riding in that elevator.
Eventually we got our negative results (over email) and began checking in. United requires you to use a self service kiosk, which didn't work with Jeff's almost-expired passport.
We walked our seven pieces of luggage to an area to ask for help and it turned out to be Premiere check in and they told us to go back and start all over again.
Seven pieces of luggage moving back again.
This time we had four people helping us at the self-service check in, which again didn't work, but we had to go through the motions and trying to explain that it wouldn't work didn't help. They brought us to another check-in area and we finally got our boarding passes.
We had gotten to the airport more than 5 hours early and now had about 40 minutes to grab some crappy airport food and get to our gate, but we made it.
Chicago to Dallas
Dallas has a really nice airport. I wish our layover was longer. We had time for a quick beer before we had to get on our connecting flight, which was thankfully located very near to where we arrived.
Dallas To Quito
We made it! Our flight landed in Quito at about 1 in the morning. Once we left the plane, we were asked to see our covid tests again and our proof of vaccination. I have a paper from Vietnam with my proof and Jeff has an app with his proof. We were slightly nervous they would give us trouble about that, but it was fine. Immigration was super easy and we had a driver waiting for us as we left baggage pick up. All of our luggage just barely fit into the SUV our driver was using, and we headed to our Airbnb.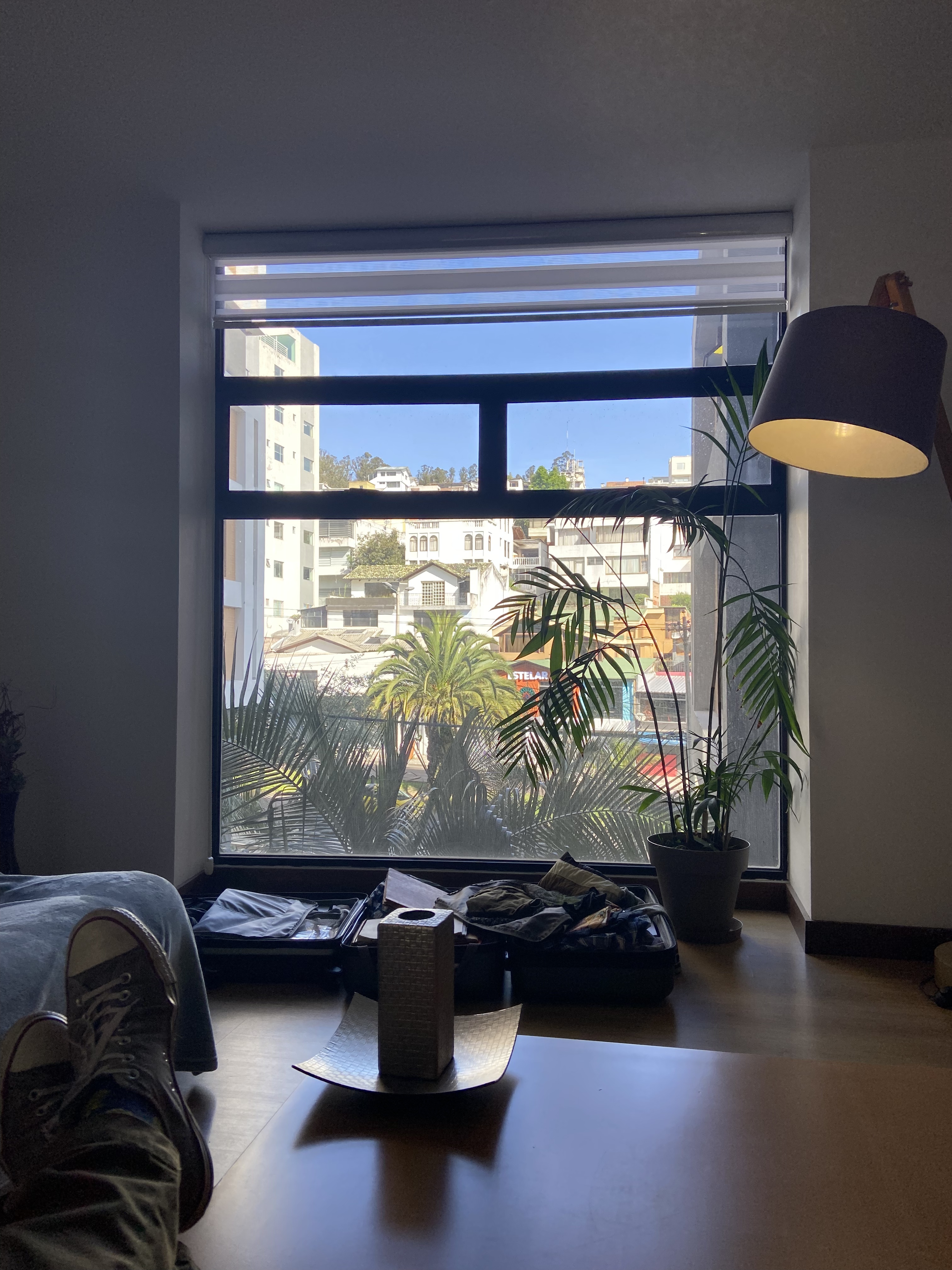 The view outside our Airbnb window, where we spent 10 days looking for our permanent apartment.
With that, I am going to end this post. If you've made it this far, congratulations! Leave me a comment telling me you've done it! I will do an introduction to Quito post soon. I hope you found my story entertaining and that you get a little insight into the trials and tribulations of living as an expat. I want to truly thank those who are supporting me from the bottom of my heart. It is my continuing pleasure to create this blog for those special people, and if you're not already a supporter, consider becoming one.
Thanks for reading.
-Brian
Enjoy this post?

Buy Brian Hofmeister a coffee