We moved cities in Vietnam during a pandemic - It was a nightmare.
My name is Brian and I'm an artist currently living in Vietnam. My husband and I have been living in Asia for the past three years. He is a teacher. We recently moved between cities in Vietnam because my husband accepted a new position. Lately, when friends had been asking how I am, I felt like there was really no way to fully explain the situation without having at least an hour-long conversation, so I decided to create and share this post so that I can get the entire story down in one place. It is a very long story, but I think you'll agree that every detail I've included is kind of important because the details add up. All of the following takes place in about a month that I can easily say was the hardest month of my life. Regardless of how you got here, I hope you find this story interesting. It would mean a lot if you were to share it.
I'm going to say this once in the beginning and once in the end. I've posted this on my Buy Me a Coffee site in the hopes that some people might want to support us a little. Feel free to support me with a one-time amount, or become an ongoing supporter to get more stories like this and lots of updates about my artistic process. You could also consider buying an item from my Threadless store, or follow me on Instagram or YouTube. Once Da Nang opens back up, I will be able to resume shipping art from my website again. Send me a message with your email if you'd like to be contacted when my original art shop opens up again.
Leaving Binh Duong
It all started because we wanted to live in a better city. Let me start by saying where we had been living for the past two years wasn't really what you'd call a city. It was called Binh Duong New City. To give some context, there is a type of city planning that we've seen in Asia (we also lived in a similar place in Suzhou China for a year) where the government builds infrastructure for a city that is not yet there. So all around our apartment complex, for example, were wide, four-lane streets and roadside landscaping with basically no traffic or population.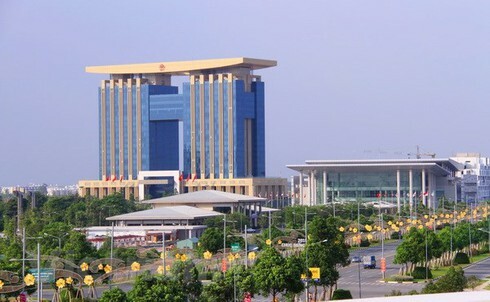 The province's main administrative building is the tallest building for miles but there are very few other buildings around it. Most locals tend to live in dense communities called wards which have tiny streets filled with mom and pop storefronts. From what we could tell people don't often leave them unless they have business or relatives in other wards.
A while back we did a two-week road trip from Binh Duong to Da Nang (I made a couple youtube videos about that experience that you can see here), and we really loved that city, made a couple of friends, and decided that if we had the opportunity to move there, we would.
Eventually, Jeff was offered a job in Da Nang, and we decided to go for it. For those not familiar, switching jobs in another country when you are a foreigner can be very very tricky, especially if you try to leave a job before the full contract is complete. If an employer has any resentment about you leaving, they can make it very difficult for you to transition. In China, for example, we've heard stories of people having to go all the way back to their home country to reapply for a new visa just to transition to a new job. This is because you need both the old and the new employer to coordinate to transition your work visa. Not to mention the complications due to the pandemic. We had no guarantee that if we left Vietnam we'd be able to get back in. In this case, Jeff wanted to leave about a month early from a one year contract, and keep in mind that in this particular case it meant that he would actually finish the current school term, so the students would not have to get a different teacher at the end of their term. He decided to be honest and give a notice of 60 days, as his contract required. This was the end of May, 2021. Fortunately, Jeff had a very good relationship with his immediate supervisors and they were sad to see him go, but very supportive.
So it looked like in a couple months we would be living in a new city! But then Covid happened. Now you may ask, "what do you mean Covid happened? This is May of 2021, Covid has been around for over 18 months."
Some background that's important to understand is that for the first year and a half of the Covid-19 pandemic, Vietnam had been handling the situation quite well. In the beginning, they tightened their borders almost completely and its citizens had no problems with things like mask mandates or social distancing. For the first year, there had been fewer than 100 cases and for a very long time there were only 2 deaths. Vietnam was often shown as a model that other countries viewed as an example. While my home country the United States was dealing with hundreds of thousands of deaths, it seemed like we had lucked out by living in Vietnam. Aside from not being able to easily leave and re-enter the country, things had felt somewhat "normal." Jeff had even been teaching in person for most of the time. But the introduction of the Delta variant changed all that. Cases and deaths began rising. At this time, they were limited to certain regions, but we could already tell that things were about to get pretty bad, so Jeff asked if he could finish his last month from Da Nang, as he had already been teaching remotely and had been informed that in-person teaching would not resume before the end of the term.
What happened next was shady, illogical and frustratingly pointless.
Jeff was told by an individual in HR that it wasn't policy to allow remote teaching (which all teachers were already doing, though from their university-provided housing). After much begging and pointing out that the circumstances were unusual, they still would not relent. Despite the the support of immediate supervisors, the university wouldn't allow it. They also asked Jeff to surrender his passport so that they could terminate his visa and provide him with a transition visa, which would be valid for 15 days. This effectively made him a hostage. He wouldn't be given back his passport until two days before his contract ended officially. He had been told that it was required, but of course we have since learned that they could also terminate a visa without having his passport. They just couldn't start a new temporary one. We didn't know it then, but this employee's refusal to bend would deeply impact our lives emotionally and financially.
Also while dealing with this, Jeff had to begin providing documentation for his new employer for processing a new visa. This included getting a local background check at the the large administrative building that happens to be three blocks from our apartment but was of course closed because of Covid. Everything was therefore required to be processed online in quickly-thrown-together processes that were clumsy and protracted. What would have taken a quick visit and a week of processing turned into hours of back-and-forth messages, translating, and over a month before getting the document (which arrived later than the already-late expected date).
Also while all this was happening, we had to figure out how we would move to Da Nang. Though we do not own many things (when we moved into this apartment, we arrived with only suitcases that we'd carried on our flight from living in China), we didn't want to move to a new city and have to purchase things that we already had, like kitchen supplies, bedding and my art supplies. We started by contacting local movers, and for a few days it seemed like it might be possible, but that quickly changed and we were told that it wasn't allowed. After several false starts with movers, we would end up having to ship our things with a shipping company, which sounds costly, but it ended up being relatively inexpensive and relatively convenient. When I say "relatively," let me just say that when I told my shipping guy - with whom I'd already worked because I was shipping artwork to customers around the world - that we had seven large boxes, we assumed that maybe he'd bring a larger vehicle to pick them up. But of course he showed up with his motorbike and took three trips over an hour and half, while we waited on the street in front of our apartment complex. Still, he picked up all the boxes from our curb, and we were grateful to have something go (relatively) smoothly.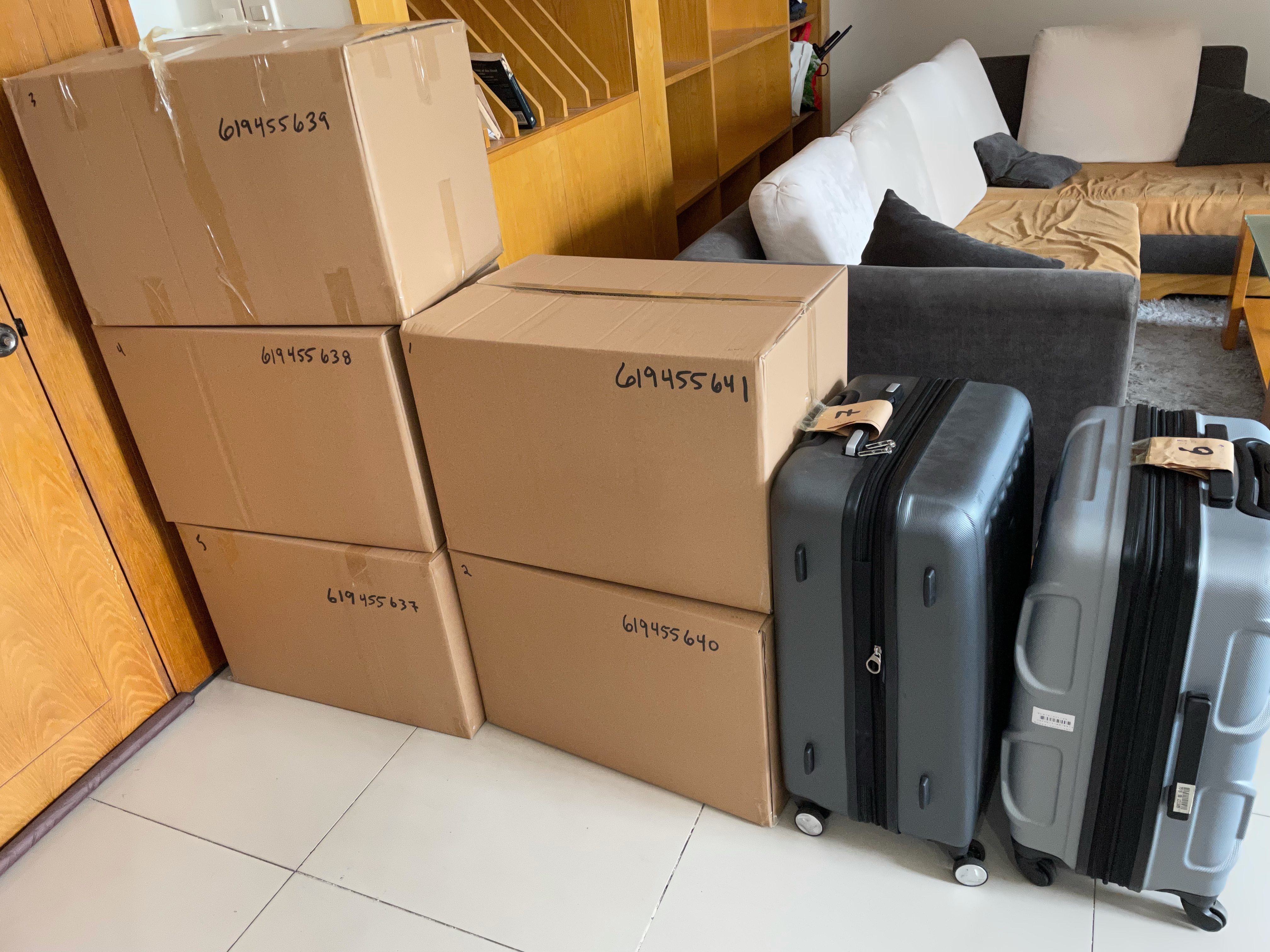 The boxes were being shipped to some friends in Da Nang. These were relatively new friends, so we were feeling guilty about them having to store our things until we got to Da Nang, and we ended up holding back three more boxes, which would be shipped later by friends living in Binh Duong.
We held back shipping our motorbikes until the last possible moment, since we felt like we might need them (which ended up being very true).
With our things mostly taken care of, we had to figure out how to get ourselves to Da Nang. At this point restrictions were getting tighter by the week. All restaurants were closed, even for delivery. People were told to only leave their homes for essentials, and hired cars and taxis were no longer operating.
We discovered that we could take an overnight train ride and get a private cabin which seemed like the safest in terms of Covid exposure.
Because I'm now mentioning a worry about Covid exposure, I feel like I should explain something else. By this time, most of my friends back in the states had been fully vaccinated and I was looking at their social media posts showing them being out in public without masks or going on vacations and traveling around the world. In Vietnam, vaccines had been trickling out, but most people had not been vaccinated (which is still the case in late August as I write this), including us. Since the Delta variant was most likely the real risk, it felt even more imperative that we avoided exposure.
Another nice feature of taking the train is that one can also load one's motorbike as cargo. This way, we could avoid the several hundred dollar cost of shipping the motorbikes. We checked to make sure that the trains were still running, and they were. We successfully purchased tickets about three weeks from our move date, but about a week after that, the trains were no longer running.
Next, we thought about riding our motorbikes all the way to Da Nang. We'd done it before, but on that trip we gave ourselves 4 days to get there. The trip would take 18 hours of straight riding, most hotels were not allowing guests, there were blockades everywhere and these blockades were employed with people who do not understand any English at all. What if we were just told to turn back?
Another plan was to ride our motorbikes to our friend's mother's house, which is a half hour walk to the airport. It was close enough that we might even have been able to get a car from there to the airport (because it was possible to get a car within a single district, but traveling between districts required paperwork). The bikes would then be shipped from our friend's mother's house. But we were still afraid of being stopped, and of having to transport all our luggage on motorbikes, or possibly having to walk for half an hour in the heat with all that luggage on uneven sidewalks. Not to mention asking someone we'd never even met to deal with shipping motorbikes from their home.
It became undeniable that we would have to take a plane, at the same time, it was impossible to get a taxi or a Grab (Vietnam's Uber) to the airport. We'd been told that we were allowed to travel to the airport because we had airplane tickets, but no drivers were allowed to drive us. Only "essential personnel" are allowed to travel between districts, AND only "essential personnel" can ride in vehicles with other "essential personnel." So, even though we were allowed to travel to the airport and, even if we found someone considered essential personnel to drive us, it wouldn't be allowed because we were not essential personnel. This circular illogic was so frustrating, we were considering riding our motorbikes to the airport and just leaving them behind.
I want to say now that the friend who was helping us was a lifesaver. We would have simply given up if she hadn't helped us. She was a relatively new friend and we felt so bad because we were constantly turning to her for help, but she was the only person we knew who we both trusted and was good at getting things done (and spoke Vietnamese). She was trying to help us find a driver, but all the drivers were terrified of being fined or losing their licenses. Eventually, she helped us find a man who worked as a banker for a solar company and was considered "essential," who came up with a solution. He fabricated paperwork for us to appear as experts in medical technology. This way, we were essential personnel riding with other essential personnel. We were told to have a cover story if we were pulled over. I developed an elaborate story that we were electrical engineers on our way to Danang. Three different hospitals had configured their electrical systems incorrectly so we were going to repair the systems and train locally so it doesn't happen again, which is why we had so much luggage, including my computer. These hospitals were filling up with Covid cases and we were the only people who could fix the electrical systems. More on this later.
Before we got to take our ride to the airport, though, there was another requirement prior to traveling to the airport: a negative Covid test within 72 hours of the flight. Here is the story of getting our Covid tests.
Getting tested in Binh Duong
Two days before our flight was scheduled, we started our day at 7:30 in the morning. By now, travel restrictions were being enforced. Although people were allowed to, say, go get groceries at a local store, travel between wards was prohibited and people were required to show official documents explaining why they were allowed to be out on the roads. Remember when I said we might need our motorbikes? If we had shipped them, we wouldn't even be able to call a cab on this day. In total, we had to pass through seven roadblocks. We didn't have any official papers, but we would show our passports and 5 out of 7 times they simply let us through. The other two times we'd put into the translator that we were getting Covid tests, and both times that was enough.
First, we went to the big international hospital. It was 40 minutes away from our apartment. Surprisingly there was only one roadblock to get there, which we were let through just showing our passports. This gave us a false sense of hope that things would go smoothly, but from there things got more complicated.
At this hospital, many people were queuing in lines outside the actual hospital waiting to get in. We tried many times to get the attention of workers to show us where to go. Since one needs something called a PRC test to travel to most other countries, everyone thought that's what we needed. Traveling within Vietnam, which is what we were doing, requires only the inexpensive quick test. They told us that this test was only for Vietnamese. Whether this was true or whether they didn't fully understand us is hard to say. Eventually, they simply began ignoring us. We considered just getting the PRC test, but we weren't sure we would be able to travel with it. Also, it was over $60 per person for this test. The quick test was about $12.
We called our friend to ask advice and she directed us to another testing station, 20 minutes away, but closer to our apartment.
At this location, we were told they were at capacity and not taking any more patients. They directed us to yet another location. I put it in my google maps and as we approached we realized that this hospital was still under construction. We called to verify and realized there were two hospitals with similar names.
When we arrived at this fourth hospital (which was only 8 minutes from our apartment!), the front gate was shut and several locals milled about outside. At the gate, the security guard refused to even read the translation on our phones. We called our friend again and she spoke to him and he then tried to get her to speak to one of the administrators, but that woman refused and said that the translator needed to be there in person. Again, bear in mind that there is a lockdown mandate and people need special papers to travel.
Fortunately, our friend lives 5 minutes from the hospital and agreed to come with us. We were able to sneak through the roadblock to her neighborhood and pick her up. When we got to the hospital, they gave us paperwork to fill out and told us to return at 1:30 (it was about 10:30 am at this point) because they were "out of testing kits." Our friend suspected that it was merely lunch time. She invited us back to her place for a nice lunch. This, too, was not allowed. People were not supposed to be visiting socially because of the lockdown, but we weren't about to go back to our apartment and risk not being able to get back. It was nice to have a respite from the day, but I couldn't relax knowing our fate was still up in the air. We needed the covid tests to be able to get into a car to travel to the airport. We also needed the test to fly.
Thinking about it now, we were also dealing with the fear of actually being positive, but this was almost an afterthought. Both of us were being so careful up until this time. I hadn't left our apartment for almost a week prior to this day. The irony of how much potential exposure we put ourselves through just to prove we weren't positive for Covid was maddening. A positive result for us, beyond potentially being a very difficult medical condition in a foreign country, also would have prevented us from getting to our new city. Another thing I want to make clear is that our housing in Binh Duong was tied to my husband's employer. If, for some reason, we weren't able to travel, we would be jobless and homeless in a foreign country with most of our belongings already sitting at our friend's house in Da Nang while being trapped in a city that is completely locked down. There was no turning back.
At 1:30, we went back and finally were able to get in. We were led to tiny plastic chairs set 2 meters apart in the hospital parking lot over which a tent had been erected.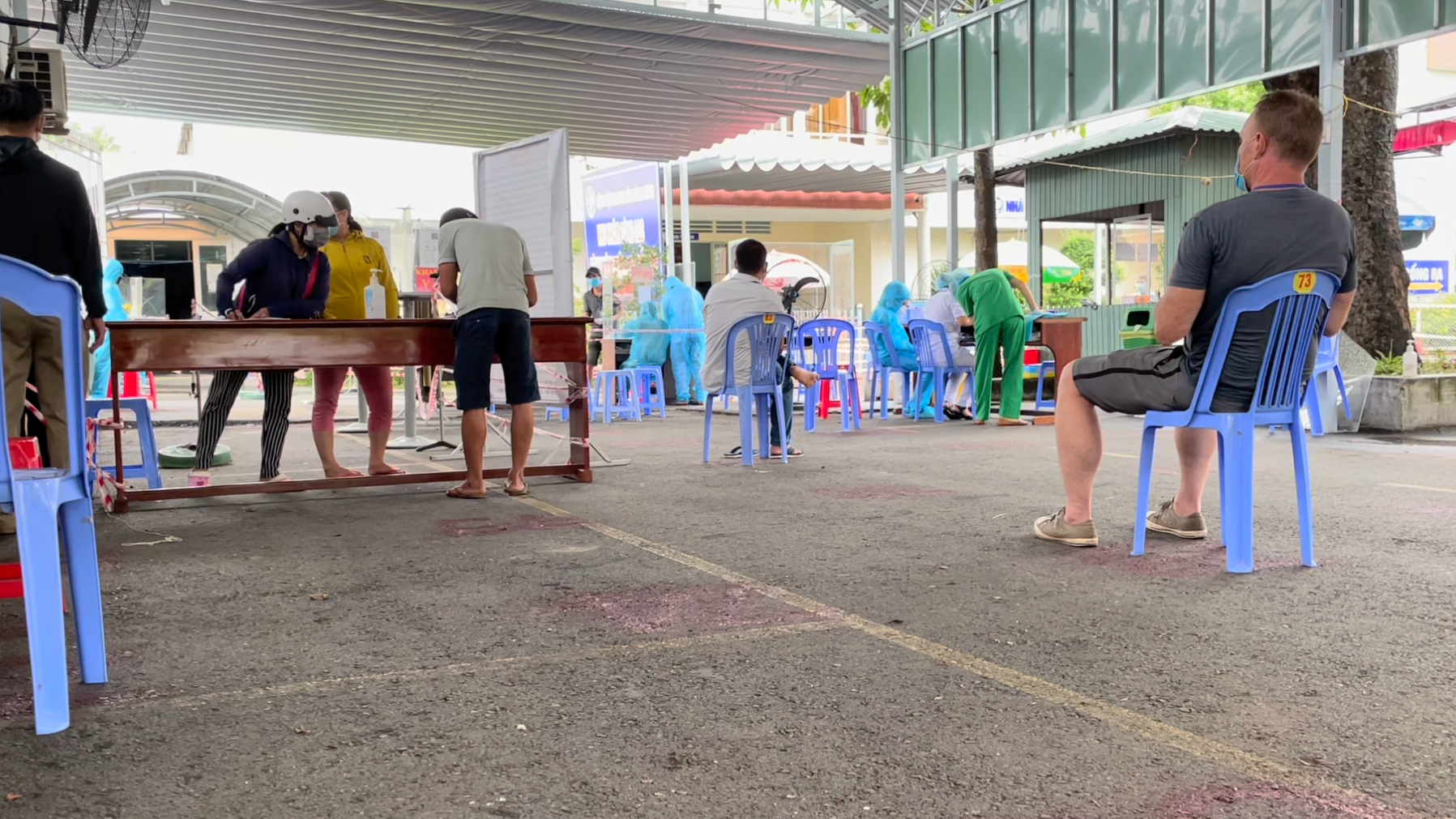 At the testing center.
In Vietnam, for some reason, they still are quite aggressive with the swab in the nasal cavity. My first Covid test ever was very uncomfortable and I felt like a baby for how much I squirmed. Jeff watched me and said that mine looked worse than his.
Less than two hours later we had our negative results. We were home by 4:30. Now, we had an hour to bring three packages to our other friends' place for storage before the shipping company arrived to pick up our motorbikes, which we had decided to ship to our quarantine hotel in Da Nang. We figured we could just drive to our new apartment from there. We were so naive!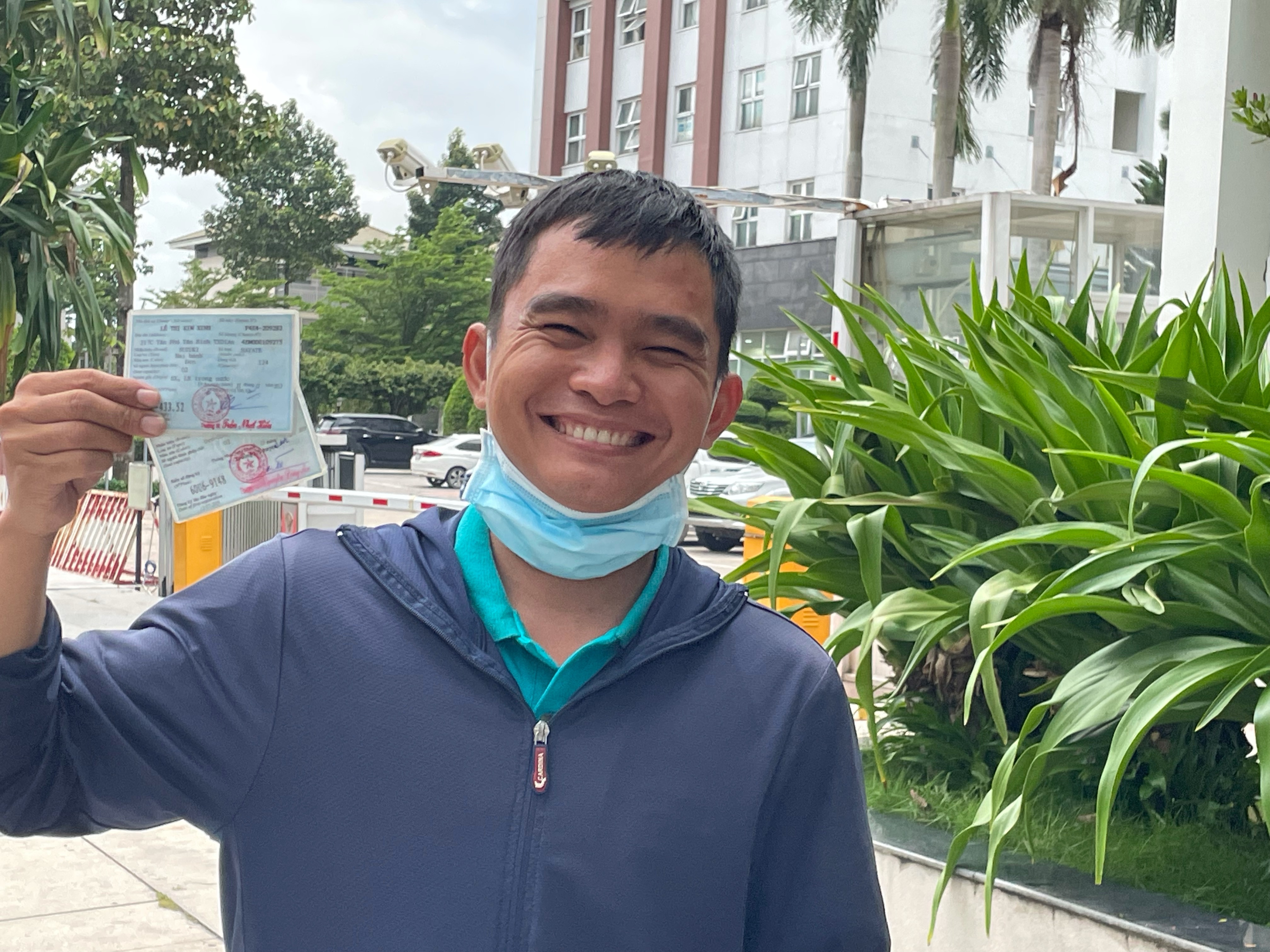 Our shipping guy holding up our 'blue cards' - proof we own our motorbikes.
The day had finally come. Our flight was scheduled for 1 pm, and we left at 8:30 am. It normally takes about an hour and 15 minutes to get to the airport, but we anticipated many roadblocks.
I think we ended up hitting a total of three and only at one of them did our driver even have to talk. He showed the guy our bundle of paperwork and said one sentence. The blockade guy looked at us through the back door window and waved us on. The whole trip took less than an hour because there was no traffic on the streets. All of that preparation and making up a cover story, not to mention a hefty fee for the ride and fabricated paperwork). No one even looked at our covid test results.
When we arrived at the airport, it was almost entirely closed up. We had trouble even finding a way in. No restaurants or shops were open. We had packed up everything the night before, so all we had to eat in the morning was some yogurt. At least there were bottled water stations to get fresh drinking water.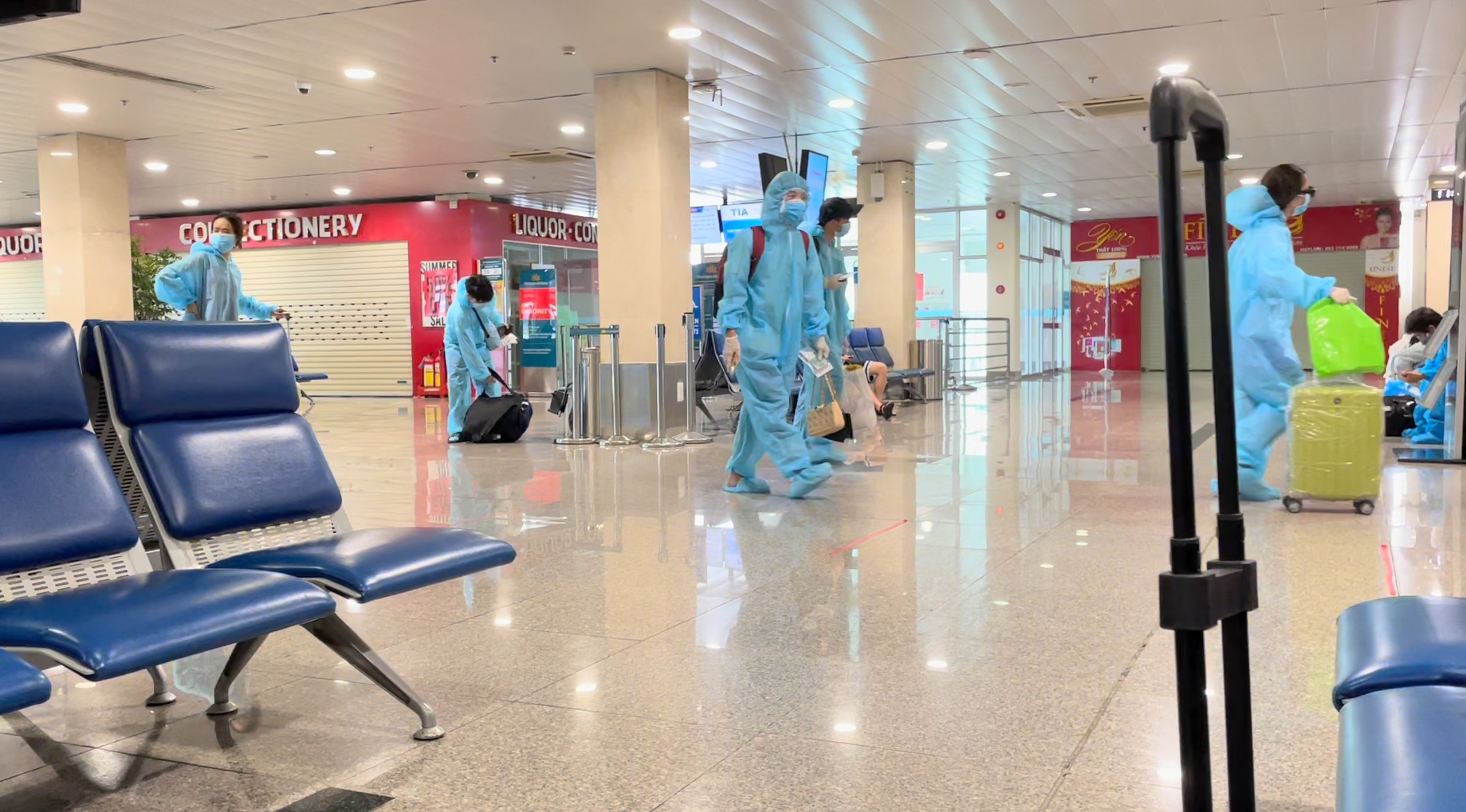 There were many passengers who were dressed in blue hospital gowns, masks and face shields. We still don't know why, but we believe that there were some people who were flying back to their home cities after being stranded in other provinces, and had to follow stricter safety measures prescribed by the government. It was announced that our flight was delayed by two hours and by this time we were quite hungry. Fortunately, the airline gave out little meals to everyone.
Our flight was quite short. A little more than an hour. At the airport, we waited for about 45 minutes to an hour until a bus took us to our quarantine hotel and then the tribulations began.
I have not yet mentioned that one of the stipulations of moving at this time was that we would have to quarantine for two weeks at a special quarantine hotel at our own expense and receive, for some reason, four Covid tests each. After this, we would have to self-isolate in our apartment for an additional 14 days and pass two more Covid tests.
Our Quarantine Hotel
There was a litany of minor problems with our hotel. Problems that might make one say "I don't think I'd ever stay here again," but not too bad. I'll list those problems here:
No ventilation in the bathroom
Bathroom door stopped closing on day 11
Internet available only about 20% of the time
1.5 days without cold water
4-5 days without hot water
Had to wash own dishes
Water bottles often had a film of dried bleach on them
Linens and towels not changed over the course of two weeks

The other problems require some detailed explanations.
First of all, upon check-in, we walked into the lobby of our hotel and it looked like a construction site or a war zone. Dust was everywhere. The staff wore complete body suits, masks and face shields and as soon as we sat down to wait to check in, someone came around drenching our luggage in a mist of something that smelled like bleach. We weren't really given any information about what our stay would be like. No mention of rules or expectations or how we'd get our food, other than being given the phone number of our contact person so that we could message via social media to ask for help.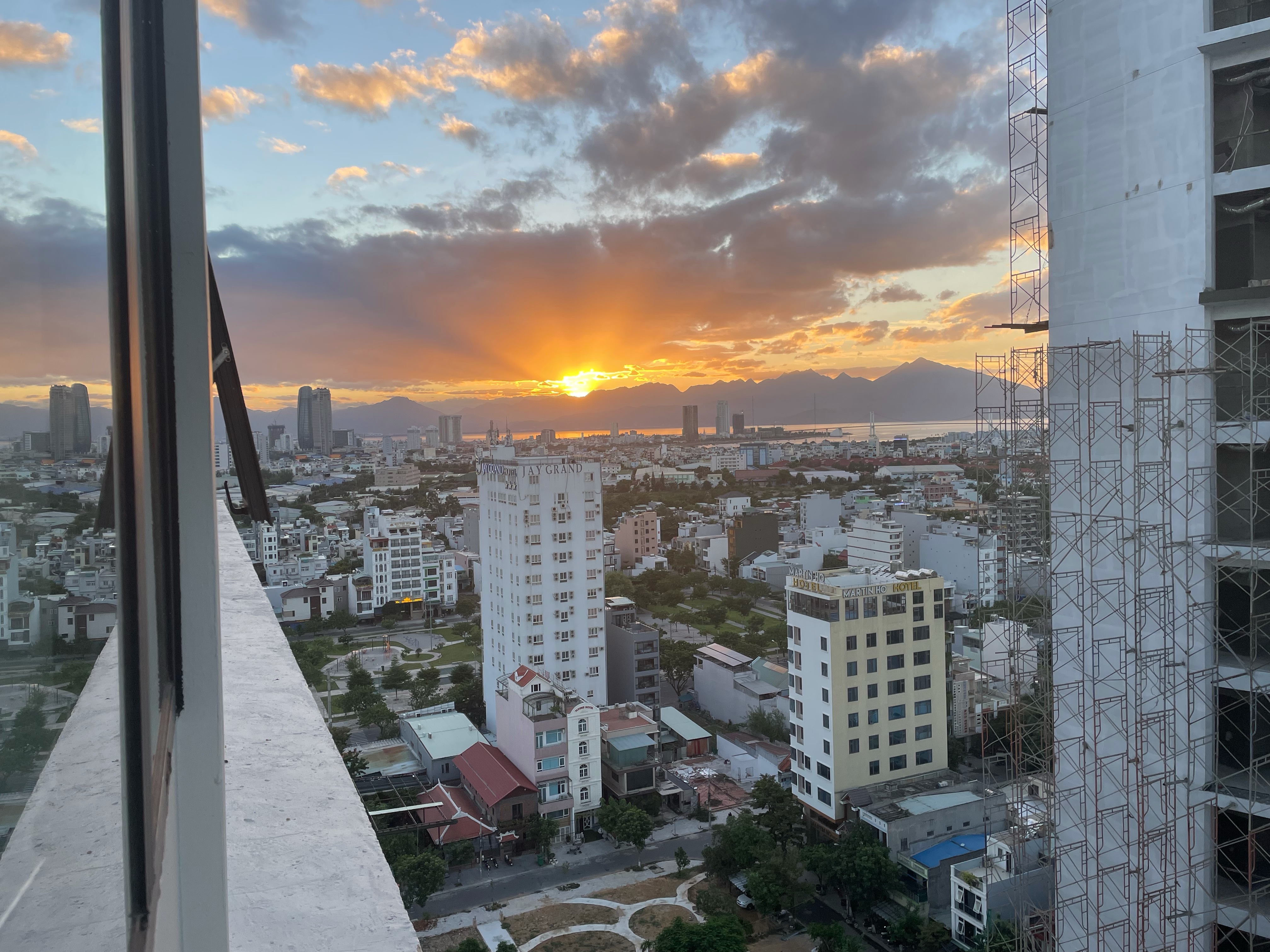 Perhaps the only nice thing about our room was the view.
We learned through example that, regarding food, we would be served three meals a day, without choice. You get what you get. No snacks. No beverages other than water (though there were instant coffee packets and tea bags of a bitter green tea). Jeff can't abide seafood, so he asked that we not be served seafood. It took three days before we stopped receiving seafood for our meals, and only then when he messaged our helper, "You gave me the wrong food. I cannot eat fish. If I eat fish, I will die. Please stop trying to kill me. I will die if I eat fish."
Each meal, they would give seafood and we'd ask for a replacement, which took between 30 and 90 minutes to arrive. What further made this maddening as that it was assumed that we only wanted "western food," which was not true. I haven't been able to work out an explanation other than seafood is so intrinsic to the local cuisine (Da Nang is a beach town, after all) that the staff couldn't comprehend Vietnamese food if it didn't incorporate seafood.
So, our subsequent meals were mostly nasty versions of western food. Imagine bits of beef ribs, but cooked quickly, not slow, so the meat has to be gnawed off the bone (and usually 1" rib tips, not full ribs) with a cloyingly sweet barbecue sauce. Imagine chicken or duck which, after cooking, is merely chopped into pieces with a cleaver, so that the sharp bones have to be eaten around. One night, the dinner was just some duck meat. No rice, no vegetables. Imagine a pasta alfredo sauce that is sweet (in Vietnam, milk at the store is available sweetened with sugar, and it's the more popular variety. I think that's what was used in this sauce). The one time we were served bolognese sauce it was also quite sweet.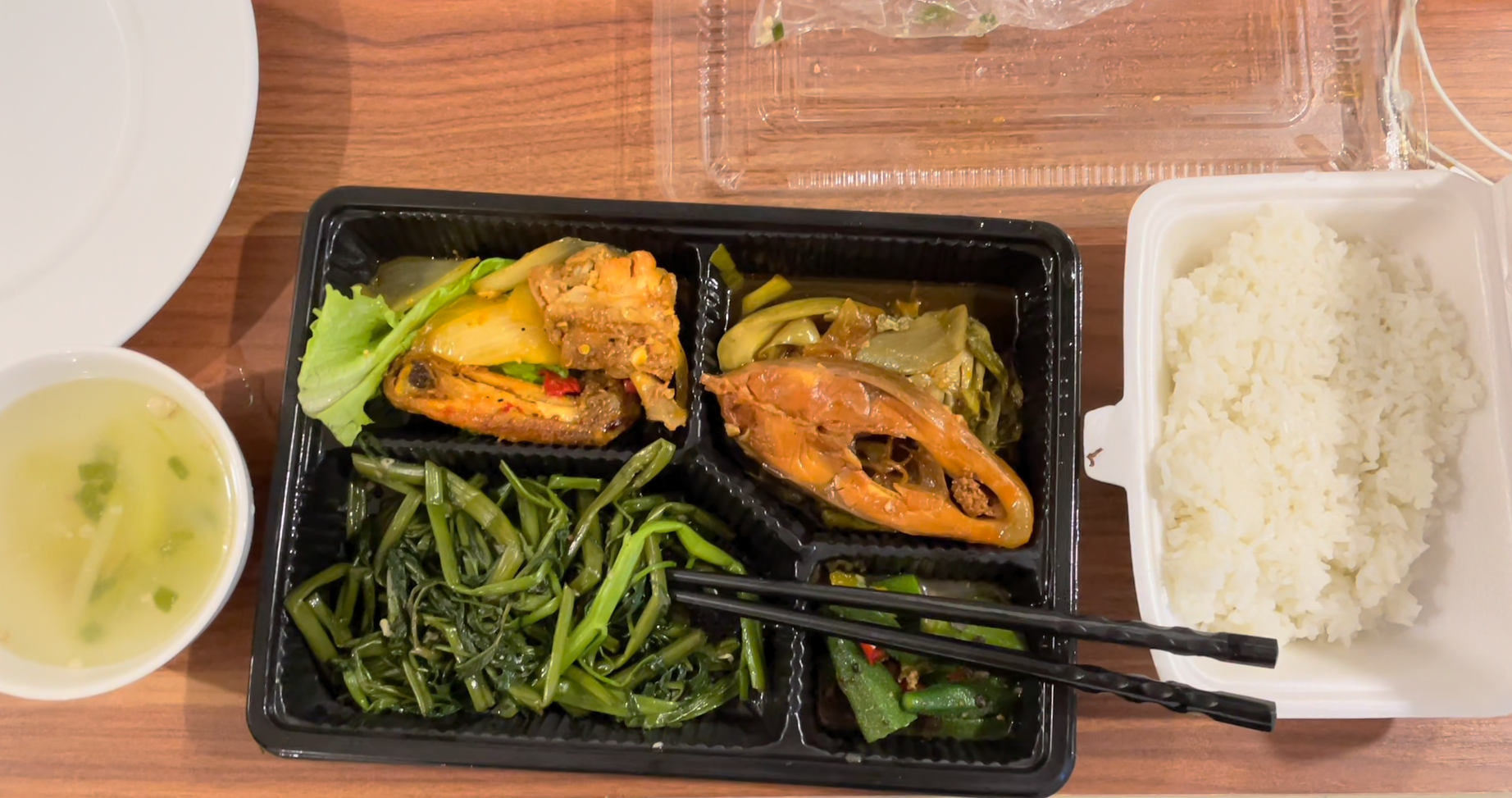 Flavorless soup, unseasoned vegetable, scrawny chicken, fish we didn't want and mushy rice (actually, the okra was okay).
To try and sum up, the range of the food on offer was a spectrum of completely inedible to mediocre. We were always hungry and never looking forward to our meal. There were at least 2 meals I can remember where something tasted rancid or just inedible.
On one of the first days we got seafood they replaced that meal - which consisted of soup, rice, two kinds of vegetables, and fish - with a single portion of KFC pasta (they spent $1.54 USD each on these replacement meals, according to KFC's local website menu). We asked if we could order and pay for our own order from KFC. At first they told us it wasn't possible to get delivery. We showed our helper a picture of our food that had just come from KFC (in KFC packaging and a KFC bag) and she relented. We ordered a large bucket of chicken and ate it over the next three days whenever we wanted to supplement a bad meal.
About 4 or 5 days in, our helper was either fired or quit and we were given a new helper. This person was less helpful than the last. We had heard that Da Nang was about to enter a tight lockdown, so we asked if we could order another batch of chicken so we had some backup food. Once again we were told it was impossible, this time without relent.
On one night where they'd again sent seafood (after we got this new helper), we waited over 90 minutes and were quite hungry. Jeff left our room and went to the front desk, which freaked them out completely. It was the only time in 16 days that either of us left our tiny hotel room. Sure enough, while he was down there, a delivery driver walked up and handed over our food, proving that deliveries were happening, but they still refused to accommodate. At this point, we were just resolved that we should have no expectations and hope that we can just get through the next week and get out of here.
I mentioned above that our room only had internet about 20% of the time. We called to complain about it, and Jeff asked if there would be a discount because the internet wasn't being provided and the front desk laughed at him. He asked her not to laugh and he was being serious but she kept on laughing. Eventually, she gave us contact information for the hotel's IT guy. He explained that the building's network was very old and that he's told the owners to update it many times, but they don't want to spend the money. He was able to get our internet work that night, but when we woke up in the morning, it wasn't working again. We resolved to just use our phones as hotspots
I'd also mentioned that we shipped our motorbikes to the hotel thinking we could ride them to our apartment when we were released. During shipping, the company empties the gas tanks, so we were trying to get someone from the hotel to get some gas for us so that we could drive away. This wasn't even entertained. We tried to bribe people with money and they still said no.
Additionally, we were told that because of the lockdown, we wouldn't be allowed to take our motorbikes to our apartment. Instead, we had to be driven there by a car that we'd have to pay for. Our apartment is 11 minutes from the hotel. Of course, it makes no sense to ride in a car with someone who may or may not have been exposed to Covid rather than ride in the open air on a motorbike, but we are guests in this country, so we have to obey the rules.
The "last" day of quarantine
I am the type of person who doesn't get excited about a trip until I am in the plane, sitting in my seat with the wheels are off the ground. I don't like to take anything for granted. On the last day of our quarantine, I allowed myself to get excited about our new apartment and after our breakfast I began packing a little. It wasn't before long that we got a call from reception. Seconds into the call, before Jeff could even tell me what was going on, there was a knock on our door. I opened the door and one of the testing "nurses" was standing there with a testing swab. On the phone, the front desk was saying that my last Covid test "didn't work" and that I needed to take another test and we both needed to stay another night. If it turned out that I had Covid, I would have to go to a hospital and Jeff would have to stay another two weeks in the hotel.
So many things were going through my mind. Did this hotel give me Covid? What did they mean by "didn't work?" We assumed that they meant "inconclusive." Jeff immediately started researching why someone might get an inconclusive test. We read that it either meant that one was just getting over Covid, just getting sick with Covid, or the tester has made a mistake. I didn't have any symptoms, but of course I was feeling like any slight sniffle or my aching head meant that I was getting sick (it was more likely that stress was making my blood boil). I was also starting to feel like they were simply lying to us. I asked to see documentation of the test. They said it wasn't possible.
We had an ace up our sleeve that Jeff was hesitant to employ. This calls for another nuanced story.
The owner of Jeff's school is one of Vietnam's wealthiest women. She is very influential and very loyal to her employees. She's also quite conservative. Our time living as a married gay couple as expats has constantly been fraught with anxiety because my status has never been official. I always have to find out ways to get separate visas because no country we have lived in offers spousal visas for same sex spouses. In addition, Jeff is hesitant to come out at his jobs because it's just easier to fly under the radar. This has also meant at jobs where he might get extra pay or better accommodation because he has a family, he doesn't.
We had just missed an opportunity to personally meet the owner of his school about a month before we left Binh Duong because our same friend who had been such a help to us also knew this woman. We'd even set a date to go visit her estate, but then the lockdown happened and it wasn't possible. We'd hoped that if we'd had the opportunity to meet her in person she would have been gracious and accepting, and if she wasn't, at least we would find out before relocating. But we'd missed that chance and we knew that she was quite conservative, so we weren't sure how she'd react to my presence. At any rate, because of this almost-meeting, she had a closer relationship with Jeff than any new hire would usually have. Jeff had her phone number and her email and was friends with her on Zalo, Vietnam's most common social media.
It was I who had the inconclusive test and as far as his school knew, I didn't even exist. There was one person that had known, but I wasn't on any paperwork or anything. Jeff was very hesitant because, however small, there was always a chance that the reaction would be so bad that he'd lose his job.
We decided to try and use someone in the school's HR (and the one person who knew of my existence) to act on our behalf. Phone calls started being made, but the hotel still remained evasive. They said that the test results would be provided at the end of our stay. This assuaged the apprehension of both Jeff and the person helping in HR, but I remained dubious.
Jeff asked for the information of the nurse who took my test, so we could find out when the results would be available. The first information that was given was completely incorrect. I'd sent messages in both English and Vietnamese to the number and received no response for six hours. Finally we asked for the information again and this time the helper sent two contact cards. Neither of them resembled the information given the first time in any way whatsoever. The names were not similar, nor were the phone numbers. She gave no explanation other than she "wrote the wrong one." When we finally got one of the nurses to respond, he told us that we'd have results the following day.
The next day, we didn't even receive a call. There was a knock on the door and outside stood the nurse holding another testing swab. At that moment I was the most angry I have ever been in the presence of my husband in the 5 years we've been married. If you know me personally, you probably have not seen me angry at all - it's a rare occurrence. I yelled at the nurse that I would take no more tests until I saw proof that I had an inconclusive test. Of course I know he didn't understand me and that I was also in no position to make any demands. I told Jeff to close the door.
Jeff called the HR person and the HR person called the front desk and finally they explained that it was again inconclusive. I of course relented and allowed the sample to be taken, but we decided to call in the big guns.
At this point, we had the owner of the school and two different people from HR at Jeff's school calling the hotel, including calls to the general manager and I think even the owner. The woman at the front desk called us and told Jeff that a woman that called her boss was rude to him. Jeff just said "okay." There was a lot of back-and-forth regarding whether we had to pay for the extra tests or even the extra days staying at the hotel. The owner of Jeff's school told Jeff that she had spoken with the CDC and that he shouldn't pay for anything extra. Meanwhile, the hotel sent us a bill for the extra two days and both tests. They told us that they called the CDC to make sure that we had to pay for the tests. This was on a Sunday, when the CDC was closed. The number of outright lies that we had caught the hotel in is just staggering.
Under this new pressure, the next day my test was magically negative and we would be released some time in the afternoon. A back-and-forth continued regarding payment of the tests and extra days. Finally the hotel allowed us not to pay for the tests. We tried to get a further discount for the lack of internet and the helper tried to say that we never complained about it and it was too late. He reminded her of the time she laughed at him. No discount was given.
When we were released, we were given a piece of paper that indicated that I had taken three negative, two inconclusive and one final negative covid test. There was no individual paperwork for each test. I just want to take a moment to explain to people who have never lived in Asia that there is paperwork for EVERYTHING. The fact that they could not produce paperwork for my individual tests is so suspicious it is laughable. When we got our tests in Binh Duong, there were three different sheets of paper given back to us, each with a red stamp that, again, if you're not familiar, is always necessary for every item of official paperwork (this is true in both China and Vietnam).
At this point, we just wanted this nightmare to end and to not make any more trouble. We also have to eventually pick up our motorbikes from the garage of this hotel, so we haven't pushed it. Once we get our motorbikes back, I will be more public about our treatment and post about it on the Da Nang expat group on Facebook, and maybe even look into legal action, but for now just I'm sharing this post.
There is actually more to this story, as we are settling into our new apartment in Da Nang during a tight lockdown. Things continue to be difficult, but we love our apartment and are starting to see light at the end of the tunnel. We continue to live out of suitcases because we can't get our belongings from our friends who live 5 minutes away from us. We spent thousands of dollars on this move. It was a substantial piece of our meager savings. I've posted this on my Buy Me a Coffee site in the hopes that some people might want to support us a little. Feel free to support me with a one-time amount, or become an ongoing supporter to get more stories like this and lots of updates about my artistic process. You could also consider buying an item from my Threadless store, or follow me on Instagram or YouTube. Once Da Nang opens back up, I will be able to resume shipping art from my website again. Send me a message with your email if you'd like to be contacted when my original art shop opens back up again. I welcome any questions you might have and if you've read this whole thing I thank you and I commend you!
The last thing I'll mention is that I haven't even gotten to talk about the psychological impact this has had, or the impact on my ability to make art, something I usually do every day, or our relationship, which thankfully is still strong and supportive. My husband is amazing. I've neglected my YouTube channel and social media in general. I've done my best. Indeed, I am sure most people had no idea what we've gone through. As I mentioned in the beginning, it was all so much that I couldn't even put it into words, until now.
Enjoy this post?

Buy Brian Hofmeister a coffee