Did We Just Confirm A Bear Market?
200-day SMA
I'm afraid I have some terrible news about Bitcoin when it comes to the 200-day SMA. First, as a reminder, the 200-day SMA is the most important moving average across all global markets. When an asset trades below the 200-day, it is considered to be in a bear market. When an asset trades above the 200-day, it is considered to be in a bull market.
Below, I've outlined every single time Bitcoin lost the 200-day as support after a multi-month+ bullish rise.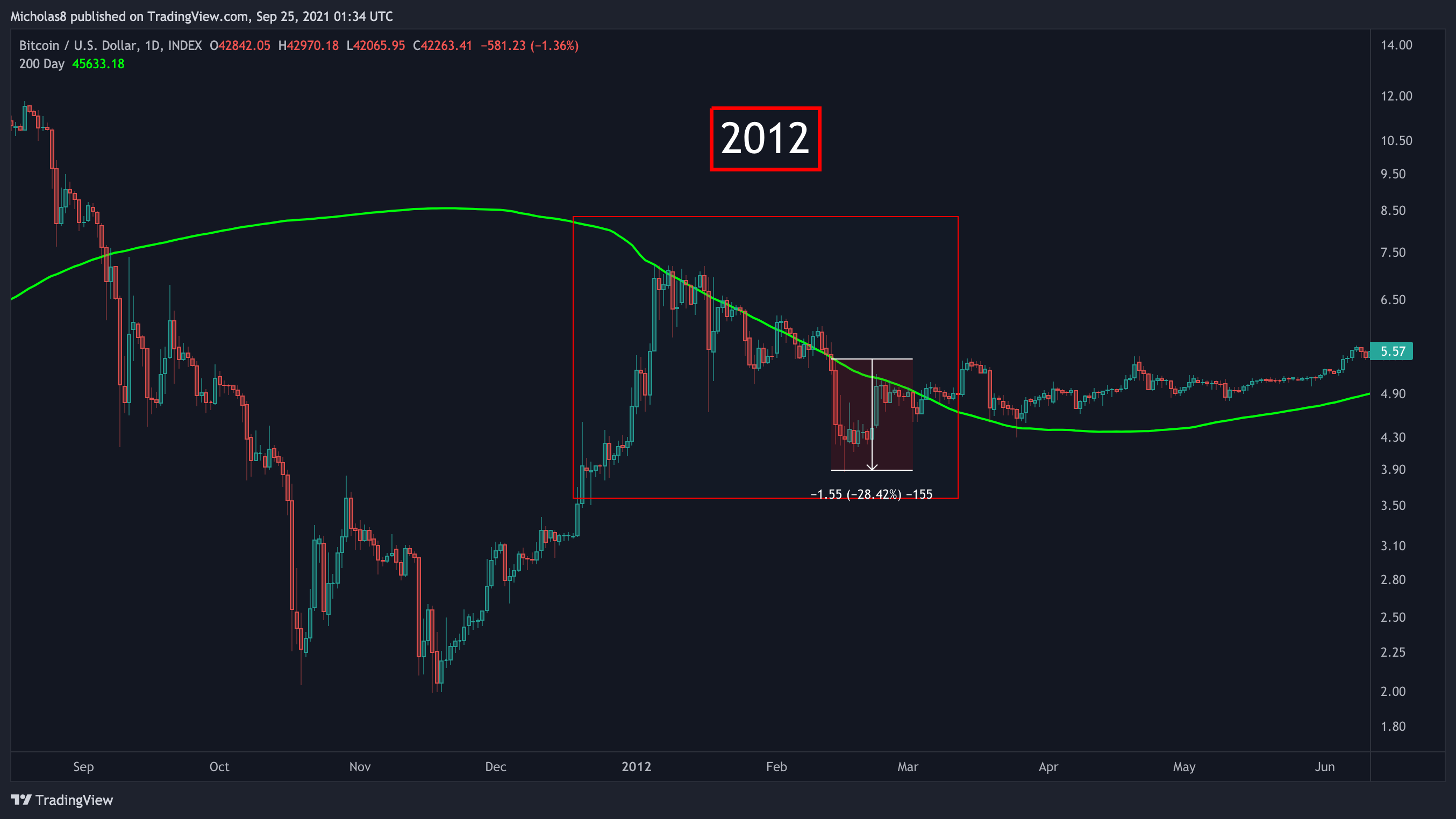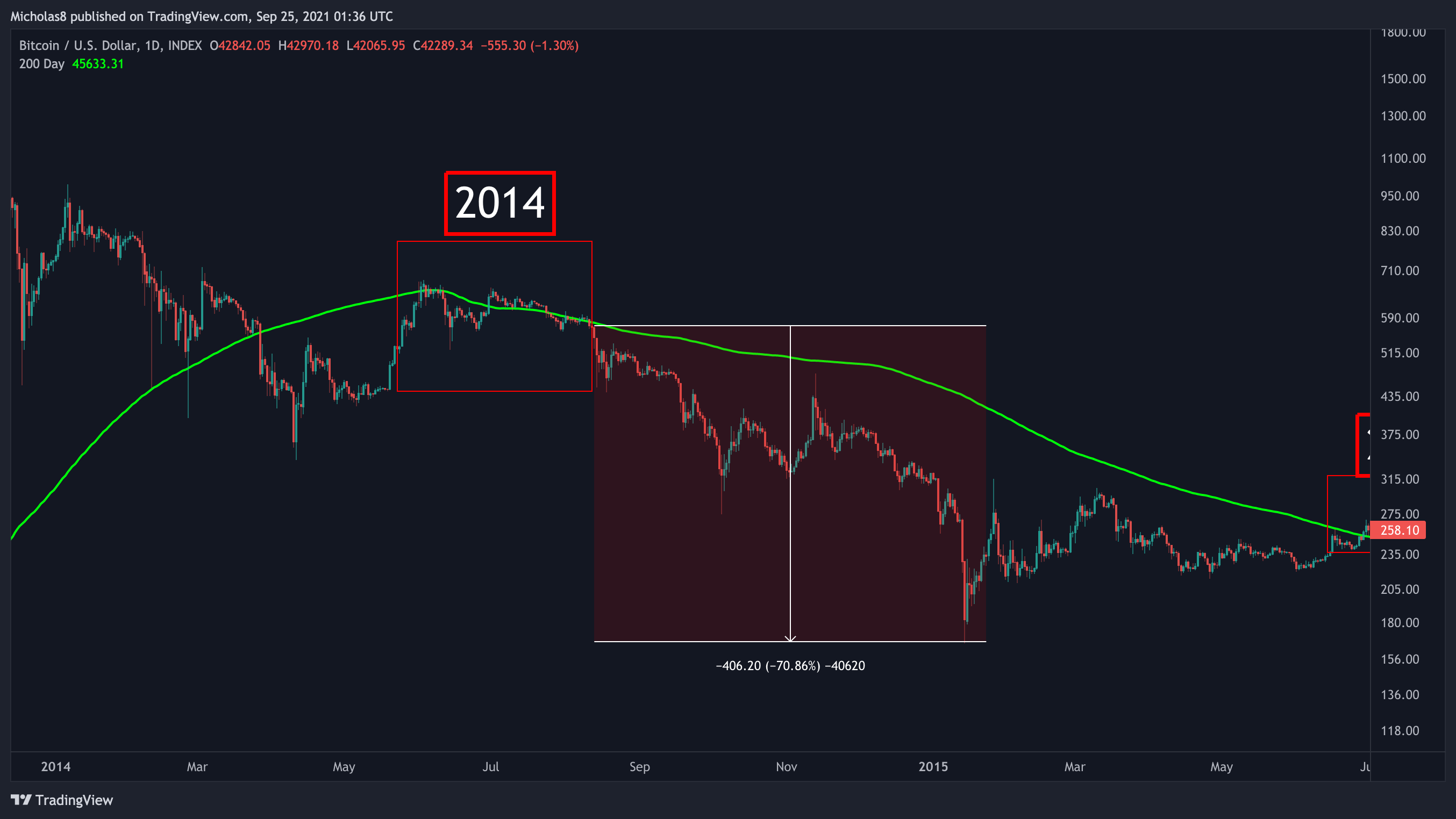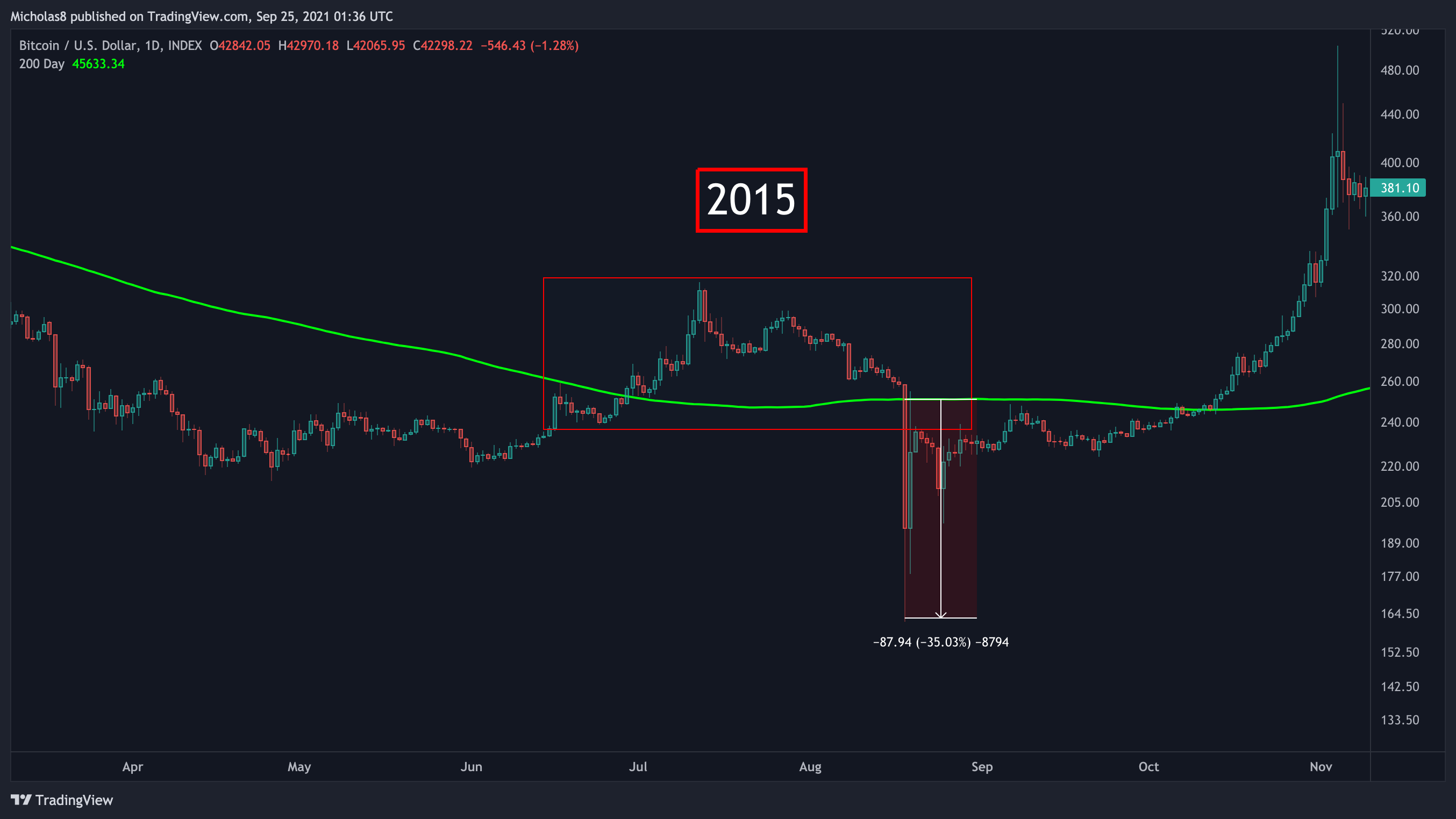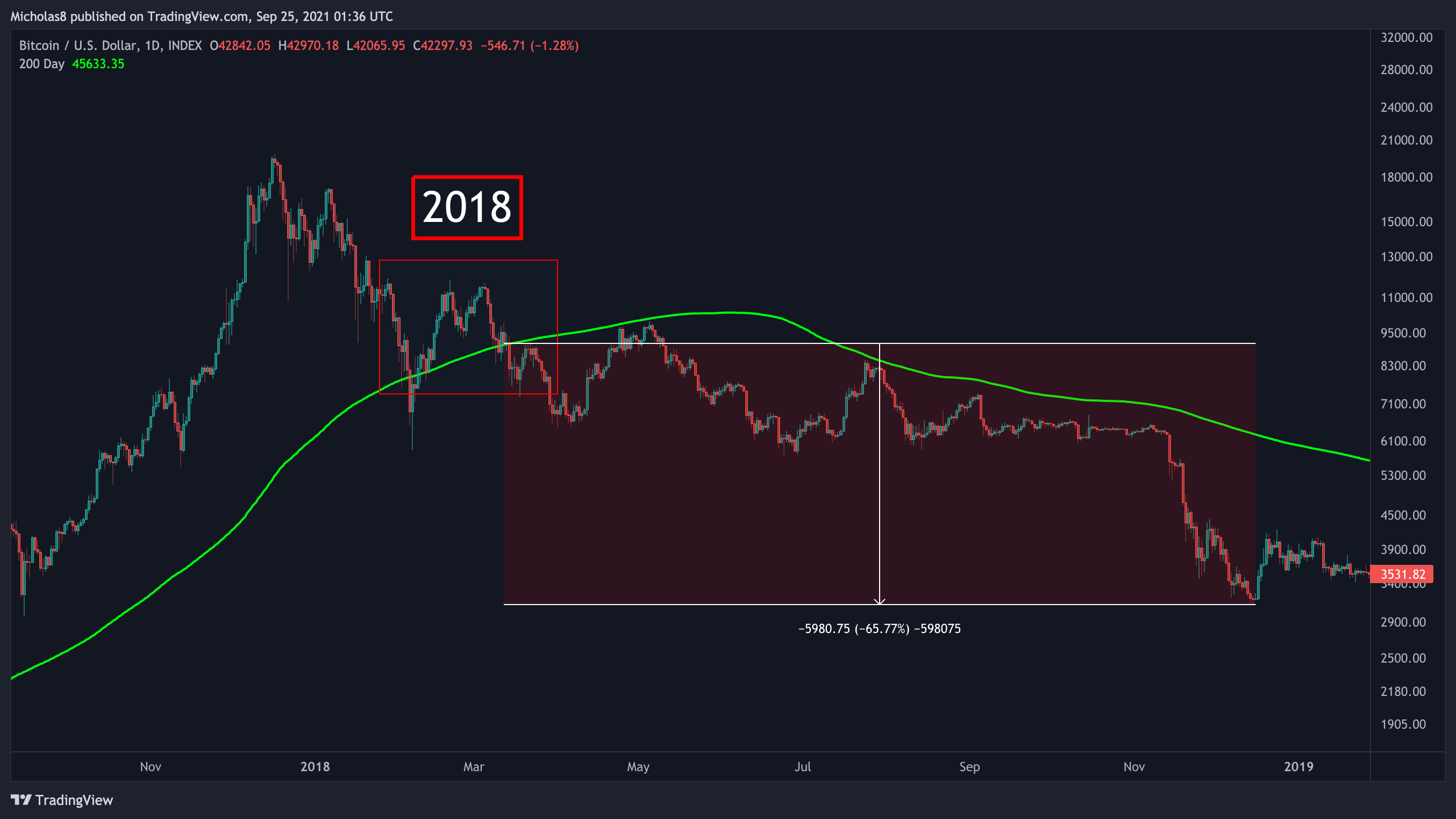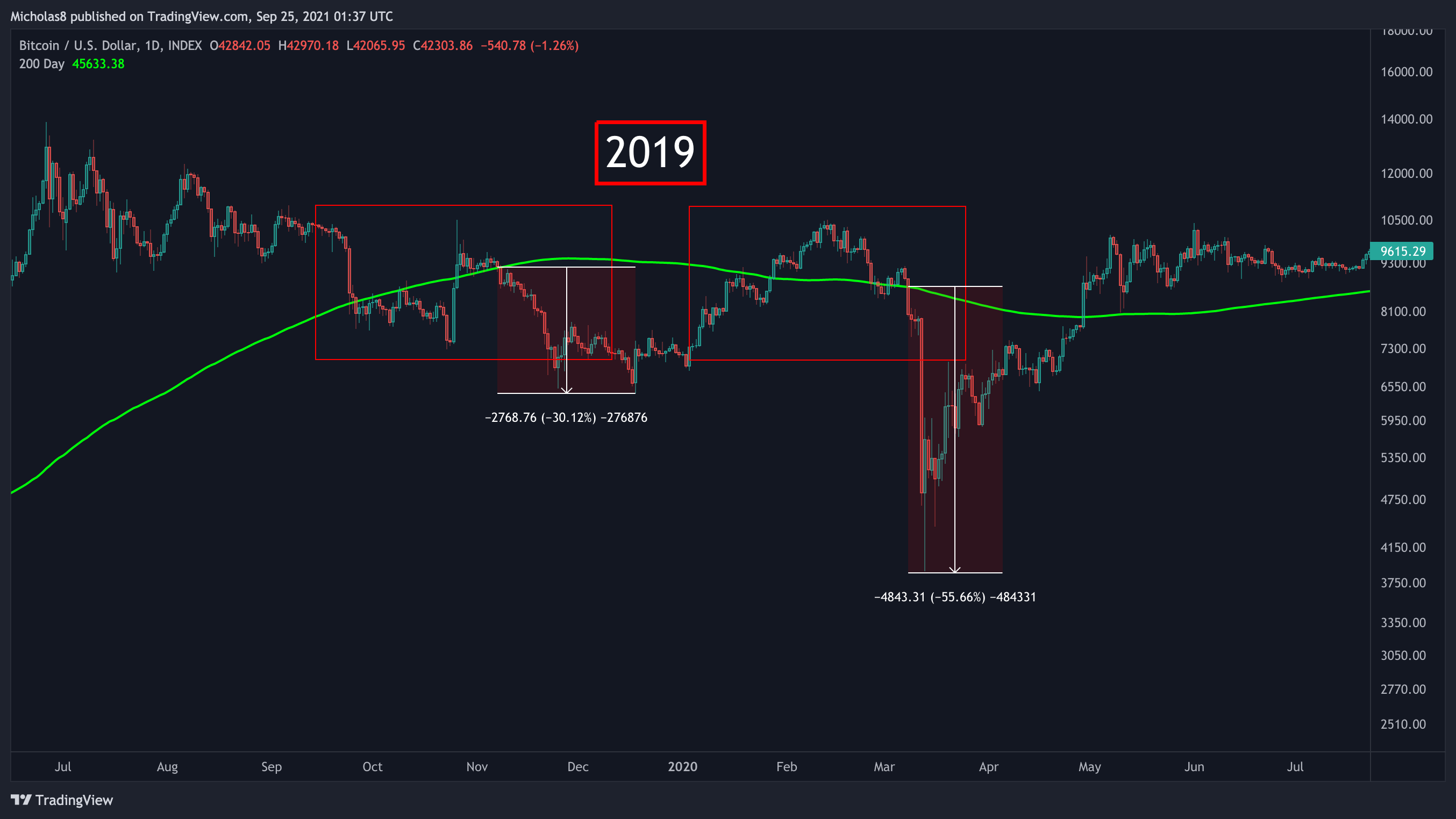 Unfortunately, every single time we lost the 200-day SMA as support (at least one daily candle close below it), we did rise back above, but ultimately failed to hold it as support. And every single time, we saw a jaw-dropping dump follow. Not just once or twice. Literally every single time. From 2012 - 2019, there was an average drop of around 50%.
What would a 50% drop from the 200-day SMA look like? Roughly 22.8k.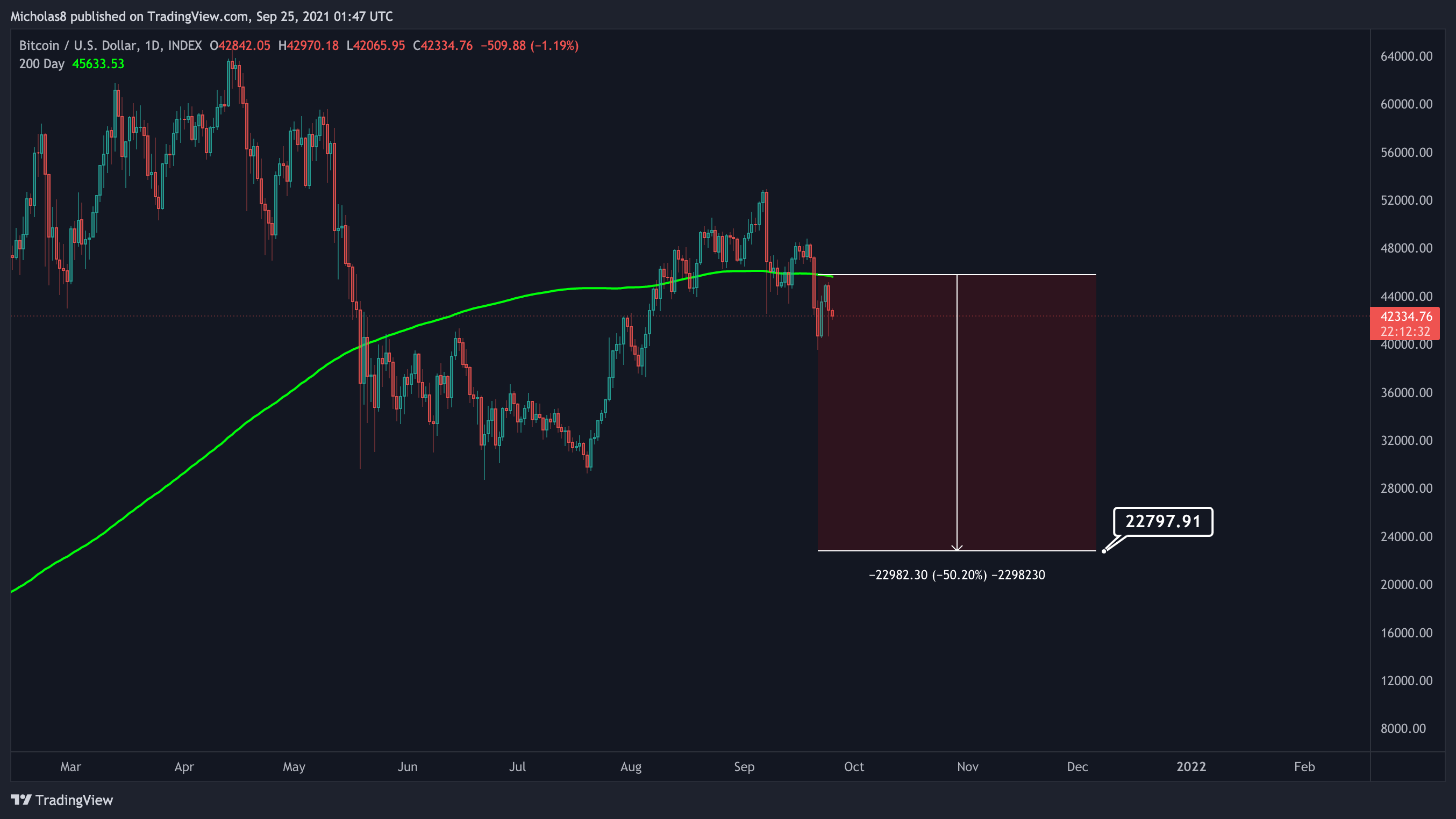 Now, are we guaranteed to go to 22.8k? Absolutely not. Technically, the dump could actually be over with as we've seen about a 15% dump thus far. But, why that may not be the case is the average length spent under the 200-day during this occurrence is roughly 150 days. That would bring us into February 2022.
Bitcoin Logarithmic Curve
I hate to be the bearer of bad news, but this is another frightening technical.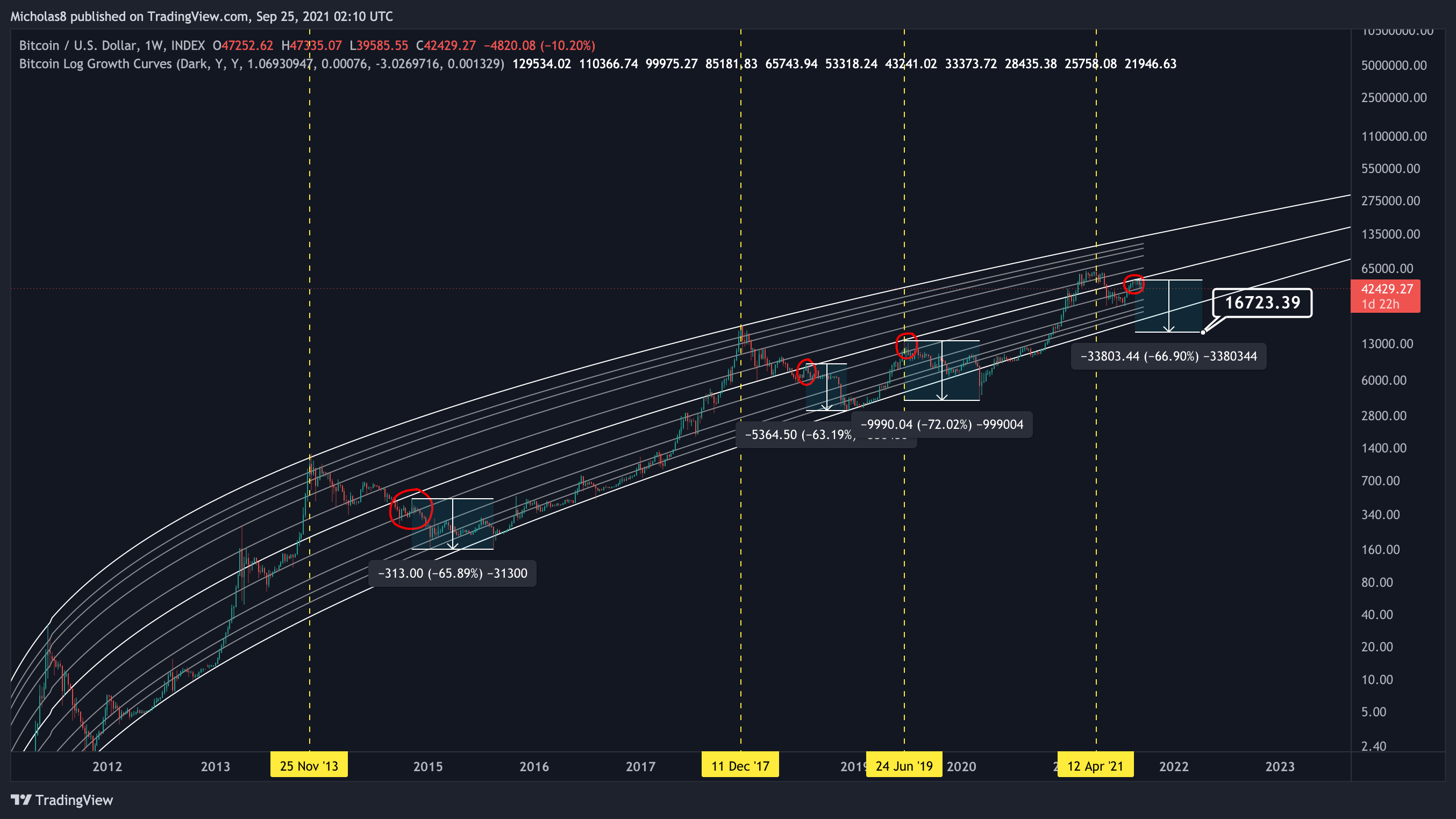 A few weeks ago, we covered how after every bull market (excluding 2011/2012 because the curve wasn't as developed), we saw a rejection at the middle line of the curve. And following that, similar to the 200-day SMA, without fail, we entered a bear market.
On average, we saw a drop of 67% over 170 days. If that played out, it would bring us to 16.7k by February 2022.
Conclusion
Literally, anything can happen. But what concerns me, like really concerns me, is that without fail, we entered a bear market after doing exactly what we just did – lose the 200-day as support, rise back above it, fail to hold it as support – six times with a 100% success rate. As much as I wish I could predict the future, I can't. Do I think we've entered a bear market? Well, with all the shit hitting the fan lately across all global markets, it definitely doesn't help the case for a continued bull market. I'll leave it at that.
On top of that, when I first covered the Bitcoin Logarithmic Curve a few weeks ago, I wasn't as concerned. I never really took it into account. I just thought it would be interesting to look at. But, the fact that this is in confluence with the 200-day SMA fiasco, and the date lines up to February 2022 as well... scares the living shit out of me.
Before I leave you all with this dreadful news, I just want to make it clear that if we do enter a prolonged bear market, we cannot predict when it will end. That's just ludicrous. We also can't say with certainty that we've just confirmed a bear market. Anyone who says otherwise is just doing it for the views/following. Because, well, that's the easiest way to get followers in this space.
All in all, be aware that yes, we could have just confirmed a bear market. That yes, we're all destined for the shitters. But also understand that, although this is probably the most bearish technical I've ever come across, nothing is guaranteed.
The only certainty is uncertainty.
Premium Information

Interested in joining our premium community? Visit the link below to learn more. Or DM me on Twitter.
Enjoy this post?

Buy Bitcoin Charts a beer