WHY and HOW I shorted Bitcoin at 52900
(Screenshot of my position can be found at the end of this article)
If you're a trader looking to develop your skills or someone keen on learning how to trade, this should be a good rundown for you.
Let's start with WHY
Confluence #1
On the 1D chart, if we take the Fibonacci Retracement Levels from the April 14th swing high to the June 22nd swing low, you can see that the Golden Pocket, the 0.618-0.66 was right at 51.1-52.6k. This is the most common retracement level, which typically serves as resistance or support (depending on the trend), and has the power to lead to a reversal.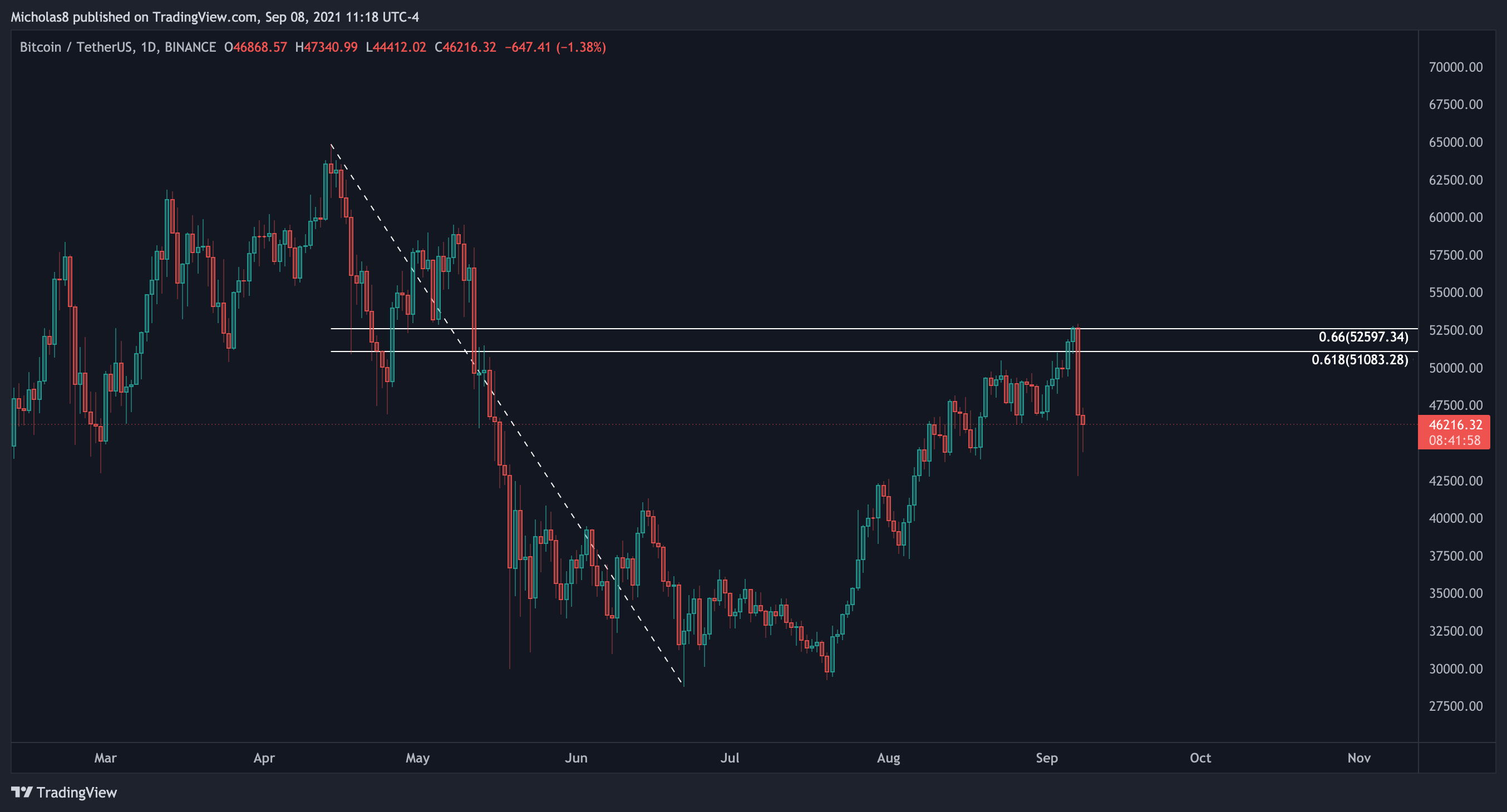 Confluence #2
Once I identify one point of confluence, I like to continue looking for others. The more levels of confluence we have, the stronger the argument is for taking the trade. So, again on the 1D chart, I mapped out some Fibonacci Levels. This time, I used the swing high from May 10th, to the same low on June 22nd. By doing that, I was able to identify the 0.786 also in that price region at 52.9k.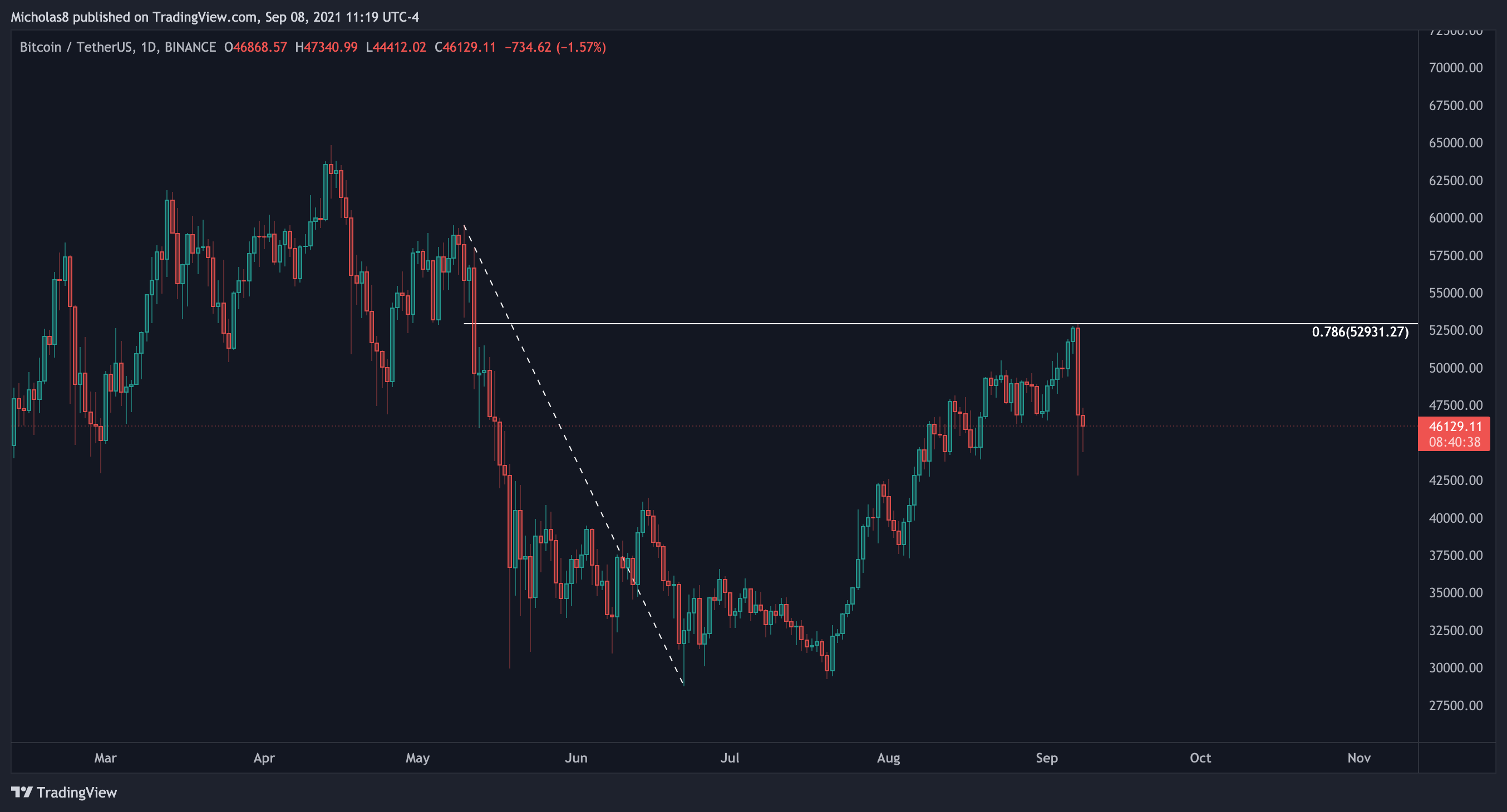 Confluence #3
There was a potential Bearish Butterfly at its Pattern Completion Zone (PCZ) right around 52.6-53.1k. The first time I posted this possibility for the Gold/Platinum/Diamond Members was over a week ago. And then again on September 5th.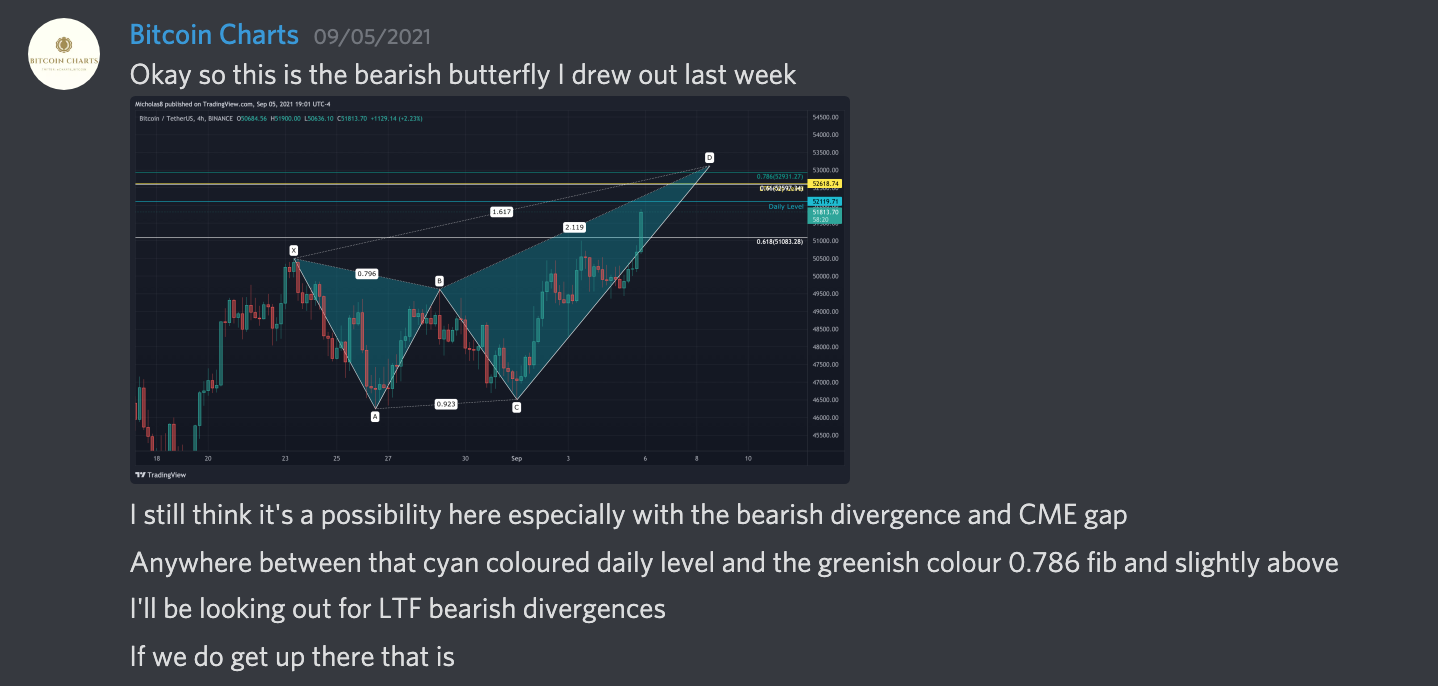 Confluence #4
Key levels! These are a bit tougher to identify. But as you become more experienced, it gets a lot easier identifying them. There was a key level at 52.6k, taken from the February 17th swing high. Certain key levels have the potential to offer support or resistance. They don't always, and that's why I only use them as an added level of confluence.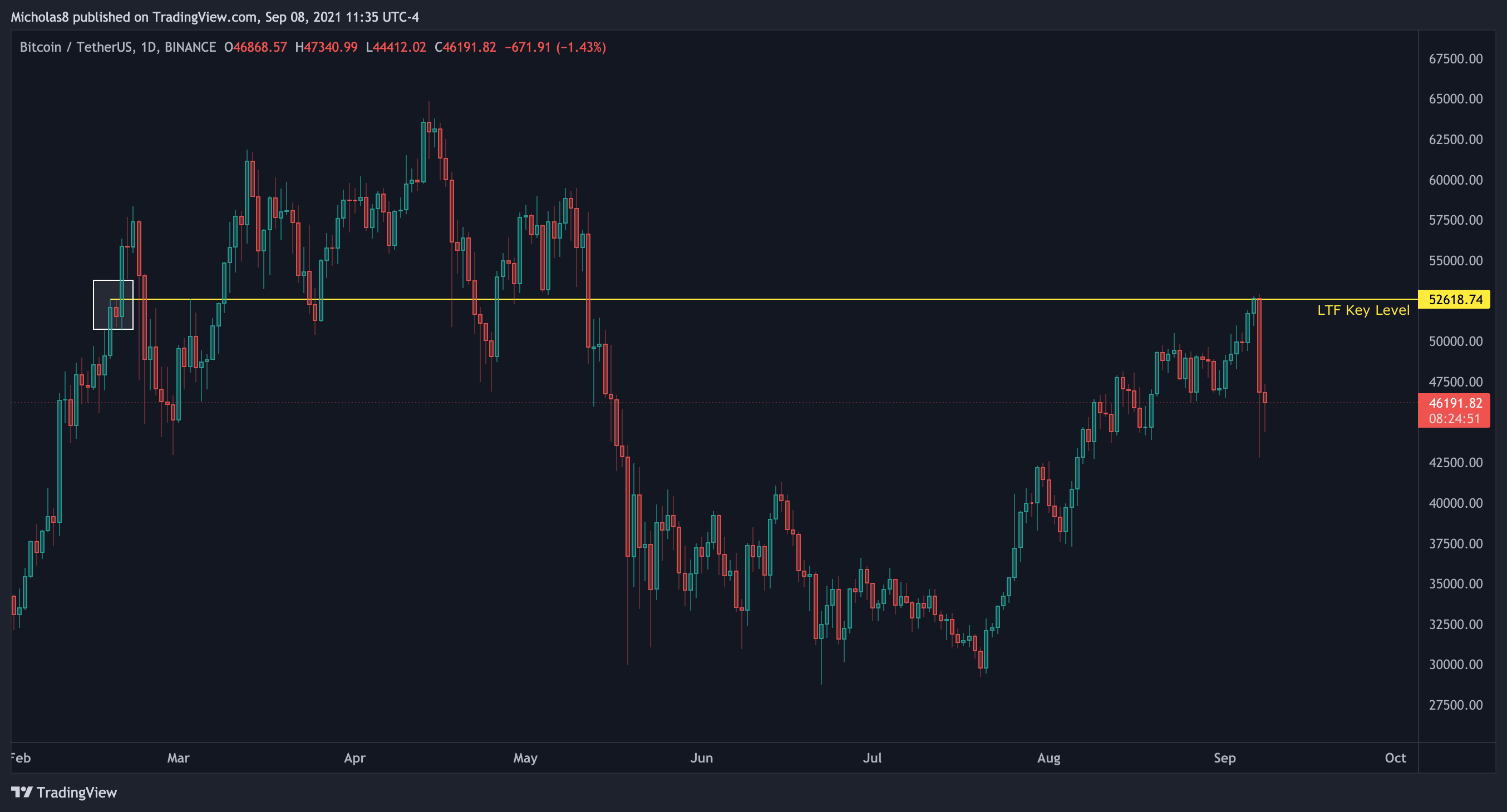 Confluence #5
We were consistently forming bearish divergence on the daily timeframe. Although there was the possibility of invalidating it on the MACD, unfortunately, that never came to fruition.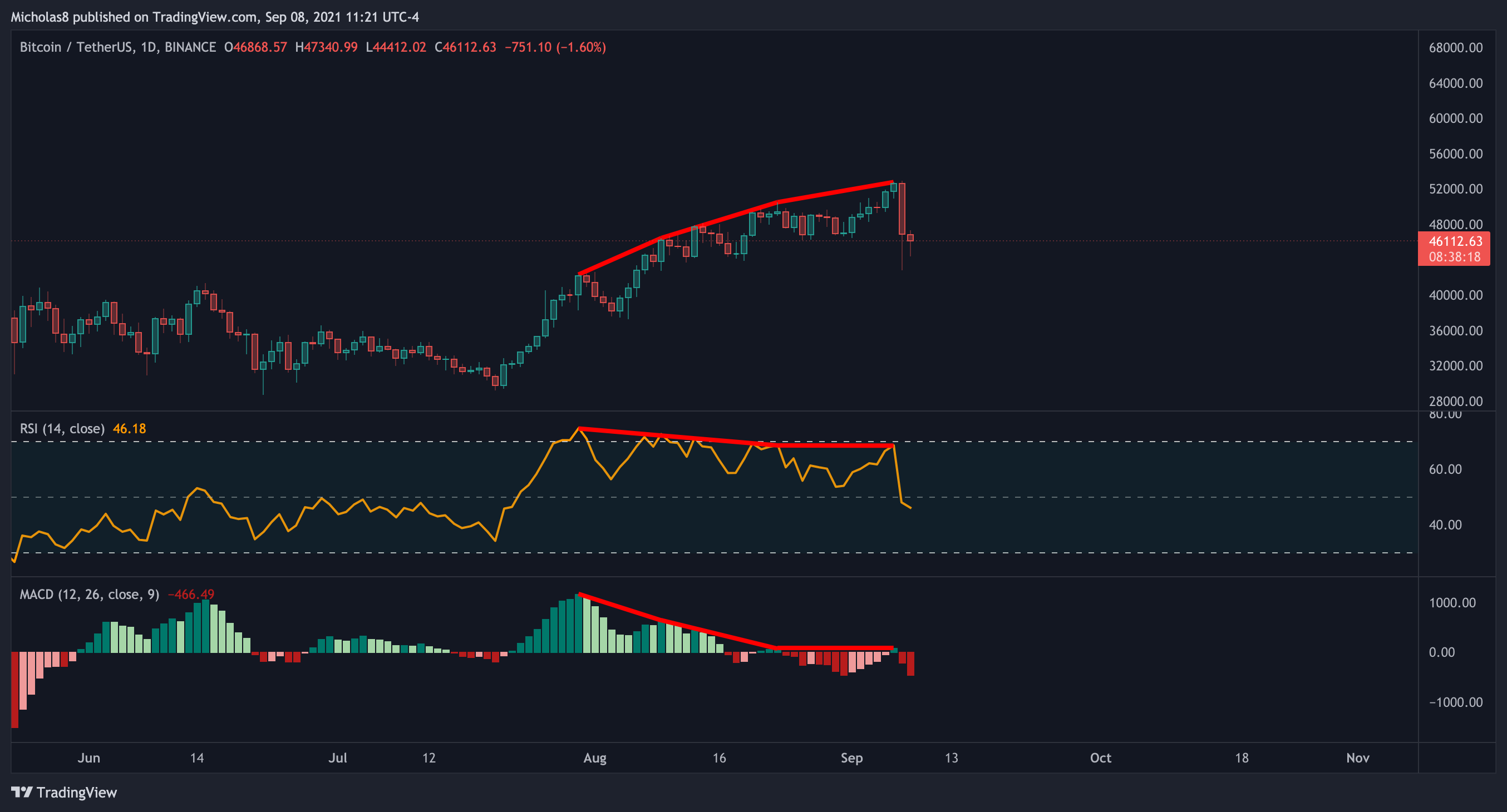 Confluence #6
Bearish divergence on the 4H timeframe.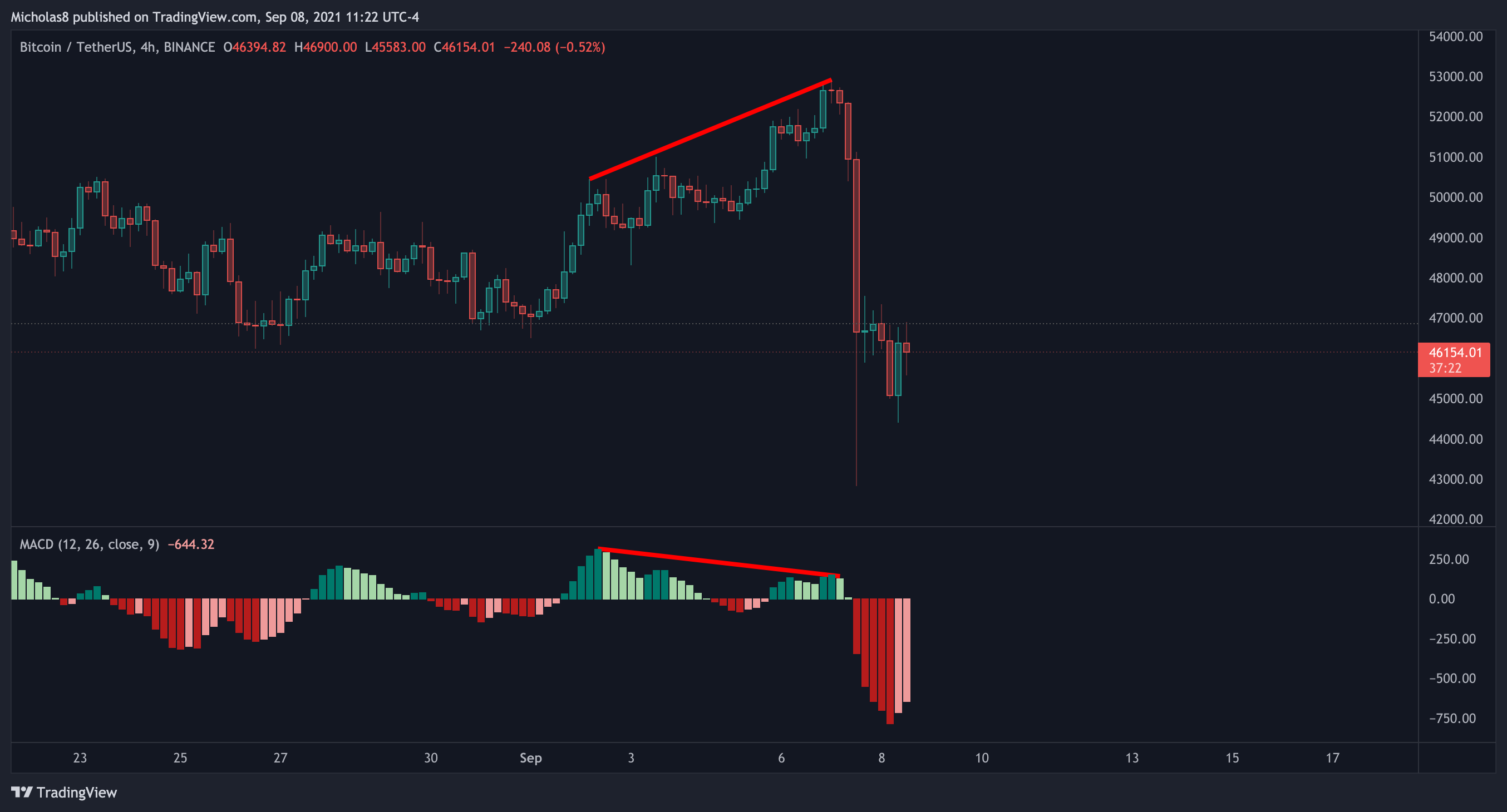 Confluence #7
Bearish divergence on the 1H timeframe.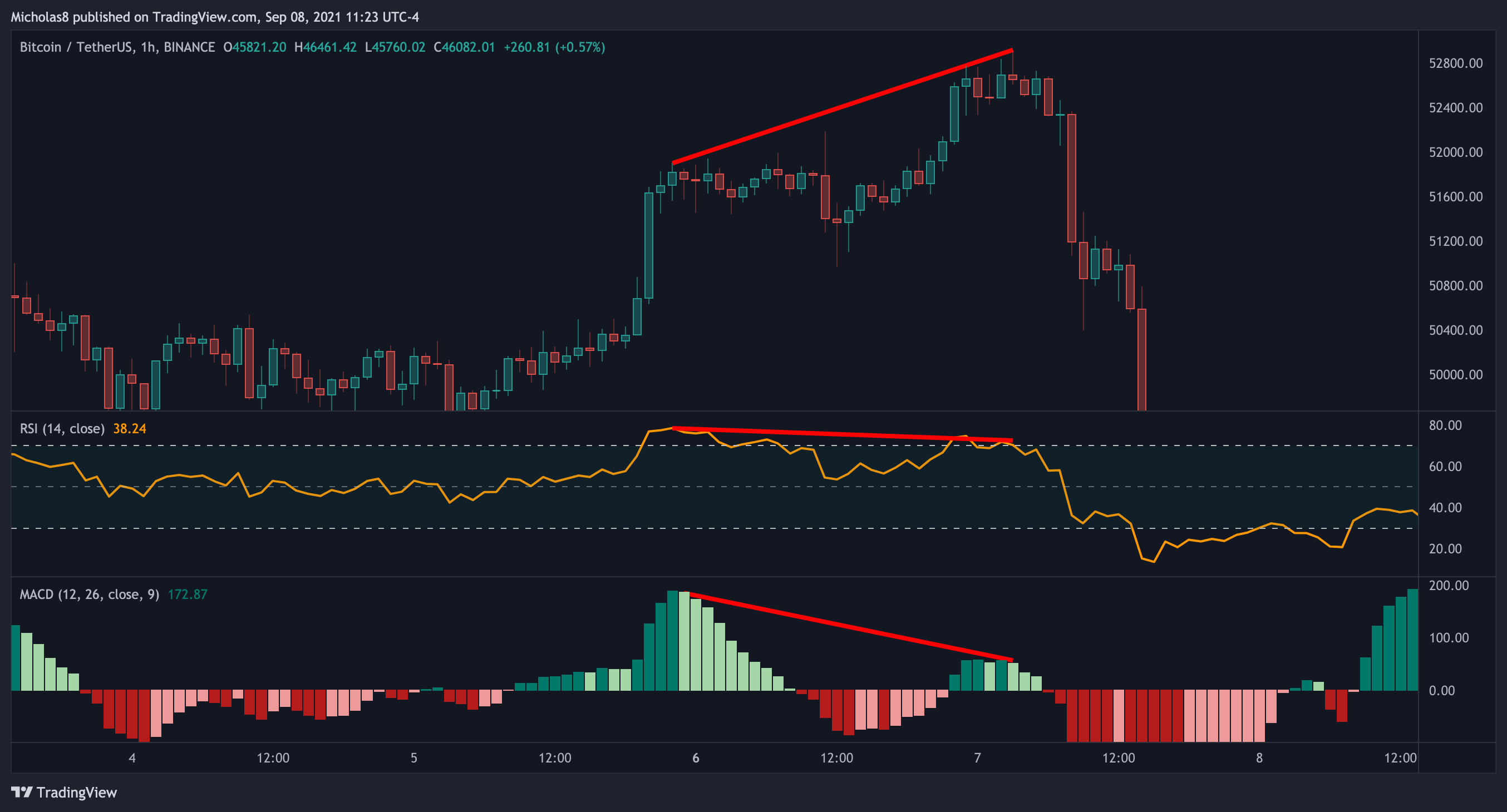 Confluence #8
Bearish divergence on the 15min timeframe.
Confluence #9
Bearish divergence on the 5min timeframe.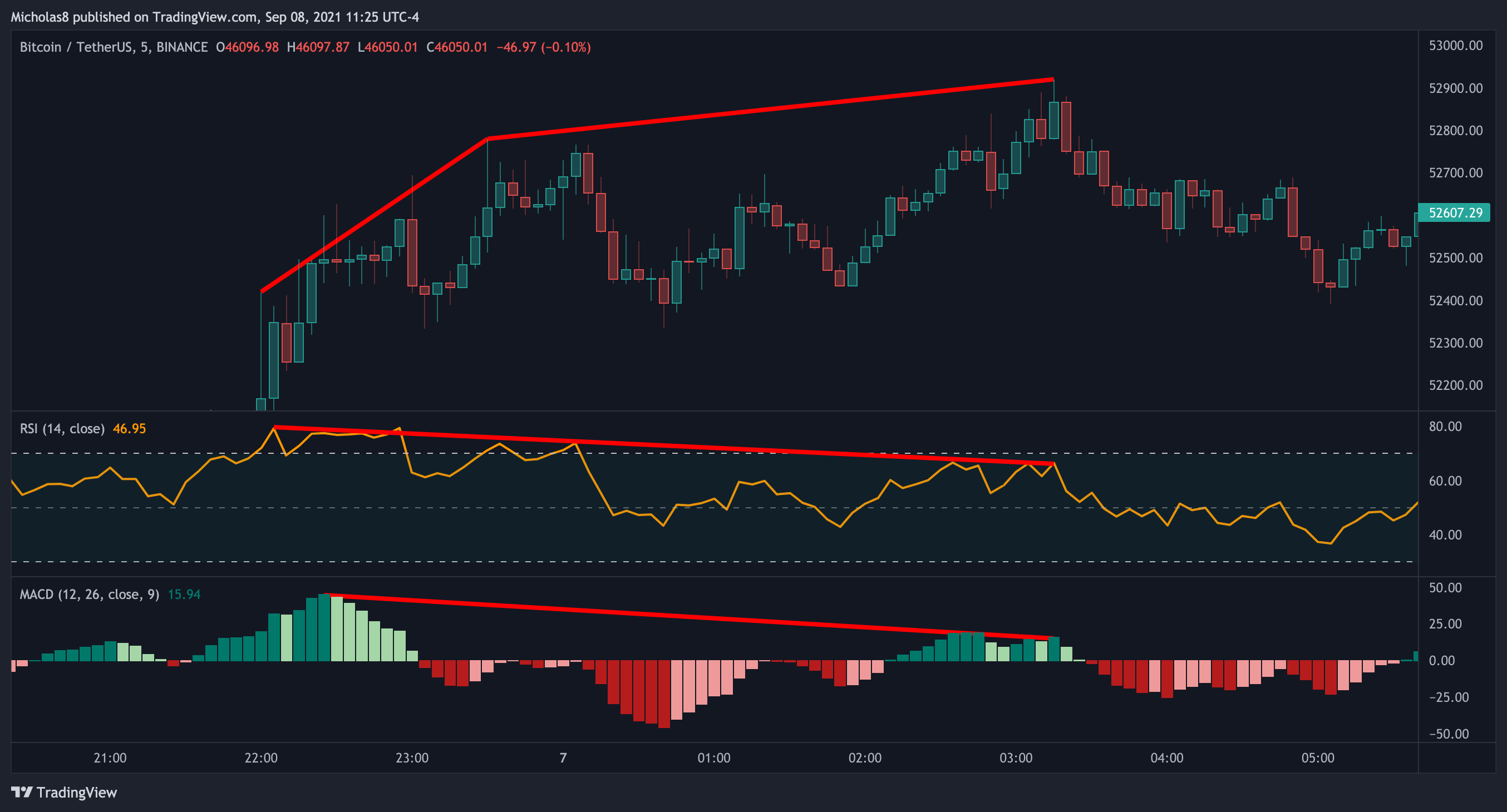 Confluence #10
Bearish divergence on the 1min timeframe.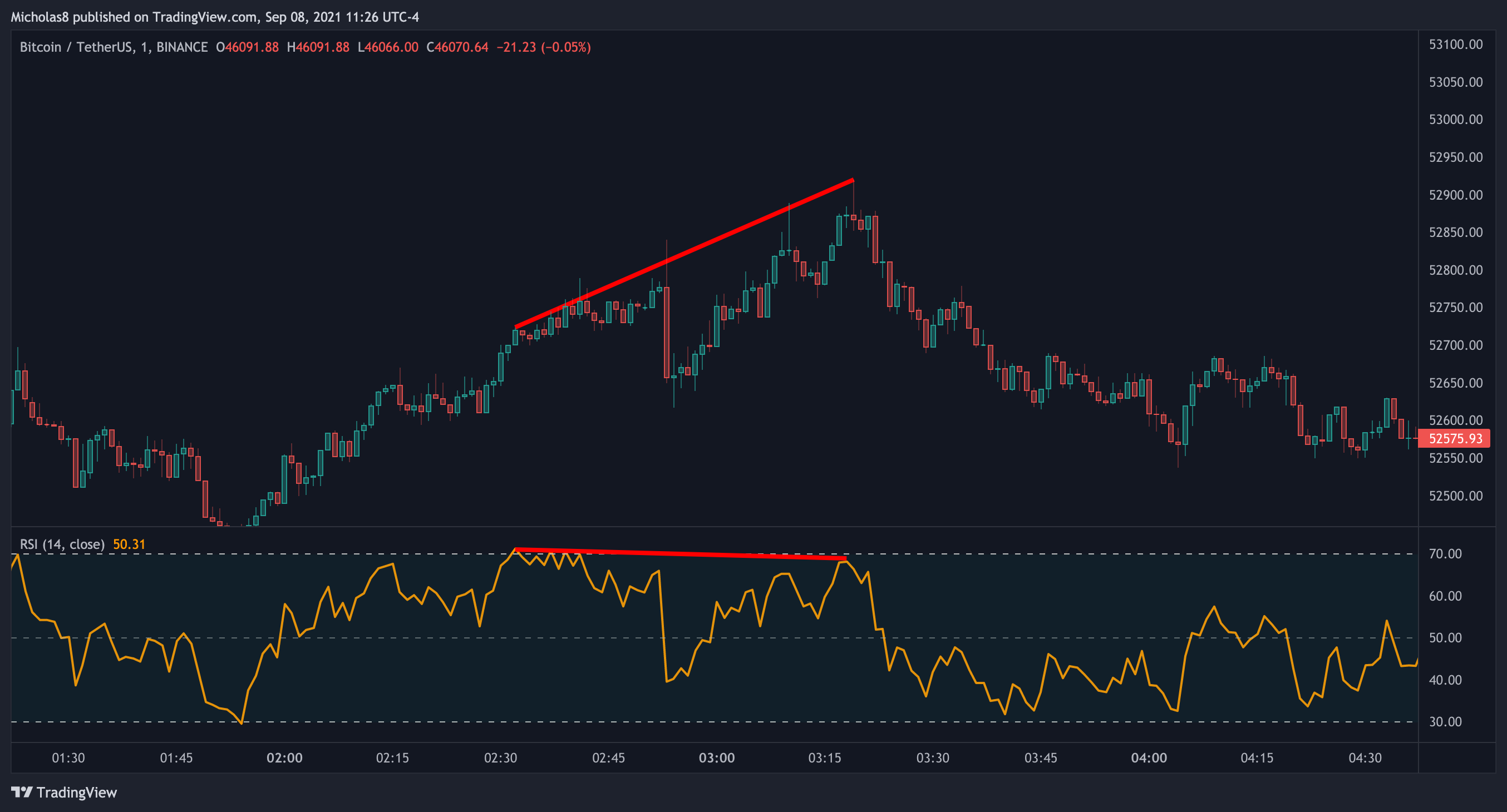 Confluence #11
Swing failure pattern (SFP). I was not looking for an SFP, but we did see one anyways.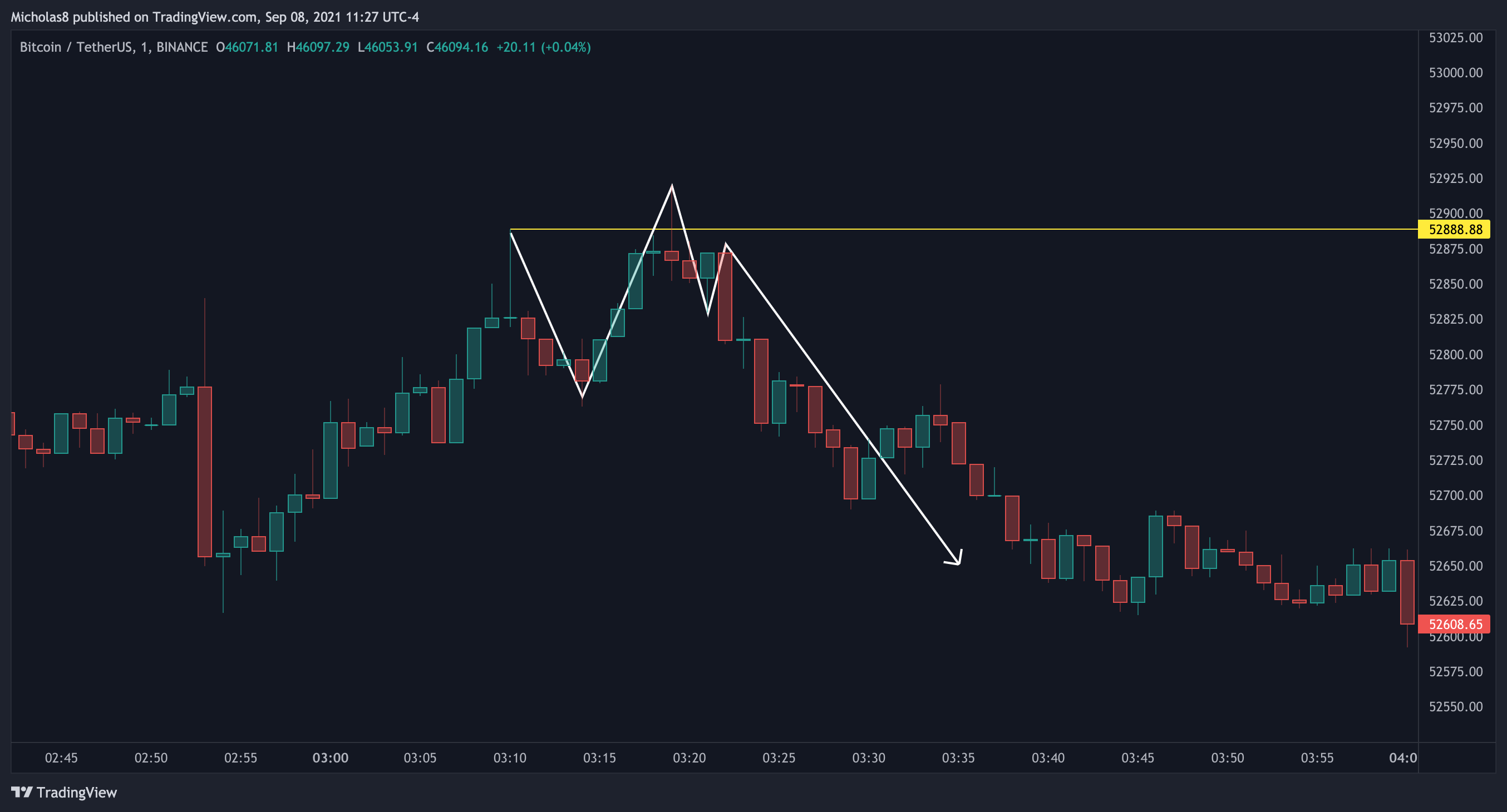 Now let's move on to HOW
Okay, so clearly there were multiple levels of confluence supporting the argument for taking this trade. How did I go about finding my entry? Well, first off, I was stopped out multiple times. My initial entry was at 52.6k, at the top of the Golden Pocket. The way I operate when taking trades like these, which quite frankly was pretty high risk, is I use a very tight stop loss. The reason being is that there are times where momentum outweighs the bearish technicals.
So, yeah I kept trying to short around 52.6k, then 52.7k, and kept getting stopped out, which is fine because of my stops. And after being stopped out, I don't even know how many times, maybe 2-3, I was still on the edge as to whether or not this was a good idea. But, with all the divergences confluent with the Fibonacci Levels and my own personal key level, I decided I would keep trying up to 52.9k, at the 0.786 from Confluence #2. Ultimately, I was looking for this to be a scalp, with the possibility of turning into more. And, it turned out to be more than a scalp.
Key Takeaways
When entering a trade, enter from a position of strength. You can treat trading like a casino. Don't be the person that doubles down on a 16. Learn trading strategies that work for you, and build on them. Practice, practice, practice. Understand that even though, yes, doubling down on an 11 is almost always a good idea, realize the odds aren't as stacked in your favour when the dealer has a face card, ace, or 10.

Confluence! Always look for multiple levels of confluence especially if you're new to trading. Don't just long because you see a green candle, and don't short because you see a red candle. It should be quite the opposite actually.

Learn how to use the Fibonacci Retracement Tool.

Take some time to understand how to identify divergences and their implications.

Always use Stop Losses.

Set multiple Take Profits.

One last thing is never be married to a trade idea. Trade ideas are ideas. That's all they are. Sometimes you're right. Sometimes you're wrong.
_
As hard as this may be to hear, I guarantee you will lose money as a trader. It's inevitable. There are no traders out there that have made a killing without first losing A LOT of money. That's part of the game, unfortunately. Your greatest lessons will come from your toughest losses. But as you develop your skills, and keep on keeping on, I promise you'll get better with the right mentality and guidance. Eventually, your losses will be minimal in comparison to your wins. Or, you may not even technically lose anymore. Your losses may be your stops.
I hope you enjoyed this breakdown and maybe you even learned a thing or two. If you did, feel free to like/retweet the original tweet on Twitter.
Thank you all for your continued support!
To learn more about the Premium Memberships visit: https://www.buymeacoffee.com/bitcoincharts
My Current Position:
Note: Sorry, about the image size of my position. Buy Me A Coffee is weird like that. Won't let me make it smaller.

Enjoy this post?

Buy Bitcoin Charts a beer