Cute Pixel Art Trading Cards! (Digital)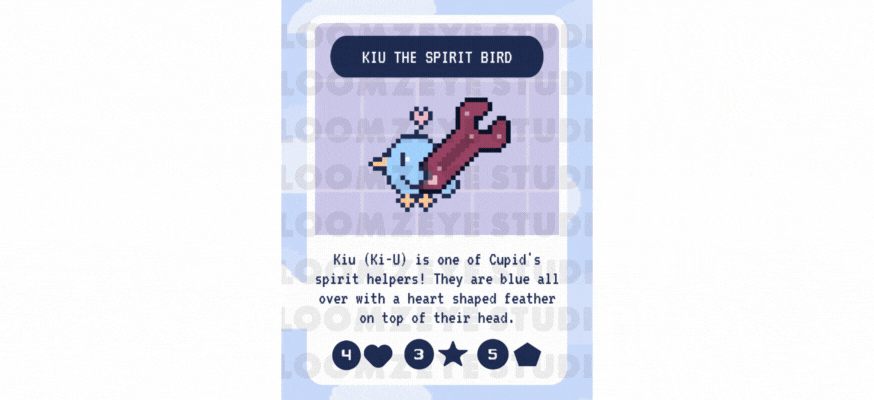 Hey, Creatives!
To kick off this month, I'm finally releasing my pixel art trading cards! If you're one of my "Multiplayer Mode" level members, each month* you'll get the non-watermarked, animated, AND digital image files of a card delivered to your inbox like these cards here!
The first sets of cards are from my indie game, Cupid's Tiny Builder! I think making cards is a fun way to share about my games, and I'm thinking of making a fun little mini-game where members can "win" the cards. I just thought of that idea today, so it's still working around in my noggin logistically.
And if you're not a member on my page (which starts at $1!) I have the option for you to buy the digital, non-animated, and non-watermarked cards in my lil' shop here under "Extras".
Currently, I can only do the digital cards, but I've been test printing my cards and they don't look too bad! In the future, the digital cards might stay in the "Multiplayer Mode" level, and the physical cards to be mailed will be in the "Party Mode" level membership.
I'm gradually getting myself together as I grow up and figure out how to be a 20-something (fun times), and some days are harder than others. But, I have so much to create and share. Even when it gets tough, I want to keep going. Thanks for reading, and I'll share more later!
– Bloomzeye
Quick Links: My game on Itch.io • Random dev updates on Twitter • Video devlogs on Youtube • Art Instagram • Website Portfolio
*Sometimes I can't create a card each month on time, so I do my best to add more content or cards If I miss a month..or two...
Enjoy this post?

Buy Bloomzeye Studio a pretzel