3D to 5D Relationships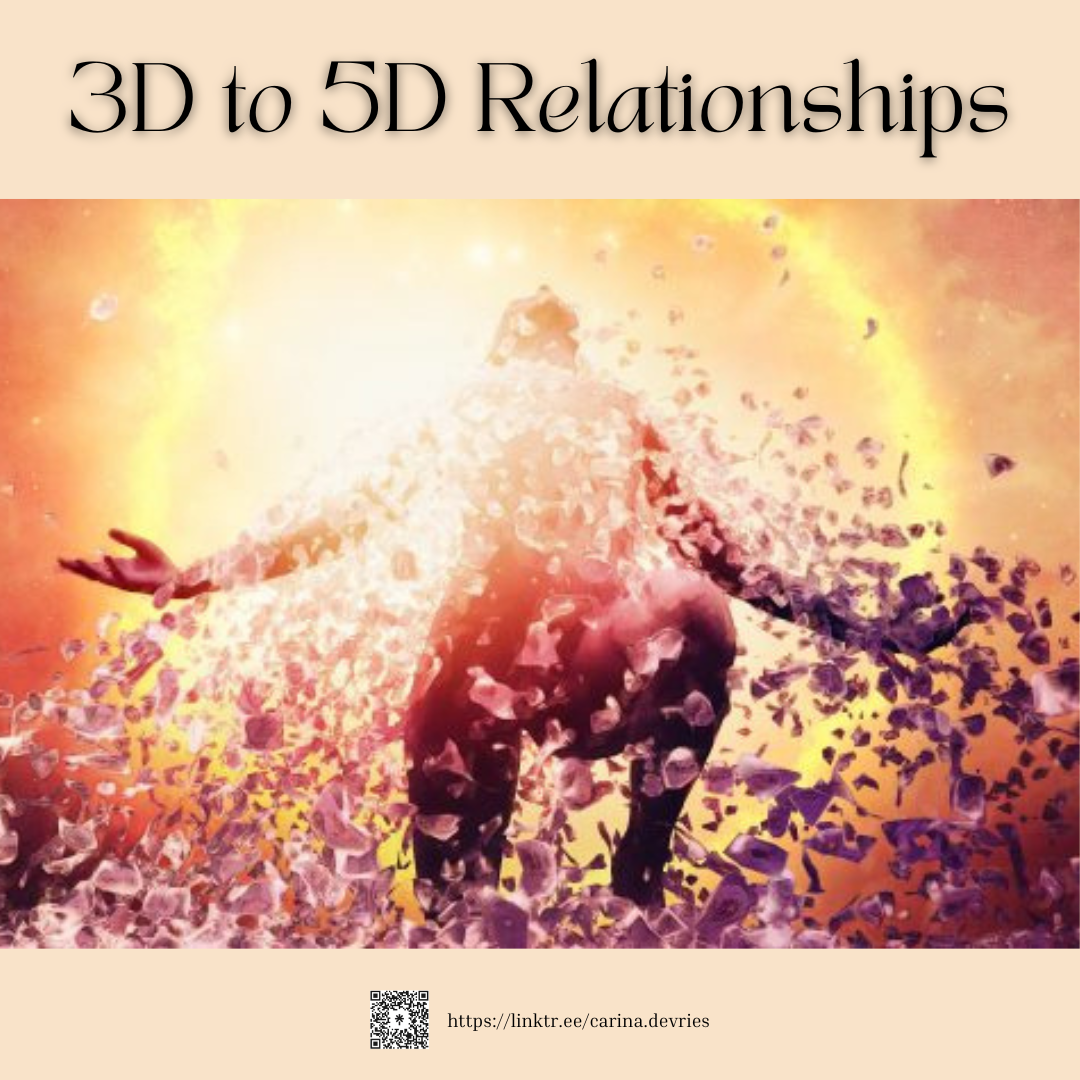 𝟛𝔻 𝕧𝕤 𝟝𝔻 ℝ𝕖𝕝𝕒𝕥𝕚𝕠𝕟𝕤𝕙𝕚𝕡𝕤
I found a beautifully spiritual description of the types of Relationships we experience. Sharing, not as my own, but could not have said it any better...
"The shift from 3D to 5D almost completely changes our perspective and approach to life altogether and so this will have an impact on the relationships in our life.
As we shift from 3D to 5D our existing relationships can transform in a variety of ways, this can apply to all types of relationships including friendships, family, romantic and professional relationships.
𝟑𝐃 𝐯𝐬 𝟓𝐃 𝐑𝐞𝐥𝐚𝐭𝐢𝐨𝐧𝐬𝐡𝐢𝐩 𝐓𝐫𝐚𝐢𝐭𝐬
These are some of the ways your relationships may change through the shift from 3D to 5D:
3D relationships will include conditions , possessive and controlling tendencies vs 5D relationships which encourage freedom, sovereignty and authenticity.
3D relationships are more likely to have rigidly defined or predetermined roles governed by societies expectations or conditioning vs 5D relationships which have heart-led freely chosen roles that are openly discussed and agreed upon.
3D relationships are often motivated by concerns and considerations for survival, security and material convenience vs 5D relations which are formed on the basis of genuine unconditional love, appreciation and source connection focused on energetic awareness and alchemy.
3D romantic relationships often focus on intimacy on a physical level only vs 5D intimacy which also includes the spiritual, energetic and soul level layers of intimacy.
3D relationships may focus on the outer appearance of ego
and projection of the relationships vs 5D which is rooted in genuine connection and inner integrity, and honesty within the relationship no matter how unconventional the relationship may seem to 3D awareness.
3D relationships are often perceived as lasting till death or only lasting as long as you physically acknowledge and interact vs 5D relationships which are infinite connections that can last as a spiritual connection far beyond physical separation."
𝐵𝑦 𝑌𝑎𝑠𝑚𝑖𝑛𝑒 𝐷𝑎𝑑𝑎𝑏𝑎ℎ𝑦
Enjoy this post?

Buy Carina de Vries a coffee