How To Make Your Values Matter
A WorkLife Change is Needed when Values are Out of Sync: Ted's Story: Nuclear Research Engineer to Urban Planner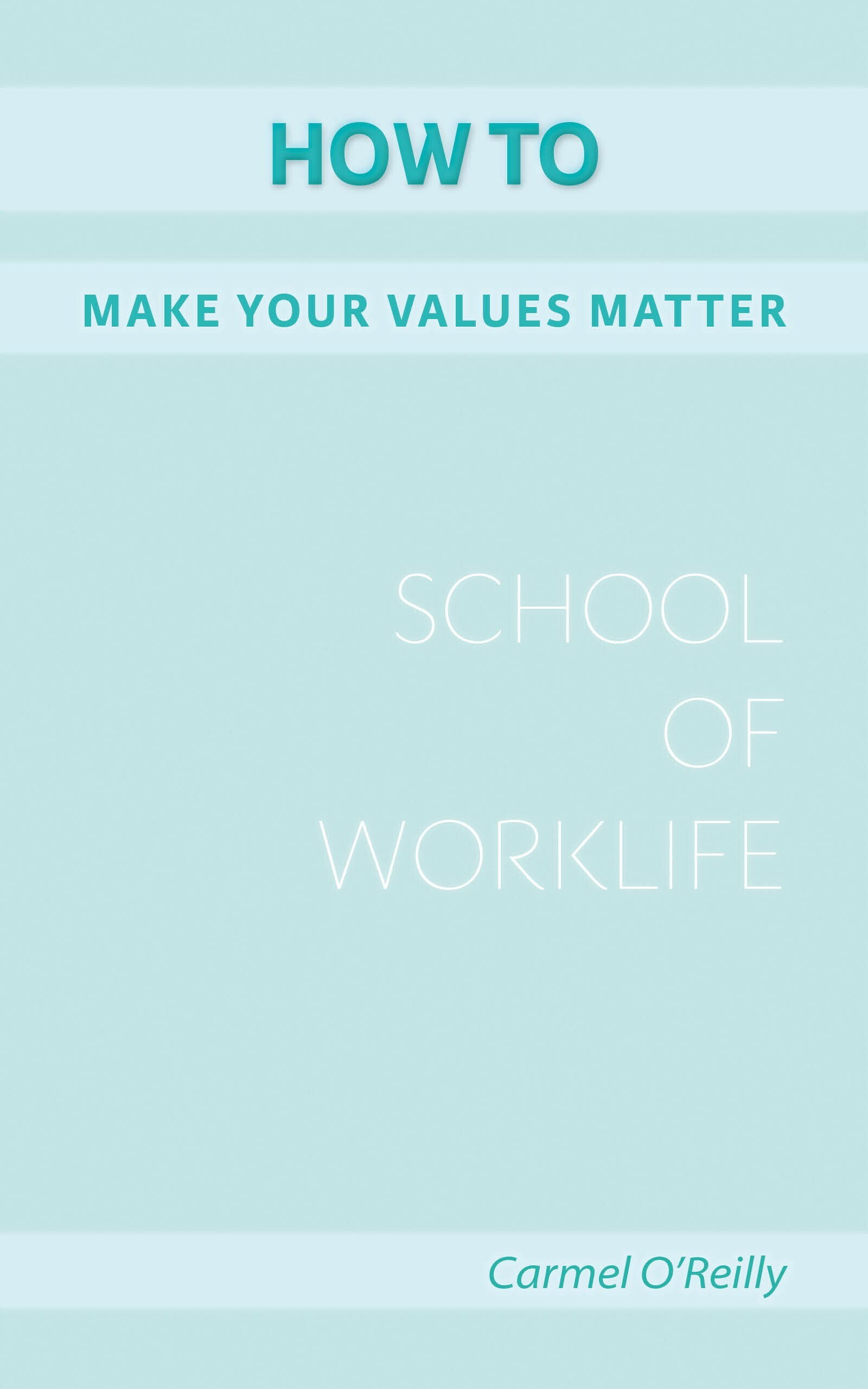 Ted was working in nuclear research. Having gained his degree in mechanical engineering he joined a nuclear-energy and engineering consultancy in Europe. There was a lot about his work and training that he enjoyed, except for one fundamental element: 'nuclear energy' really went against his values. He had joined the organisation straight out of university, and was grateful to secure the role and gain experience working in a leading engineering consultancy. When he took on the job, he had not given much thought to how he felt about environmental issues; but as his work evolved, he realised this was a serious consideration for him and his values.
Our work really does need to sit well with our values along with our skills, interests, attributes and motivated abilities. Ted's career coach took him through a self-assessment process to understand what all of this meant to him in considering a WorkLife change. He was at the point where he knew a change in his career was necessary to allow him to feel more satisfaction in his work and to have a job that he was proud of. He wanted a career that was progressive. He was at the beginning of his WorkLife journey, and his professional and personal development were important to him. He also wanted to move from Europe to Australia, having fallen in love with Anna, an Australian girl, and having spent time holidaying there. He loved the lifestyle, and they both agreed this was where they wanted to settle and in time raise a family.
Although Ted did not know exactly what his next career move was going to be, he knew it made sense to utilise the skills and experience he had gained throughout his training and work to date. After all, there were a lot of elements to his work which he enjoyed. These included the project work he had been involved in, the problem solving and the team working that supported the constant exchange of ideas and knowledge. He had developed strong presentation and communication skills, and was comfortable interacting at all levels. His leadership ability had been nurtured and his career development supported, enabling him to improve his soft skills along with his technical abilities.
He began to explore options through researching what was going on in the world of engineering, with his focus on Australia, reading any news stories he could get his hands on. The various engineering publications were a good source of information, and he began to build a spreadsheet of organisations operating in Australia. He then researched each one further to uncover what projects they were becoming involved in, and who was hiring.
He talked to recruitment consultants in Australia, and while they were interested in his CV, he needed to have a work visa before they could put him forward for a role. He had various choices as to how he could do this. He could apply for an initial visa, which would allow him to stay in Australia for one year and work for a set period during this time. He hoped that this would allow him to be employed by an organisation that would be impressed with his work, and as a result want to sponsor him in gaining a full-time visa. Alternatively, he could try to connect with an organisation that was willing to sponsor him from the outset. He was open to either option.
He also began to talk with people in the industry both in Europe, through people he knew, and through forum discussion groups, allowing him to connect with people worldwide. He utilised LinkedIn to facilitate this. His research and conversations opened up his thinking to urban planning, and although this was a new area to him, his skills, experience, interests, attributes, motivated abilities and potential were quite a good fit and extremely transferable. The more he researched what this actually meant in terms of the work he would be involved in and where his career could take him in this field, the more appealing it became, and so he shifted his focus to getting a role in this industry.
He decided that because he was moving into a new industry it was unlikely that an organisation would sponsor his work visa at the outset, so he chose to travel on a one-year visa, which allowed him to work during his stay. People he had connected with throughout his research were happy to make introductions when they could, and he discovered it is quite a small world in terms of who knows who where. When he had the clarity he needed, he had a conversation with his boss — who although sad to lose him as part of his team, was very supportive and helpful in connecting him with people he knew in Australia.
And so Ted set off on his adventure to Australia to establish himself in a new career and a different lifestyle. He has secured an interim role working within urban planning, and I have every confidence this will lead to a full-time position sponsored by the organisation.
Values Assignment
The purpose of the following assignment is to help you think about your key values. This greater awareness is valuable for when you consider what type of job role, sector and work environment will suit you best, along with what is important to you in your life outside of work that you need to take into consideration.
Hereunder is a list of subject headings. Look through them and choose between four and eight that matter the most to you. Add others that have more meaning to you if you wish. Then under each heading write a short description to express the meaning it holds for you.
For example, Ted's most important values, which have helped guide him in his WorkLife decisions, are:
Environmental Issues: Living in a world that is safe, clean and has a sustainable future is important to me. I want to play a part in making a positive impact in this area, through how I choose to work and live my life.
Love: I want to be with Anna, to create a life together, to live in the moment and share experiences, and to plan our future.
Professional and Personal Development: I want to continue to grow professionally and personally in both my technical abilities and soft skills. I want to be empowered to be myself, and encouraged to take risks, to learn and to grow. It is important that whatever organisation I join is fully supportive of this.
Progressive Career: I want to be part of a company that inspires me to find new and better ways to move my industry forward.
Project Work: I love that design is at the heart of engineering, and it's important that I continue to be involved in projects that expose me to different problems and situations to stimulate my imagination while continuing to develop my systems thinking.
Team Working: The constant exchange of ideas and knowledge is important to me. I also want to develop my leadership ability and to continue to interact at all levels within my industry.
Subject Headings
Adventure, Autonomy, Beauty, Challenges, Compassion, Competition,
Confidence, Courage, Create. Creativity, Communication, Education,
Environment, Equality, Excitement, Faith, Family, Finding Solutions,
Friends, Happiness, Harmony, Health, Helping Others, Helping Society
Honesty, Hope, Independence, Influence, Inspiration, Integrity, Joy
Kindness, Love, Making A Difference, Money, Openness, Passion
Patience, Peace, People, Personal Development, Professional Development
Problem Solving, Purpose, Recognition, Resilience, Respect, Security
Serenity, Strength, Success, Survival, Taking Risks, Technology, Trust
It is important to note that some values may carry more weight or importance than others, and may be deal breakers. For example, in Ted's case the job he was in met many of his values, but was completely out of sync with how he felt about environmental matters. That was Ted's deal breaker.
Develop a Practice of Continuous Self-Feedback Assignment
In the WorkLife Values Assignment you awakened or re-awakened your self-awareness to what is most important to you. To continuously strive to live your WorkLife true to your values, it is good practice to check in with yourself on a regular basis to understand what this means as you go about your Worklife. This will help you to understand the good and bad reactions you have in different situations and towards different people, and what this means by way of being able to make the best and right choices for you to be able to live your Worklife true to your values. This will allow you to make the best decisions based on what's important to you.
Journalling is an excellent way to do this. Writing in a journal is a way to record the raw thoughts and observations you have during the day. Consider it a short daily investment in yourself.
Develop a Practice of Insightful and Effective Self-Questioning Assignment
Begin this practice by simply asking yourself:
Did I live my WorkLife today true to my values?
If Yes, what was great about this?
If No, why not?
What do I need to differently? What needs to change to allow me to remain true to my values?
Words of Wisdom
While things do not always change on a daily, weekly, monthly or even a yearly basis, this simple practice of regularly checking in with yourself, by posing these questions, demands that you stay in tune with your values. Then if something goes out of sync, you will be in a position to identify what that is and take the necessary steps to do what is right for you in realigning your WorkLife true to you values.
This story is one of the stories featured in my book: How To Make Your Values Matter. From The School Of WorkLife Book Series.
The stories I write are based on real WorkLife challenges, obstacles and successes. In some stories I share my own experiences, and with permission stories of people I've worked with, whose names have been changed to protect their anonymity. Other persons and companies portrayed in the stories are not based on real people or entities.
Enjoy this post?

Buy carmelinlondon a coffee