Why I Brought My Love of the Arts to My Worklife Learning Programmes and Resources
And How It Helped Me: First to Have Clarity on My Worklife Purpose, and Then to Become My Driving Force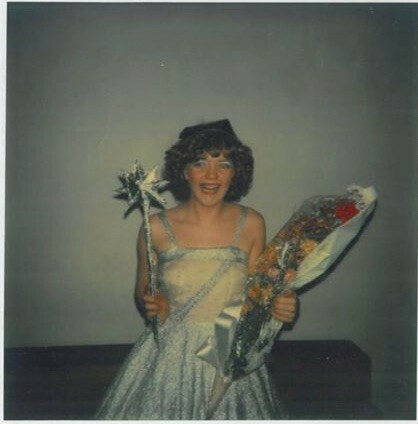 My love of the arts goes back a long way. Even further than this photo — and that's close to 40 years!
I can attribute it to my dad and his love of Irish music and community theatre, and to my mum, who loved singalongs, live theatre, classic films, and was also an avid Miss Marple, Murder She Wrote and Columbo fan.
I can also attribute it to growing up in a small community where everyone came together to fill the village hall in support of every show performed, including the Pantomime this photo is from … (drumroll) … Cinderella.
And I can attribute it to being Irish — the arts are a big part of our identity — we are the only country in the world that has a musical instrument — the Harp, as our national emblem — having a musical instrument as a symbol to represent our country is pretty unique, and cool, in my book.
Looking at this photo, I know it was taken side of stage. I know this because I can see the look of relief on my face. Because as much as I loved being part of the shows, I was always more comfortable as part of the chorus line or behind the scenes. Playing the Fairy Godmother in Cinderella was my one and only speaking role, and I can still remember how nervous I was ahead of each performance. Seeing myself with a bunch of flowers means it was the final performance, and that I had gotten through it, I had gotten through my crippling stage-fright — I can still feel the relief of that moment, all these years later.
Fast forward from when that photo was taken to when in my 40's, I left Investment Banking to become a WorkLife Learning Practitioner, having gained my degree in Career Coaching and Management. On beginning my new WorkLife, the one-to-one coaching work came easily to me. Group training and presentations didn't. I was so incredibly nervous talking in front of people that I wouldn't sleep ahead of an event, and I would be physically ill on the day.
I shared this with my dear friend Norma, who suggested an acting class to help me overcome my nerves. So, I took a class, actually, because my nervousness was so bad; I took several classes, including a year-long foundation in drama course, which demanded extreme vulnerability in portraying the characteristics of the roles we played.
Having done everything that was required to make those performances real, I felt I could do anything, and the thought of delivering group training sessions or presentations no longer freaked me out.
But the experience, skills and learning I gained in those classes went much further beyond helping me overcome my stage-fright. The acting classes helped me portray more emotion, and through this greater understanding of the different topics I spoke about; the movement classes gave me much more presence and freedom in my movement when on stage; the voice classes helped me develop a range that made what I had to say more interesting, in a way that drew in my audiences.
All of this allowed me to know that if the techniques and skills I'd gained through the classes had helped me not only overcome my crippling fear of speaking in public but had also helped to enhance my delivery, it could also help many more people in their WorkLife learning and development.
It was from here the idea of bringing the arts to WorkLife learning germinated. Over time I gained more clarity on how I could do this. This clarity gave me my WorkLife purpose: To bring the world of arts to the world of WorkLife learning and has been my driving force ever since.
My love of the arts and learning have been passions for as long as I can remember. Passions that I brought together, which combined have driven my WorkLife purpose.
Do you have a love, a passion, that has first given you clarity on your WorkLife purpose, which has then become your driving force?
Image supplied by author (Pictured: me)
Enjoy this post?

Buy carmelinlondon a coffee