Thirty $5 coffee cards delivered to the Royal Alexandra NICU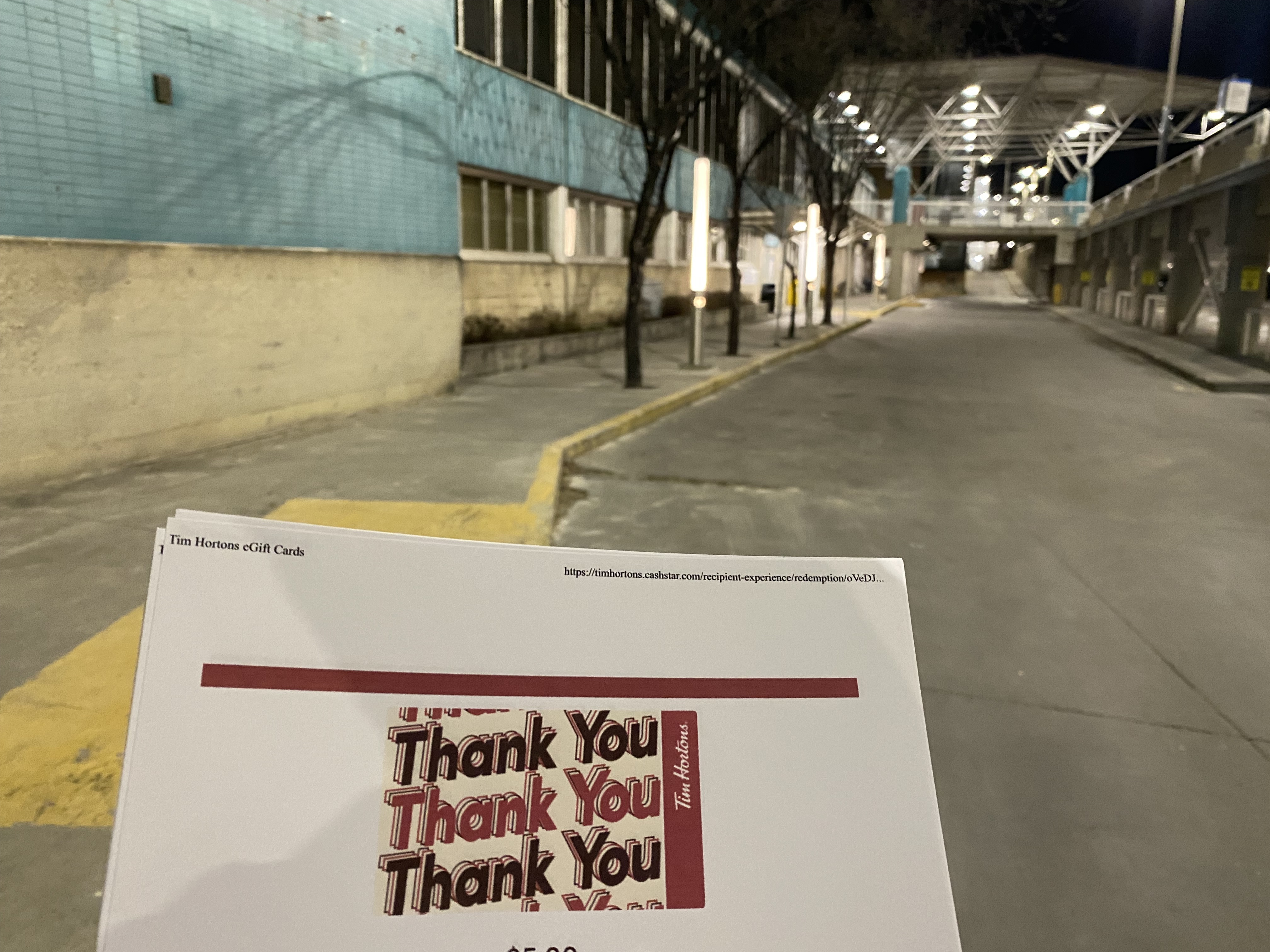 Tonight marks the 30th department I've delivered to. It's a nomination from Maggie S.
The RAH NICU is an extension of the Stollery Children's Hospital. I walked up to the welcome desk and presented the cards to the clerk. She asked how I wanted them distributed and I gave her some suggestions on how other units had expressed they were doing it.
Some units were doing draws, some left them in the break room, others indicated that they would hand them out to the staff that were working that night.
Maggie S' nomination was for the Stollery Children's Hospital as a whole but I collaborated with her to pick a specific place.
"My daughter is 4 months and has had her cleft lip surgery delayed past January. This surgery is normally done around 3 months, and hers won't be done until she's past 7. Thankfully, getting the lip repaired doesn't effect much other than cosmetics. However, getting this surgery delayed can effect all the rest that she needs.
The one I'm most worried about is her palate, without it she won't learn to speak.
All non-urgent surgeries and procedures (sic) that involve putting a baby/child under have been delayed until [past] January. I'd like to donate to the Stollery nurses who suddenly became adult nurses. Or worse, the ones taking care of children with covid. Taking care of children is very, very different than taking care of adults."
Our total coffee fund remains at $5781.11 from 170 donors. I've delivered 940 cards ($4700) to 30 departments. There's 5 departments left.
The full #CoffeeforHCWsAB story is here: https://chadohman.ca/coffeeforhcwsab/
I hope everyone had a safe and fun Halloween last night - we were thrilled to hand out chips to 83 kids at our own door last night! Thanks for letting me take the night off! 😅
Tomorrow night is the Walter Mackenzie (U of A) 3A7/3A8 Cardiovascular ICU on a nomination from Theresa E.
Enjoy this post?

Buy Chad Ohman a coffee