Thirty $5 coffee cards delivered to the Walter Mackenzie (U of A) 5C3/5C4 subunits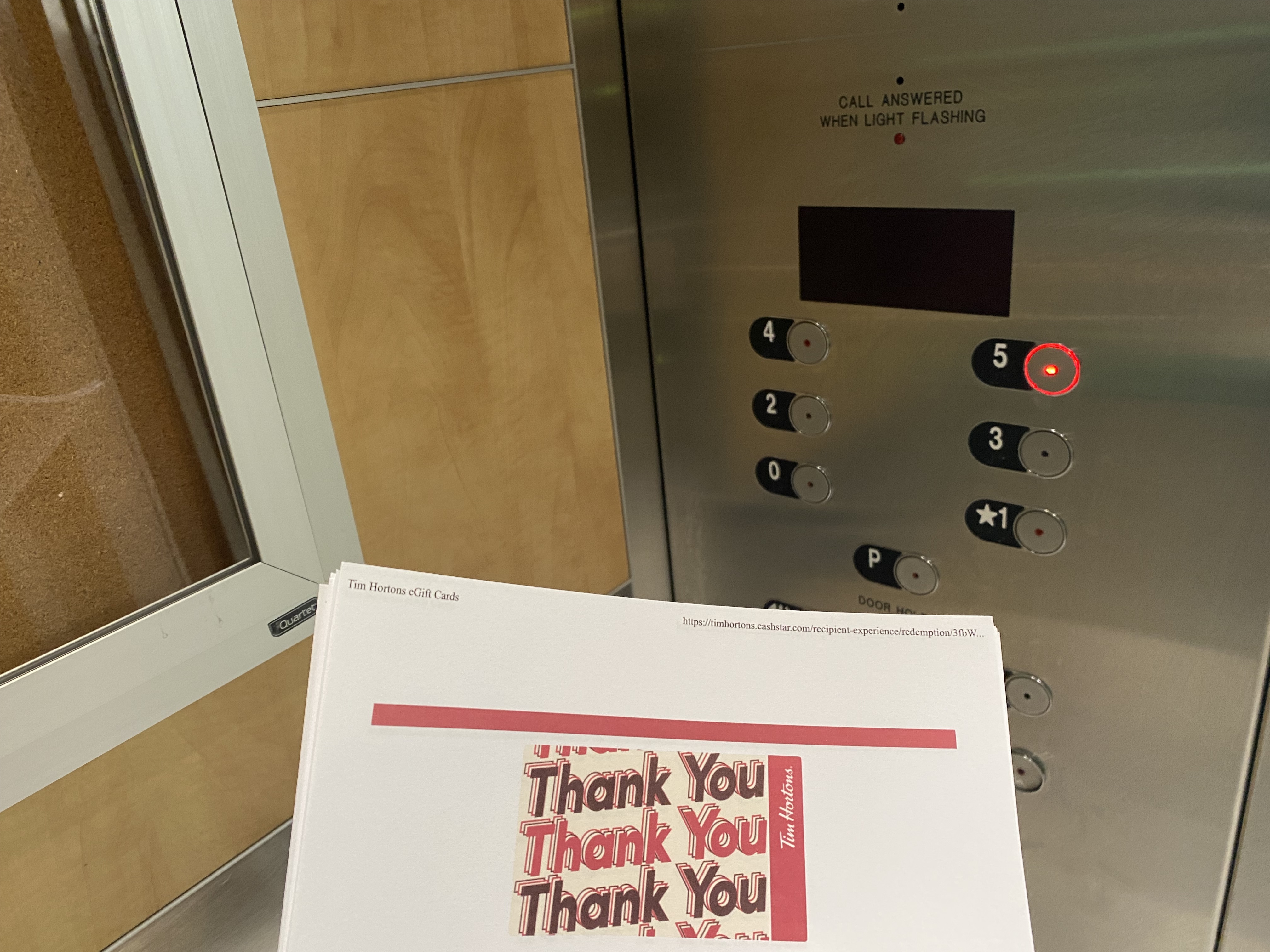 The floor in the interstitial space between these units is taped off with red tape and just beyond a round sticker that says "DONNING". These are full-time COVID units.
A nurse was stationed at the front to receive visitors and to help with donning/doffing PPE. I presented her with the stack of cards and she asked if it was okay if she ran and got her charge nurse. I said no problem!
A nurse dressed head to toe in PPE with an integrated face shield came out and asked "what is this?" I explained the #CoffeeforHCWsAB story and I could see her eyes begin to smile.
Tonight was an anonymous nomination: "The staff are fatigued with all the losses, codes and constant putting on and taking off of PPE."
I expressed to her that 170 Albertans recognize that they tirelessly empty their cups into their patients and we wanted to help refill theirs.
Two new donations today (thank you!), bringing our total up to $5781.11 from 170 donors. I've delivered 910 cards ($4550) to 29 departments. I have enough for ~6 depts left!
The full and always up to date story is here: https://chadohman.ca/coffeeforhcwsab/
I'm taking tomorrow night off to hand out treats to trick or treaters but will be back at it on Monday night.
I received three new nominations today and likely be capping it off there but if you wanted to nominate and have your story published do so here: https://chadohman.ca/nominate-a-unit/
Enjoy this post?

Buy Chad Ohman a coffee