Thirty $5 Tim Hortons cards delivered to Devon General Hospital Emergency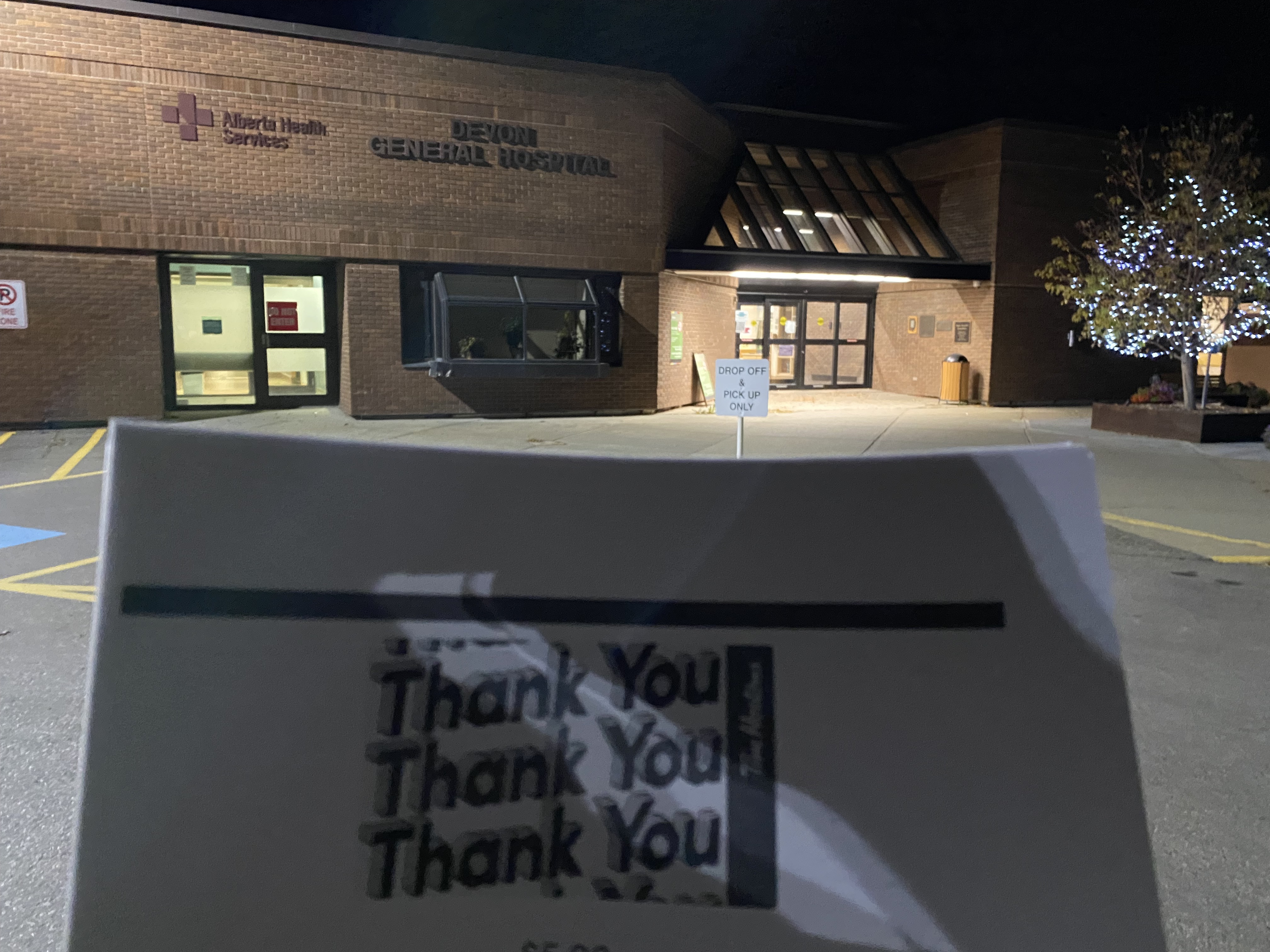 Thirty $5 Tim Hortons coffee cards delivered to Devon General Hospital Emergency. It was quite quiet outside the hospital. I hit the call button at the front door (a patient call button repurposed for this) and the security guard came over and let me in.
I think she was surprised when I knew how to shut off the patient call button. I explained what I was there for and she offered to take them and deliver them because the triage was busy with a patient. I told her I had no problem waiting.
Her and I chatted for awhile, she acknowledged they'd been really busy for quite some time. "It ebbs and flows," she said but it wasn't because they were short staff. "You just can't predict it." We joked that the exception was maybe when there was a full moon.
"Well I don't see a moon out there tonight!" she noted. The ER triage nurse came out and I presented her with the stack of cards. Explained the fundraising efforts. She asked, "who are they from so we can send a thank you card?" I said that'd be a lot of cards.
No new donations today (I think I've hid the donation link well enough), so we sit at a grand total of $5239.42 from 152 donors with 21 depts worth of coffee left. 360 cards ($1800) of coffee has been delivered to 12 facilities.
As always, all of the wonderful messages you've sent in with your donations have been saved here: https://chadohman.ca/coffeeforhcwsab/
Tomorrow night is Northeast Community Health Centre's Emergency Department, coming along with a nomination from Megan R: "It is a small hospital and the numbers they see here are compatible to larger urban sites. The staff work so hard to keep the community safe during this pandemic. Regardless of how hard the day can be they always show up with a smile on their face ready to give it their best."
You can nominate a dept here: https://chadohman.ca/nominate-a-unit/
In case you missed it, CBC Edmonton's Claudette Germain did a great spot on #CoffeeforHCWsAB on tonight's broadcast. You can view it here: https://chadohman.ca/coffeeforhcwsab/#Media_Headlines
Enjoy this post?

Buy Chad Ohman a coffee