Thirty $5 Tim Hortons Cards to the Misericordia ICU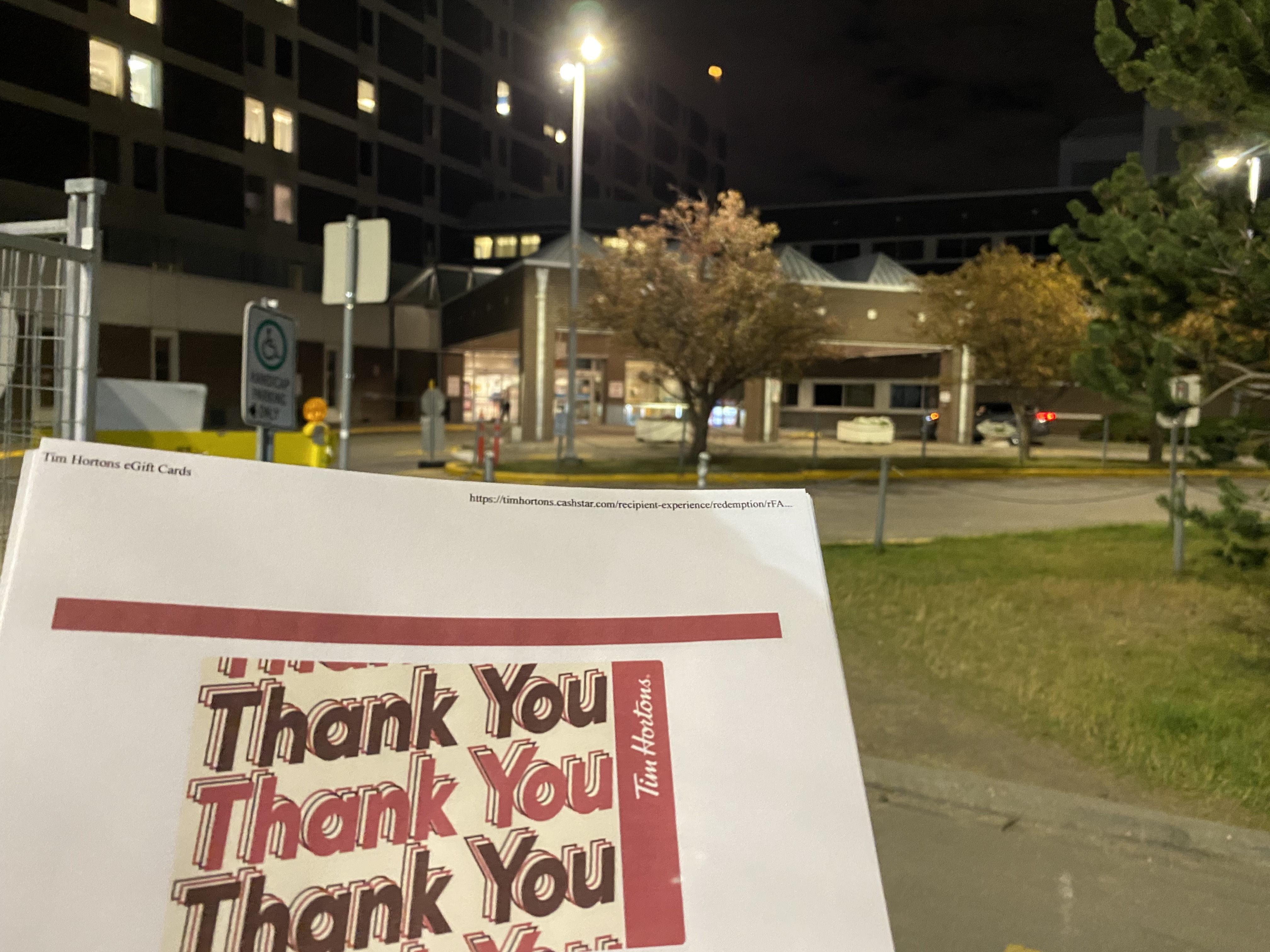 Thirty $5 Tim Hortons cards dropped off at the Misericordia Community Hospital ICU. The only entrance open at this hour is the Emergency one, so I lined up behind a couple of patients waiting to see the triage nurse.
Waiting in line, the security guard noticed the stack of coffee card pages and offered to fast track me and that I'd rather hang on. He said "god, they need it." Talked with the triage nurse, he opted to call up to the unit and let them know I was coming.
Instead, they sent someone down which I felt bad for; I don't really want to have someone go out of their way to come meet me but I guess she wanted to go for a walk. I understood. A few minutes later she appeared behind me and I handed her the thirty pages.
She was very surprised with how the cards came to be and really appreciated the gesture. I could tell she was tired. After a quick chat we parted ways and I said thanks to the triage nurse and the security guard.
That makes $600 of ...$2467.90 delivered. We had another 11 donors today and gosh - the outpouring of love through messages has been incredibly moving. Tomorrow is the Grey Nuns ICU.
With the ever changing nature of this #IntentionallyCruelWave and knowing that many units outside of our general ICUs and EDs have been asked to do the unthinkable, I've decided to start a nomination program. As long as the funds are there, I'll start fulfilling these requests.
I've set up a nomination form on my (neglected) website, along with a diary of events and messages of love and support throughout this beautiful effort: https://chadohman.ca/coffeeforhcwsab/ The nomination form can be found here: https://chadohman.ca/nominate-a-unit/
For my Calgary friends, @devouryyc is putting together love-filled care packages for their city's ICUs: https://devourcatering.com/product/i-see-you-icu-gift/
Enjoy this post?

Buy Chad Ohman a coffee