Thirty $5 Tim Hortons cards to the Strathcona Emergency Department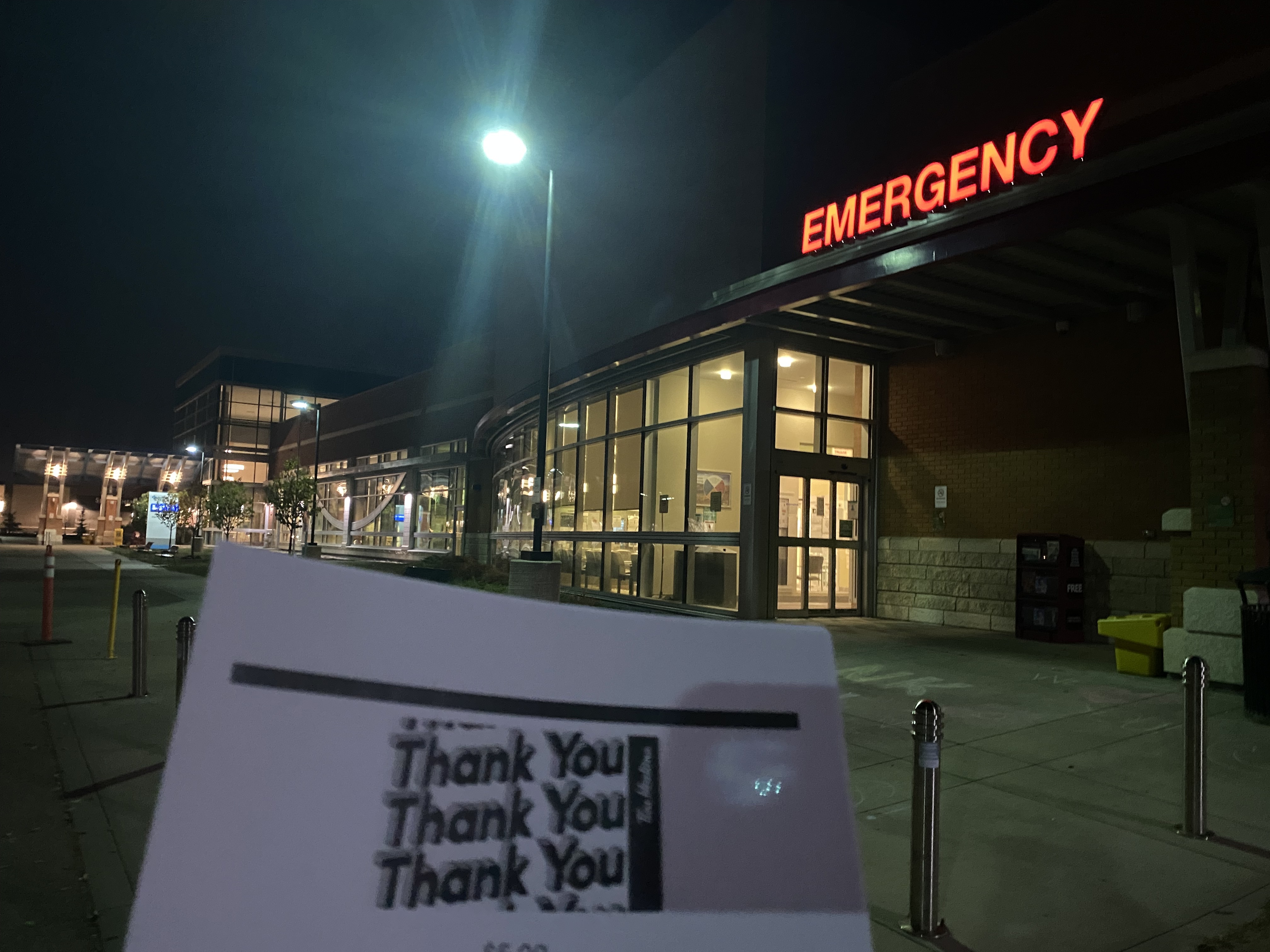 Thirty $5 Tim Hortons coffee cards dropped off at Strathcona Community Hospital Emergency in Sherwood Park. The hospital opened in 2014. Previously those seeking care had to travel into Edmonton. According to AHS just in their first year open they saw >36,000 visits.
I arrived a little later than usual (admittedly fell asleep on the couch) and the first thing I noticed walking up to the door was a patient being loaded into an ambulance for transport through the windows in the ambulance garage doors.
There's chalk on the sidewalk here too. Lots of thank yous and words of encouragement all over. A quick sanitize and mask change and the screener pointed me to the charge nurse. The department is colourful with green accents.
I presented the stack to the nurse and told her about the fundraising effort, how it started and that we'd crossed the $5000 mark. She was surprised and said she'd take them to management to distribute.
A particular thank you is in order for Dr. @ChuckWurster, physician at Strathcona and a fellow member of the Protect our Province AB (@PopAlberta) coalition. He chipped in 50 coffees today and I'm pleased to report that he has a really wonderful team there.
Oh yeah - we crossed that $5000 mark. As of writing, we're sitting at $5215.28 from 150 amazing people. I said this was my goal and now have 24 units worth of coffee cards to distribute - getting well into November before they're all gone! So far 270 coffees have been delivered.
I haven't turned off the ability to donate but I won't solicit any more. The generosity that's been shown in the past two weeks has been nothing short of remarkable. All of the wonderful messages you've sent in with your donations have been saved here: https://chadohman.ca/coffeeforhcwsab/
Tomorrow night I'm finishing up the suburban Edmonton EDs with a reach into Central Zone with Wetaskiwin and Camrose's Emergency Departments. If you'd like to nominate a unit, please submit them here: https://chadohman.ca/nominate-a-unit/
--and don't worry, I'm still going to continue updating every night with the delivery stories!
Enjoy this post?

Buy Chad Ohman a coffee