How illustration got on my radar
I made a promise that I would make regular posts on this platform if I reached $50 of support then promptly forgot about it, figuring that it would take a while to get there. Thanks to a group of very kind strangers, all of a sudden I passed my first goal! I'm not sure what you all would want to hear about, so I guess I'll talk about a topic that may or may not be of interest to the people who have supported me here so far: one of my first illustration projects that ignited the fire in me to pursue a career in illustration.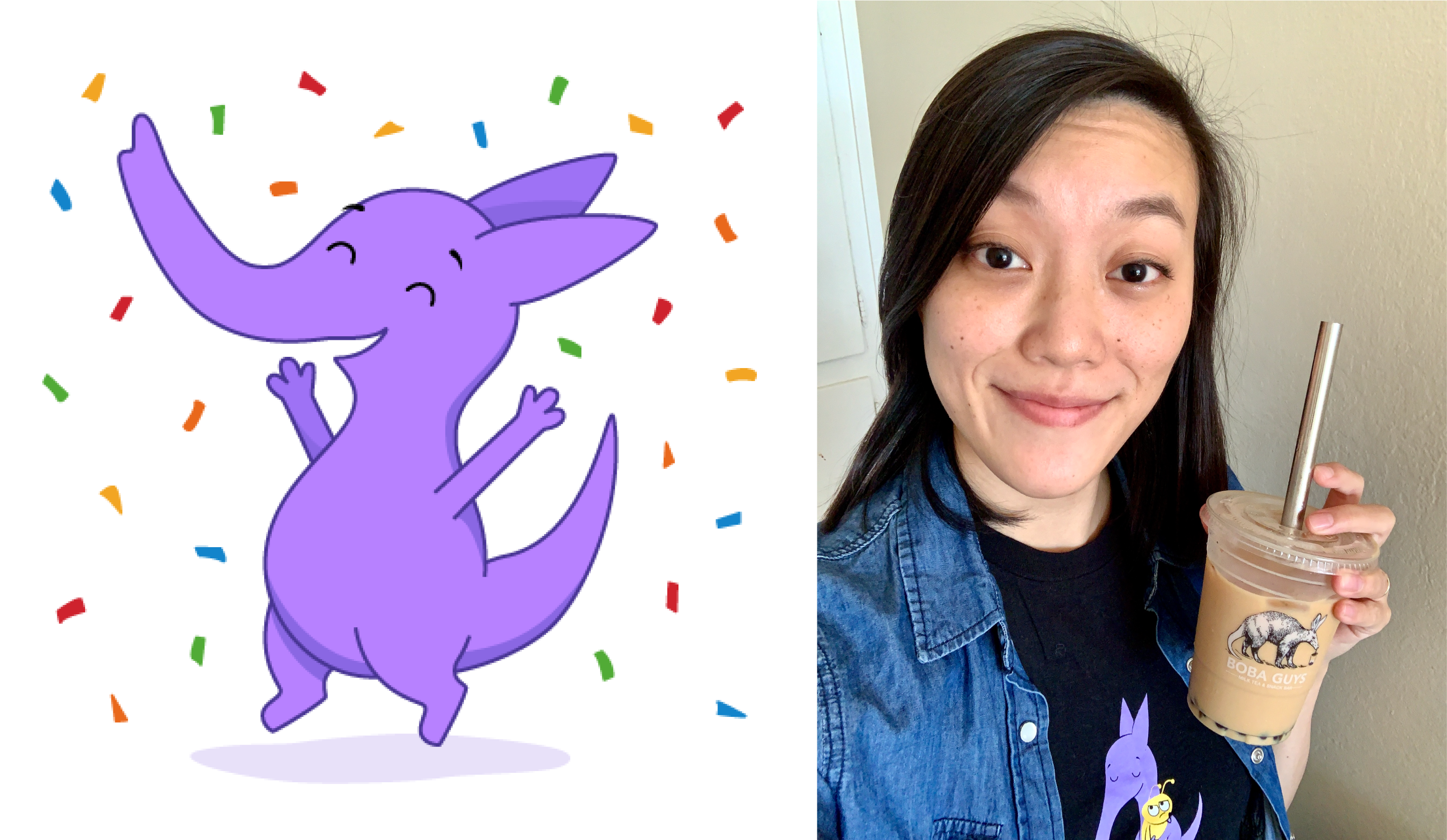 When I started at Apple, I was in a new-grad program that allowed me to do rotations on various teams within the department. In 2016, I started on my second rotation as a UX designer on the company's internal bug tracking app. The team was holding a mini hackathon for the week, allowing its members to come up with and develop any innovative product or enhancement for the app. Having recently joined the team with no native iOS/macOS coding experience and little knowledge of the product, I felt lost. Then my friend and teammate Garret suggested that I could make iMessage stickers for the iOS app. The concept of stickers on iMessage had just come out so I wasn't quite sure what to do, but it appealed to the visual artist in me so I gave it a go.
Finally able to use my illustration muscles, I let this project spill over into my free time even after the hackathon was over and ended up creating a collection of 12 sticker designs to release. The reception was decent and I received some feedback for improvements or new design ideas, but I had my actual job to get back to. These stickers really stuck in my mind though, so I kept thinking about them and decided a year later to give them another try.
This is where my passion and excitement for illustration really started to show itself. I had all this other work to do that I was actually being paid for, but I found myself spending my downtime and long bus commutes working on these stickers. I had come to realize how much I had missed the mark with the first batch of stickers. I had basically redrawn memes that only really made sense to the community of power users for the first version and hadn't thought through the experience of how people use stickers and interact with them. There was very little reason for an average employee or even layperson to be interested in the stickers. I thought back to the time I used Facebook messenger in college and basically had full conversations with people only using stickers. Or how much people can communicate to one another with just emojis. The second iteration was going to be an almost complete overhaul and focus on how people could communicate and emote with one another using the stickers.
The app icon and mascot for this app was a purple aardvark––its actually quite the celebrity within areas of the company. This was the best character to create for the stickers, but I didn't quite like its original depiction. It was not in a style I could replicate easily and it didn't lend itself well to emoting. I decided to redraw the aardvark in my style, so I could comfortably redraw it for various stickers and with facial expressions. This little aardvark ended up on 27 stickers in the collection, displaying different emotions from excited to scared, and in situations like sliding down a rainbow or running away from a Macintosh on fire. My favorite is the aardvark sitting soaking wet in the rain, a literal depiction of my state at the time having just been caught in a rare bay area downpour.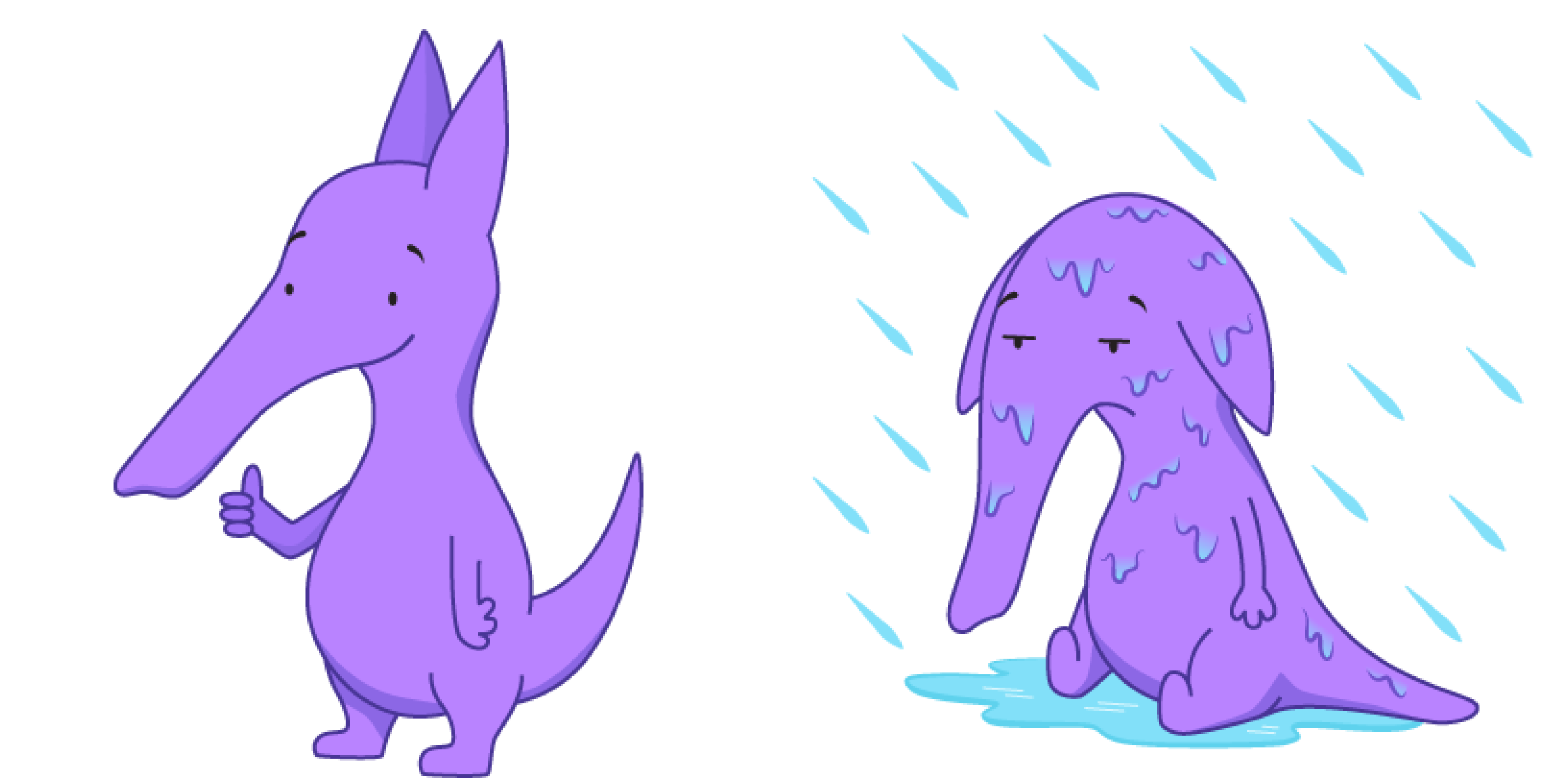 This random one-off hackathon project had become my most prized accomplishment while working at Apple and something I was always excited to talk about. I kept coming back to it every once in a while over the following years at the company if I had a free moment and always wished I had more time to spend on it. I rarely got excited to talk about the things I was working on, but would jump at the chance to discuss what the next sticker should be or illustrate a design to go on a t-shirt (which I still can't believe 1400 employees wanted). I longed for most of my job to be dedicated to drawing fun illustrations like that, and eventually it occurred to me that it could, so I started making cute art in my side business.
Hearing that people are still excited about my aardvark drawings even after I've left the company makes me so happy. It especially helps on the days that I wonder if I made the right decision trying to pursue art full-time. So thank you, purple aardvark lovers, and other fans of my work for your generosity and kindness!! Wanting to bring a smile to your faces is the reason I do this and what keeps me going. 💜
See some of the other iMessage stickers of this purple aardvark on my website. Follow me on Instagram to check out the other things I make. Thanks for reading!
・newsletter001・
Enjoy this post?

Buy Chanamon • Illustrator a bubble tea