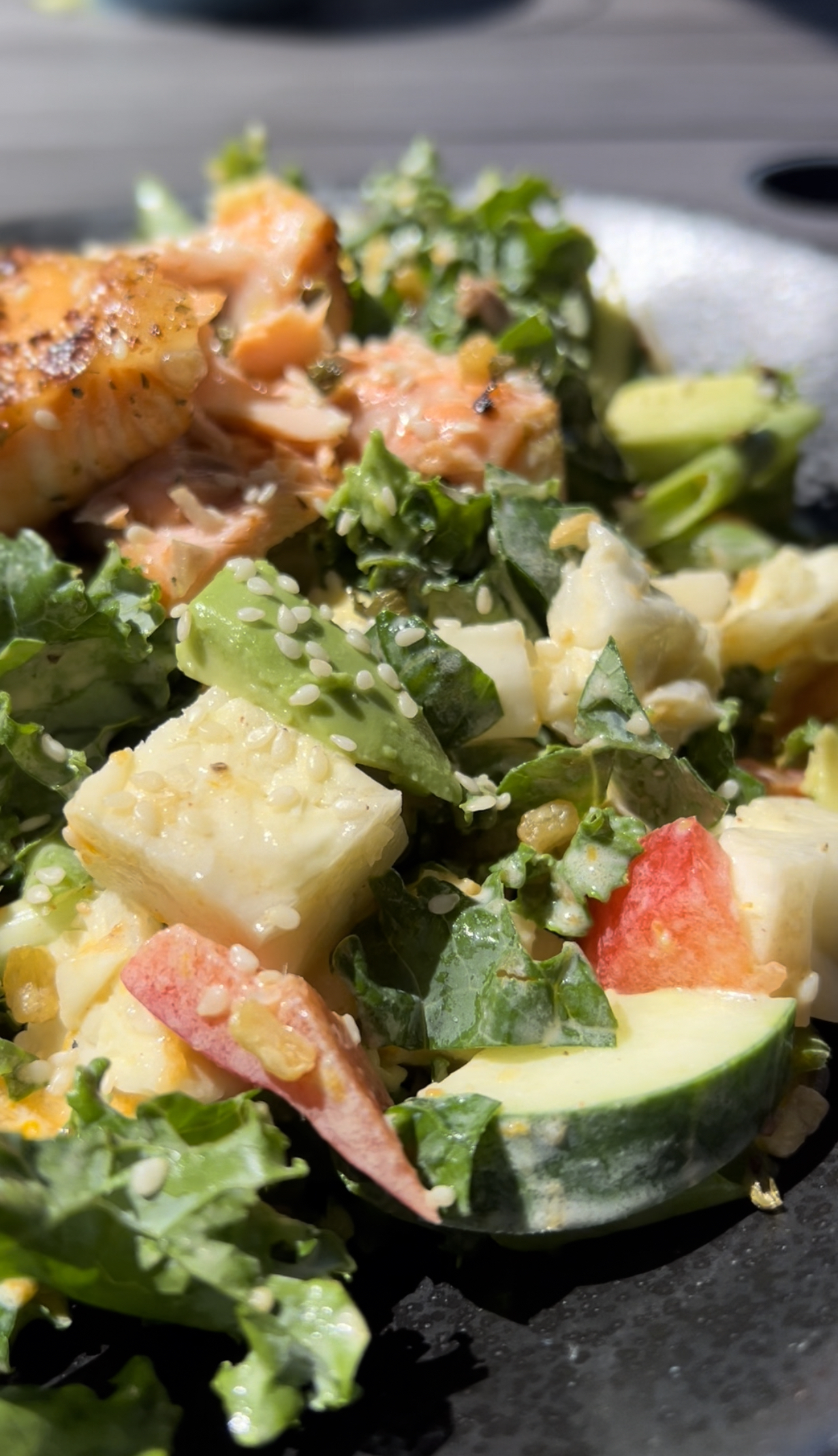 serves: 2
cook time: 20 minutes
WHAT YOU'LL NEED:
1/2 lb salmon
3 cups chopped kale
1 cup chopped cabbage
1/2 red bell pepper
1/3 cucumber
3 sprigs green onion
1 mandarin
1 avocado
2 Tbsp toasted mung beans
2 tsp sesame seeds
1 tsp avocado oil
1/2 tsp paprika
lemon wedge
for the dressing
2 Tbsp sour cream
2 Tbsp Mayo
1 mandarin, juice + zest
1/2 lime, juice + zest
1 tsp hot sauce
1 tsp soy sauce
1 tsp peanut butter
1/2 tsp sesame oil
1 clove garlic, finely chopped
HOW TO MAKE IT:
1 // season salmon w salt, pepper + paprika. add avocado oil to pan pre-heat to medium + place salmon skin side up. cook most of the way thru, then flip to finish. when done, remove from heat, let cool, remove skin, separate into large bits with a fork, squeeze lemon over the top, set aside
2 // meanwhile, chop + slice veggies (kale, cabbage, pepper, cucumber, avocado, green onion, mandarin) for the salad. be sure to remove thick stem of kale. for the mandarin, peel first, separate into slices, then cut slices in half. add to salad bowl, then make your dressing.
3 // zest citrus + combine in a small mixing bowl with other dressing ingredients. season w salt + pepper to taste. then, pour dressing over salad + toss to combine.
4 // to serve, plate salad then top w mung beans, sesame seeds + salmon

TIPS:
toasted mung beans are a great way to add crunchy texture to a salad (healthier than croutons, too!)

ENJOY + remember to tag @eatingwellwithkel when you make it!