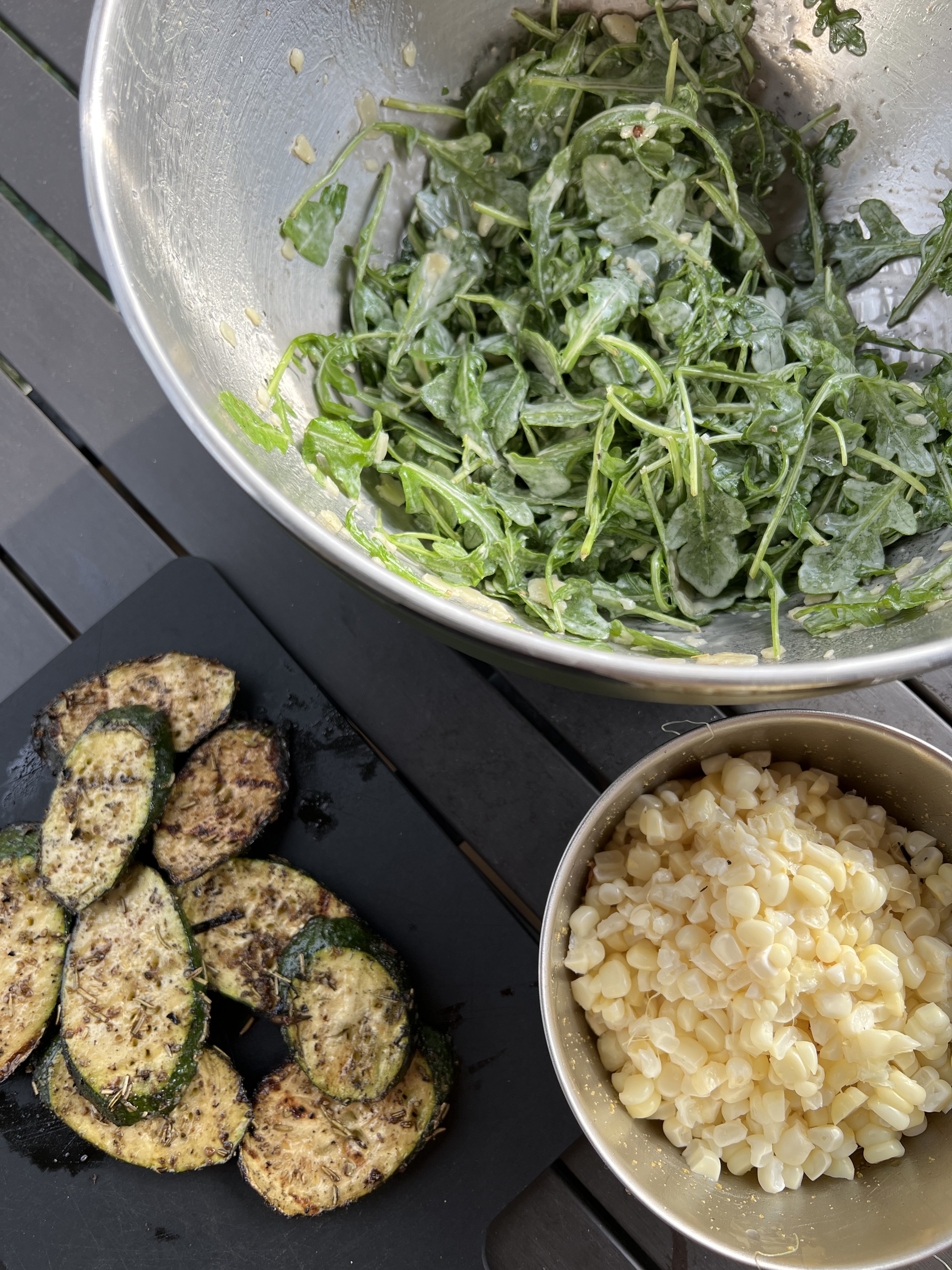 serves: 2
cook time: 20 minutes
WHAT YOU'LL NEED:
3 big handfuls arugula
2 corn on the cob
1 zucchini
1 shallot
1/2 lemon
1 boneless skinless chicken breast
2 Tbsp mayo
2 Tbsp olive oil
1 Tbsp avocado oil
1/4 cup parmesan
2 tsp garlic powder
2 tsp thyme
1 tsp rosemary
HOW TO MAKE IT:
1 // toss corn (husks still on) to the grill, heated to around 350-400 degrees, turning occasionally. meanwhile, slice zucchini diagonally into 1/2 inch thick pieces. toss slices in a bowl with avocado oil, thyme, garlic powder, salt + pepper. put zucchini slices on grill, toss occasionally, until charred but not too softened
2 // while veggies are grilling, make your salad base. in a salad bowl, add arugula then drizzle mayo, olive oil, a squeeze of lemon + add thinly sliced shallot, parmesan, salt + pepper. toss to combine + set aside or in fridge.
3 // when ready, remove husks from corn + cut corn off the cob. put corn in a bowl + set aside to cool. cut zucchini slices into quarters. also, season chicken breast with rosemary, thyme, garlic powder, salt + pepper then toss on the grill, flipping occasionally.
4 // remove chicken from grill + cut into bite sized pieces. plate salad + top with pieces of chicken, salt + pepper.

TIPS:
make this dish extra lemony + include lemon zest in the salad, too

ENJOY + remember to tag @eatingwellwithkel when you make it!