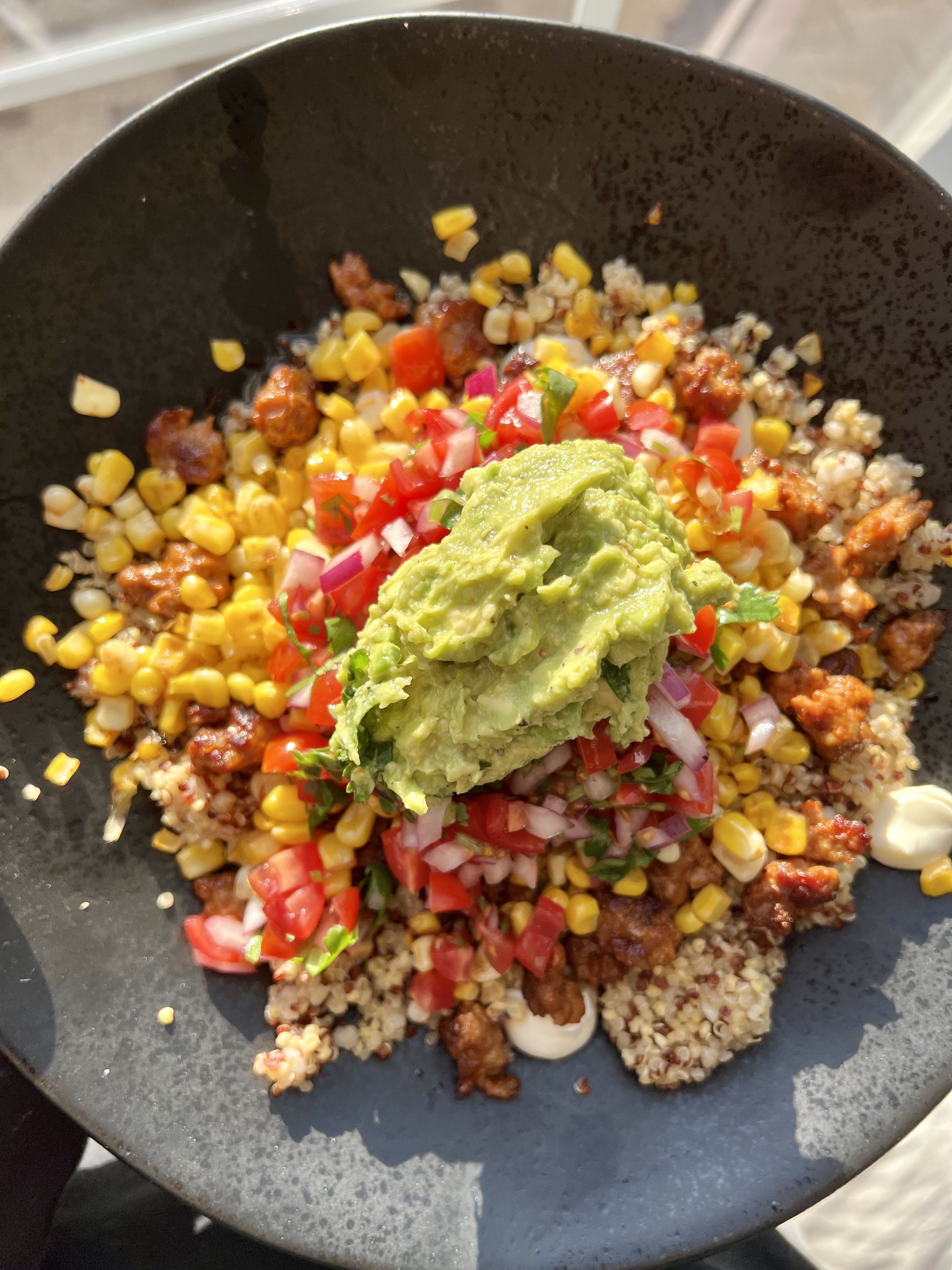 serves: 2
cook time: 25 minutes

WHAT YOU'LL NEED:
1/4-1/2 lb chorizo
1/2 cup uncooked quinoa
1 ear corn
1 avocado
1 roma tomato
1/4 red onion
small bunch cilantro
1 lime
1 tsp garlic powder
2 Tbsp avocado oil
1/2 Tbsp butter
HOW TO MAKE IT:
1 // cook quinoa according to package. also, shave corn off the cob + toss in a pan with butter + a drizzle of avocado oil to char slightly. toss occasionally + season with a small pinch of salt.
2 // prep pico de gallo + guac. chop tomatoes, onion + cilantro. add to a small mixing bowl w a squeeze of lime + fresh crack of salt + pepper to taste. for the guac, mash the avocado in a small bowl + season w garlic powder, salt + pepper. squeeze lime juice to taste + add one small spoonful of pico de gallo into the guac. stir to combine + set both aside.
3 // remove corn from pan when done + put into a small bowl for now. in the same pan add a small splash of avocado oil + chorizo, breaking into smaller bits + tossing occasionally. add a small pinch of salt.
4 // to plate, scoop quinoa + top with chorizo, then corn, pico de gallo + guac

TIPS:
salsas are easy ways to incorporate vegetables into your meals. you can also add fruit (mango, pineapple + strawberries are some of my go-to's!).

use citrus + herbs like cilantro to your advantage!
ENJOY + remember to tag @eatingwellwithkel when you make it!