quinoa breakfast bowl w bison, greens, avo + egg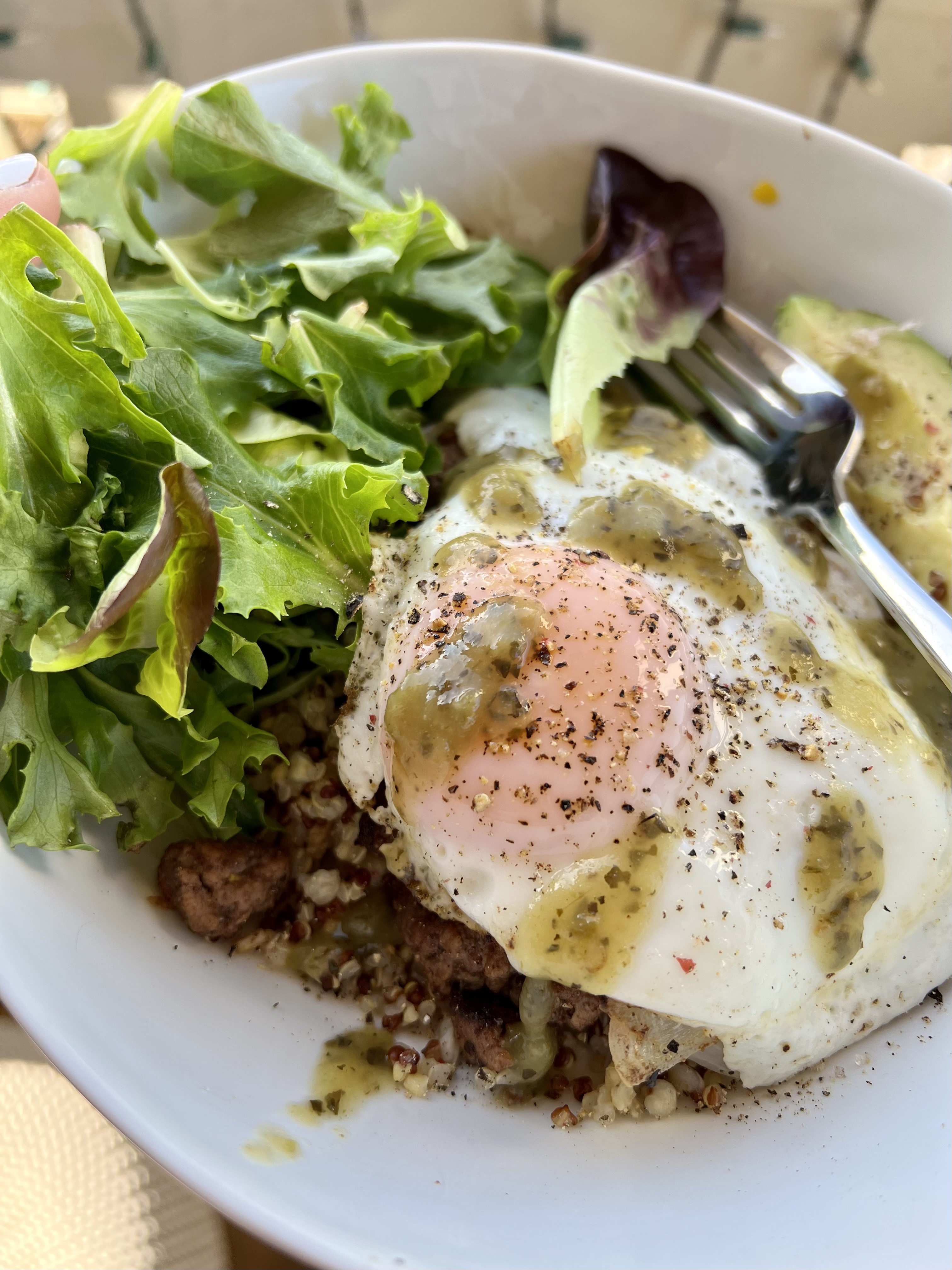 serves: 2
cook time: 15 minutes

WHAT YOU'LL NEED:
2/3 cup uncooked quinoa
1/2 pound organic ground bison
2 eggs
2 handfuls greens mix
1/2 white onion
1/2 avocado
1 Tbsp high quality butter
2 cloves garlic
HOW TO MAKE IT:
1 // cook quinoa according to the package (or cook it the night before for an even quicker breakfast). slice onion into thick strips + crush garlic
2 // in a pan, add butter, onions + garlic. toss to combine + after a couple minutes, add ground bison, breaking it up in the pan, seasoning with salt + pepper, tossing, then let sit to get some browning going on the bison. toss occasionally till cooked.
3 // meanwhile, plate your quinoa when it's ready, add a handful of greens to each bowl + put a quarter slice of avocado in each bowl. add the bison when done, then turn your pan down + add a touch more butter. crack your eggs + cook sunny side or over easy (my preferences + if you want the runny yolk). top the bowls with an egg, salt + pepper.

TIPS:
always always always make extra grains! it saves you time in the morning when you want a quinoa breakfast bowl + helps reduce the amount of pots + pans you need to wash. I used leftover quinoa from the day before for this breakfast bowl + this only took my 10 minutes to make on a Monday morning.

ENJOY + remember to tag @eatingwellwithkel when you make it!
Enjoy this post?

Buy eatingwellwithkel a coffee