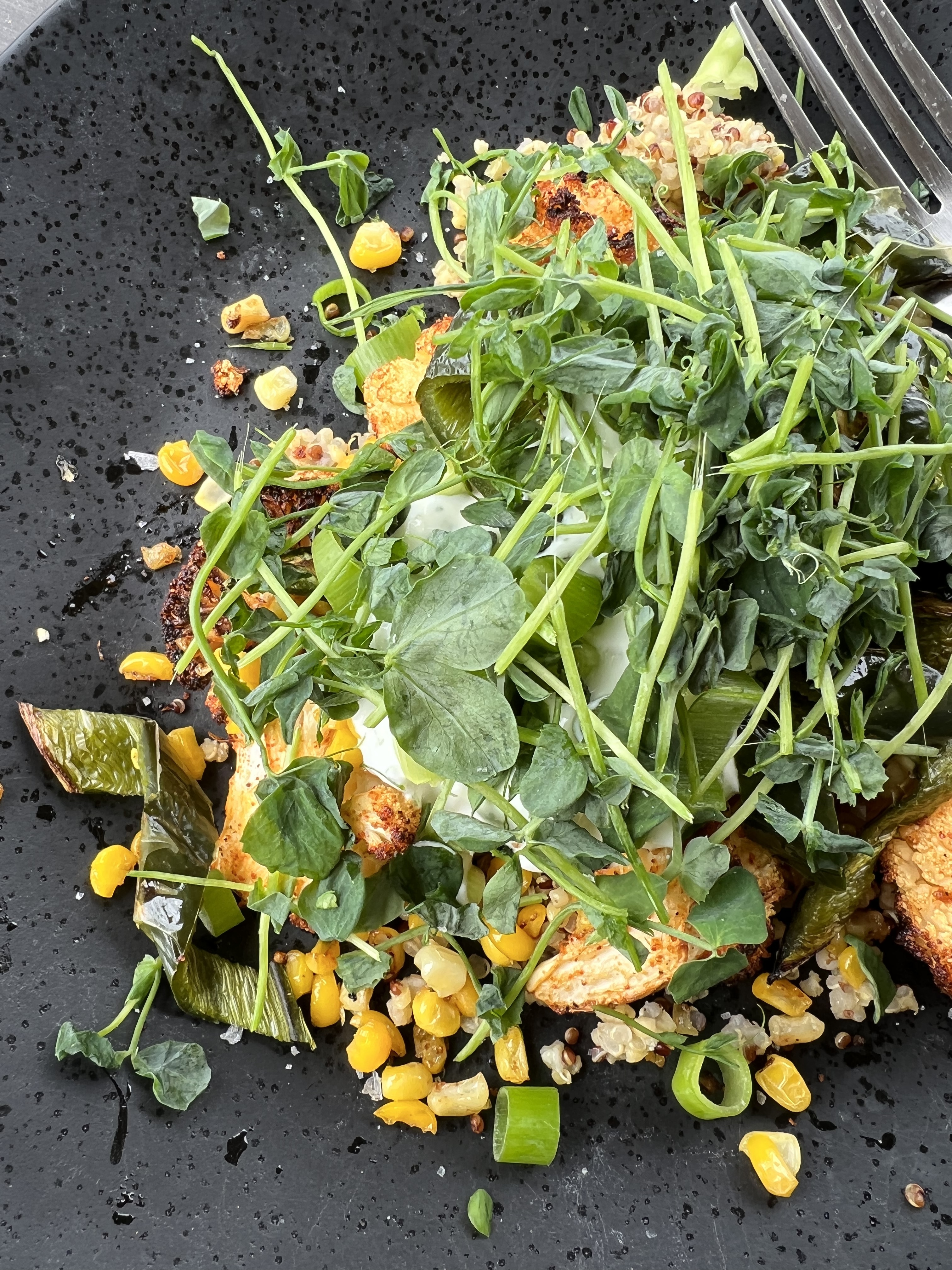 serves: 2
cook time: 30 minutes
WHAT YOU'LL NEED:
1/2 cup uncooked quinoa
1/3 head cauliflower, cut into florets
1 poblano
1 cob corn
2 sprigs green onion
1 small handful micro-greens
1 lime
2 Tbsp cilantro, chopped
1 heaping tsp sour cream
pinch cayenne
1/4 tsp sesame seeds
1/2 tsp cumin
1 tsp smoked paprika
1 tsp garlic powder
1/2 Tbsp unsalted butter
2 Tbsp avocado oil
HOW TO MAKE IT:
1 // cook quinoa according to package. pre-heat air fryer (or oven) to 400. chop cauliflower into florets + toss in a bowl w avocado oil, salt, pepper + spices. spread florets out on pan + roast for around 18 minutes till slightly browned + tender, but not soft + over cooked
2 // meanwhile, remove seeds from poblano + cut into bite sized, 1/2 inch thick strips. toss on medium-hot pan to blacken, tossing occasionally + seasoning at the end w salt + pepper. also, cut corn from cob + toss in another pan w butter, tossing occasionally, to roast for about 6-8 minutes, add a pinch of salt
3 // make sauce while everything else is cooking. in a small bowl, combine sour cream, zest of 1 lime, juice of 1/4 lime, 1 tsp water + small pinch of salt. stir to combine + add water as necessary so it's just thick enough to drizzle from a spoon. also, chop up cilantro + green onions as garnishes
4 // to plate, scoop quinoa on plate, then top w cauliflower, poblano, corn, sauce, micro-greens, cilantro + green onion
TIPS:
make extra everything + use for the next day's breakfast bowl, just top with an egg!

ENJOY + remember to tag @eatingwellwithkel when you make it!