Collaborating with Municipal Light Plants
Collaborating with Municipal Light Plants – A Web Portal Data Sharing Approach

Municipal Light Plants (MLPs) are one of the cornerstones for local energy production, consumption, and consumer decision making. Time and time again, there are calls to promote coordination among MLPs and MLP stakeholders. With the creation of the My Community Power Network web portal, a new level of personal and interagency connection, collaboration and communication is now possible using a familiar web browser interface to connect and share data.
My Community Power Network (MCPN) provides a framework to build out more robust connections linking data about and from MLPs and their constituent communities, with; staff, commissioners, board members, local/regional/state energy groups and citizen activists. One group that has pioneered the effort to measure, coordinate and improve the process of gathering and sharing performance metrics for MLPs is the Massachusetts Climate Action Network (MCAN). MCAN has produced a very insightful comparative analysis of Massachusetts Municipal Light Plants clean energy and climate action performance metrics using comprehensive MLP "scorecard" that ranks and measures key factors related to MLP operations in order to help hasten the migration to a 100% clean, renewable energy portfolio.
My Community Power Network offers an opportunity to begin to institutionalize some of this same type of data gathering and MLP monitoring by allowing key stakeholders to collectively track and maintain the information needed to monitor MLP performance, effectiveness and the transition to a clean energy economy. The MCPN framework is flexible enough to work for any state and any group of MLPs, but the efforts by MCAN in developing a standardized MLP scorecard provide a great foundation to build on.
For purposes of illustrating how MCPN can serve as a clearinghouse for MLP data sharing, we created records for all of the Massachusetts MLPs as a starting point. When logging into the web portal, anyone can view, select and quickly drill down into the details associate with any/all MLP records as shown here: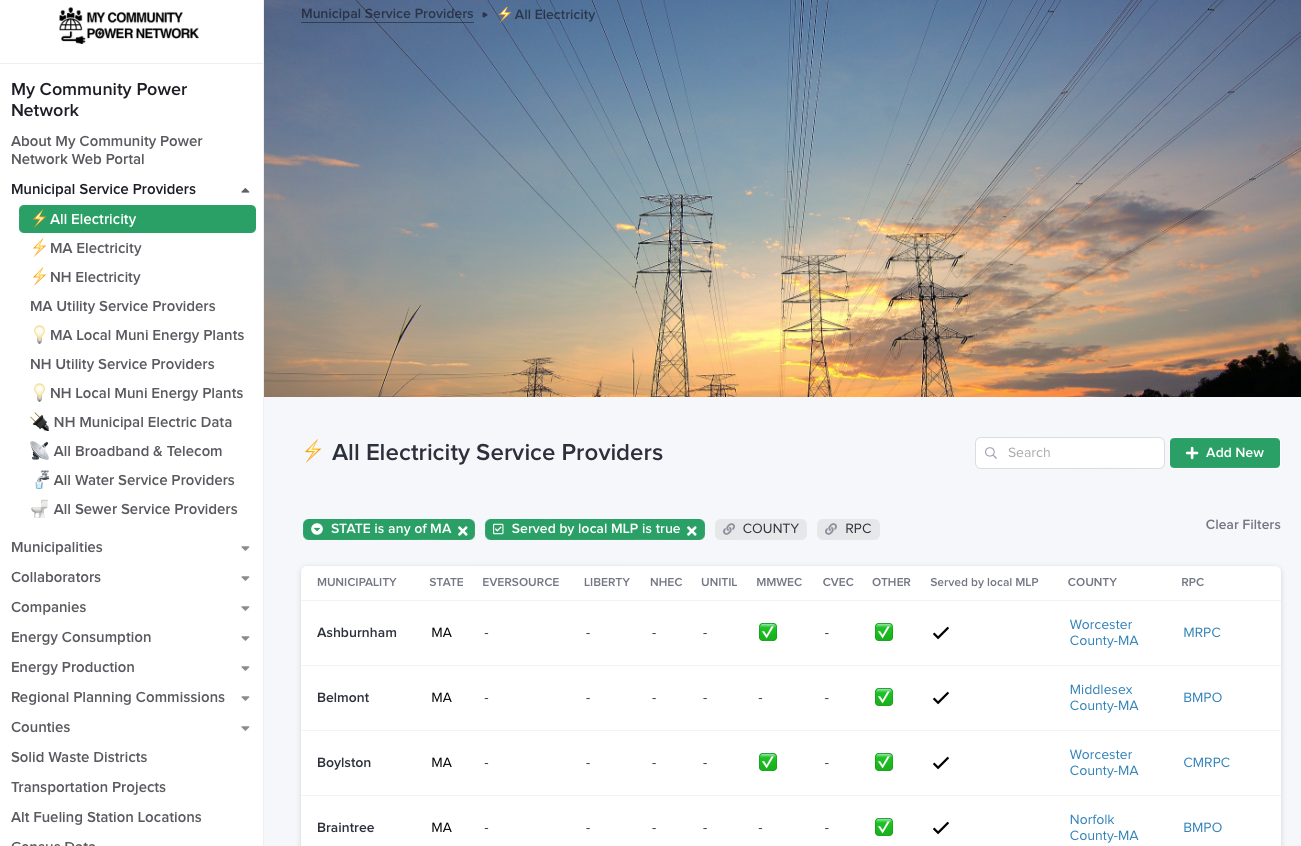 The Municipal Service Providers section web portal is where MLP information is stored and processed. The web portal provides a convenient browser-based approach to finding and viewing pertinent data by hyperlinking between records, views and layouts. We try to avoid any type of redundant data entry and instead prefer to make live links to core datasets maintained and managed by the parties responsible for the source data to begin with. That allows us to re-mix and present data in a more collaborative fashion.
Here is an example of the basic information currently being made available for an individual MLP organization: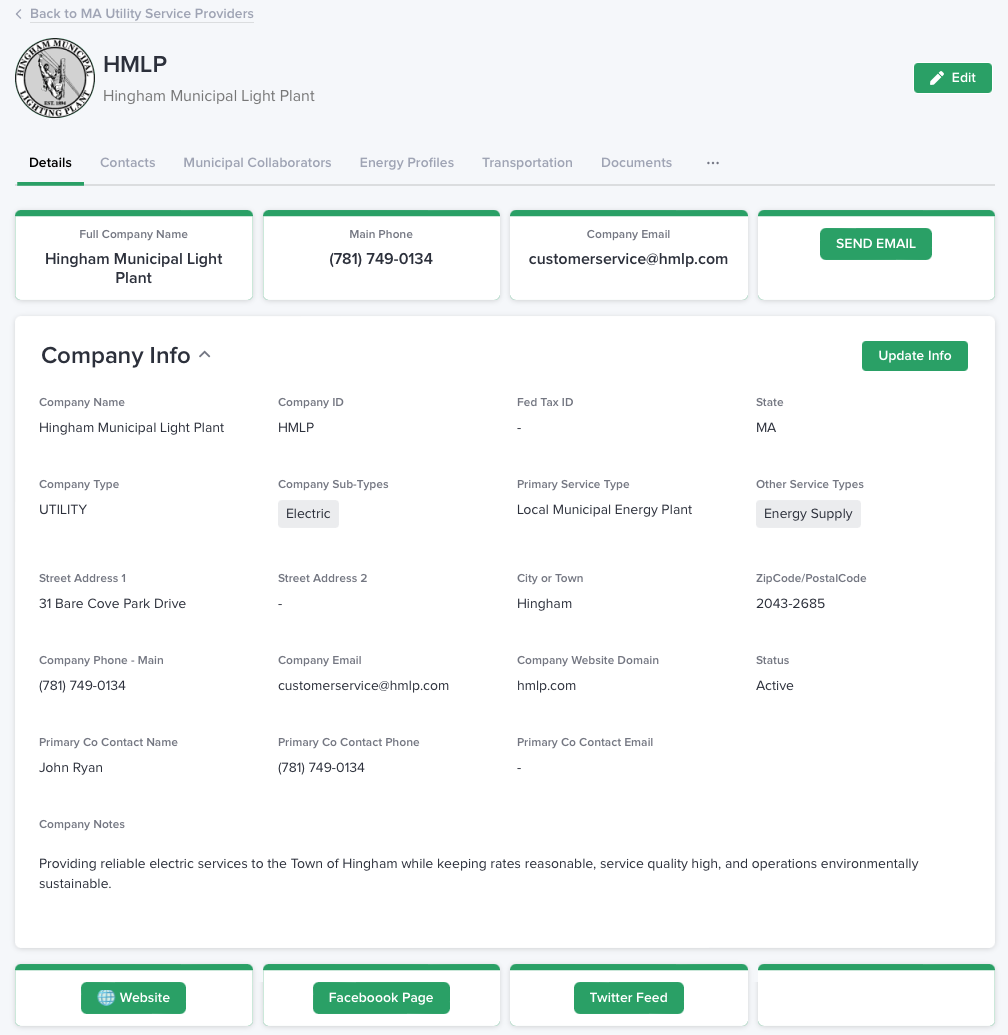 The intention is to continue to build out various "profiles" and connections among MLPs and their key contacts. We start by allowing users to cross-reference what we call "internal" and "external" collaborators for a given company or organization. Internal collaborators would typically be staff, commissioners or board members. External collaborators would be people at other organizations that regularly interact and interface with the MLP. This can include individuals as well as companies.
These collaborator connections in and of itself are a valuable, one-stop tool to quickly and easily navigate among individuals & entities without ever having to leave the web portal environment.
Of course there are numerous ways to present MLP records such as; lists, single record views, index card style views etc. The following screen shot illustrates a quick and easy way to view all Massachusetts MLPs and simultaneously provides a deeper view into both the MLP and the municipality it serves. The web portal user is able to quickly jump to and drill down into more detailed energy consumption and energy production data sets as they become available.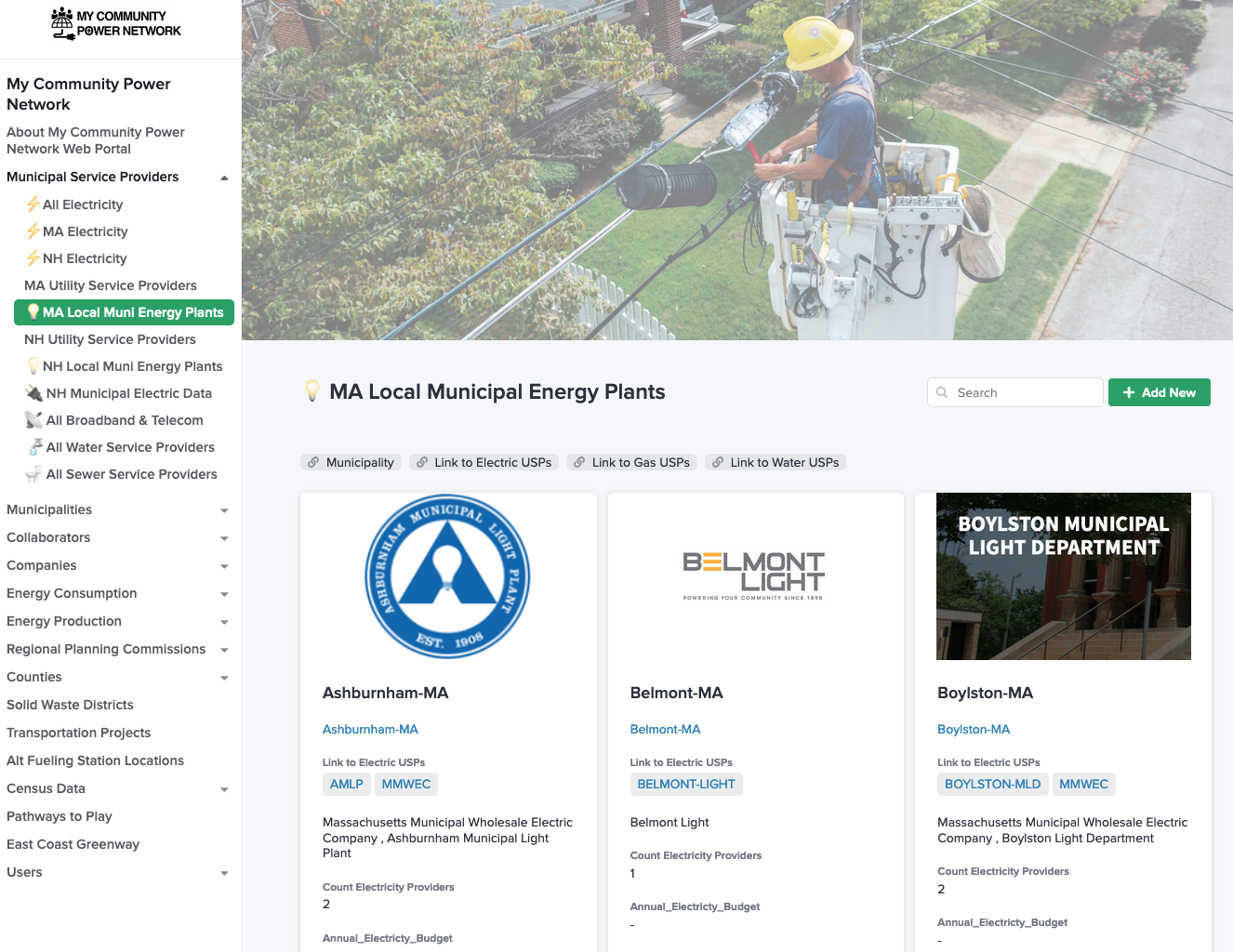 In some of the cities and towns that are now using MCPN, we are tracking alternative energy projects down to the parcel level and are able to generate reports and statistics on how far along a community is to migrating to a fully clean, renewable energy profile. Indeed our goal is to eventually have universal meter-level data available for reporting purposes.
My Community Power Network is a work in progress but needs your feedback to make it more useful and to help it become a standardized data clearinghouse for all local energy data and related outcomes analysis. The opportunity exists to expand this resource into a useful policy making tools that fosters decision making based on real world data synchronization/aggregation techniques and analytical reporting.
In order to become an early adopter and to provide feedback on how MCPN can benefit your use case scenario, you can create an account using an email address to create your user/collaborator profile. We encourage interested parties to support this effort both financially and by becoming involved in managing some of the key data sets you are most interested in.
For more information on getting started, please contact: [email protected]
Enjoy this post?

Buy My Community Power Network a coffee