Why I can't stop writing about bell hooks
Last week, I spent a lot of time thinking about bell hooks after hearing about her passing. It hit me hard because it is bell hooks, after all. Her work has been so incredibly formative for my thinking and writing and my life choices, sometimes in ways that I am probably not even explicitly conscious about any longer. Her words are just there, providing the undercurrent of so much that I simply take for granted now about how I go about my own projects.
I was honestly a bit surprised by my own sadness and grief. My immediate reaction to those big feelings was simply to write.
I anticipated referencing several of her books, but as the words started to flow, I quickly realized I didn't have to go much further than the very first paragraphs I ever read of hers to see the impact she's had on my own work. In the Medium post I just published titled, "They Don't Tell You What It's Like to Lose a Teacher - On bell hooks & Loving," I highlight how influential my first encounter was with one, single chapter from Teaching to Transgress - that essay basically set the town for my entire approach to feminist theory and practice.
Is it weird that I'm still writing about her here?
Is this what processing the process looks like?
What is this experience of loss for people we've never met?
I haven't ever really been all that into celebrity culture and fandom, but I guess there is a part of me that can understand how and why people mourn the death of those they've never personally known. It is possible to feel something towards another in light of what they have done in the world that affects us on deep, often poignant levels.
Honestly, I'm a little confused. I don't know where to put my thoughts and feelings, and much of my hangups around writing for the past several years have been about where to write.
My website often looms over my writing mind as a place that needs to be more "professional." (Meanwhile, upholding any kind of separation between what is personal and professional has never really been my thing, so this dissonance is difficult for me!) Although I like the look and style of Medium, it often feels too disconnected from me and the rest of the work I do.
I want to be personal. I want to share what really affects me. And as much as I try my hardest to buck expectations about what is appropriate to share or not, where or not, and in what voice, I'm trying really hard lately to lean in to trusting that whatever I have that wants to come out should be given space.
The perfect place may not exist. Some things simply need to breathe.
So, yeah, I'm still wanting to write about bell hooks.
I'm thinking about how, unexpectedly, as my dissertation developed, she became someone I actually critiqued. I was surprised. My advisor was surprised. But the truth is, the best teachers give us what we need to propel our thinking and insights even further.
I'm thinking about how her books have the same simplistic energy and prolific flow as those by Thich Nhat Hanh, how incredibly UNSURPRISING it is that she considered him one of her teachers, and how amazing it is that our teachers teach us as much as they teach each other.
I can't help but feel some kindred connection to them both (Thich Nhat Hanh was the first person I read who introduced me to Buddhism when I was 16), and bell hooks wrote,"In his presence at last, I felt overwhelmed with gratitude that not only was I given the blessing of meeting him, but that a pure spirit of love connected us. I felt ecstatic. My heart jumped for joy—such union and reunion to be in the presence of one who has tutored your heart, who has been with you in spirit on your journey."
Finally, in a more vulnerable admission, the past two or so years have had me thinking a whole lot about intimate romantic relationships. Ever since hooks provided me with a definition of love that made sense, a definition that I could build upon and redefine for my own projects, I've thought a lot about my history of relationships. Since 2019, which marked a significant break up and turning point in my romantic life, also shortly after I first read All About Love, my perspective shifted.
In the years since, I've dated some people, none for terribly long. And yet, I reflect on my life overall and recognize it has been full of intimate relationships. More recently, I've considered the possibility that I may not end up ever having one single, long-term, committed life partner. I haven't written about this publicly yet (though I did post an Instagram video in 2020 where I mention something that touches on this theme in passing). At some point, I hope to share more about my thoughts on intimacy in my life through relationships. In the meantime, trust that, of course, I've held bell hooks as another possibility model for me here.
She never married. She had relationships. And she had a meaningful life. She was "queer-pas-gay." Or, as she described, "queer not as being about who you're having sex with – that can be a dimension of it – but queer as being about the self that is at odds with everything around it and it has to invent and create and find a place to speak and to thrive and to live."
My hope with starting this Buy Me A Coffee page was that I would feel more inclined to share personal thoughts and real, present feelings because this would be a place where those processes would be supported by people who want to read them. I actually find it so much easier to write freely and more openly here, so my intention is to honor that and keep doing it. I am so grateful to anyone who keeps reading!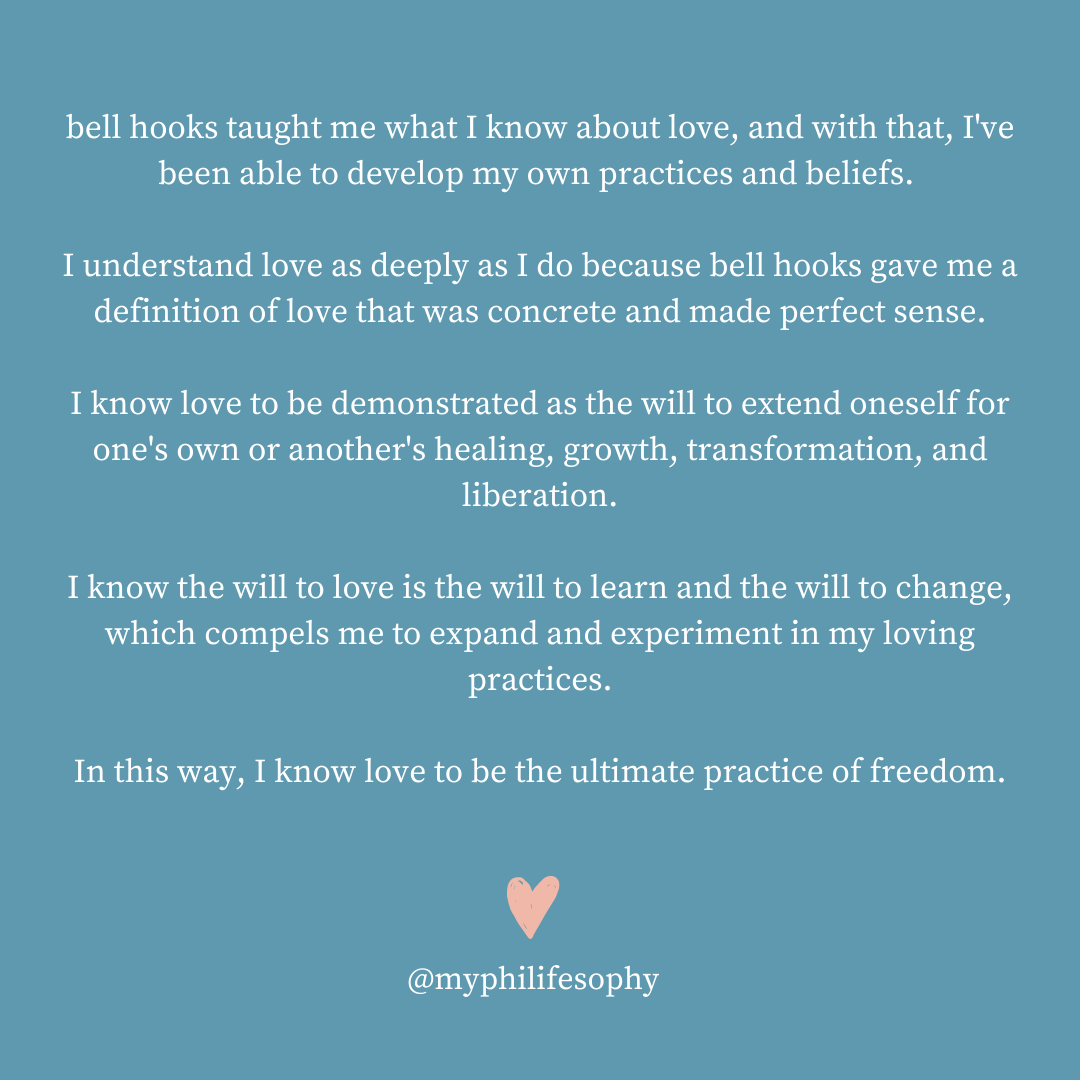 Enjoy this post?

Buy Cori Wong a coffee