Diamond Guide
Disney Heroes Battle Guide: Diamond Spend Guide
Diamond is an expensive in-game currency so you have to spend those very very efficiently if you are F2P or Dolphin.
Sources of Diamonds
Obviously from deals

Daily Ad Video - 30 diamonds

Guild check-in - the amount varies as per guild perks

Arena & Coli Daily rewards & in promotion

From free surveys & app installs
You can spend diamonds literally on everything but you have to be sure, so, here are my tips:-
Just buy daily stamina first two times - 50 - 50

If you have stamina reset, use them only during the contest after the first two buy

Or use when there is Get More Stamina event is active

Buy only first invasion supply level crate for 240 diamonds - for mod

Do not buy gold from diamonds, it's not worth it

Do Not Spend Single Diamond on Black Market

Use diamonds on very specific items in Mega Mart

Free Stamina

Trial Resets / Port Resets ( Just hoard them, they give a good amount of gold from double drops - You can also view Hoarding Contest Guide )

Hero Red XP CAN

Badge bits from GOLD - NOT DIAMONDS

Stamina Resets

Use only one FREE refresh, do not waste Diamonds on refreshes

Use market refreshes only when there is market discount event is active, else spending market refreshes are not worth it

Never buy friend stamina from diamonds & do not buy Deals which you can buy from diamonds, those are trash deals

Do, not buy diamond crates, not worth it unless you are a whale

There are few crates worthy enough to spend your diamonds

Exclusive hero crates - Slinky Crates - These crates will give good resources other than chips like mod power, mod upgrades, double drop items, badge tokens

Level up crates - stamina, double drop items, disc power, etc.
Small calculation on Justification of not spending in Black market
Let's see from where you can get hero chips:-
Elite

Market - surge, heist, etc.

Gold, diamond crates, guild gifts, hero deals - normally newly launched deals
If you can farm toons from the elite, then don't buy from Blackmarket, I am taking worst-case scenario toons to take 28 stamina per node & it drops only 2 chips when raid 5 times, so it comes to around 70 stamina per chip & currently in S21, 1 diamond gives 8.3 stamina from daily buy, so it comes 8.4 diamonds per chip & from the black market even Rafiki 7 chips cost 263 diamonds ( 37 gems per chip ), so not worth it.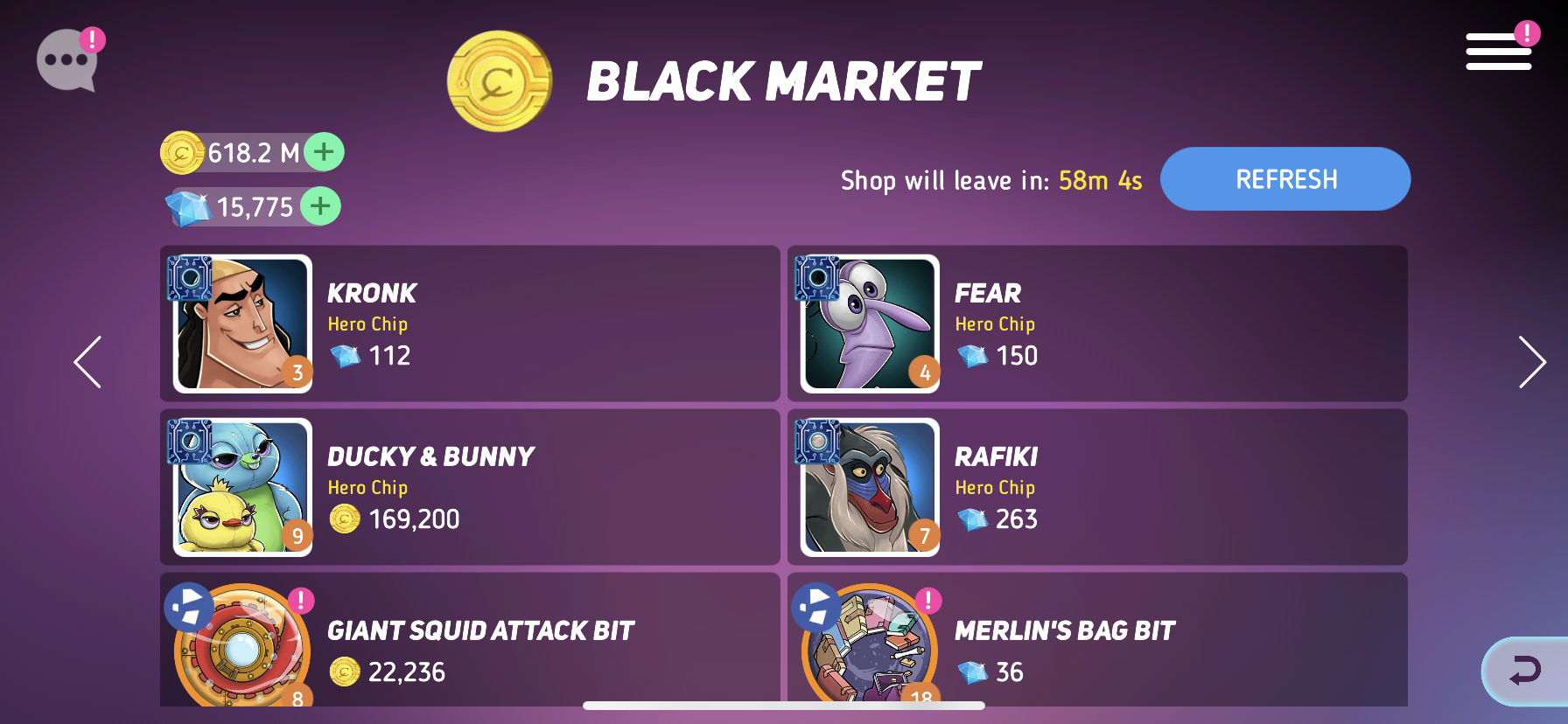 Now, who is not in Elite, will be in shops heist, surge, etc., well straight forward hero chips which can be easily farmed from tokens, then don't spend diamonds.
Now, who is not present in elite and shops, either they will be drop via Diamond crates or deals.
If you are F2P, do not buy diamond crates, & always diamond on stamina who will help you in-game progress

if you are a dolphin, fish, etc., you better buy a hero deal around 25$ which will give you hero chips, mods at +8 level plus diamonds
If you are not a Whale, do not spend Diamonds anywhere else in the game.
Enjoy this post?

Buy CS Alive a coffee