Hey World, What you're seeing is Post-Separation Abuse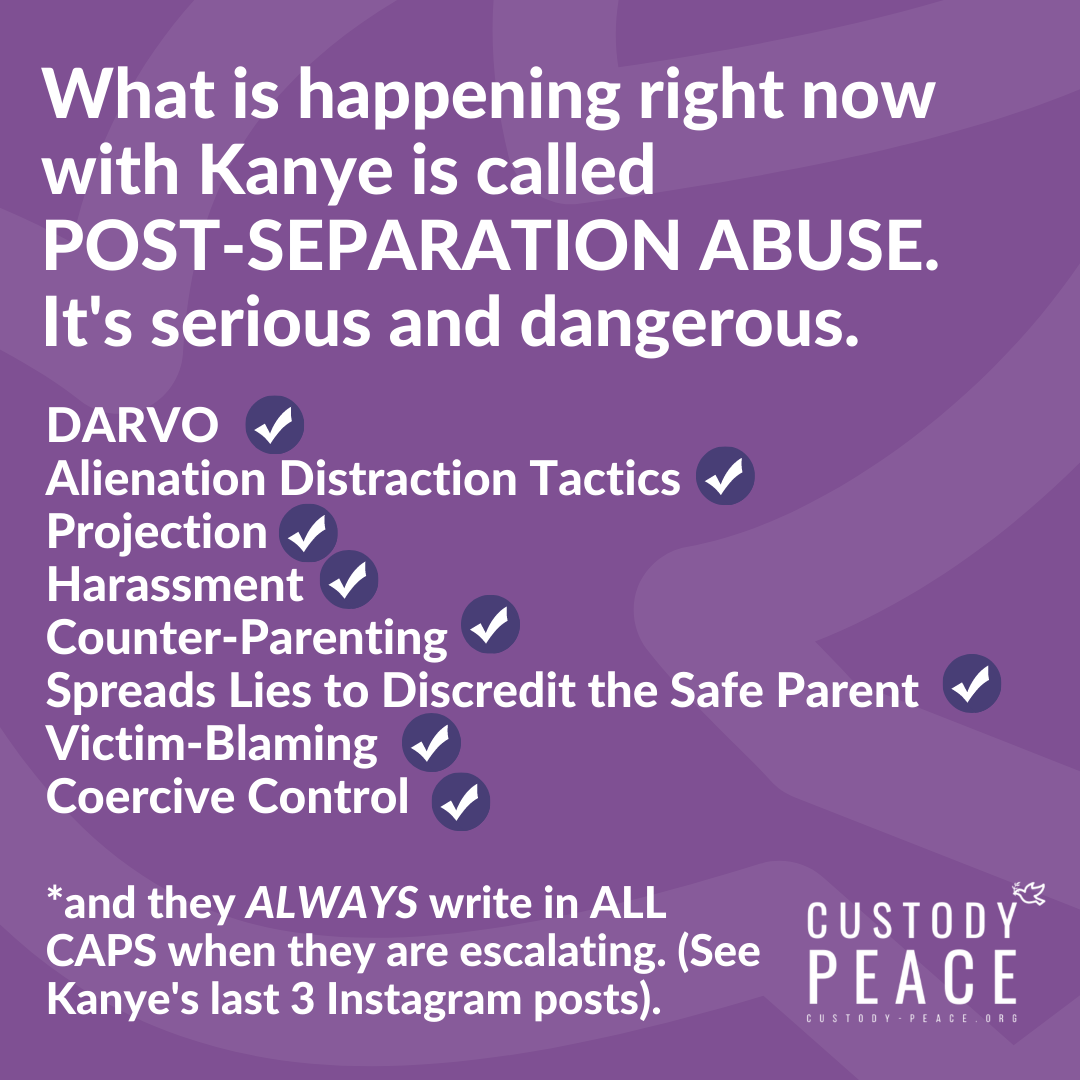 We see through Mr. West's attempts to paint himself as the victim. To paint himself as an alienated father. We recognize his attempts to weaponize the children to avoid accountability and we recognize his attempts at gaining sympathy from the public, utilizing #DARVO tactics.

We're not buying it.

Protection is not alienation.

He would not have to "beg" for the locations of his children if he was not a safety risk to them.
As a reminder, Mr. West has seemingly always been separated from his children. Ms. Kardashian has consistently positioned herself as the children's primary caretaker and provider, while Mr. West has lived elsewhere. Since she filed for divorce, however, Mr. West has leveraged the children and forcefully tried to reunite with Ms. Kardashian.

This is unacceptable and worrisome to us.

We have addressed Mr. West's increasingly troubling behavior for months. We predicted his escalations months ago. We have been able to make these predictions because he has clearly been engaging in Post-Separation Abuse.

Those that engage in #PSA all follow the same script. They commit abuse in similar ways.

We have never publicly stated that we fear for Ms. Kardashian's safety but the time has come. Ms. Kardashian is at risk and so are her children. What's particularly concerning to us is that Mr. West is surrounded by abusers in his circle. He seems as though he can not be reasoned with or mitigated.

May this serve as a reminder: no amount of fame, money or resources can protect you from Post-Separation Abuse. Our complacent #familycourt system burdens even the most wealthy and powerful in our Nation. We are not confident Ms. Kardashian can get additional protections at this time, particularly since Mr. West refuses to answer her court petitions.

We are wishing Ms. Kardashian and her family safety. We hope our concerns are misplaced and we hope that she is protected, particularly since people in her inner circle continue to reveal both her location and contact information. This is dangerous too.

- Team CP
Enjoy this post?

Buy custodypeace a coffee