Creative Cortland - A Community Visual Arts Exhibition
If you are reading this, let me begin by telling you: thank you. I am happy you are here.
Let me share a little bit about myself and the Creative Cortland: A Community Visual Arts Exhibition.
The COVID-19 pandemic has posed many challenges, especially for those working in the entertainment and arts industries. For myself, this posed so much creative problem-solving in a socially distant landscape. I am, at normal times, an employee of Cortland Repertory Theatre (CRT) as the House Manager. Due to the shutdown in March 2020, I lost my position there. Despite losing my paid position, I recognized the need to continue to find safe ways to bring the arts to the community. More on that in a future post.
2021 is the third year coordinating and curating the Creative Cortland: A Community Visual Arts Exhibition at CRT Downtown. Things are a little different...
This year, I am asking artists: How did you find communion with your creativity during prolonged pervasive circumstances? In this way, I am attempting to build a pop-up art gallery that is creative catharsis by providing a platform for artists and for the community to experience that artwork in a socially distant way.
I am also creating original artworks for a silent auction with all proceeds being donated back to the theater with a starting bid of $100.
This weekend, I am curating the exhibition remotely. The following week, I will be hanging much of the artwork on my own. Eric Behnke is prepping the black-box theater hanging the walls and will light the artwork once hung.
The exhibition opens on Friday, February 26th with a Facebook Live Event starting at 7:00 PM. Throughout the exhibition, I will be holding Facebook Live Events to safely interview artists speaking to their work.
The exhibition will be on view Monday - Friday: 9:00 am - 5:00 pm and Saturday - Sunday: noon - 5:00 pm. Cortland Repertory Theatre follows COVID protocols with their audience's comfort and safety in mind.
This is so much work, work that I love to do, as a volunteer. Could you spare me a cup of coffee?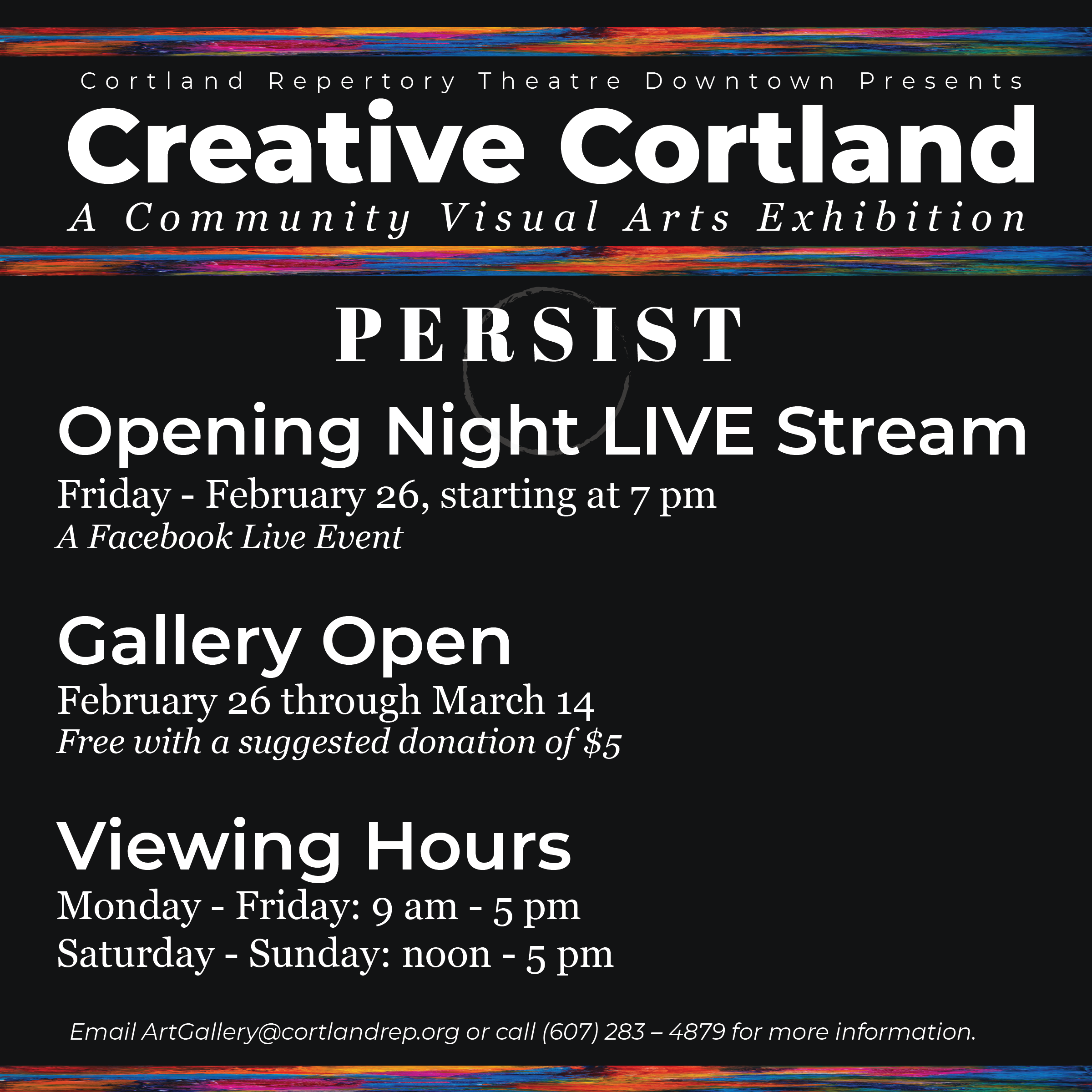 Enjoy this post?

Buy Crystal Lyon a coffee