How to appear on the Live Photowall
Would you like to be part of the fun and have your photo appear during Dj Harvey Yeah's Live stream? Of course you do! Type !photowall in the Twitch chat during the live stream to reveal the '#hashtag of the day" or listen out for Harvey's Live announcement during the stream and follow the instructions below to get started!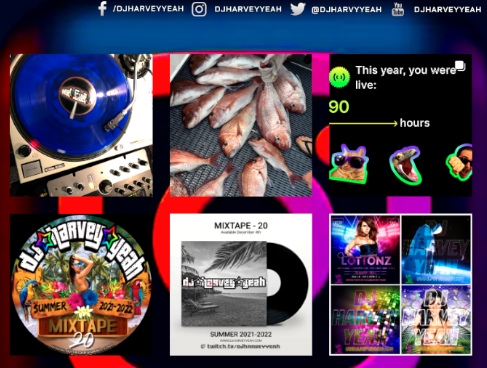 How do I add a photo to the Live Stream?
All you have to do is upload a fun photo of yourself (or anything else that is not explicit) on your Instagram and in the description of your uploaded photo use the '#hashtag of the day' announced during the live show. That's it!
How do I remove the photo from the Live Stream?
To remove your photo from the LIVE stream, all you have to do is delete the '#hashtag of the day' from your photo and it will no longer show on Harvey's Live stream. You can also delete the photo itself, or if your account is private and you no longer want to be followed by Dj Harvey Yeah, you can remove him from your follower list.
Where do I find/follow djharveyyeah's instagram account?
You can find/follow his account >> https://www.instagram.com/djharveyyeah/
Some Note on #hashtags: (Please read)
#hashtags and Public Insta accounts:
'#hashtags' on Instagram are visible to the public (i.e followers and non-followers) ONLY if your account is set as a public account.
If your Instagram account is public, this is the easiest and quickest way to showcase your photo as you do not need to follow Dj Harvey Yeah, nor does he need to follow you back. Any photo uploaded from a 'PUBLIC' instagram account tagged with the '#hashtag of the day' will instantly appear on his live stream.
#hashtags and PRIVATE Insta accounts:
If you hold a private Instagram account, you will need to allow '@djharveyyeah' to follow your Instagram account to make your photo visible to his account. If Dj Harvey Yeah does NOT already follow your account he will NOT be able to access your uploaded #hashtagged photo and consequently it will not appear on his live stream.

To fix this, the easiest way is to search and follow DjHarveyYeah (on Instagram) and he will follow you back.

If you do not want to follow him thats ok, but you will need to send him a message and request that he follow your account. He must be an approved follower of your private account to gain access to the photo that contains the #hashtag of the day.
Other considerations:
The '#hashtag of the day' may change from time to time.
A reminder not to post anything explicit as your photo may breach Instagram's Terms and Conditions and it may be reported by other Instagram users.
Enjoy this post?

Buy Dj Harvey Yeah a 🍹or ☕️