In-Depth Analysis - Scorching Desert (PMD: Gates to Infinity)
Hello everyone! Have you watched my latest collaboration with Caleb P. and Mario Lasar? If you haven't, you should check it out right now! It's Scorching Desert from PMD: Gates to Infinity! This is a moment where Synths, Orchestral, and Live Violin comes together to make an unforgettable music experience! I had a lot of fun making this remix.
So in this post, I am gonna breakdown my process of how I create this remix/arrangement with my collaborator.
So before going to the main story, I wanna tell ya a short reason why this collaboration happened. It was a weird moment when Caleb P. posted an random Q & A on his instagram story. Then, I was out of blue asking him to collab with me.. and u know what? He instantly accepted the request! I was like OMG, didn't expect that tho. Since then, the collaboration began. When I was working with Caleb P, I had a talk with one of my friend, Mario Lasar. He's a friend of mine in conservatory, and he's a professional violinist, working with some notable musical figure in his country! And out of nowhere, he offered his violin performance for this remix, and to be honest... I was surprised and shocked. And that's how we ended up with a triple collab!
Without further ado, let's breakdown the process!
The Process
So, when I was working with Caleb P, I sent him some of my orchestral stems (winds, brass, strings, percussion.
When Caleb sent his stems, it produced a syncopated-texture when combined, which I liked it very much! And I also love his signature synths. It sounds glassy, light, and it melded very well within the arrangement!
So here's the snippet of the audio (First is the naked version, Second is Caleb's Stem, and Third is the Dressed version)
Next, the main theme part... This is where the fun begin! He added second voice and a counterpoint with his glassy sounds to my Cimbalom, layered the background with his breathy pad, and he still maintained the syncoped part with his plucked bell. And the result was great! It created a novel texture I've never heard before.
When you hear the naked version, it sounds boring right? But, when his stems join the session, the result is amazing!
And the last thing I wanna highlight is the Caleb's original part. So I asked him to do a original on the second run. I'd say it is like an improvisation (in jazz scenario). I made a backing track for him, and he added an electric bass and some synths for his original section. It sounds like this:
I'd say this is very unique. It's like an alternate rendition of Scorching Desert xD
So that's how I work with Caleb. He did an amazing job filling some void I left for him hahaha.
And finally, the VIOLIN PARTS! U guys are surely dying to know what I did with Mario back there huh? So I wrote the violin part via MIDI, then I converted it into a notation, did some MIDI Cleanup with quanitizing, and finally engrave the sheet music. Here's the sheet music (don't repost/download)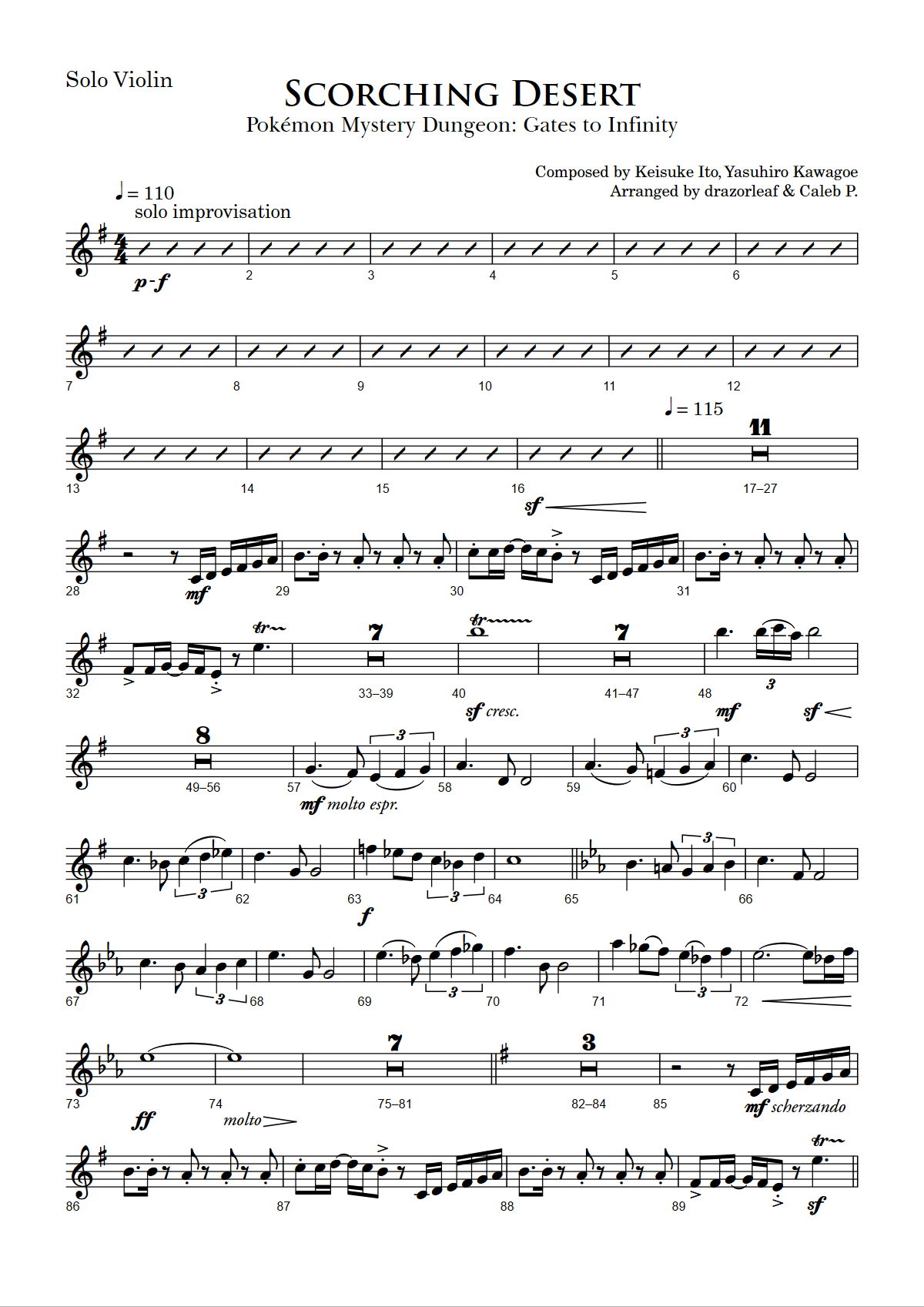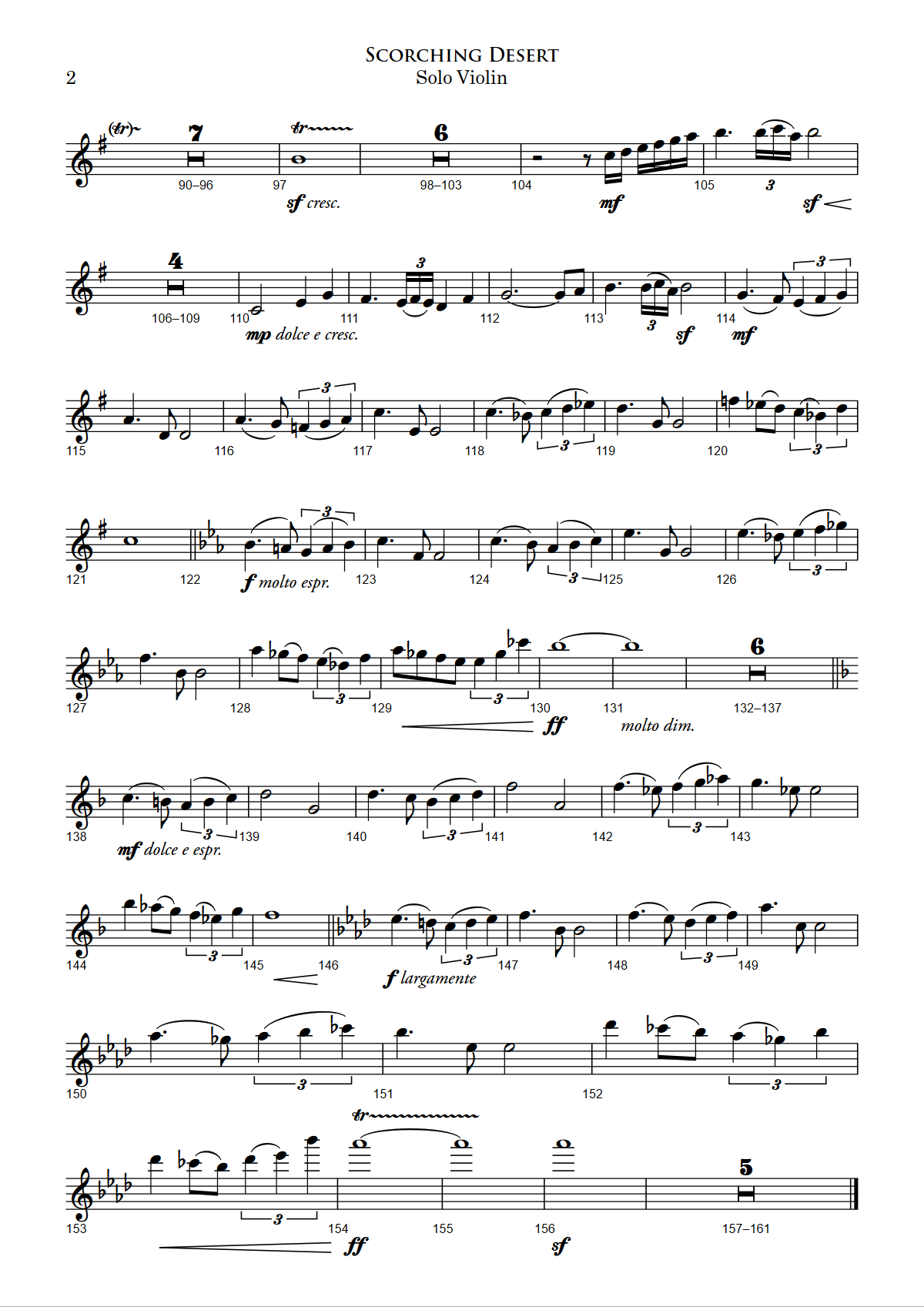 I instructed him to do an improvisation in the beginning before going for the intro (measure 17). I said to him that he can go wild, but try to imagine as if he's in the middle of desert, under the scorching sun, desperately looking for a fresh oasis. He nailed it! I was so happy :D And he recorded the rest of notes I wrote for him. We got a trouble on measure 154, where the notes were too high. So, we recorded several take to get the best result.
When he's done recording, I had to heavy-edit his stems recording (Close & Room), since he recorded his performance in his bedroom xD. I added surgical EQ to remove unwanted frequency, additive EQ to add some body and air to the violin, Chorus to make the sounds a little bit thicker, Saturation to make it more detailed, and of course Reverb to emulate the room and make it blend into the mix. Here's the comparison! (First run: Raw, Second Run: Processed with plugins)
So, that's how Scorching Desert Collab Remix created! I hope you enjoy this post, and don't forget to subscribe my channel, Caleb's, and Mario's Channel! They deserve love and your subs!
Caleb's YT : https://www.youtube.com/channel/UC5aZirMlyNl0b9GFRx-AEGw
Mario's YT : https://www.youtube.com/channel/UCb6PyorWTglE_XrFaKWM0OQ
Here's the final result!
Thank you for reading this long post! I hope you get some insight of how I make this remix/arrangement :)
Enjoy this post?

Buy drazorleaf a coffee