Feliz Navidad Zoom Lesson Plan Template Google Slides for Distance Learning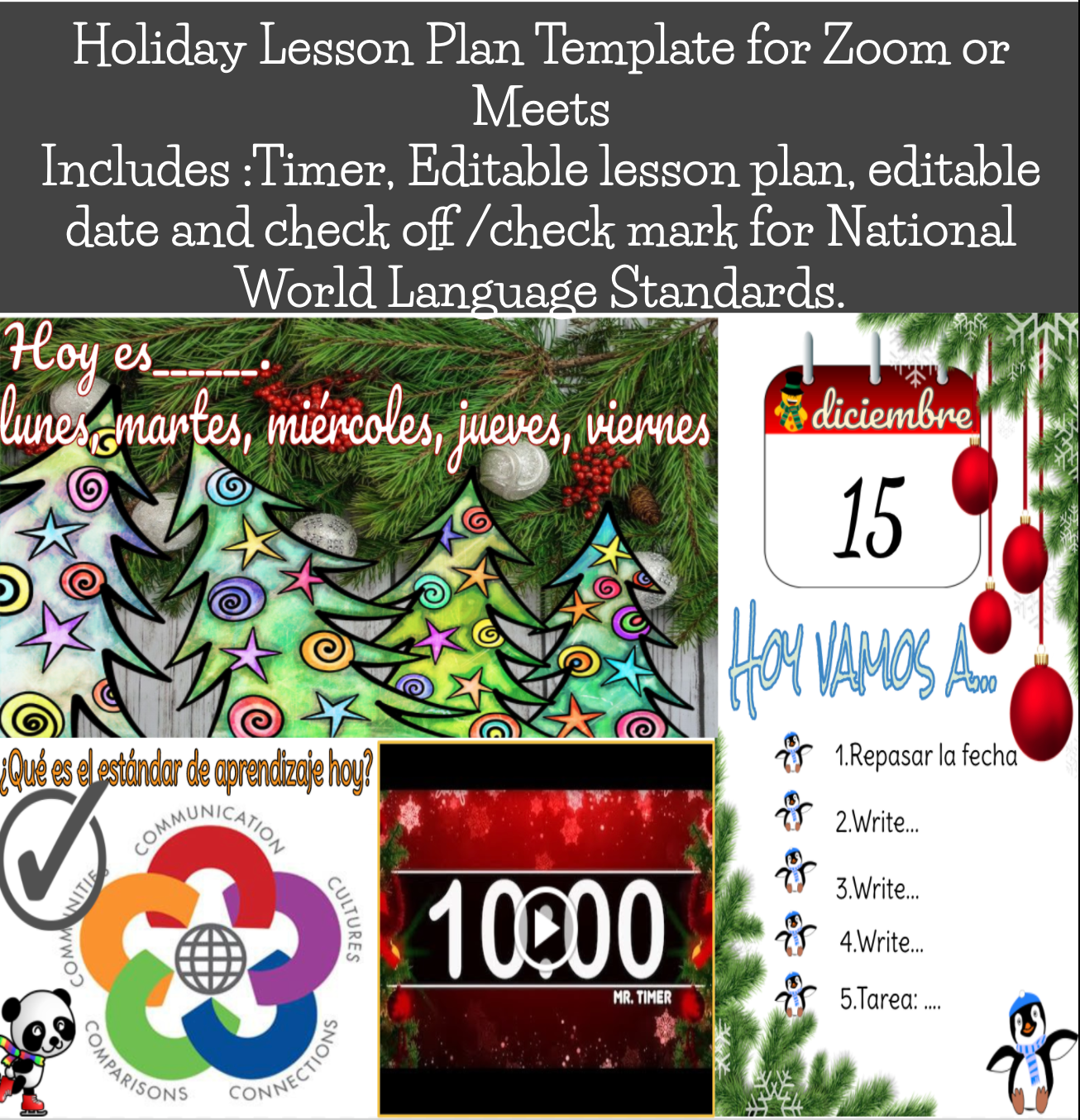 Happy December Spanish Teachers!! I just developed this lesson template for Google Slides or ppt for December Zoom and Google Meets virtual classes. Of course, it can also be used in hybrid and face to face teaching.
I have used a template like this since the beginning of the term and find it to be an indispensable tool for staying in the target language as much as possible. Students can see where we are and where we are going, so they don't get lost.
The template includes the date, a list of items to do, a holiday music timer, the 5Cs chart so that the teacher can discuss with students what the purpose of the lesson is and always have the essential learning target posted for evaluators that happen to drop by. There is a check mark tool that you can move so that you can adjust the standard depending on the lesson.
The lesson plan, standards check mark, and date are fully editable and the slide can be duplicated for each day in December so that you have a record of what you did each day. I also post a "view" copy to my Google Classroom so that absent students have a record of what we did in class. You can link in your own materials, flashcards, videos and other things that you will be using.
Check out my other content here:
Check out my other content at my TPT store and follow me here.
Dr G Spanish Teacher is on Facebook
Get your own copy of Dr G Spanish Teacher's December Lesson Plan Template here.
DrG Spanish Teacher
🍎 I help Teachers teach ethically, creatively and authentically about Latin America
🤟🏻🤟🏼🤟🏽🤟🏾🤟🏿❤️🧡💛💚💙💜
👩‍🎓PhD Spanish Lit
🇸🇻 🌋Salvadoreña
Enjoy this post?

Buy DrG Spanish Teacher a coffee