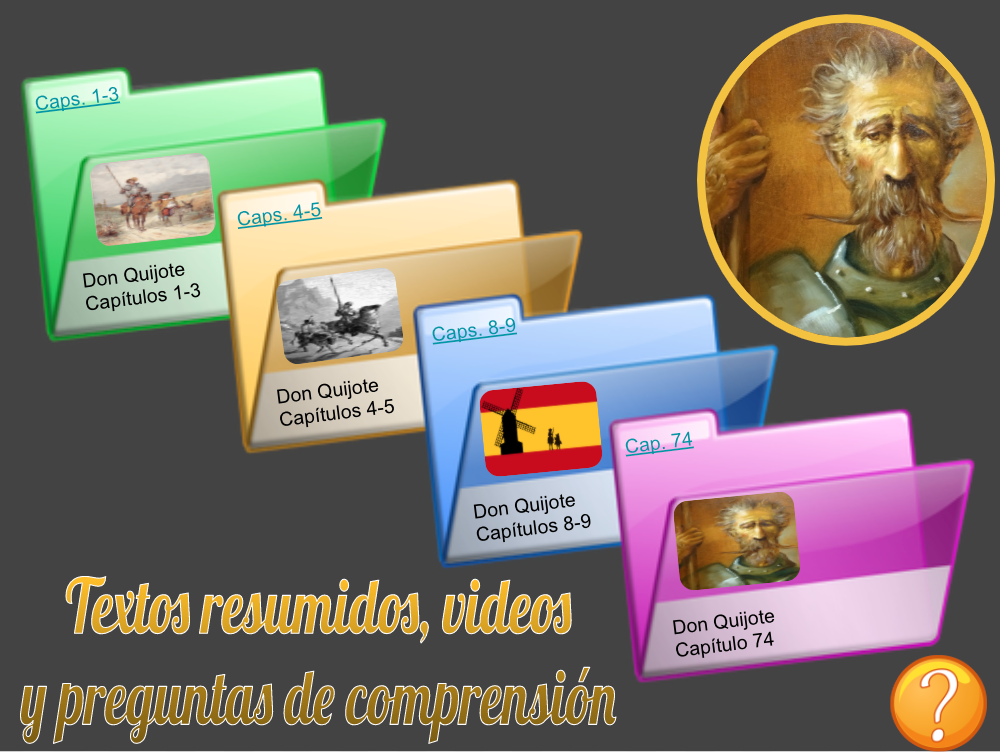 Thanks for visiting! Well here is the next 2 weeks of AP Spanish Literature (complete & ready to go). I plan to get through the entire AP reading assignment for Don Quijote de la Mancha .....as Cervantes might say, "To dream the impossible dream, that is my quest."
Anyway, the plan is to save time and focus on the essentials. Even though AP teachers are short on time this year, I didn't feel right about just showing the movie without giving students a sense of what the text is all about. Instead, I developed a shortened version of Don Quijote de la Mancha that focuses on the key parts of text for the AP Spanish Literature and Culture Exam Chapters 1-5, 8 &9 and 74.
I only have 4 virtual classes to dedicate to Don Quijote and this unit will get me there! Includes text summaries, comprehension questions for each chapter, curated video clips and answer keys for Chapters 1-5, 8 &9 and 74. I also included additional resources. I have organized this into folders to complete the text in 4 class days (1 per folder).
Check out my other content:
Let's connect! Follow my work here:
Dr G Spanish Teacher is on Facebook
Thanks again for visiting. Click here to make a free copy of stickers that even AP students will love: Dr. G's 12 Latino Leaders Digital Stickers
DrG Spanish Teacher
🍎 Language is as essential to humankind as air and water.
🤟🏻🤟🏼🤟🏽🤟🏾🤟🏿❤️🧡💛💚💙💜
👩‍🎓PhD Spanish Lit
🇸🇻 🌋Salvadoreña