Really Easy Curried Rice
This is one of those recipes that really does adapt depending on what veggies you have lingering around in your fridge.. It can easily change to suit the seasons and is particularly good for using bits from the latest allotment haul.
The base of the recipe (as the title suggests) is rice. As a family we do often use brown rice as it is nutritionally a more superior product - it it however a little more expensive and does take longer to cook. For this reason we are championing the plain and simple 'basic long grain white rice' for this recipe. At just 45p per kg of rice.. it really is amazing value and the perfect base for carrying the flavours of the veggies and spices.
As with all of my recipes, this one is also a mega budget friendly option as well as packing in a fab set of nutrition credentials too. There's a generous 4 portions of veggies per serving as well as around 30% of your recommended daily intake of fibre too.
*The costs of this recipe is currently around £2.95 based on average ingredient costs from the main UK supermarkets (or even less if you are being gifted veggies from the allotment!) I have included the individual ingredient costs below as a guide.
This recipe is naturally gluten free and vegan - You can easily alter the spice level to meet your personal taste preferences. The example below is a child friendly version - Just add a bit more chilli or use a hotter curry powder if you like it a bit spicier!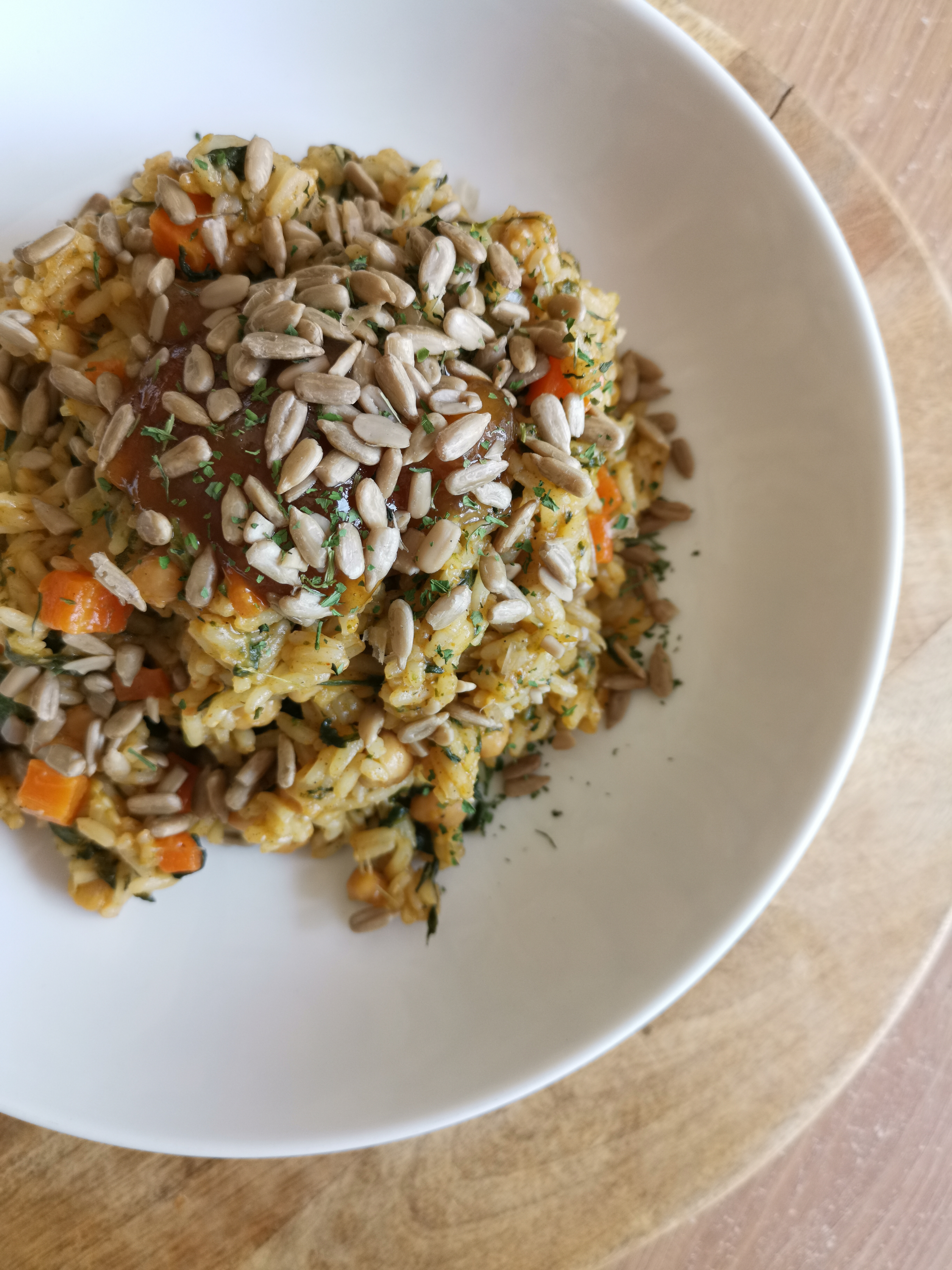 To make 4 Generous Portions of the 'Really Easy Curried Rice' you will need:
1 Onion (20p)

1 Large Carrot (10p)

1 Large Courgette (50p)

340g Frozen Spinach (60p)

1 Can of Chickpeas (35p)

1.5 Cups of Rice (15p)

4-5 Teaspoons of Curry Powder - We like to use a Tikka spice blend (30p)

1 Vegetable Stock Cube

4 Tablespoons of Sunflower Seeds (50p)

Extra Fresh Chilli for the adults (20p)
How to do it:
Begin by peeling your onion and carrot. Then finely dice into small cubes along with your courgette. It is important that your veggies are fairly regular in size so that they cook evenly. Pop your chopped veggies in a deep sided pan with a splash of oil. Stir fry for about 5 minutes before then adding your curry powder and drained chickpeas to the pan. Stir well and continue to cook for a couple of minutes on a gentle heat.
Next, crumble in your stock cube along with 3 cups of boiling water and your spinach. Allow to gently cook so that the spinach can defrost and soften into the veg mix and the stock cube has dissolved before then adding your rice.
Bring your mixture to a bubble before then reducing the heat, popping a lid on and allowing to gently simmer for about 10 minutes. It is a good idea to check your mixture half way through cooking and give it a little stir just to make sure that you don't have clumps on the bottom of the pan.. Try not to be tempted to keep lifting the lid though or the rice won't cook!
After 10 minutes you should notice that your rice has absorbed all of the water. Now take the pan off the heat, give the contents a good stir and leave a lid clamped on for a few minutes to just let the rice absorb the last bits of moisture and fully soften.
Serve in bowls with a sprinkle of sunflower seeds and an optional sprinkle of finely diced fresh chilli for a spicy kick.
This recipe is perfect served the next day as a cold alternative to salad - Try is with a dollop of houmous (50p) or a spoonful of mango chutney stirred through for a fruity tang (50p)
This recipe will keep in the fridge for up to 3 days in an airtight tub - perfect for a quick grab and go lunch option or even zapped in the microwave for 2 minutes as second helpings later in the week. This rice also freezes well. If you pop your rice into individual portion pots to cool before sealing up and freezing, you then just need to microwave from frozen for about 5-6 minutes when you need a healthy filling dinner without the faff of peeling veggies!
Enjoy this post?

Buy 'Eat More Good Stuff' by Gemma Whitelock a bag of groceries