Store Cupboard Chilli
Having a fail safe recipe that keeps everyone happy - including the picky eaters, are quick to make and still tick those good nutrition boxes can be pretty tricky. Especially when you're tired after juggling work/kids etc. it's too tempting to just reach for the 'endless beige' convenience stuff in the freezer or even get the delivery apps out and order in... not only is that not gonna be sustainable financially (particularly at the moment!) but it's not gonna help you to get the good nutrition stuff that you need either.
After developing affordable recipes that mainly use store cupboard ingredients for my community project over the last 2 years it's pretty amazing that some people still dismiss the value of cheaper canned goods. After working with the local food bank they even said that they often get things like canned kidney beans and chickpeas returned to them from the recipients of their packages because people don't know what to do with them!!
So.. in an effort to celebrate the amazing versatility of those 'unloved' cheaper canned goods that people often ignore, I'm sharing the first in my series of 'store cupboard' recipes to help people cut down those food bills, have some easy peasy 'go to' stuff to cook for the family as a mid week meal or even to help inspire local food banks and community food groups to create additional recipe information to help their families make full use of their packages.
Not only is this recipe in the 'budget friendly' category*, it also has some AWESOME nutrition credentials too:
One portion provides 40% of your daily fibre, packs in 4 portions of veggies (4 of your 5 a day!) is low in saturated fat and salt as well as providing 25% of your daily protein ..something that the beige freezer food and take away options would deffo struggle to match up with!
*The costs of this recipe is currently around £1.74 based on average ingredient costs from the main UK supermarkets. I have included the individual ingredient costs below as a guide.
A little note about Canned Ingredients: There is a lot of snobbery around canned foods - in some cases it is fairly justified. However, there are some pretty good quality, affordable options that don't include all of the yucky preservatives in there. I always recommend looking for the beans, pulses and vegetables that are just canned with water. There are actually some really good options available even at the budget end of the shelf. Just check the labels when you're shopping.
To make 4 Portions of the 'Store Cupboard Chilli' you will need:
1 Can of Smart Price/Budget Baked Beans (23p)

1 Can of Budget Price Kidney Beans (33p)

1 Can of 320g Smart Price/Budget Sweetcorn (38p)

60g of Tomato Puree (40p per 200g)

3 Teaspoons of Cajun Spice Mix (approx 20p)

1 Large Onion
How to do it:
Peel and finely dice your onion before popping into a large non stick pan. Stir fry on a medium heat for about 5 minutes until the onion starts to take on a little colour (you can do this oil free if you prefer.)
Next add in your sweetcorn, baked beans, drained kidney beans, tomato puree and Cajun spice. Mix well and allow to gently bubble for another 5 minutes until piping hot... et voila!
You can use this chilli in a wide variety of ways - it's part of the brilliance of this really simple recipe.
There's a few serving suggestions (ok, actually there's loads) below with additional costings to help inspire your own kitchen creations.. As a family we often make a double batch of this chilli and use it through the week when we are on parental taxi duties for kids activities on school nights and just need something quick to eat. The chilli will keep in an airtight tub in the fridge for up to 3 days for you to then easily dip in and use in a wide range of ways when you need a quick meal option.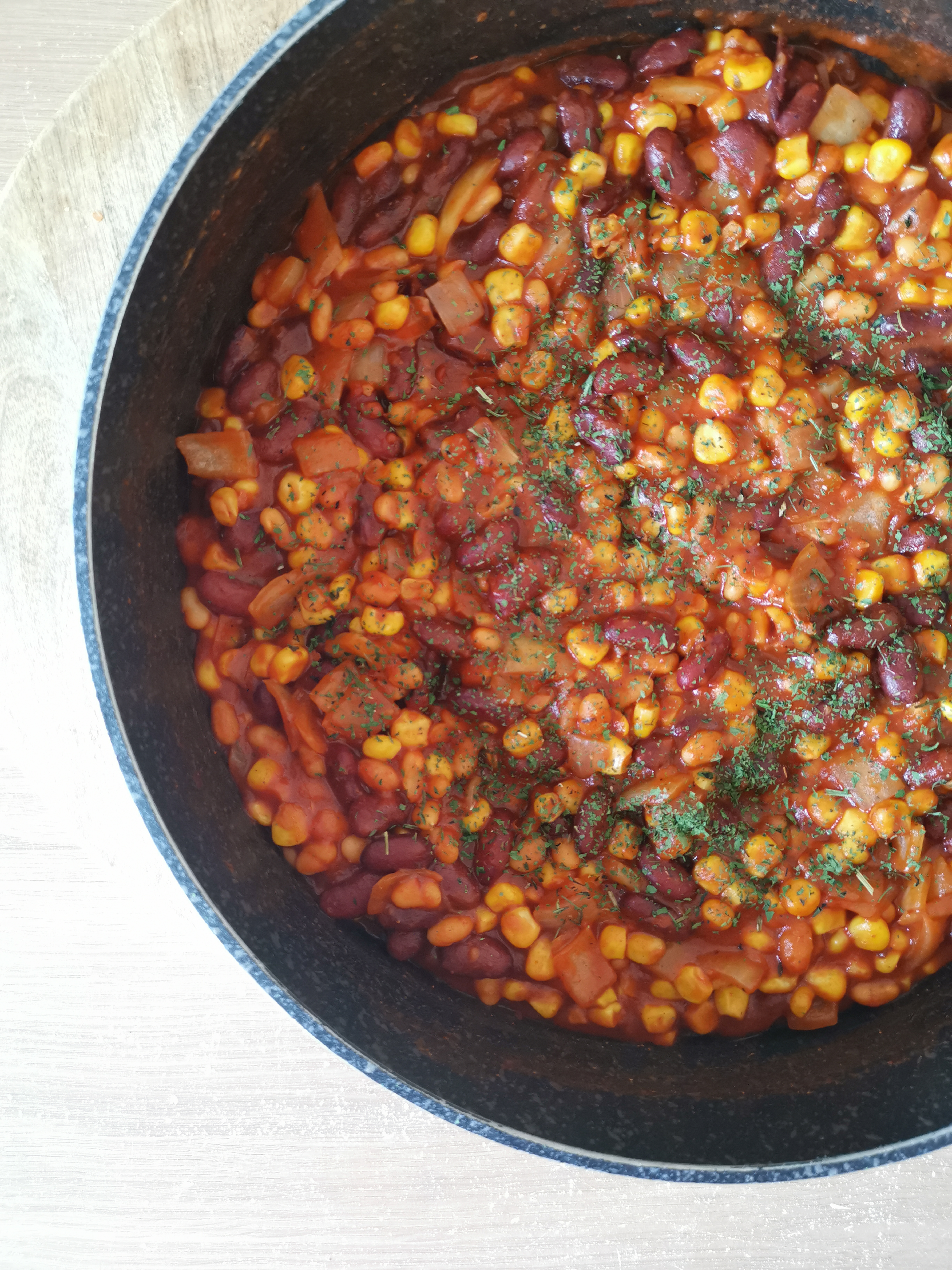 How to serve your 'Store Cupboard Chilli'
This recipe is so versatile - You can even make it smooth for those picky eaters who aren't keen on the 'bits'.. I've listed a few of my favourite ways to use this chilli to help feed a hungry family and still keep those pennies in check:
'Chilli & Rice'
Go for a simple classic, just serve your chilli with some fresh cooked smart price rice (approx 15p for 4 portions) or go for a slightly more nutritionally awesome version with a brown rice instead.
'Jacket Potato with Chilli & Salad'
A classic jacket potato (approx 50p for 4 potatoes) with some simple washed salad greens on the side is often a good family option - try to go for a nutrition packed baby leaf spinach (approx 80p per bag)
'Mexican Pasta'
A slight twist on the standard family staple 'pasta and sauce' - The chilli is best blended for this option - Just use a stick blender to create a thick flavorful sauce before stirring through 500g of fresh cooked pasta (approx 23p) This gives plenty for a hungry family and even some spare for lunch the next day.
'Mexican Toasties'
If you want a different approach to make your chilli spread a bit further - use soft tortilla wraps to create Mexican toasties and serve with salad.
If you use a pack of 8 supermarket own brand wraps (approx 85p) this will easily spread to 2 family meals. Simply spoon a layer of chilli onto one half of each wrap and then fold over to create a semi circular chilli parcel. Then carefully pan fry with a light spray of oil in a non stick pan for a couple of minutes on each side.
When all of your toasties are cooked, cut each into half to make easier to handle triangles and serve with fresh salad greens. You can also add a bit of cheese into the toasties if you want something a bit extra.
'Loaded Nachos'
Exactly as it sounds and definitely adds a bit of variety into family meal times.. I mean what child doesn't want to eat crisps for tea!? Just load some smart price tortilla chips (approx 43p) into bowls and top with hot chilli. You can easily then add extra toppings or even a salad on the side too.
'Taco Soup'
Using about 2-3 cups of the chilli recipe - add a crumbled up stock cube and about 500mls of boiling water. Use a stick blender to create a smooth soup. This serves 4 people and is far more filling than you'd think. Perfect on a cold autumn day with a squeeze of fresh lime juice (20p) and some crumbled tortilla chips on top for a bit of crunch.
'Chilli Pasties'
The pasties only use up around a cup and a half of the recipe so it's a fab way of using up your chilli as lunchbox fillers if you have a bit left over after making soup or just using smaller portions for the different serving suggestions. Just use a pack of pre-rolled puff pastry (approx 85p) and cut into 4 equal squares.
Next, put a couple of tablespoons of your chilli mix on one half of each square before folding over and pressing around the edges of your triangle parcels - it is important not to over fill your pasties or they will explode in the oven!
Next you can simple use a fork to crimp the edges of your pasties or use a fancier 'turned' method to seal the edges before laying onto 2 lined baking trays (this is so that they have plenty of space to puff up) and *baking at 200°c for around 25 minutes - or until the pastry has puffed up, turned golden and the underneath is crisp.
*Top tip: brush a little DF milk or cream on your pastry and sprinkle with a tiny bit of dried coriander before baking for a fancier finish when cooked.
'Cowboy Pie'
A family favourite - especially in the colder months! Simply use your cooked chilli as a base for a cottage pie style meal. Prepare a large pan of mash using 4 baking potatoes (50p) keeping the skins on if possible to help with your fibre. Then assemble in a large family casserole style dish (or 4 smaller ones) before popping under the grill until the top turns crisp.
Top tip: use a fork to create ridges on the surface in the mash - this just helps to get a really even crisp when grilling.
This pie is best served with some stir fried cabbage greens (50p) for a really comforting winter warmer.
Enjoy this post?

Buy 'Eat More Good Stuff' by Gemma Whitelock a bag of groceries