Rising Pinoy
What a day?!? Did you know that US is far enough to the Philippines but its influence radiates to reach around the world?
I woke up this morning with a great start but as I open up my social media account, some of my friends in the states are invoking my name and the Ladder of Peace Prayer that i wrote. And as i scroll down I see many of my friends are Praying for America. What happen?
Pro Trump Supporter storms the US Capitol Building while the senate are in session counting votes of who win the 2020 US Presidential Election.
But what is this?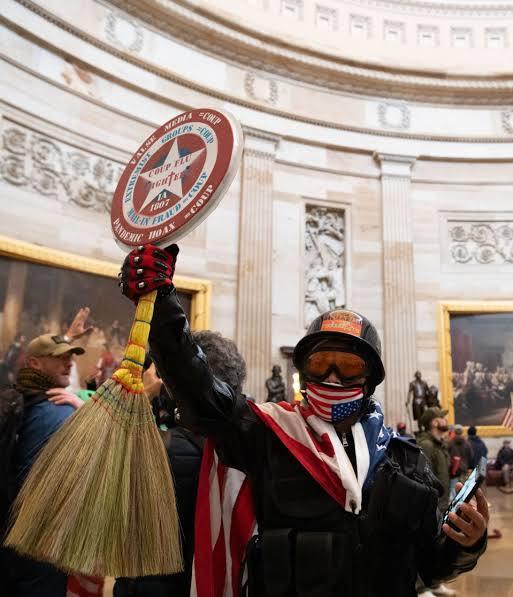 A masked man with a cape of the US flag and a walis tambo. Uhm... Is he an American? But why holding a walis tambo?
Well everyone knows that America is the Land of the Free. But Freedom without Responsibility can cause Chaos lile what had happened earlier.
On my Instagram account, i have wrote that:
As Filipino who lives in Diaspora, we all have the Blood of a Healer that runs into our vein. As a Healer our duty is to preserve and maintain life.

We bring back peace to the troubled soul and restore wellness within the Physical Body of an individual.

But as #HilotBinabaylan our duty does not limit to the Physical body of an individual but it extends our care towards the community and the environment.

As Filipino that lives in a foreign Land, I encourage you to take your post in bringing back Peace to the land where you live right now by becoming a light in the midst of darkness showering mankind with the Love that comes from the Divine that promotes Life.
I know and still recognize that as Filipino aside from being a Healer, we have also a Warrior Blood that runs in our vein. But as a warrior, we know how to handle our fight in order to defend and protect our land from the oppressor. We do not make a move unless the other camp make their first move to attack us and from there we take our stand.
Our Indigenous Filipino Ancestors are peace loving people that is why most of them move up to the mountain and live their life there. But as soon as the conquistador made their move to dominate and conquer, our ancestor will rise to defend and protect us. Just like the Igorot Rising which in history they call as the Igorot Revolt which they never did revolting because they never been part of the Spanish colony. What they did is they rise up and defend their land from the oppressor. Not only the Igorot show this kind of behavior but also in the Visayas during the reign of Lapu Lapu.
Well just sharing this to everyone here to remind us of how our ancestors behave when situation arise.
Enjoy this post?

Buy Filipino Magick by Luntiang Aghama a coffee