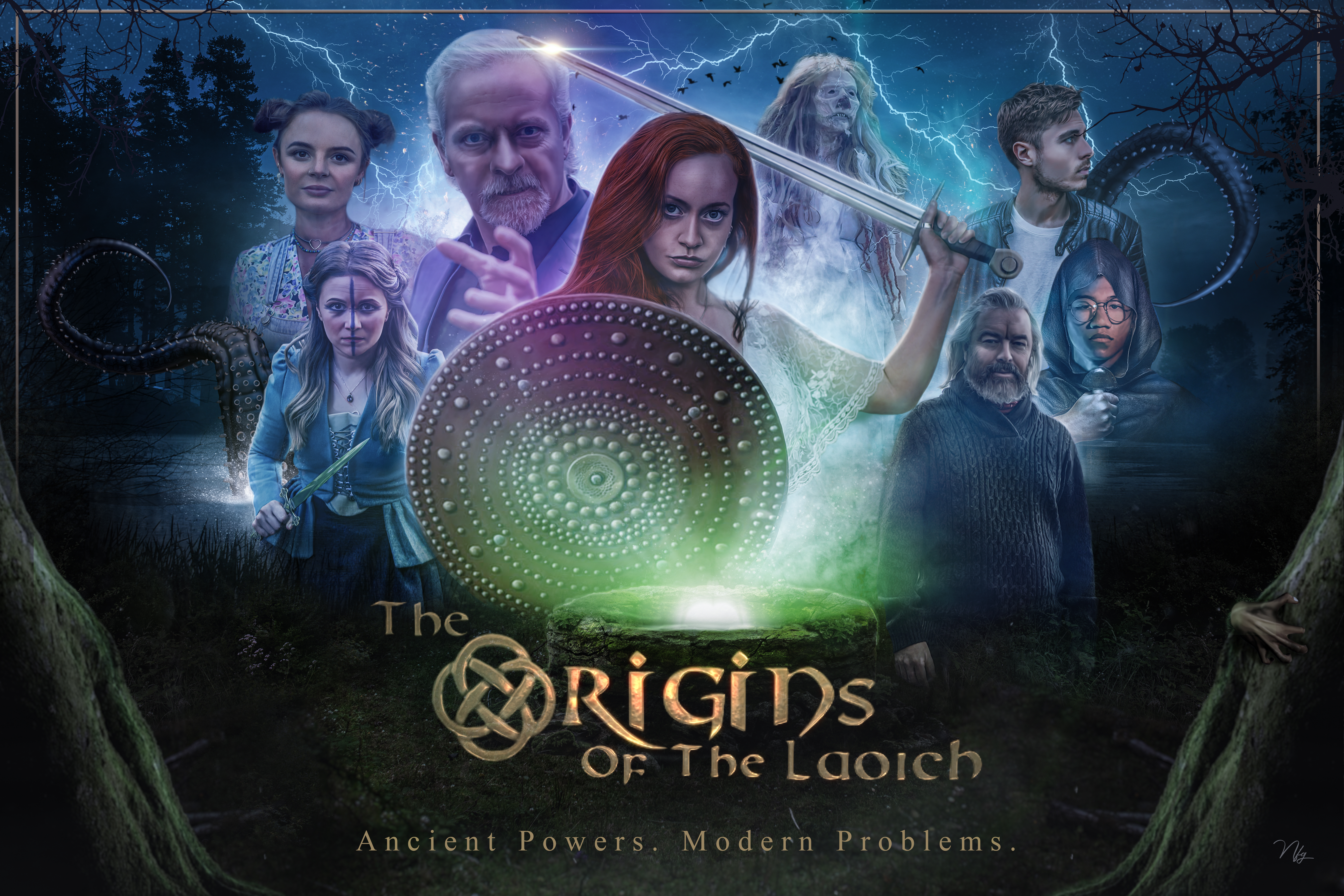 So... it's been a while since I posted anything here; sorry! I've been genuinely swamped with writing a TV pilot script, moving home and planning my wedding.
Yet, here we are! 2021 is fast approaching its apocalyptic ending, Christmas markets are in full swing and my fiancée is at peak Christmas present buying mode!
Since the start of the pandemic I had been toying with the idea of writing and producing a low-budget mythological film called "Origins". It has been 10 years since I made my debut feature film, "Night is Day", which we produced for under £5000.
That film came with its very own ups and downs. I made life-long friendships with crew who I still work with to this day, but it was challenging for everybody and a lot of hard work went into getting it shot and completed. I'll maybe do a post about it all sometime, now that we've hit the 10 year mark; but not today.
We had just produced the 9th episode of our (award winning!) supernatural web-series, "Cops and Monsters", and failed to get off the starting blocks to fund the 10th.
Knowing that I had once raised a good bit of money for several of my previous projects, I wanted to leave the world of the web-series behind, and whilst waiting for Hollywood to come calling, I'd go make a 2nd feature. Hilariously, all of this was based on the idea of sitting in a recording studio whilst listening to a Scottish orchestra play the score to this yet-to-be written film that was in my head.
So after taking part in the London Screenwriters Festival and listening to the wonderful Pat Higgins deliver his masterclass on writing a feature film in 30 days, I took pen to paper and wrote the first draft of "Origins".
Here's a few pages from the original draft of the feature film version...
A lot of what is now in the final draft of the TV pilot script still remains except Alia is now Iona and Dearg is now Alasdair. Dearg just sounded cooler to me, but thanks to expert advice from Àdhamh Ó Broin, who has worked on "Outlander" as their consultant, a lot of our characters and backstories were adapted to be more authentic.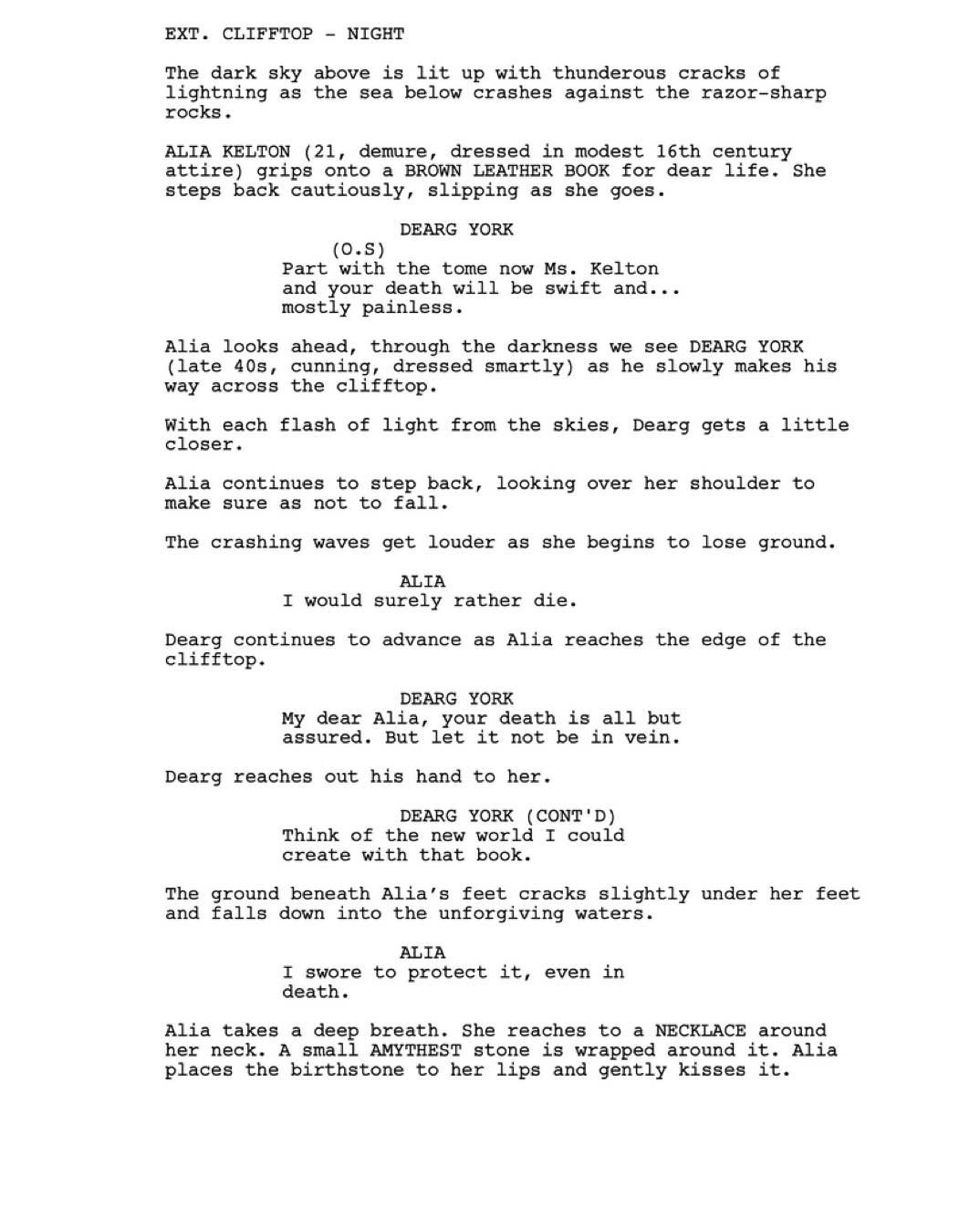 Carwen is still alive and well in the TV version, as is the coffee shop, but Iain and Wallace have (sadly) been cut. Iain was a hardened police officer in the small town of Auchenschuil, with Wallace being his junior officer. I liked the idea of Effie, our lead character, getting wrapped up in all the magic and folklore of it all, trying to keep it from her friends and family with the police closing in on her.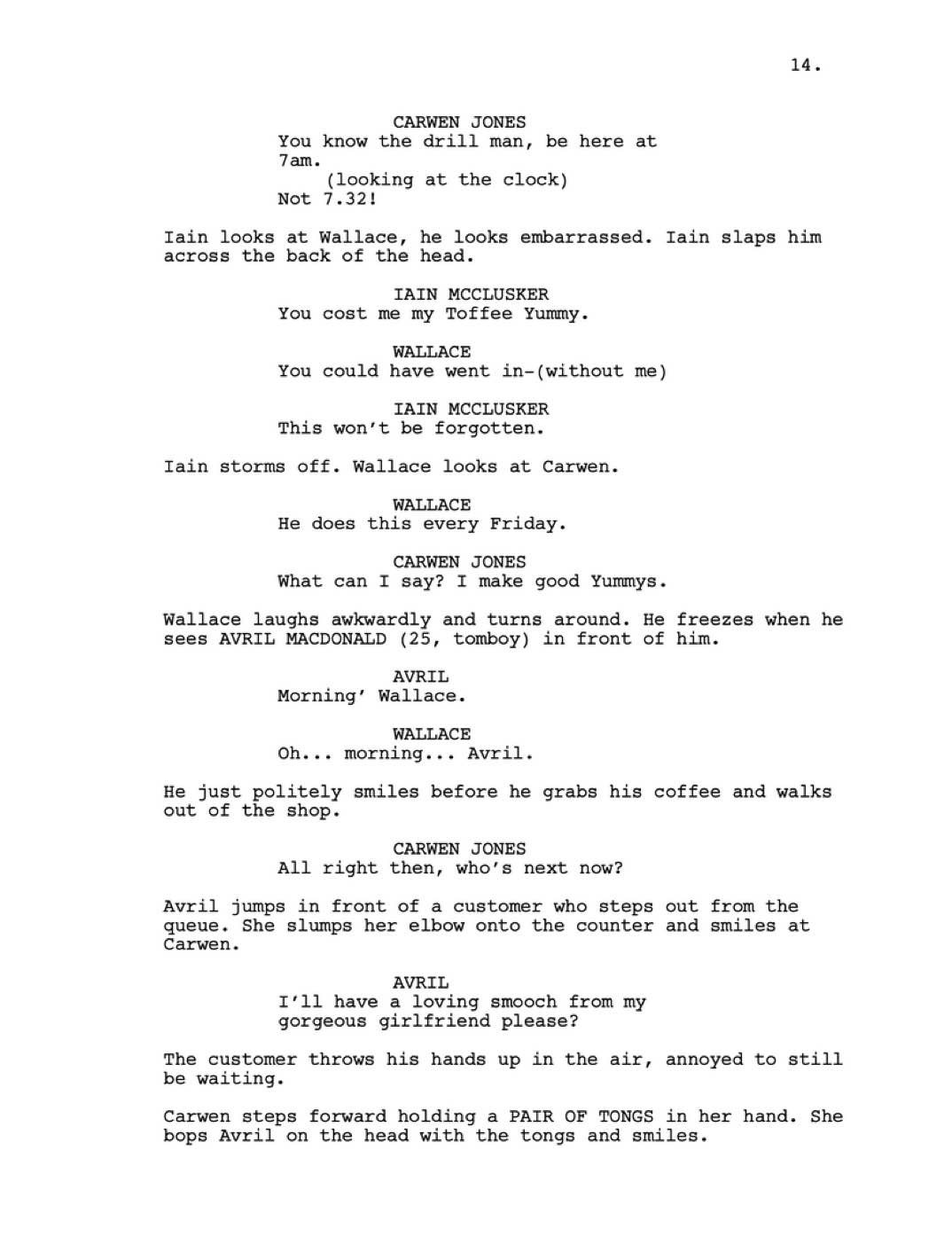 To be fair, all of this might come to be as the show is further developed and if we get a few seasons to play in the world of the show.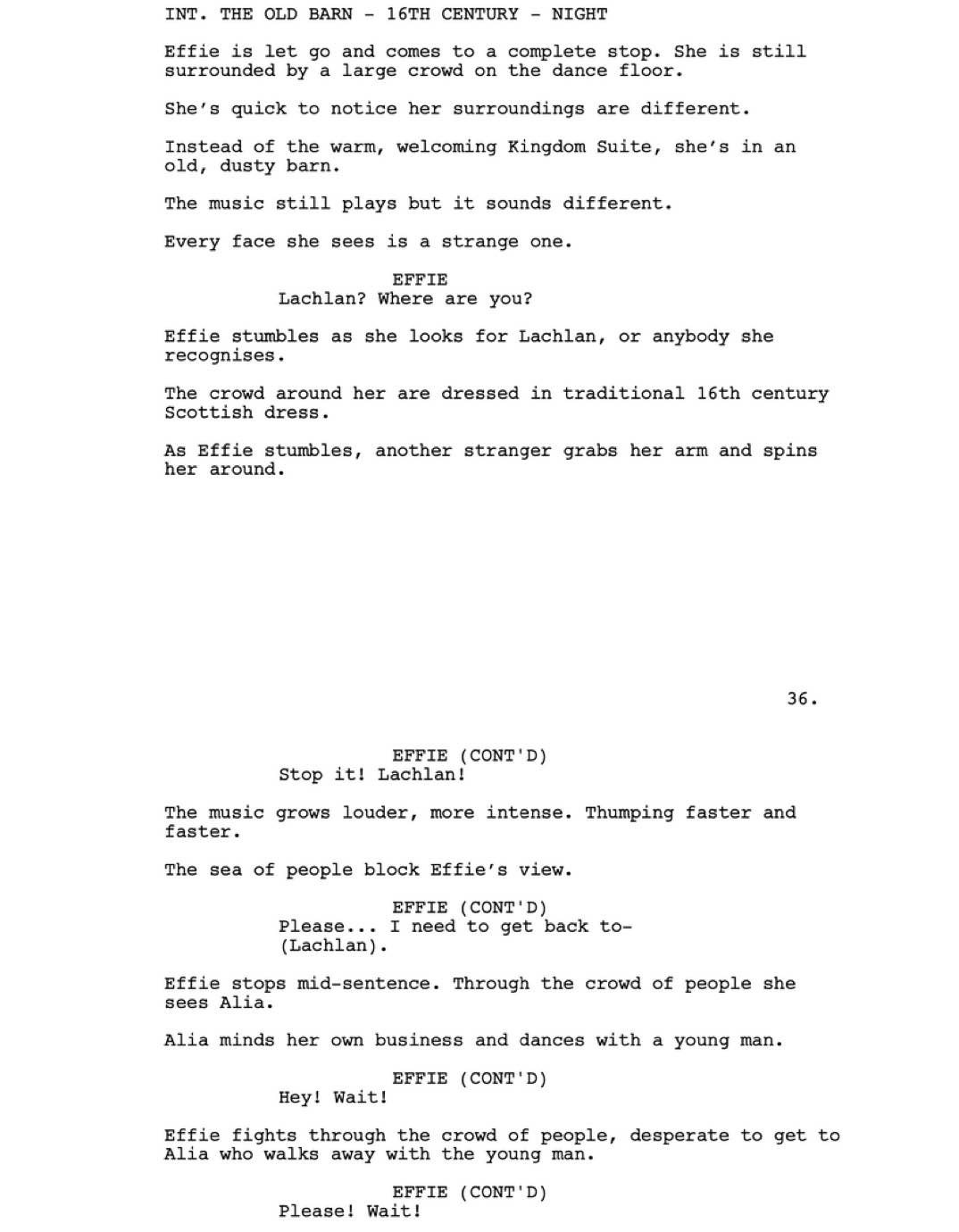 This was my favourite scene of the whole script. Effie, at her wedding to Lachlan (also now gone... for the time being!) was taking part in a Ceilidh (traditional Scottish dancing - if you've not been to one, get yourself sorted!) and being whisked back in time where she's confronted by Alia and our villain, Dearg!
I'm 100% going to implement this into the series somehow and somewhere, as I just loved it. I could imagine the thumping drums and celtic strings playing, the pace getting faster and faster, a blur of bodies being swung around, Tartan streaks and then Effie's flung out of time. Maybe a little bit Outlander but they don't have dibs on time-travel or Scottish history!
So, I wrote the script, sent it to a few people and I was told, that whilst building the pitch, that I was in fact writing a TV show and NOT a movie! I refused to believe it. I didn't want to go back to the web-series world, to have to fight for funding every 3 months to fund an episode, produce it, release it, then start the crowdfunding efforts again.
Then, as luck would have it, Screen Scotland would secure me a pass to the Cannes Film Festival, which was all done remotely due to Covid. On it we had speed-meetings every night, where, we would have 5 minutes with another industry professional, completely at random.
It was a bit of a faff, as by the time you were connected, said your hellos, the website would disconnect you and take you on to the next! I was fortunate though to meet Judd Tilyard, a lovely Australian producer... all the way out in, you guessed it, Australia.
We swapped e-mails and set up a proper chat with each other and for the first time ever, I had to say the pitch of my movie out-loud. Thankfully, Judd seemed to like it and then told me... that I was writing a TV show!
To be fair, he did say very early on that we could make it as a feature, and it could be done cheaply, and we could get it out into the world. However, he believed that we could get so much more out of a series than we ever could with a movie.
"Origins" the movie was already rolling as I had set up a Twitter, Instagram and Facebook to help promote it. To help my fellow creatives when we were stuck in lockdown, I set up a small crowdfunding campaign for £700 so we could produce a CGI teaser - one in English, the other in Gaelic - as well as a handful of concept art of some characters and monsters. All to help gain some interest for the concept.
I was AMAZED when we hit £1000 on the first day, meaning that we most definitely had a teaser on our hands, and some concept art. By the end of the run, we raised over £4000 which we were able to put towards shooting a sizzle reel to help us promote the project and get more companies and creatives onboard.
David Fergusson created a handful of concept art images, including this stunning piece of one of our heroes, Alia Kelton - who is now Iona in our TV pilot script. We hired some crew, interviewing a lot of people over Zoom. We put out casting calls and received a LOT of applications and self-tapes and eventually we had all of our actors and crew in place.
We did a day of location scouting outside of the city, finding beautiful and magical looking environments that would convey Scotland of the past as well as the present.
I wrote the sizzle reel script - taking some parts of the original feature film script and adding in some new TV specific content. Overall there were 11 scenes to shoot over a 3 day schedule.
We hired Strike Fight Team to work with our actors to create 2 fight scenes for the movie. A hand-to-hand battle between Effie and our monster, the Bean-Nighe! And another fight scene involving Iona (then Éithne) and Alasdair on a clifftop in Arbroath.
The amazing Scare Scotland came on board with their actress, Rebecca Turner, to bring the Bean-Nighe to life, with Gibbet FX in Edinburgh creating the prosthetics. Vivienne Low and her assistant Gwen Jones went onto create our monster's costume, as well as the looks for the other characters.
With the sizzle reel shot - with all COVID-19 restrictions in place - we safely produced our 15 minute sizzle reel. Which is now being finalised with just one scene left to complete with music and sound design.
Meanwhile, with screenwriting royalty, Debbie Moon - creator of the award winning CBBC drama "Wolfblood", and my frequent collaborator, James T Harding, we got to work on shaping the new pilot script for the show.
We cracked open shared documents so we could put in the series bible; creating the world and the characters that would inhabit our world. What the rules were, how magic worked, the why, the when and the how. All that fun world building stuff that draws me to project after project after project.
Over the course of the last few months we've been working with Judd and his team to create the pitch deck - a document that is used to present the show and the ideas to producers, production companies, distributors, streamers, broadcasters etc - basically all the people involved in taking a show from concept to becoming a programme people can actually watch on their TV.
A LOT of work - and I don't mean that lightly - went into each and every draft of the pilot script.
I wrote the first draft, I sent it to James and Debbie. They'd confer, type up their notes and then we'd have a meeting over Zoom to discuss it. Then I'd go away and write the 2nd draft. Judd would add his notes in at this stage along with Debbie and James.
Another document filled of notes, another Zoom call and I'd go onto the 3rd draft.
The time between drafts being completed was quicker each time, but real life things go in the way. Personal relationships, some drama, moving house, and looking for paid work in the real world to fund this obsession of mine, all had to be taken into consideration.
As the edit on the sizzle reel continued, it was decided that the pitch deck needed a poster. As our wonderful photographer, Sonja Blietschau had taken wonderful shots throughout our sizzle reel shoot, we already had a lot of the elements needed for it. We then commissioned Neil Fraser made this wonderful poster, which now sits proudly on the first page of our pitch deck.
On the 26th of November 2021 the 6th and final draft of the pilot script (for now) was completed and sent off to Judd, who will now use that - along with our pitch deck and sizzle reel - to send the show out into the world. Onto the desks of the commissioners, in the hope that we can bring some magic back to Scotland, to create a new, fun and exciting series in the vein of Buffy the Vampire Slayer and Doctor Who, to our Celtic shores.
And that, is the journey so far...