Drama & Controversy on Sea & Scottish Land - East India Company Early Career
Downton Abbey with Added Spice!
Do you enjoy Downton Abbey? If the answer is "yes", read on. What are you about to discover is Downton Abbey with two pluses, for added spice!
Henry Mcneish (1st March 1768 – 1836)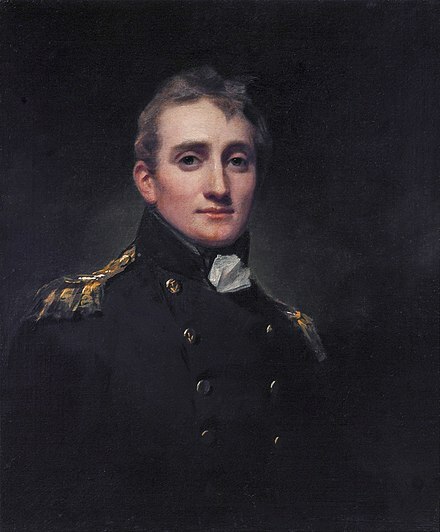 I shall start by stating that - for legal purpose - whilst this, the first of the Mcneish family stories you will enjoy is true, I have changed the names. Several "Mcneish" family activities would not be viewed acceptable in the 1900s, never mind the 2000s! For the same reason, the name of the family's former home has also been fictionalised.
Many magnificent portraits adorn the walls of stately homes in the UK. Captain Henry Mcneish is one. It is easy however to view such portraits as dull. I feel strongly that every one of these people has a story to tell. Especially Captain Henry Mcneish. He became an East India Company Captain and Georgian Gentleman
Captain Henry Mcneish was a member of the Mcneish family. Several family portraits adorn the walls of publicly accessible properties in Edinburgh. Glenduich Castle lies in the beautiful Scottish region of Perth and Kinross.
Henry's father Judge George Mcneish (8th Dec 1676 to 5th Nov 1746) purchased Glenduich Castle from a Jacobite family, who were forced to sell after the failure of the 1715 rebellion. He styled himself 'of Glenduich' from 1721. The Judge too had Jacobite beliefs and was strongly associated with Bonnie Prince Charlie. He had the honour of being invited to attend council at Holyrood in the days immediately following the Battle of Prestonpans. Indeed, three of his children are buried in Holyrood Abbey. However, his story is for another day.
Today I will focus on Captain Henry Mcneish, whose portrait remains in excellent condition today.
Henry Mcneish (1st March 1768 – 1836)
Henry became a Captain in the East India Company. Initial material I was provided as the 'starting point for my research proved inaccurate. However, when I worked through copious manuscript material in the National Library of Scotland Archives and Manuscript Collections Department, much more fascinating information was discovered.
Young Captain Henry Mcneish
Much of my work centred on the family manuscripts which are held at the National Library of Scotland. As you can see from the bibliography, I was also given extremely helpful guidance by the Scottish Genealogy Society. That enabled me to find other sources within the library at Victoria Terrace in Edinburgh. Much of what follows are extracts from family letters.
Captain Henry Mcneish was well liked and respected by those he sailed with and was a caring man. However, he also had an unpleasant side to his character. He thought nothing of purchasing a fatherless child, as you will see.
His father was William Mcneish of Glenduich. He married a lady called Caroline in 1807 and had several. children. These included Henry, William, Thomas, and Carolus. In reading the family correspondence, I felt I was intruding into the private affairs of others. However, it was for a worthy purpose: to reveal their story for future generations. Much of what follows are diary extracts. These provide an intriguing insight into the life of a successful member of the landed gentry in Scotland.
Life at Sea and in India
On 17th July 1782 Thomas wrote very poignantly to his father, stating that he "hopes we will live long enough to see each other face to face". The solitary nature of life on the waves was clearly affecting him. His father passed away eight years later.
Another letter shortly after this date refers to correspondence he received from the General "by Mr Dundas. I answered it immediately. He ordered me to draw upon him for to which I have done…..laid it out on jewellery and books as an adventure".
Further correspondence written on 28th February 1787 refers to him having to wait for "a fair wind down channel to pursue our voyage". It later states that he must interrupt his letter because "there's all hands called. I must away upon deck". He continues, "Our ship is quite full, which is much against me, as being a young officer..." He continues, referring to where this means by way of explaining where his belongings are positioned. He also refers to a good friend Mr Dickson, an old school friend of his, who "may have it in his power to do me marry good".
Captain Mcneish also refers to thousands of letters he must give to people in India. A task he views as "rather troublesome". However, Henry goes on to reflect on "what satisfaction I may give some poor soul, I take them with pleasure". Earlier correspondence also refers to his getting on well with all his shipmates. From this it is fair to draw the conclusion that Henry was a very personable and caring man.
Fun in Calcutta and Singapore
In another letter of dated 26th August 1787 he refers to meeting a friend in Calcutta, "I stayed with him for a few hours and drank bottle or two of his cool claret". The same letter refers to friends in Singapore, where he also visited. He referred to them as having servants for everything they do. He makes specific reference to one individual who has 60! It must have been a tough life for some.
In correspondence dated 29th October 1788 he refers to enhancing his general seafaring knowledge. He also states he will be going through a course of book-keeping, which "must be of great use to me in my line as a merchant". For his amusement he is "retrieving my Latin with my friend Martin, and reading Guthrie's Grammar, a book which gives a more concise history of the different countries of the globe than we have".
A letter dated 11th February 1789 refers to him working from 6 in the morning until 7 at night, sometimes later. A watch was also kept through the night to prevent the soldiers of the East India Company from deserting.
Investments in What?
In other correspondence he asks after his family. In several he also asks for and makes reference to his good friend Jamie Erskine. On occasion he also requests his father's financial help in acquiring 'investments', promising to return his money in full upon his return.
He was on the ship Busbridge at this time. Cargo notes confirm this. The ship's cargo included pickled tongues, anchovies, French olives and claret. It also refers to ten volumes of Johnson's Shakespeare being part of the cargo to Madras that month. The journey would conclude in Bengal. I was rather twistedly hoping to find reference to Georgian drug smuggling, namely opium in the cargo, but alas no joy!
Becoming a Freemason
At the youthful age of just 24 he became an apprentice mason of a local masonic Lodge. The manuscripts contain a certificate from the Right Worshipful Master of the lodge verifying his entry. It states that he became so "In the Year of Our Lord one thousand seven hundred and ninety-two and of masonry the five thousand seven hundred and ninety second year". Why it has a date of 24th December 1829 written on it in the lower left-hand side, in the same handwriting, I cannot fathom.
The manuscripts also contain a bond dated 15th March 1796. It relates to a loan of £2000 he received from Day Hort McDowall of Walkinshaw (he was also an executor for Thomas's father Judge George Mcneish), payable "on the term of candelmass next", or else he would incur an overdue payment penalty of £400, plus interest thereafter. This bond does not state what the loan was for, merely that he was Captain of the General Goddard at the time. This was possibly his first command.
If you have enjoyed this article, I am certain you will enjoy the rest of Henry's exciting life tales here.
If you'd like to comment/share thoughts etc., please do. I read and respond to everything
If you'd like to read other things I've made recently, head here

If you want to support this newsletter, you can 1/share it with people you love (tag me @edintourshistory on Instagram or @Edinburghwalkingtours on Facebook) buymeacoffee or become a monthly member where you get stuff I only send to members
Until my next article.
#downtonabbeyfan
#scottishgentry
#eastindiashipping
#scottishcastles_
Bibliography
Mcneish Family Papers – National Library for Scotland
History of the Landed Gentry of Great Britain & Ireland Volumes I & II – Burke
Sable a Book of the Mcneishes, published in 1903 by William Brown of Princes Street
Register of Burials in the Chapel Royal or Abbey of Holyroodhouse', 1706-1900, Edinburgh, 1900.
Asiatic Annual Registers
Scottish History Society Vol XXIII 1897
Scots Peerage Vol II, published by David Douglas 1905
Bibliography of British & Irish History – Judicial Review 1937 Vol 49:4 by Thomas Miller
Juan Agÿfffffcero, former Warden, Holyrood Palace
Miss Christian's Diaries – courtesy of Mark McLean, Claire Robertson & Anne Munro, at Newhailes House
Also, with thanks to the Scottish Genealogy Society. Opening details are on their website.
© Fraser Paterson
Enjoy this post?

Buy Fraser Paterson a coffee