Ren's guide to accepting payments internationally (if you're not from the US/EU)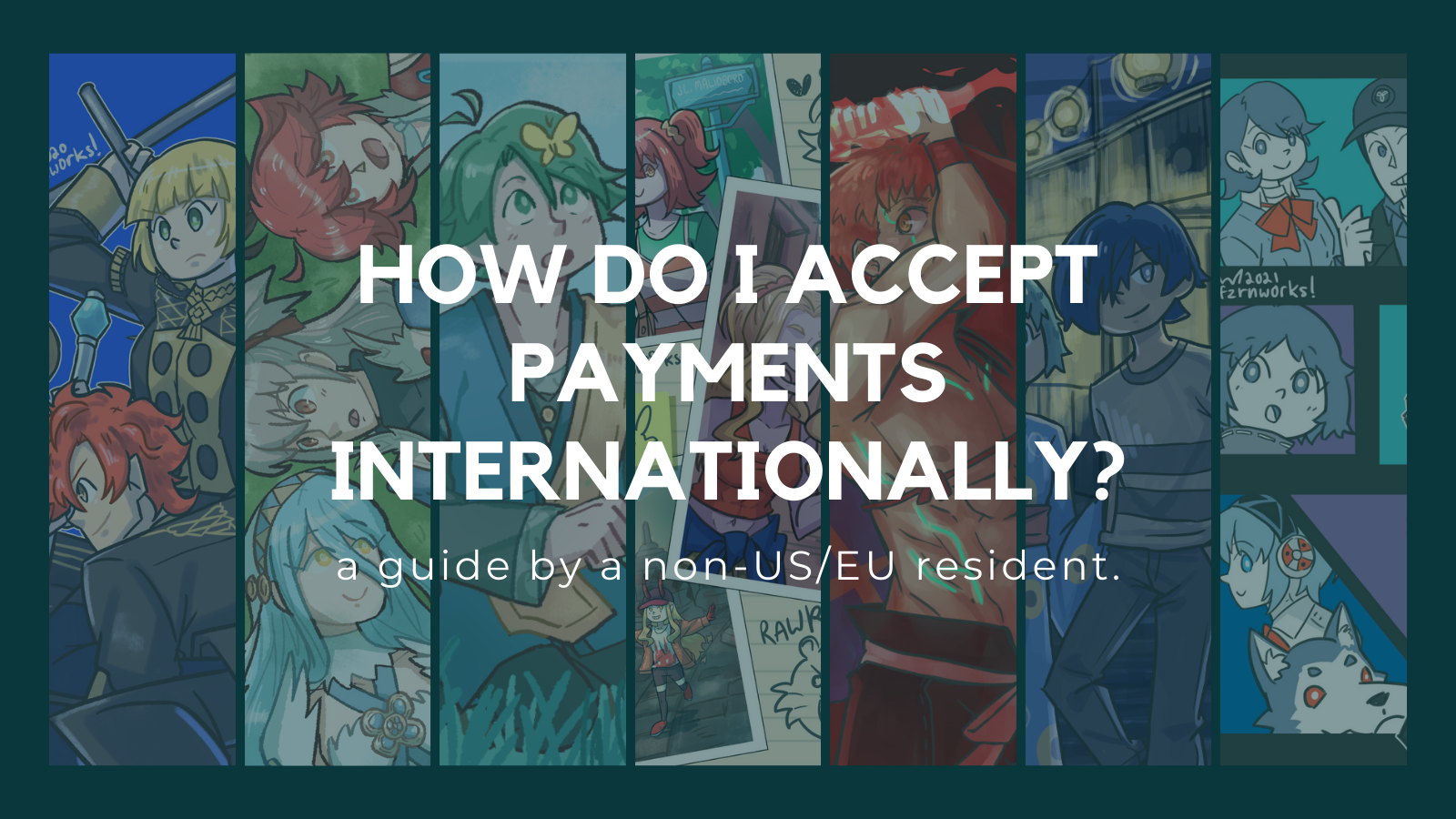 UPDATE: I've added a follow up tutorial on how to link your Payoneer account to itch.io! You can read them here.
Hiya! Ren here. I've been receiving a few questions online regarding how I was able to receive money internationally, despite living in Brunei where Paypal doesn't allow us to receive money from them.
Please do note that this guide is also applicable if you're living in countries where they cannot receive money from Paypal/Stripe OR you just find Paypal/Stripe a pain because of their bad customer service.
Also a lot of the stuff I cover here is based on my personal experience, which means you don't have to follow EVERYTHING in this guide. Who knows, you might have a better alternative than mine, but I digress.
Oh, and if you like this guide and find it helpful, please do share it to your friends and uhh follow me on my socials below:
If you want to support me, you can leave me a tip here on my Buy Me A Coffee or buy my stuff here on my Teepublic.
And if you have any questions regarding this guide, just fire out your questions here on my CuriousCat.
Without further ado, let us get to the main topic.
---
WHAT DO YOU NEED?
It's obvious that you need a platform that allows you to connect your bank account to in order to receive your money. Fear not! We have Payoneer to help.
(no this guide isn't sponsored by Payoneer)
If you've never heard of it, yes, it's a Paypal/Stripe alternative of sorts. However, unlike Paypal and Stripe, which allows you to directly connect your bank account through the platforms, Payoneer requires you to create an international bank account in order to allow them to link to your local bank account. Which means if you're from outside the US/EU/JP/UK, you can create a bank account for that respective country so that you can receive money from that particular currency.
Also do note that Payoneer is more for business use, meaning, you cannot transfer it to friends/family/casual use, and the minimum transaction you can send/receive is US$50. I only use the invoice feature here to receive my zine profits so far, so I don't really have much say on it.
I won't be covering on how to register for a Payoneer account here, but TLDR when you register, make sure you provide a proof of your identity (your passport/ID card) before you can finalize your registration.
---
I HAVE CREATED A PAYONEER ACCOUNT. NOW WHAT?
Once you have settled down with the registration process, you will be welcomed by this page after you logged in:
(so much white, dark mode in payoneer when)

By default you should have your US/EU/UK bank accounts made. If you want to add another bank account for another country (e.g: JP), you can click any of the three dots button at the corner of each currency's tab, then click 'Receiving Accounts'.
After that, you will land onto this page:
To check the respective country's bank account details, simply click 'View details' for more info. You will be needing the information at some online shops/payment services, so we'll get back to that later.
PS: if you want to add another country's bank account just click on the '+' button on any of the countries where you want to open a bank account at.
---
WHAT SERVICES THAT ACCEPTS PAYONEER/ALLOWS ME TO USE MY INTERNATIONAL BANK ACCOUNT?
Okay, now that we've got your international bank accounts, you probably want to know where you can use the services.
At the moment, here are the services that I know accept Payoneer as a funding source:
Amazon Marketplace (Never used this)

Fiverr (Freelancing website. I personally do not recommend this though because the company is based in an Israel-occupied Palestine settlement, also they charge at least 5-10% per withdrawal)

Teespring (Now called Spring. Used this once, but I abandoned this website after I found out that they support NFTs)

Teepublic (My go to for selling print-on demand merch. However, they have limited choices for selling prints.)

Itch.io (Good if you want to make games.

Buy Me A Coffee (I'm currently using this. A good alternative for Ko-fi and Patreon, and I will explain this later in the guide on how to use this.)

Patreon (personally not recommended if you don't have a large following and/or a proper schedule to post exclusive content on a regular basis. Also they charge $15 per withdrawal :') )
As for services that allows you to directly send the money to your international bank account, here are the following that are available:
Gumroad (You need to change your country to US/UK/EU/AU in order to be able to do this)

Pixiv Booth (JP online shop for doujin/original merch. Requires a Japanese bank account to sell here)

Skeb (JP art commissions website. I tried using my JP bank account here, but I have trouble receiving my money from there for some reasons.)

Redbubble (I recently signed up here again and I found out that you can now directly link your international bank accounts here. However, the profit distribution is uhhhh a bit small, so you probably would need to stack it up for sometime before you can send it to the bank account. Variety selection of prints available.)

Stripe (I've tried this before but due to the new US tax laws which requires me to send an ACTUAL proof of business and all that paperwork mumbo jumbo, I stopped using it, and the customer service isn't even helping. Only recommended if you live in countries where Stripe is available.)
If you know any other services that can do either, do let me know! Will keep this section updated.
The next section will be specific to the platforms where I mainly used my Payoneer+international bank account services, so either you're done reading my guide or feel free to continue reading this guide.
All the best with using Payoneer!
---
(OPTIONAL) USING BUY ME A COFFEE AKA BMC
So, yeah, as I mentioned earlier, I decided to dedicate a section for this particular platform because a lot of my friends are still confused on how to get commissions from international clients without having to send an invoice from Payoneer or using Patreon.
I've known Buy Me A Coffee (BMC for short) as an alternative platform to Ko-fi and Patreon for quite some time but it wasn't until last month (July 2021) when a friend of mine who goes by maygebee on instagram (go check her out, she makes cool art and comics) found out that BMC now accepts payouts via Payoneer, though at the moment it's still in beta testing stages as it's not publicly available yet.
Anyways, what makes BMC different from Ko-fi/Patreon?
Disclaimer: This guide is not sponsored by BMC, I am just promoting their platform so that more people are using them :')
(this is how my BMC page looks like)
BMC has a lot of features similar to Ko-fi and Patreon. However:
It allows you to change the XXX keyword in 'Buy me a XXX' with anything for FREE.

It allows NSFW content (though porn is still a big nope).

No subscription plans to access any premium features.

BMC accepts payouts via Payoneer (as of recent it's still in beta testing mode, you need to contact their support team to gain access to the feature)

BMC takes 5% of every payment you receive. To be frank, this is fair game since they don't have any subscription plans like Ko-fi Gold or whatever that premium services Patreon have. They still need to pay for server maintenance and stuff, OK :').

BMC has a mobile app, though I've only used the Android version as I don't have an iOS device. Let me know if they made an iOS version for it!
So umm, now how do I use this thing?
After signing up, you need to set up your payout method first in order to be able to accept payments. In order to do that, from your dashboard or home page, go to the settings on the sidebar (if you're on desktop).
(Payoneer should only show up after you contact the BMC support team via their email, otherwise only Paypal and Stripe shows up there)
You need to fill in this form in order to grant access to the Payoneer payout option. Once you fill it in, it shouldn't take too long for the support team to get back to you.
After you've been granted access to that feature, it should allow you to enable BMC to connect to your Payoneer account.
And uhh… there you have it! You are now officially able to receive money internationally! ALTHOUGH, as seen in the screenshot above, Payoneer only accepts payments via Google Pay, Apple Pay or credit cards. But hey, it's better than no clients/supporters at all.
Before I forgot, do take note that Payoneer only sends the payouts from BMC to your Payoneer account once per month, and you need at least US$25 to be able to withdraw. They usually take a while to get back to you so please be patient when it takes you a while to receive your money.
Oh, and if you're considering to sell physical merch from BMC, you can, but at the moment, they do not have the feature to add postage+shipping price, so you need to inform your customers to just send the money via the donation feature. Hopefully in the future they will implement this.
---
So you've reached the end of this guide? Liked this post and want more of these in the future? Follow me on my socials through this link here.
Who am I? I'm just a Creative Multimedia 2nd year degree student from Brunei, who also makes cute and colourful art for fun and work, while also indulging in anime and video games content. My main interests at the moment are Fire Emblem series, Fate series/Type-Moon works, Persona series and adventure/mystery visual novels. Follow me on Twitter if you want to hear me scream about them XD.
Until next time, take care and stay safe y'all!
Enjoy this post?

Buy fuzzyren a bread