DXY - Trading Plan
The macrostructure and microstructure are RANGE as the downward movement created a BOS+CTS structure.
We have a BOS (113.80) originating from a downward force, and we have a BOS H1 (110.50) originating from an upward force.
We have a BOS H4 (108.00) being the key medium term level (H4).
Key levels in a range structure are tradable, so adding short positions on BOS (113.80) is valid and adding long positions on BOS H1 (110.50) and BOS H4 (107.50) are valid.
We can say that we are in the last part of the cycle for many pairs now and there is a possibility that the 5th wave is the final diagonal. This can cause many false moves to appear. I think the dollar's uptrend in general is not over yet.

We remain skeptical that the Fed is about to turn based on slightly softer US data this week. Focusing on the tight labor supply challenge, the Fed told us in September that unemployment needs to rise from its current 3.7% to 4.4% next year to keep Fed funds from rising above 4 .50-4.75%.

Instead, it appears that yesterday's overreaction was a function of market positioning. We are still multi-month, if not multi-quarter bulls, and we would see this DXY dollar correction losing steam at the 108.50/110.00 area.
We have two possibilities here:
IF the BOS (113.80) is broken and its upward movement continues, then the DXY should print new highs and follow its bullish run.
IF the BOS H1 (110.50) is broken and its downward movement continues, then the DXY will gain more strength to continue its downward movement towards the BOS (108.00).
Our reviews have been consistent so far. It takes discipline and patience to trade only the key levels.
Control your risk.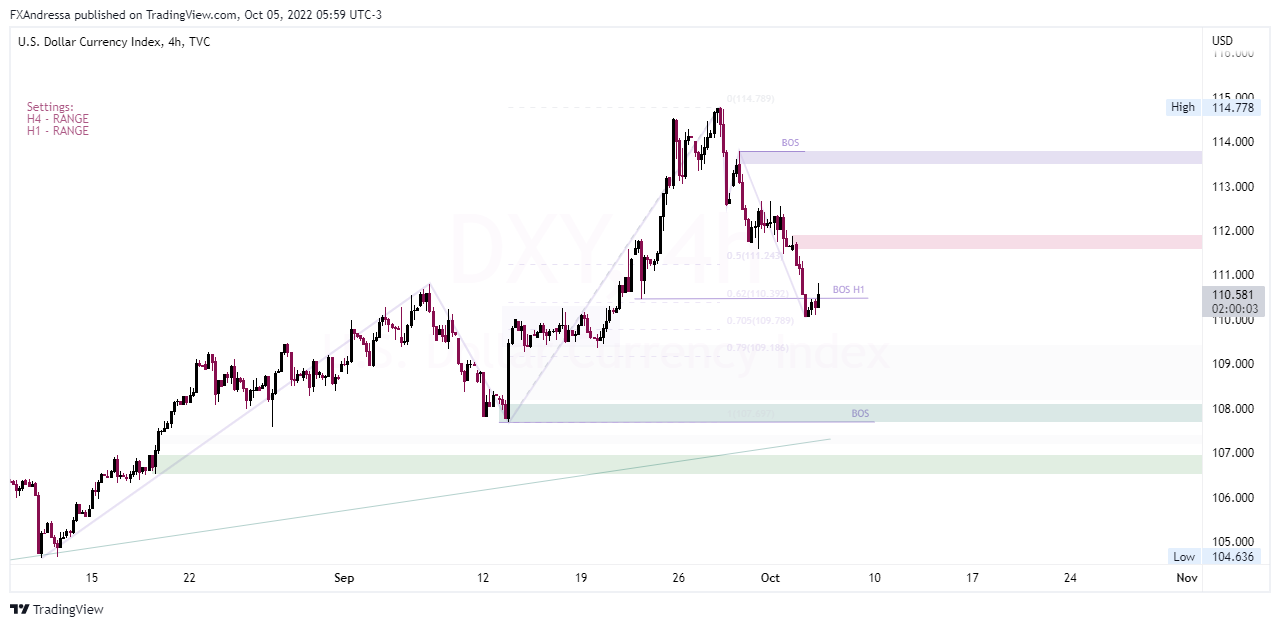 The Elliott Wave Principle is exactly that, a principle, but it does endeavor to place the overall market move as well as the short-term wave structure into an order. The application of the Principle is not infallible, but when it's applied correctly it is overpowering in its market interpretation as well as its success.
It is not investment advice. We accept no responsibility for any loss direct or consequential arising from any use of this plan.
"Buy Andressa a Coffee" is about sharing ACTIONABLE SCENARIOS.
Enjoy this post?

Buy FX Andressa a coffee