#STEMStories: Alba, Senior Front-End Developer, The Netherlands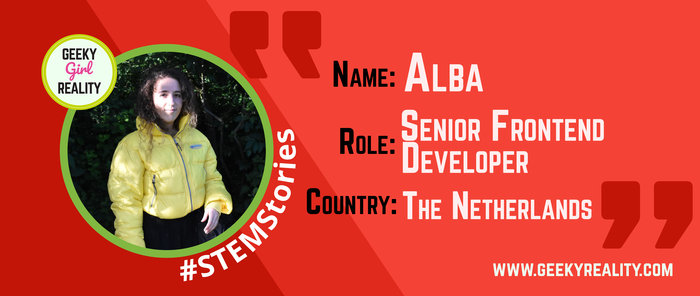 Earlier this year, we spoke to Alba, a Senior FrontEnd Developer at Blue Harvest. She likes writing articles about FrontEnd technologies and working hard on the open-source to create more value for the web community and help others grow in her spare time.

1. Introduce yourself, who are you, and what do you do?
My name is Alba Silvente Fuentes, I'm from Spain but since 1 year ago I'm living in Amsterdam, The Netherlands.
I work as a Senior FrontEnd Developer at a company called Blue Harvest. In my spare time, I'm writing articles about FrontEnd technologies and working hard on the open-source to create more value for the web community and help others grow 💜
This year I've been named Ambassador for two technologies I really love, my beloved Nuxt (a super framework🦸) and Storyblok (a headless CMS). So I'm trying to spread the word by giving some talks, podcasts and live streams 🦄
2. How did you arrive at this career (or point in your life/work)? Was it always something you knew you wanted to do?
In high school I realize that I was better at Maths than in the rest of the subjects, so I decided to do a tech career and I chose Sound & Image Engineering in Telecommunications because I couldn't get into aeronautics, which was my dream at that time 🎉
But then, in the first years, I discovered programming and that changed my journey completely. I decided to do a free career internship in a web development company to learn how all this worked.
I was hired and for the last 2 years of my degree, I worked and studied at the same time. Nothing has managed to get me out of this web world and this community 🤗
3. What about your job makes you jump out of bed in the morning, especially on those cold, dark mornings?
That there's always the possibility of discovering something new and you never know everything, therefore you never settle down and are always curious about what is new to come!
Besides, the satisfaction of making something work that development gives you is not given by anything else 🔥
4. What is your personal cure for stress or how do you raise your spirits in times of doubt? Can you share a story?
Dance, dance a lot. It doesn't matter if you do It well or badly, the important thing is that your favourite music is in the background and that you sing and forget what discourages you.
In the end, everything is temporary and no evil lasts forever, you have to know how to internalize that things happen and music always helps.
Before COVID, I used to go to local music festivals each month, now I see them on Twitch.tv/Youtube 🖖 We need to keep the culture alive 💜
5. Who is your role model? If no one, any thoughts on this?
Debbie O'Brien, for sharing all that she learns, for helping others to trust and grow, for her enthusiasm and above all for her effort 🦄
6. What advice would you give to yourself if you could go back in time?
Share what you know, help others and collaborate on open source with more people, which doesn't have to be an individual path, you'll learn more with colleagues.
7. Top 3 tips for girls starting out in STEM?
Do not underestimate anything you do, everything has value when It involves an effort.

If you have a bad day and nothing comes out, it's not the end, tomorrow will be a new day and things will be different. Stand up, take a walk, distract yourself if you need to.

Help you colleague, work as a team member, the community is the best we have when we create this supportive environment 👯‍♀️
8. How do you measure your success?
When my conscience is clear when I have done my best and I feel fulfilled 🔥
And when I get a message from someone telling me that I have helped them, that's another level 💝
9. Where can we find out more about your work?
👉 On my website www.dawntraoz.com
10. Are you social? Will you share your Twitter handle, or LinkedIn profile, or Facebook so that young women can connect with you?
@dawntraoz or Alba Silvente Fuentes

Enjoy this post?

Buy Geeky Girl Reality a book