#STEMStories: Sophia, Software Developer, USA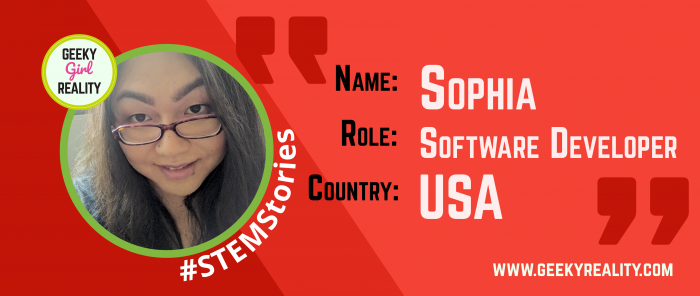 Two years ago, we spoke to Sophia, a Software Developer at Microsoft from the USA.

1. Introduce yourself, who are you, and what do you do?
My name is Sophia Lee.
By day I am a Software Developer at Microsoft where I work with a team of developers to create one of the largest news sites in the world.
By night I am a Transgender Social Activist who works to bring social justice to Transgender people.
2. How did you arrive at this career (or point in your life/work)? Was it always something you knew you wanted to do?
I always loved programming, ever since I was little, and I had a talent for it. It was a difficult path for me to get to where I am though. As an Immigrant, Transgender Woman of Color I had to navigate unique challenges to learn how to leverage my backgrounds to become the person I am today.
Now my software development skills have developed into a tool that I use to fight for social justice.
3. What about your job makes you jump out of bed in the morning, especially on those cold, dark mornings?
As a software developer I can create tools that can change the world. Applications that are used by millions of people. Software that enable people to achieve more. I love taking my talents and lifting up other people.
4. What is your personal cure for stress or how do you raise your spirits in times of doubt? Can you share a story?
I go up to the rooftop of my apartment complex and I look out at the amazing world we get to live in. The lights of the city, the snowy mountain peaks, and the beautiful blue sea. It gives me peace.
5. Who is your role model? If no one, any thoughts on this?
I never had a specific role model growing up. So, I decided to become the role model that the younger me would have wanted to have.
I want to show people that Immigrant, Transgender Women of Color could be smart, pretty, strong, well-spoken and successful.
6. What advice would you give to yourself if you could go back in time?
Come out of the closet earlier. You will still be loved. Be truthful to yourself. Follow your heart. Trust in your ability to survive.
7. Top 3 tips for girls starting out in STEM?
Don't just concentrate on STEM. Take art, minority studies, learn an instrument, and pick up a sport. Become a well-rounded person..

STEM is hard, but it is worth it. You are here because you are just as smart and talented as everyone else. Don't lose faith in yourself.

Don't change who you are for STEM. STEM needs people of all diversities and backgrounds. Embrace your differences.
8. How do you measure your success?
I measure my success in my reach for social change. My STEM background is a building block to bring about social justice for all. I believe that technology can be the tool that equalizes the playing field for all people.
9. Where can we find out more about your work?
https://genderjusticeleague.org
https://transgirltheory.com
10. Are you social? Will you share your Twitter handle, or LinkedIn profile, or Facebook so that young women can connect with you?
Find me on twitter at @geekgirl1024
LinkedIn at https://linkedin.com/in/sophia-lee-b359406/

Enjoy this post?

Buy Geeky Girl Reality a book