#STEMStories: Unnati, Third Year Undergraduate Student, India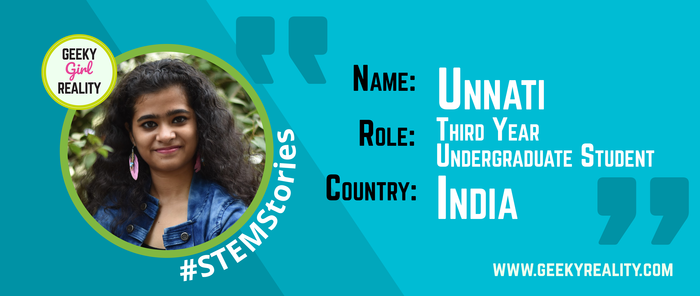 Last December, we spoke to Unnati, a student at SRM Institute Of Science And Technology in India. She loves making attractive websites along with some CSS Art.

1. Introduce yourself, who are you, and what do you do?
Hi, my name is Unnati Mishra. I'm a third-year undergraduate student at SRM Institute Of Science And Technology, Kattankulathur, Chennai, India. I am currently pursuing my B.Tech in Computer Science with specialization in Computer Networking. I have a keen interest in making attractive websites along with some CSS Art. I aim at improving me and my surroundings with my friendly behavior and innovative mind with budding solutions.
2. How did you arrive at this career (or point in your life/work)? Was it always something you knew you wanted to do?
It all happened during this lockdown period due to the pandemic. All schools and colleges were closed, all the students went to their homes. That was the time when I started developing myself and refining my hidden skills. Then I started this challenge named "100 Days Of Code", where I code for 100 days and focused on Web Development and CSS Art. This challenge changed my whole life. I joined Twitter and updated my daily progress there. I used to make CSS Art at that time.
But on one fine day, I posted one CSS Animation and it went viral, in less than 24 hours it had more than 10k views!! It was like a surprise for me. I always wanted to feel something like this. Since that day, I am continuing my #100DaysOfCode Challenge and at present, I am doing the 365 Days Of Code Challenge. Now, I am proud of myself and can say that I can develop beautiful websites.
3. What about your job makes you jump out of bed in the morning, especially on those cold, dark mornings?
I always liked the things that attracted people and their attention. I always wanted to do something that includes all this and I found out that I have a great interest in developing websites and making CSS Drawings, so I worked on it. I believe that If you work on anything with a positive mindset, then no one can stop you from mastering it. In my college, I have a friend who always motivates me to explore myself and encourages me to do the things I like the most. So, I work daily on myself, improving day by day and moving towards becoming a successful Full-Stack Web Developer.
4. What is your personal cure for stress or how do you raise your spirits in times of doubt? Can you share a story?
There was a time when I scored really less marks in all my exams and I was really stressed out and disappointed with myself. I was so demotivated that I thought that studying is not my cup of tea. But then, I read some motivational stories and watched some inspirational videos to encourage myself and get back to work, And It worked!. Now also sometimes I have thoughts in my mind that I am not working up to the level that I wanted to along with some negative thoughts… So, I will share my secret routine with you all and I am damn sure that it will work for you as well.
I eat my favourite food or listen to my favourite music and I love dancing, so I dance till I am exhausted. By doing this, all your stress and self-doubt will vanish!
5. Who is your role model? If no one, any thoughts on this?
I have only one role model, that is my Mother. I am so blessed to have such a caring and loving mother, I don't need any other role model. She always encourages and motivates me to pursue my dreams and does everything she can do to fulfil my dreams. She wasn't able to pursue her dreams so she wants me to do as many things I can to become a successful person in life. She never compares me with any other person and wants me to develop my own Identity.
6. What advice would you give to yourself if you could go back in time?
I would thank myself for the mistakes that I have made in the past because they have taught me a lot of things that are really important in life. It's OK to make mistakes, but it is really useful when you learn from it and do not repeat them. Our mistakes teach us a lot of life lessons and we can't grow without making mistakes.
7. Top 3 tips for girls starting out in STEM?
Listen to other people's success stories as they will encourage you.

Participate in Curricular and Extracurricular activities as they will open you up.

Do not miss opportunities- grab each and every opportunity that you get, even if you are not able to do that thing, at least give it a try.
8. How do you measure your success?
If I compare myself before lockdown and after the lockdown, there is a huge change in myself. It is the difference between land and sky. I was literally knowing Null about the Tech field and now I can see the difference in myself. I feel motivated and that encourages me to work more.
But there are some days when I feel that I am not performing up to the level, but it's okay. It is a part of our life, as life is like a roller coaster with ups and downs and you will not enjoy life without those ups and downs.
9. Where can we find out more about your work?
I am part of PyLadies Chennai and developed the community website. You can see my work at my Webfolio.
10. Are you social? Will you share your Twitter handle, or LinkedIn profile, or Facebook so that young women can connect with you?
Feel free to reach me at Twitter: @pingUnnati and on Linkedin.

Enjoy this post?

Buy Geeky Girl Reality a book