#STEMStories: Yasha, Chemistry PhD Student, USA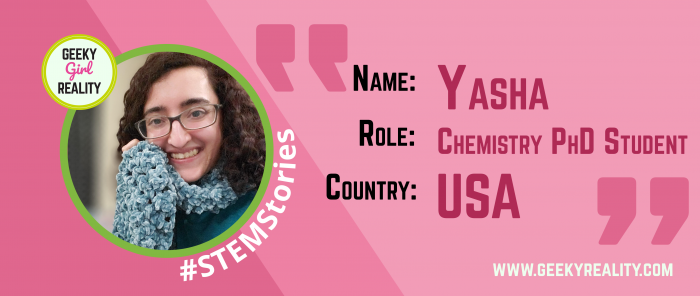 Last year, we spoke to Yasha, a Chemistry PhD Student at Penn State University.
1. Introduce yourself, who are you, and what do you do?
Hi! I'm Yasha Duggal, a chemistry PhD student at Penn State University. I study how bacteria talk with each other and their environment through small molecules.
2. How did you arrive at this career (or point in your life/work)? Was it always something you knew you wanted to do?
This was not something I always wanted to do! When I started college I was a premed and wanted to do pediatric medicine, but after joining a research lab during my sophomore year, I realized I really liked a research environment and working on solving global problems.
3. What about your job makes you jump out of bed in the morning, especially on those cold, dark mornings?
My research group and advisor make it easier to work on those bleak days. A major part of research is learning from and modifying experiments that didn't work quite right the first time around. When you have a good research group it makes bouncing back from those experiments so much easier.
4. What is your personal cure for stress or how do you raise your spirits in times of doubt? Can you share a story?
I'm someone who tends to worry a lot and can get easily stressed by the things around me. To cope with my stress and anxiety I have a variety of different types of stress relieving exercises including yoga, baking, and crafting and spontaneous dance parties. Recently I've really gotten into crocheting because it's something where I can see progress in real time and takes my mind off of stressful things.
5. Who is your role model? If no one, any thoughts on this?
I have many role models. My first and biggest role model is my mom because I'm always awed with how she moved to the United States, with my dad, at 22 and learned how to live in a new country while also raising me and my sisters. She's persevered through a lot and always shows strength and happiness in difficult times. My PhD advisor is also one of my role models because she is a strong scientist and also knows how to keep a smile during hard times and is one of the most caring and multitalented people I know. I also have a few TV role models including Amy Poehler and Rapunzel (from Tangled). Amy is a natural leader and I look up to her when I'm facing hard situations. I know having a princess as a role model is kind of weird, but I love how Rapunzel always questions the world around her, finds the best in people, and finds ways to make her dreams into reality.
6. What advice would you give to yourself if you could go back in time?
If I could go back in time, I would tell myself to have more confidence in my abilities. There are so many awards and scholarships that I didn't apply to because I was scared of rejection and didn't think I was qualified enough. I know it's cliched but you really do miss 100% of the shots you don't take.
7. Top 3 tips for girls starting out in STEM?
Find a group of people (or a person) who helps maintain your confidence. There are so many groups like Geeky Girl Reality that exist to support women and offer resources that can help us reach our full potential. My group is my lab who are always there to be my hype team and push me to be my best self.

Try new things- the only way you'll know if you like something is if you try it. And then, even if you don't like it, you've learned a new skill which could one day end up being useful. I love baking and I didn't think it would help me as a scientist, but there are a lot of similarities between how I make brownies (getting ingredients, mixing them together, and heating them before they're edible) to making solutions for my bacteria in lab (massing ingredients, mixing, and heating in an autoclave before my bacteria can eat them).

Embrace failure- failing is part of the learning curve and everyone does it. At first I hated feeling like I did something wrong. But now, I realize that those mistakes help me be better next time around.
8. How do you measure your success?
I measure success based on my happiness. If I'm proud of something that I did, then I know it was worth the time I invested in it.
9. Where can we find out more about your work?
You can check out more of my work at my blog: sites.psu.edu/microbialmysteries
10. Are you social? Will you share your Twitter handle, or LinkedIn profile, or Facebook so that young women can connect with you?
Twitter @micro_Yasha
Instagram and TikTok: @microbialmysteries
Enjoy this post?

Buy Geeky Girl Reality a book