Happy Birthday, Miho Amane-san!
Before her time as a singer, Miho Amane entered a musical school when her family loved musicals and was impressed by the Shiki Theater Company when she was a kid. She has been active in performing arts since she was a student in the Department of Psychology at the university.
She belongs to Akihabara Dear Stage since January 2015 and started her performing arts activities. She is under the name of "Miho" and she becomes a member of the unit "AIKATSU ☆ STARS!". She had her first chance as Juri Kurebayashi's singing voice, and later Nono Daichi. After the original series, she also provided the singing voice for Yozora Kasumi, before finally settled for Kirara Hanazono, her only non-sexy-type character.
Even after AIKATSU☆STARS had graduated in February 2018, she still remains in Akihabara Dear Stage.
From April 22, 2018, to April 11, 2021, she works as a duo unit "Mi☆nA" alongside her fellow AiStars member, Sena Horikoshi.
She has a good reputation for her singing ability. Some composers of the song she sang (one of them came from Taku Inoue, who composed Mani Mani, as well as Mifmei, who composed Belka) commented that she could easily sing difficult songs.
She has a stronger impression of purple, blue, and light blue because of the characters she brought in Aikatsu! Series, Denonbu, and Mi☆nA, but her personal favourite colour is pink.
Her hobbies are watching anime and theatrical performances. She also does dances, tennis, anime, manga, clothes, temples, and visiting historic sites. Her special skill is idol dance. Her speciality is watching manga and anime in a day. She is not good at reading maps and exercising.
お誕生日おめでとうございます、天音みほさん。
Happy Birthday, Miho Amane.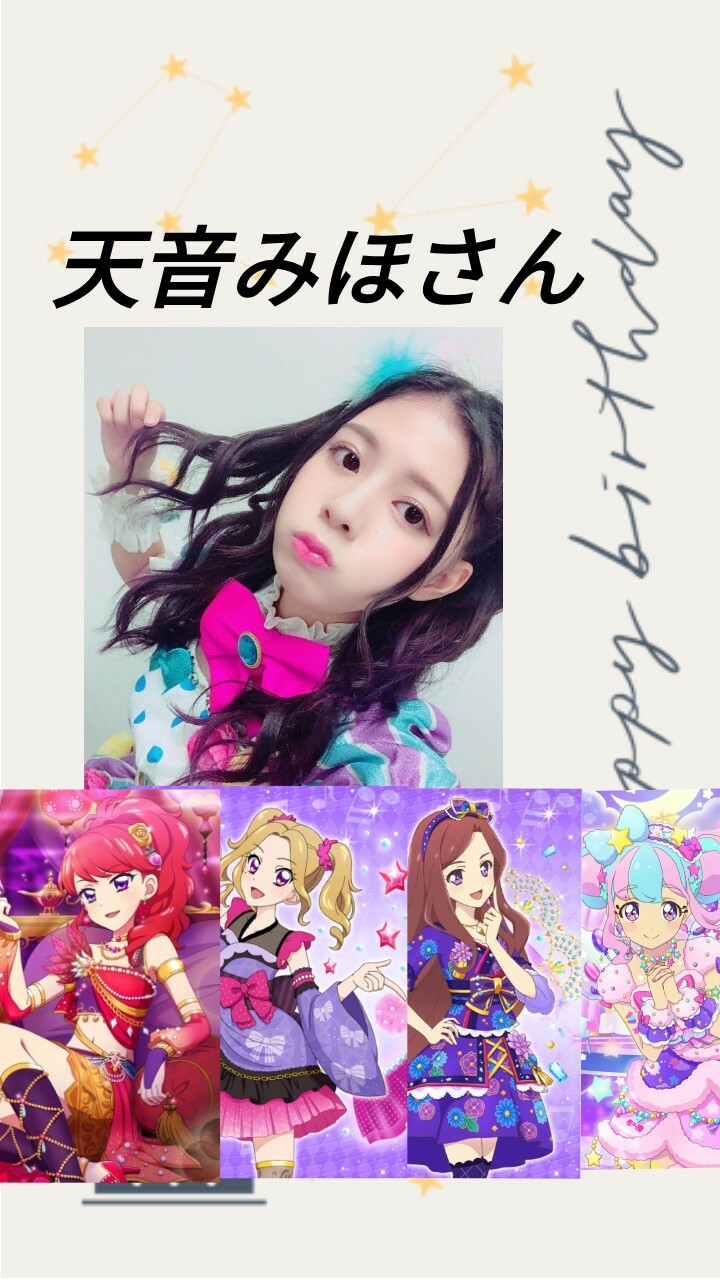 Anyway, thank you so much for everything you've done for Aikatsu, as well as for singing for Juri and Nono in Aikatsu, Yozora and Kirara in Aikatsu Stars, and we wish you all the best in the future.
And let's send our gratitude for her as well on these accounts:
Twitter: https://twitter.com/miiii_am
Instagram: https://www.instagram.com/amamiii_s2/
#AIKATSUSTARSのメンバー #aikatsu #singingvoice #歌声 #アイカツ #アイカツスターズ #紅林珠璃 #大地のの #香澄夜空 #花園きらら #天音みほ #mihoamane #jurikurebayashi #nonodaichi #yozorakasumi #kirarahanazono
Enjoy this post?

Buy gerardkhacha a coffee