Happy Birthday, Rie Fujishiro-san!
In February 2016, the then-unknown Rie Fujishiro was introduced as a member of the Dearstage-affiliated AIKATSU☆STARS!, and soon provided Sumire Hikami for the singing part, replacing the graduated Mona Tomoyama. She later provided Laura Sakuraba and Rei Kizaki for the singing part in the sequel Aikatsu Stars.
After two years, she was graduated from AIKATSU☆STARS!, and directly left Dearstage and became freelance to this day.
She has been fond of singing since childhood and belongs to the music department in high school and vocational school. She has been exposed to music in various ways, including solos, bands, and units, including working in a live house.
Before joining Aikatsu, she liked the anime and the Data Carddass, and was engaged in enthusiastic fan activities such as participating in live concerts and buying goods. Even after joining the group, she was still a fan, and she used to watch lessons and take videos with her fan spirit. As mentioned above, Fujishiro, who was a fan of Aikatsu, often mentions Sumire Hikami as her favourite character. About a year after she joined the unit, she became the character's second-generation singer, but she said she was more anxious than happy when she decided to do so. Sumire Hikami, a character who has a strong passion for singing, worked with the hope that she could sing again.
At the Budokan performance, which was the last live of AIKATSU☆STARS!, she said, "I don't think this is the first and last Budokan," and even after graduating from the unit, she continued her musical activities and decided to stand at the Budokan again.
お誕生日おめでとうございます、藤城リエさん。
Happy Birthday, Rie Fujishiro.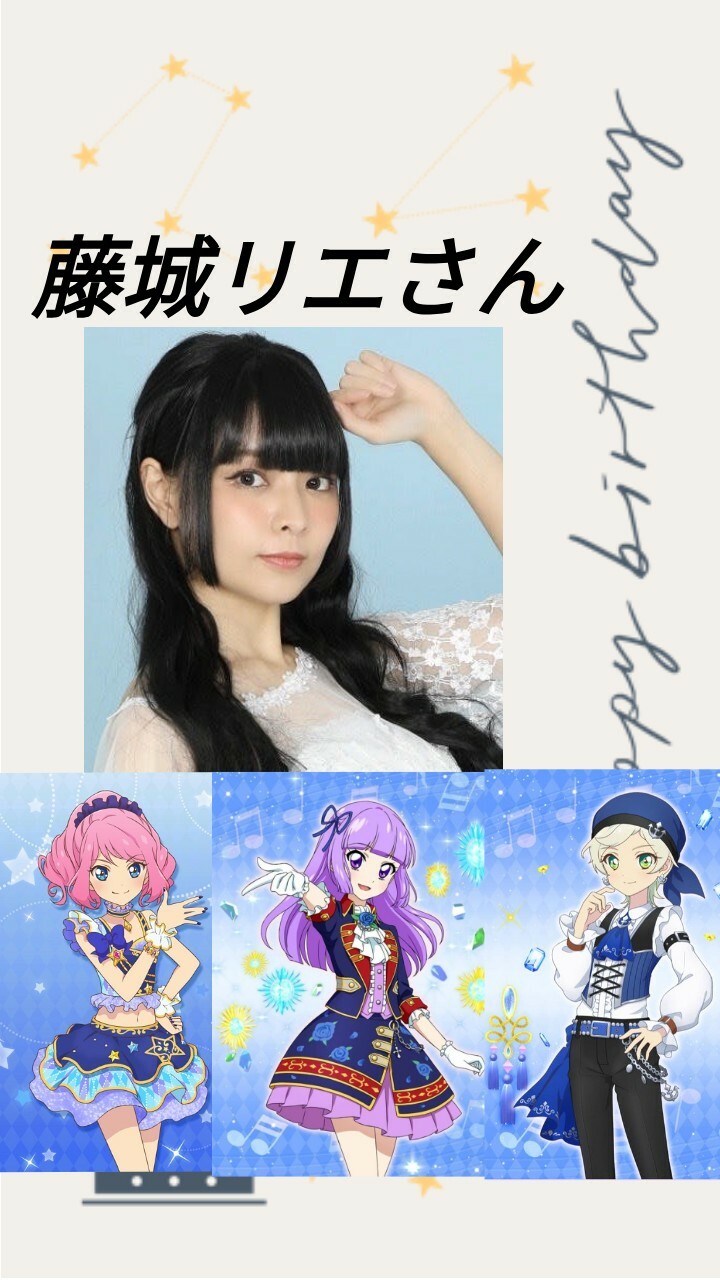 Anyway, thank you so much for everything you've done for Aikatsu, as well as for singing for Sumire in Aikatsu, Laura and Rei in Aikatsu Stars, and we wish you all the best in the future.
And let's send our gratitude for her as well on these accounts:
Twitter: https://twitter.com/FujishiroRie
Instagram: https://www.instagram.com/fujishirorie/
#AIKATSUSTARSのメンバー #aikatsu #singingvoice #歌声 #アイカツ #アイカツスターズ #氷上スミレ #桜庭ローラ #騎咲レイ #藤城リエ #riefujishiro #sumirehikami #laurasakuraba #reikizaki
Enjoy this post?

Buy gerardkhacha a coffee