Hey Everyone,
Last weekend I shared the positive divergence setting up in the major indices in the US. This has been followed up with a significant bullish week in the last week. This increases the probabilities that the interim bottom is likely in and we could have at least another bear market rally if not bottoming before a bull market starts.
The increase in the stock market happened on the back of less than expected CPI (inflation) numbers in the US and an expected Republican party gain in the Midterm elections. As it stands now, the 'Red Wave' of Republican party gains that was expected didn't necessarily materialise in the same way but they did gain seats in the house and likely to take majority there whereas the Senate control is likely to go to Democrats. This result in a split parliament and market might actually respond favourably to that with further bullish move - Let's see.
The lower than expected CPI has given hopes to the investors that the inflation may have peaked. The cooling inflation may mean Fed not increasing the interest rate rapidly which has been interpreted as bullish for the stock market, in particular, growth stocks.
That's why the beaten down growth stocks have seen a massive buying spree last week. The biggest move since the 2008 crash!
S&P 500: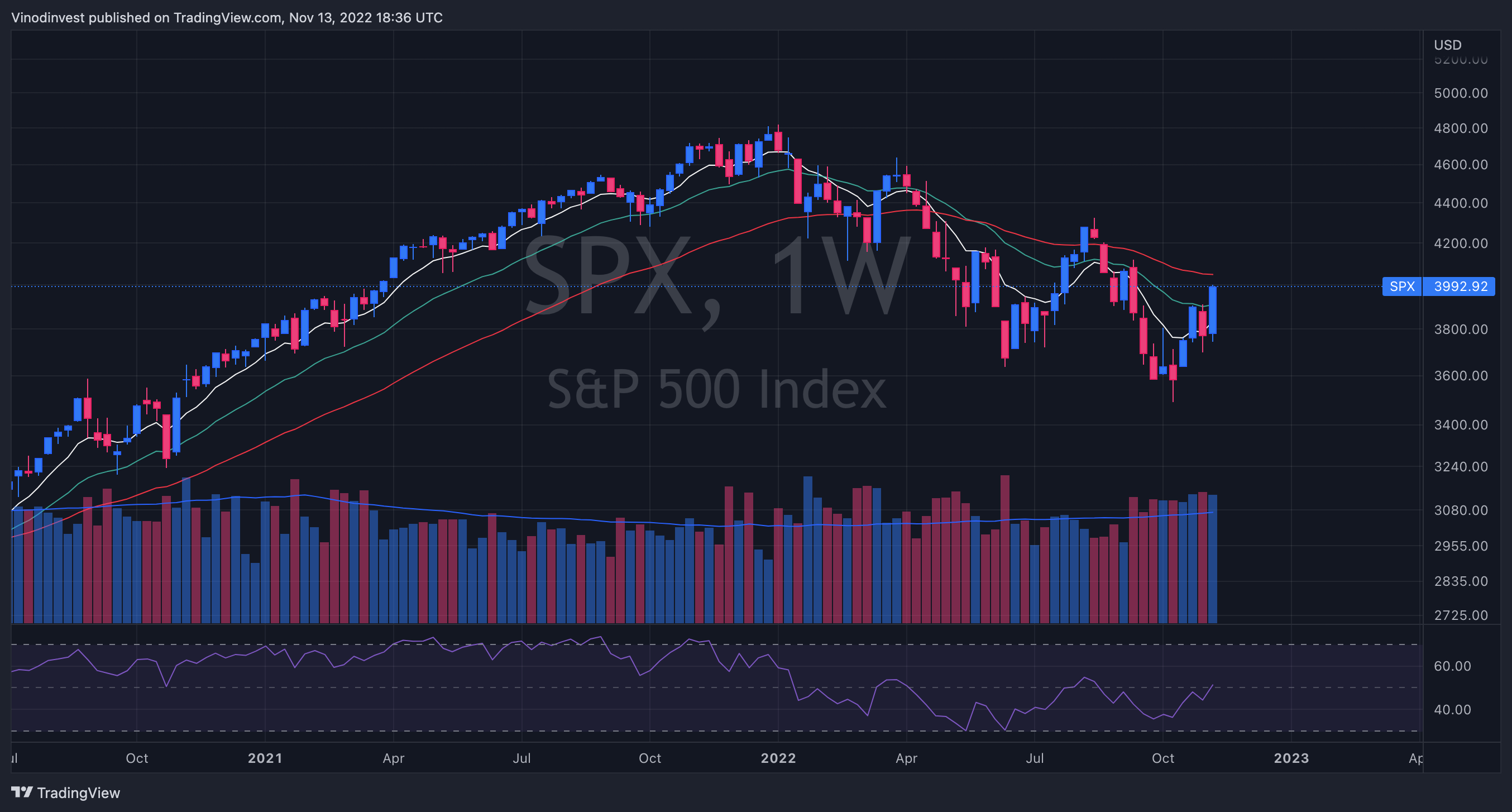 You could see the 5.9% gain last week that led to the index finishing above its 21 and 8EMAs. Also, note the positive divergence on the bottom of the screen that I mentioned before.
Nasdaq 100: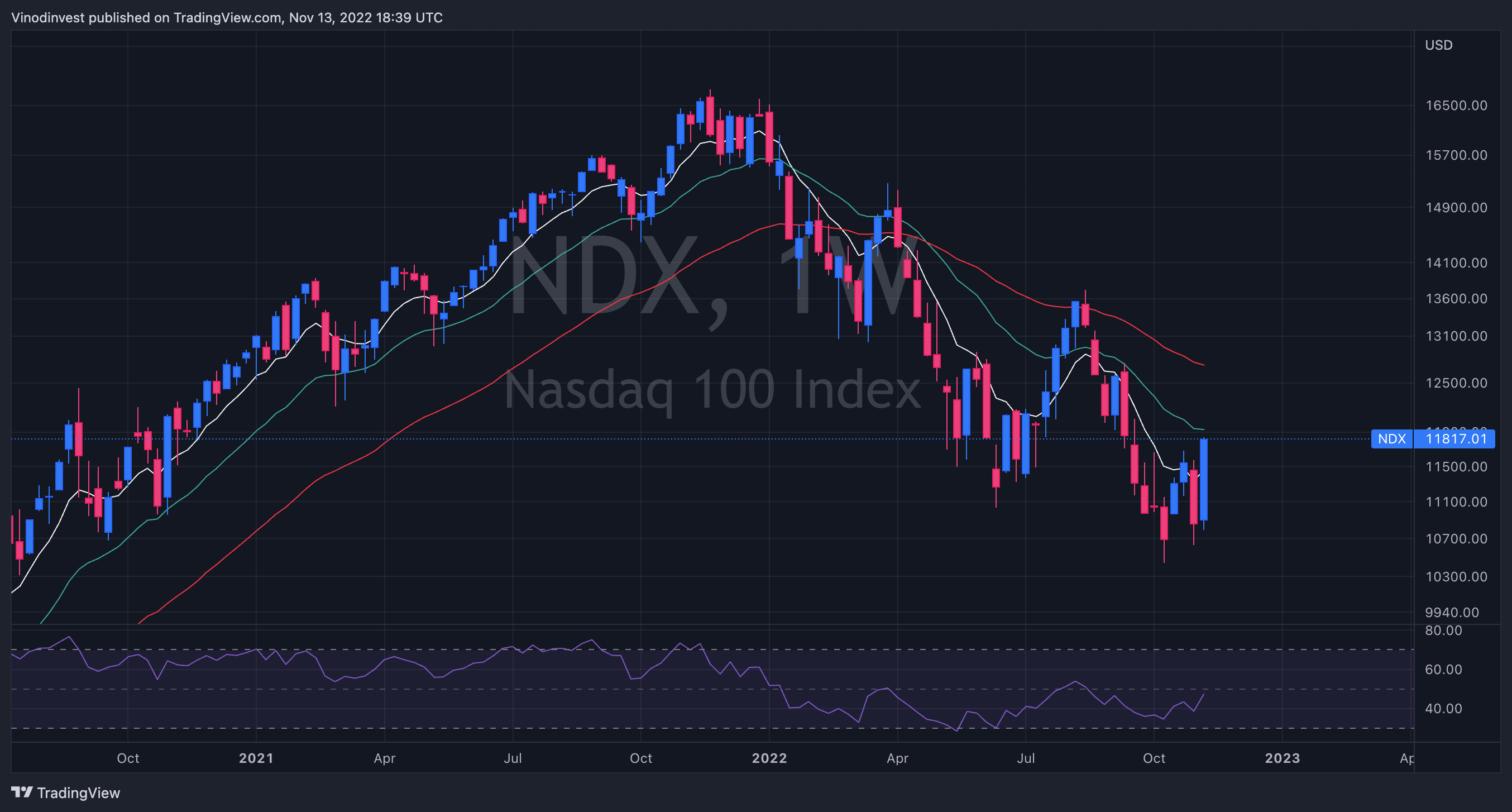 Nasdaq 100 has seen 8.84% in one week! Highest since 2008, I believe. These types of massive moves aren't uncommon in bear market rallies. But they also show up when a new bull market is about to begin too. So position your portfolio accordingly.
Make no mistake. I am NOT predicting a bull market or decisively saying that the long term bottom is in. For that we need additional confirmation - see my earlier post from last week where I have spoken more about it.
I would like to see Nasdaq 100 above its 50EMA. There is still quite a way to go to reach that. The price has to be above that or 200day SMA and the moving average line inclining upwards, with a higher high and lower low to strengthen the belief about bottom being in and new bull market in place. Until then, all rallies are to be considered 'bear market rally'.
But there could be some rotation now of money away from value stocks to growth stocks over the next few trading sessions.
Dow Jones Industrials: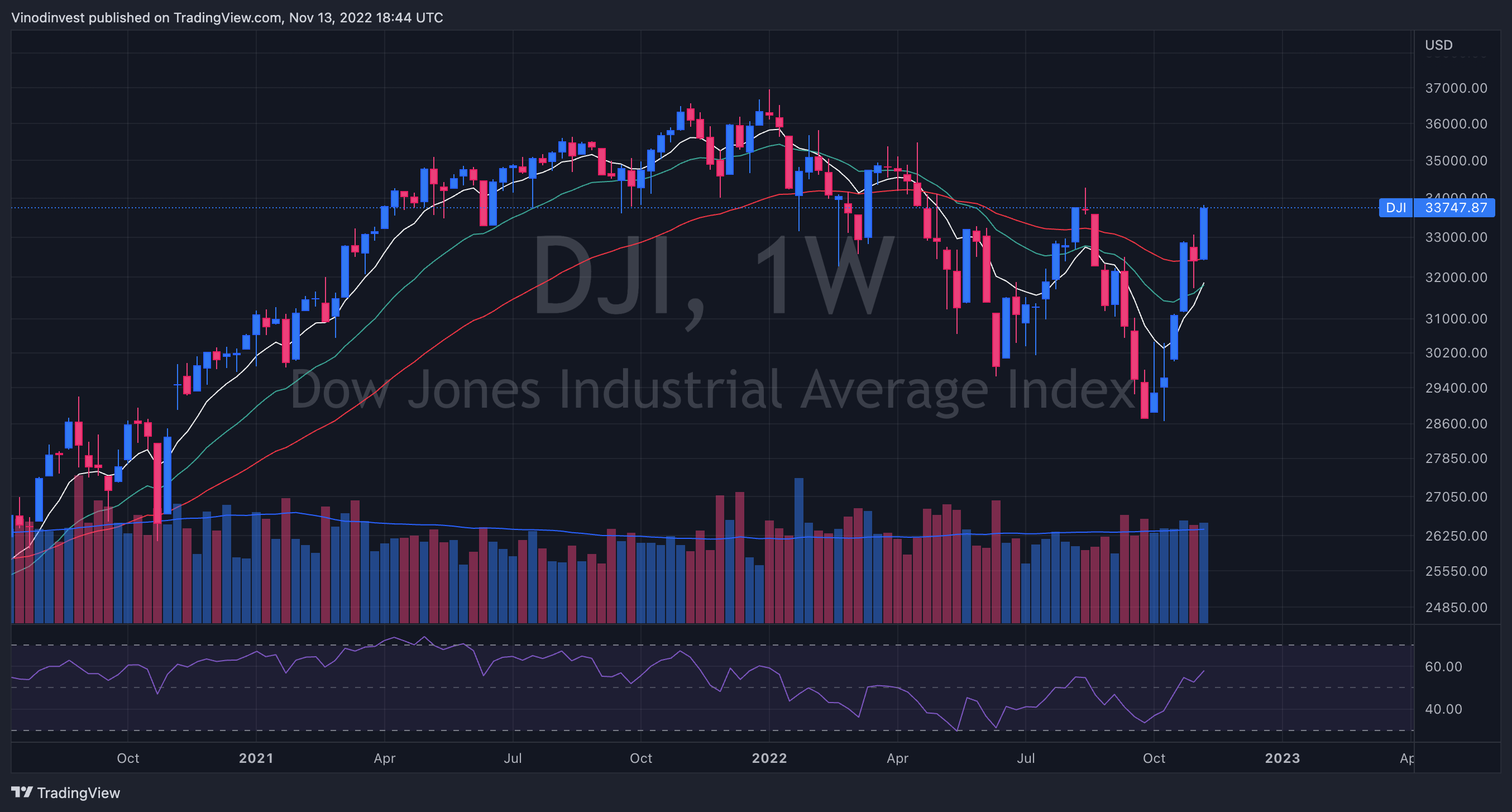 This has been above its 50EMA for the last 3 weeks. Stronger than the other indices mentioned above.
Russell 2000: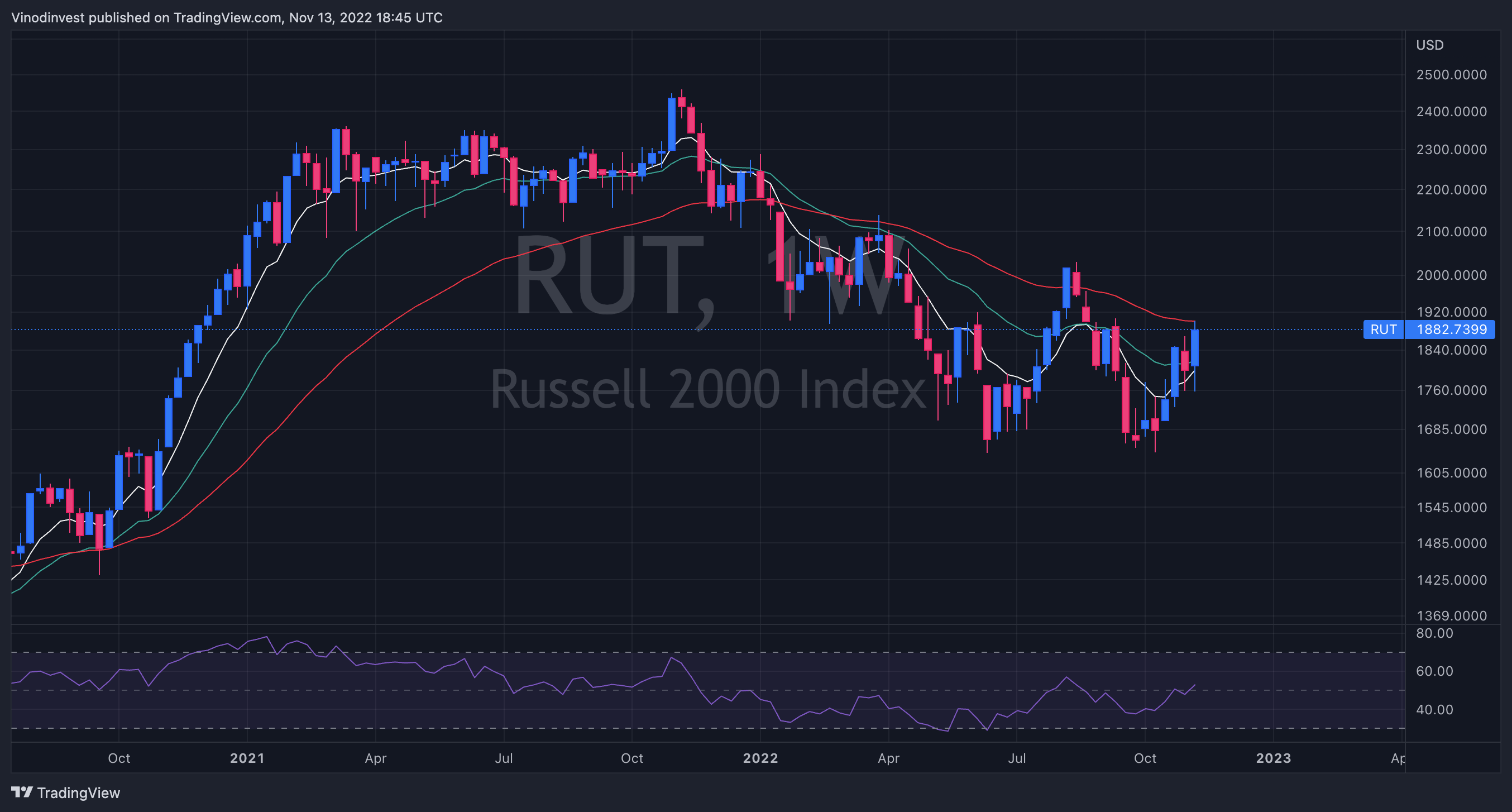 Positive divergence working well in this mid cap index, but still below 50EMA on the weekly. However, stronger than Nasdaq 100.
Gold: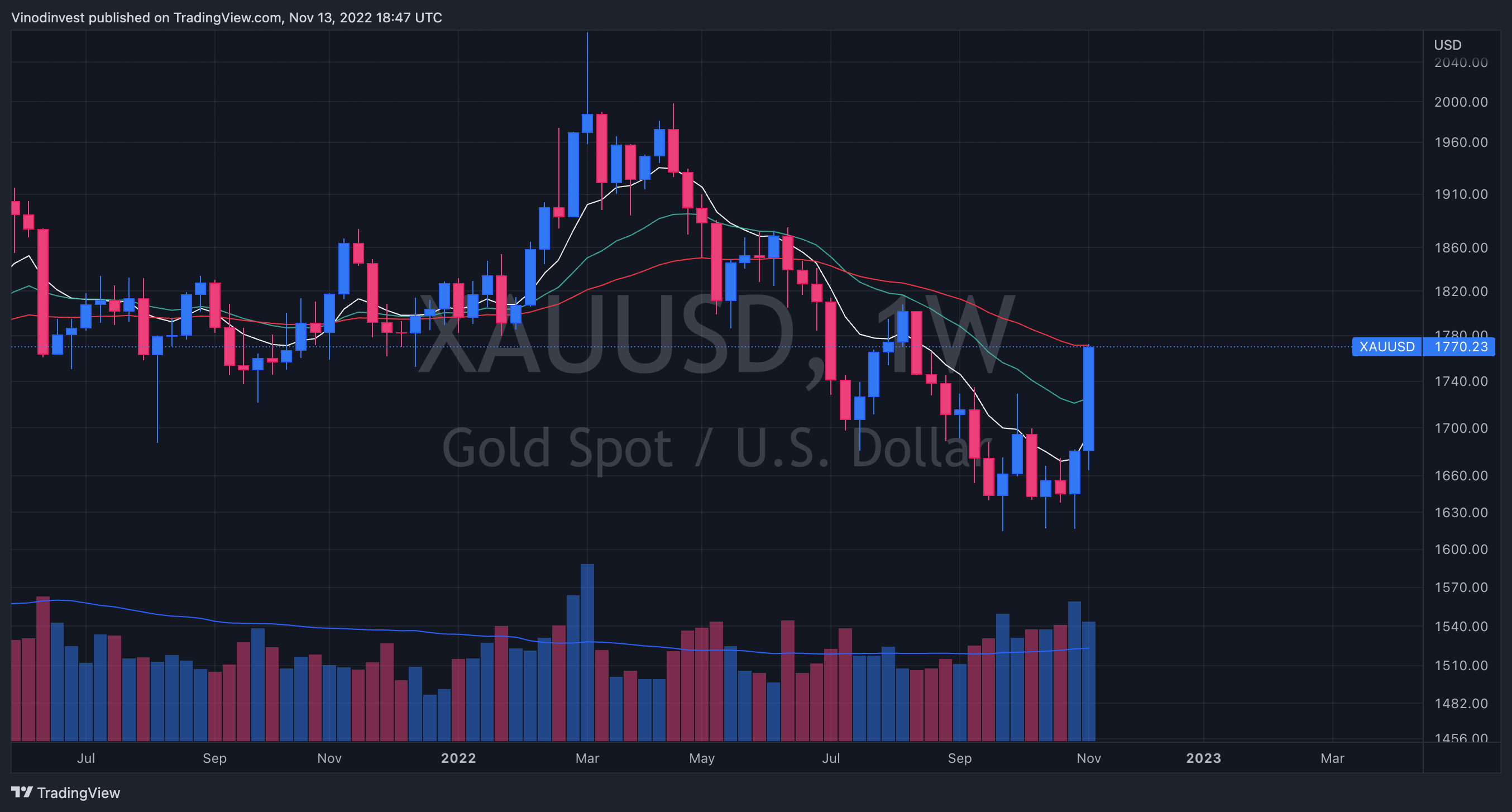 With the 'inflation hedge' crypto quickly turning into scam filled ponzi schemes (referring to the recent collapse of FTX exchange and the complex web of deceit and fraud that happened behind the curtains by its founders and executives that reduced the recently valued $32 Billion project to $0 currently) money seem to be moving into the traditional 'hedge' - Gold. Will it last or will the 50 EMA on the weekly chart act as resistance - we'll have to wait and see.
My take home message:
The market sentiment has eased a little due to inflation numbers cooling and the US midterm election. This may continue for the next few trading sessions. We will have to see if there is going to be a big contagion effect from the collapse of the FTX crypto exchange or not. I heard that some hedge funds, pension funds and investment companies like Blackrock and Coinbase were invested in them and likely lost their money among millions of many retail investors. If there is a contagion then there is likely to be more bloodbath and the indices might get dragged down with it.
But for now, I am cautiously optimistic for a continuation of the bear market rally. It is not yet a good trading atmosphere to go all in. Nimble trading or being on the sideline is still the rule of the game in this uncertain period. These are just my personal views. You will have to do your own due diligence (DYODD).
Should you need any financial mentoring and guidance on investing/trading strategies from Vinod, feel free to email: [email protected]
Happy Learning and Successful Investing.
---
Disclaimer: This material is intended for educational purposes only, and is not recommendations to buy or sell any financial instruments or products. Do your own due diligence and make your own decision. The value of your investments can rise as well as fall. Capital is at risk when investing in any financial products. You could get back less than you invested. Past performance may not be indicative of future results.