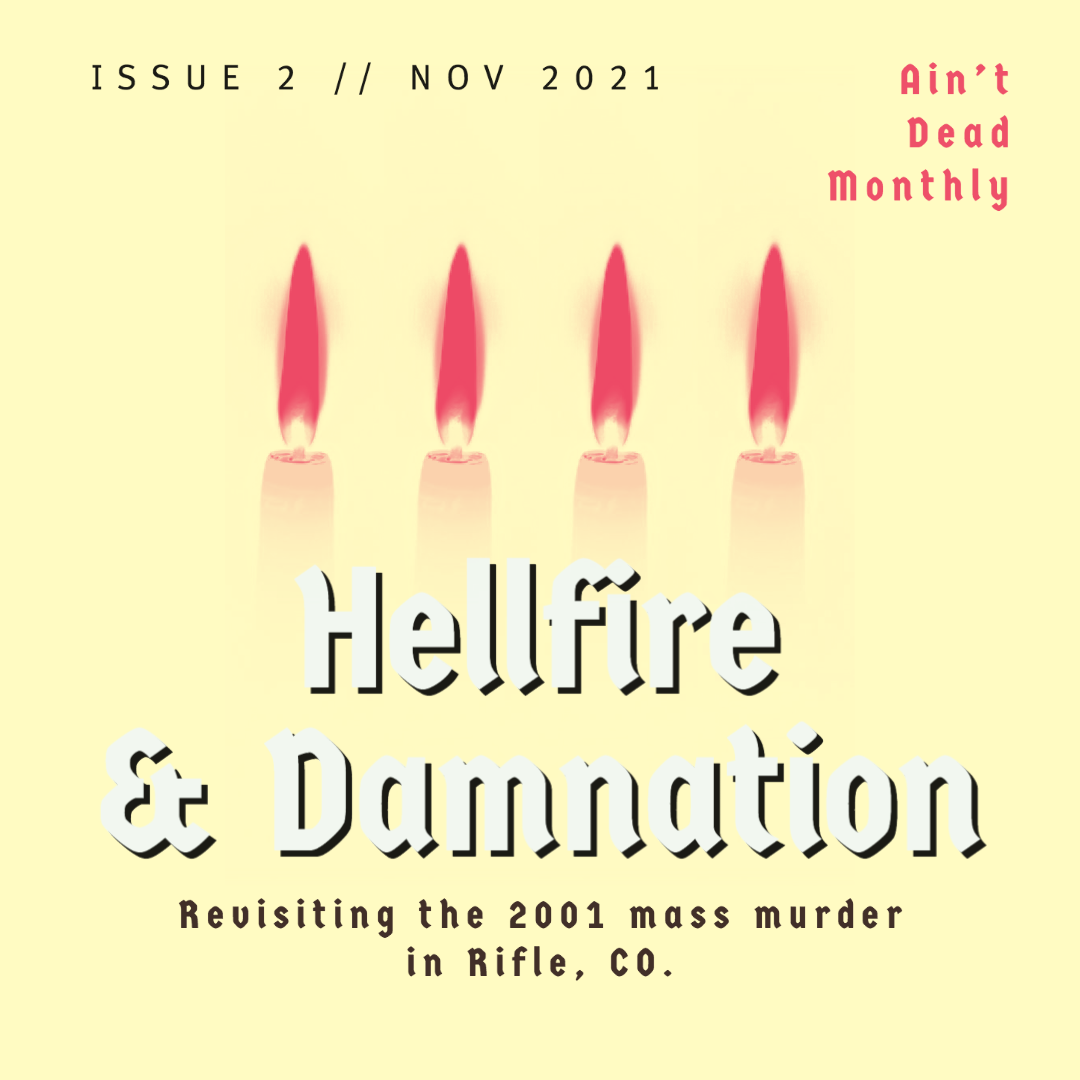 This story is about hellfire and damnation.
Hellfire
On July 3rd, 2001, Mike Stagner, clad in all black, with a .38-calibre Charter Arms revolver tucked under his belt, described going on a murder-suicide while visiting The Sports Corner Bar in Rifle, CO.
"I blew it off," the bartender told Rocky Mountain News. "He was always either going to jump off a bridge or shoot himself [...]."
Earlier in the day, he raged about hellfire and damnation outside of a liquor store near the town's City Market. Passers-by removed him from the property, but not before buying a small bottle of whiskey and a Gatorade.
Stagner's assault began in the parking lot of the town's City Market when used his handgun to shoot and kill Juan Manuel Hernandez-Carillo who was speaking on the payphone.
Hernandez-Carillo lived with his son, brother, nephew and friend in a one-bedroom apartment as he worked at a plant nursery.
"It's not fair," Hernandez-Carillo's daughter said in an interview with reporters after the incident. "I don't know what to do."
Next, Stagner advanced across the parking lot where he encountered and shot 19-year-old Angelica Toscano in the head. She had just used the payphone to ring her mother back in Mexico. Paramedics transported her to St. Mary's Hospital in Grand Junction, where she died within three days, leaving behind two young daughters in Mexico.
Toscano had been in the US for two months when she was shot.
Then, Stagner entered the RV park across the City Market where he killed Melquiades Medrano-Velasquez, 23, and Juan Carlos Medrano-Velasquez, 22 as they sat under the shade of a tree enjoying a beer.
"I heard six or seven loud pops and then screams," said Cheryl Fisher, resident of the RV park. "I just thought it was fireworks."
Law enforcement recalls Stagner walking down the length of the park where he shot and injured three more men, two in a car and one outside his home, only pausing when he needed to reload.
"He was walking out slowly like he did nothing," another resident said.
Stagner then walked back into the City Market parking lot where police made an arrest. In his frenzy, Stagner killed four and wounded three, all Mexican.
Rodolfo Beltran Perez, one of those wounded, testified in court saying Stagner whispered "fucking Mexicans" under his breath just before shooting Beltran Perez in his shoulder.
"From what we can tell, the shootings were random," Rifle Police Chief Daryl Meisner said.
Law enforcement held Stagner in Garfield County Jail in Glenwood Springs following his arrest to await trial, where he initially faced eight counts of first-degree murder and three counts of attempted murder.
In the end, Stagner killed four and injured three, making this 2001 mass shooting tied for the 5th deadliest shooting spree in CO since 1993.
Right from wrong
As the case moved through the judicial system, District Attorney Mac Myers said in Apr. 2002 that he would not seek the death penalty for Michael Stagner.
Instead, Stagner pleaded guilty by reason of insanity.
The psychiatric evaluations by several top forensic professionals convinced the District Attorney that Michael Stagner was insane, canceling any traditional jury trial for Stagner. Instead, Stagner faced a court trial that saw doctors explain why they all found him insane.
Stagner's mental illness was first documented after his return from the Army in 1981, after visiting the Veteran's Affairs office in Grand Junction.
In 1983, he was hospitalized for his mental illness, the first of 19 visits spanning from days to months in mental wards leading up to the mass murder.
In 1987, Stagner told the Veterans Administration Medical Center in Grand Junction, "I have so much anger inside me, I'm afraid I'll hurt somebody."
In 1995, the Secret Service investigated Stagner after threatening President Bill Clinton, one of the many names on a list of people he claimed he was going to kill.
He also holds a criminal record that includes arrests on charges of burglary, assault, drug possession and driving under the influence.
The day leading up to the mass murder, Stagner reportedly told Grand Junction Police Department that he was going on a "turkey shoot."
"We were told that until he did something like kill someone, he couldn't be committed," said Karen Kimberlin, one of Stagner's relatives.
Dr. David S. Johnson of the Colorado Mental Health Institute in Pueblo (CMHIP) was brought in to complete a sanity and competency evaluation at the time of the hearing, where he wrote Stagner, "does indeed have a severe mental illness of psychotic proportions," but that there were still "several factors going against a finding of insanity."
Stagner was interviewed during this evaluation where the report asserts "after being interviewed concerning this evidence, Mr. Stagner himself admitted that `It's obvious that I came to kill people.'"
Dr. Johnson's report concludes, "It is my opinion that Steven Michael Stagner is not currently suffering from a mental disease or defect which renders him incapable of understanding the nature and course of the proceedings against him, or participating or assisting in his defense or cooperating with his defense counsel."
Dr. Park Dietz, one of the nation's largest names in forensic psychiatry, was also brought in for testimony. Dietz worked on cases as high profile as the Unabomber, Jeffrey Dahmer and Menendez brothers. In his testimony, Dietz detailed Stanger's delusions of being an avenging angel on a mission given to him by God, that asked him to destroy the evil people of this earth. This delusion, where he referred to himself as Michael the Archangel, first appeared after his return from service in 1981.
Dietz reported that "to a reasonable degree of psychiatric and psychological certainty, at the time of the crime Mr. Stagner was suffering an acute psychotic episode arising from his long-standing and serious psychiatric illness that significantly impaired his cognitive capacity to distinguish right from wrong."
In the state of CO, legal insanity means not being able to differentiate right and wrong at the time a person commits a crime.
The psychiatric evaluations Stagner received were enough to convince the District Attorney of ruling not guilty by reason of insanity (NGRI), thus sentencing him to one day to a lifetime in the Colorado Mental Health Institute at Pueblo (CMHIP), the same sentence anyone found NGRI receives.
The actual stay of a patient within a psychiatric institution varies. The broad timespan that NGRI patients receive in their sentence is purposeful, with the emphasis being on rehabilitation rather than punitive punishment. The only way a patient may leave the institution they're held in is to have doctors and the courts agree that the patient is stable enough to reintegrate back into their community. Upon release, they are not liable to serve the punitive sentence that they were originally tried with.
At CMHIP, NGRI patients remain in custody for an average of 4.3 years before being released. But Stagner is an outlier, having been in the institution since 2002.
In the case of Mike Stagner, there was no outcome that would see him outside of custody for a prolonged period of time, but his defense team argued his stay shouldn't be within a penitentiary but within a psychiatric hospital to address his psychological needs.
"If found not guilty by reason of insanity, It's different," Greg Greer, Stagner's attorney said. "He'll stay in custody. It really has to do with `Where are we going to send Mike Stagner?'"
But in 2012, Stagner petitioned for release, asking for a supervised camping trip.
CMHIP moved for a hearing, advising the court that they were planning to let Stagner out of the institution, supervised, for treatment and rehab purposes unless otherwise ordered.
A hearing date was soon made where public defender Tina Fang argued Stagner was well enough to leave the facility, citing his doctors that said Stagner no longer posed a threat to others, so long as he takes his prescribed medication and is under the supervision of professionals. The aim of the outings was to provide Stagner with some psychological aid as he continued in his mental health journey.
But Deputy District Attorney Andrea Bryan warned about the potential ramifications of risking Stagner's temporary release, "If we're wrong,… we're not talking about a theft or escape or inappropriate touching (that might reoccur). We're talking about a mass shooting."
A victim's family, the mother and daughter of Angelica Toscano, arrived at the courthouse for the hearing. In the days preceding the hearing, they took to the Post Independent to voice their concern over Stagner's potential release.
After a day-long hearing, 9th District Judge T. Peter Craven approved CMHIP's motion, granting Stagner supervised outings like camping trips and other expeditions.
Stagner continues to enjoy this luxury while remaining committed to CMHIP.
Damnation
"I remember seeing him that day of the hearing," Veronica Santoyo, the aforementioned daughter of the late Angelica Toscano, said. "It broke me. How could someone take something so big from me? What gives you the right?"
Santoyo was too young to remember the immediate repercussions of the mass murder. She and her sister were still in Mexico while their mother worked in the US after attaining her work visa. Upon her mother's death, she entered the US for a short period, under the guardianship of her grandparents who she now calls mom and dad.
The NGRI verdict in the Stagner case shocked Latino communities across the nation. Many felt the murders were racially motivated. The Mexican consulate in Denver demanded an "expeditious clarification" of this event that left four Mexican nationals dead.
Even after five psychiatric professionals evaluated Stagner and deemed him insane, it did little to convince Latino communities that Stagner should not answer for his crimes punitively.
To them and to many advocates, Mike Stagner committed a hate crime but was not to be held responsible for it. No amount of psychological evaluations or professional testimony could change how the Latino community saw this tragedy: their community was attacked with no repercussions.
The sentiment across Latino communities considered the NGRI finding to shift the narrative from the victims and their families to Stagner. All of a sudden, the four dead and three wounded were not to be healed and rehabilitated, but it was Stagner that deserved restoration.
"If he had killed a dog," Santoyo's grandmother said in 2001, "he would have been subject to more justice."
Community members rallied and donated to a fund that would go towards Veronica and her sister as they transitioned from living in Mexico to now living in Rifle.
"They claimed they were going to create a fundraiser for the victim's families," said Santoyo. "There was a bank account set up for me and my sister since we were going to stick around. We never received a single penny. They promised us residency to me and my sister because of what had happened. But that never happened either, so we were illegal for about 10 years until my grandparents adopted us and got us that residency."
Today, she lives in Rifle, acting as the General Manager of the Glenwood Springs Culvers, hoping to expand to her own franchise location in Grand Junction as the Operating Owner.
"My mom came [to Rifle], enrolling in English classes at CMC. I'm still here because I think she wanted to be here. Once I'm ready, I'll leave, but I'm not ready yet. Once I find that inner peace, then I'll be able to leave Rifle," she said.
Now, Santoyo has a daughter of her own, someone she credits for giving her reprieve in times of darkness. When she reflects on the murders, the effects they had on her and Mike Stagner's custody, it brings up a lot of emotions.
"Every time I think about the ruling, it boils my blood that the system let that happen. And now with the approved outings, it made me more mad. Slowly but surely, he'll get his life back to normal and we don't. I have to deal with not having my mom there for the rest of my life. A part of me is scared. I got to City Market thinking I'm okay, then I thought about how my daughter might be without a mom," she said.
She is outspoken in her belief that the murders were racially motivated.
"If my mom wouldn't have been brown, I would still have her with me. That's what hurts when I think about it. My skin color determined my future," she said.
For her, it's oddly simple. In the end, no matter the verdict, nothing will restore her family. No sentence in the Stagner case, however punitive, could make up for losing a loved one, the years of immense pain felt in the wake of a horrible incident.
"It's going to affect me for the rest of my life. My daughter will not have her grandma. I don't have my mom. I would hate for it to happen to anyone else. I don't think people understand the pain behind it. Yeah, you lost a loved one, but you lost them because of hate. Because they hated your skin color."
"I love this place," Santoyo reflects about Rifle today. "I was affected in the worst way ever by racism. It feels like people are never going to learn. People aren't going to read about fixing this. It's going to take generations of people being raised differently for things to get better."
Ain't Dead Monthly
Hey! Thanks for reading Ain't Dead Monthly. We're a literary journalism publication, writing in creative non-fiction about emotions, oddities and whatever sparks our interests.
Interested in writing? Inquire about contributing to Ain' Dead Monthly here: [email protected].
You can expect a new issue at the end of every month. If you want to stay caught up with my writing, consider subscribing to the newsletter.
Ain't Dead Monthly is a free publication of my own doing. Your time and social share is appreciated. If you would like to support me further, you can buy me a coffee.
This publication lives through email too! Check it out here: aintdead.substack.com
Coverage used for research:
DA will not seek death penalty in Stagner case - The Post Independent
Gunman kills 3, wounds 4 in Rifle rampage; mental patient is arrested - The Denver Post
Insanity ruling angers families of Rifle shooting victims - The Denver Post
Killers who pleaded insanity walk free from state hospital in Colorado - The Denver Post
Lawyers spar over Rifle shooter's request - The Aspen Times
'Release' of Rifle shooter would be only temporary - The Aspen Times
Rifle victim's family, friends say killer should not get out - The Aspen Times
Stagner found insane, not guilty for 2001 killing of four in Rifle - The Post Independent
The Dire Consequences of Pleading Not Guilty by Reason of Insanity in Colorado - 5280