What will be like digital economy that Laos expects to achieve?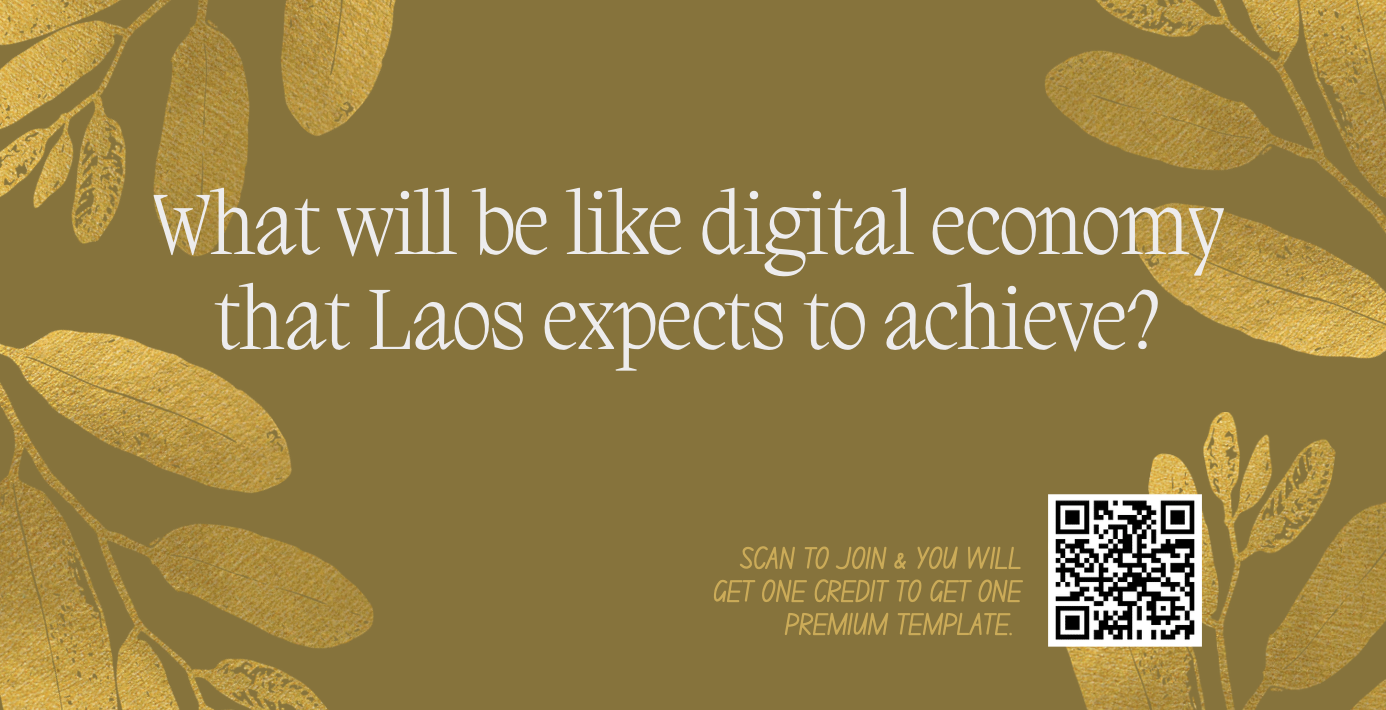 Readiness to achieve digital economy mentioned in the 20-year National Digital Economy Development Vision (2021-2040), the 10-year National Digital Economy Development Strategy (2021-2030) and the 5-year National Digital Economy Development Plan (2021-2025) include:
1) Build a strong foundation and economic self-reliance step by step linked to the development of quality human resources to bring the country out of underdevelopment and move towards the goal of socialism.
2) Year 2025: Strive to modernize and develop the digital economy, develop e-commerce into reality, encourage small and medium-sized businesses and start-ups to use digital technology. The system manages public digital to governments around the 50% develop infrastructure Digital can connect to the Internet at high speed and expanded attractions - transmitting mobile system 4G to 90% and 5G to 50% of the country's development resources humans can meet the needs of the development work on technology digital from 0.3% to 1% in 2025, making economic digital receipts included the country's GDP to 5%.
3) Year 2030: Create new step using technology digital among sector development - economic society to become developing a middle income higher economic wisdom, green and sustainable infrastructure television Telecommunications strong system of Internet broadband amplifier cell system 5G cover 100% of the country, the management and service of the online system to 100% development resources human labor digital accounted for 2% of the total revenue to 7% of GDP.
4) Vision 2040: Use digital technology widely in society as an important tool to drive all sectors for strong and sustainable growth. Build a smart production and management base, build a smart city, make the digital economy generate up to 10% of GDP, develop skilled human resources and create a digital workforce covering 4% of the total workforce.
The 5-years digital economy development plan (2021-2025) has been set to implement the 10-year strategy by setting the main targets:
developing e-commerce into a form of e-commerce platform; Develop digital transformation for local businesses, especially small, medium and small enterprises, to use digital technology and enterprises that use digital innovation (startup);

Install modern government office systems, such as electronic document management system, create a network and digital center to become the digital government of our country; Transform all basic government services into 50% complete online services;

Improving the revenue collection and expenditure management system of the financial-banking sector through electronic forms, especially through the electronic banking system, the mobile financial system (Mobile Money), which contributes to solving the economic and financial problems of the National Agenda;
One digital high-tech zone must be created to attract foreign investment;

Promote the development of digital infrastructure, such as the construction of 03 big data centers, access to high-speed Internet connection using the Lao-China railway infrastructure and the national transmission line;

Expand digital technology infrastructure to large villages and urban areas to 80%, expand 4G mobile base stations to 90% and 5G to 50% of the country;

Create digital technology workers with knowledge and expertise from 0.3% to work 1%; Promote the digital economy to generate 5% of the country's GDP and ensure the use of digital technology in the work of national defence and security and in the administration of government, business and social security.
There have 14 programs that are identified to be implemented as projects to implement programs to formulate and improve policies, laws and legislation, such as:
- improving and expanding digital technology infrastructure;

- creating connectivity;

- establish a digital government;

- establish a digital payment system;

- develop digital human resources;

- promote the operation of the MSME service business and build a startup business;

- promote productivity with digital technology;

- promote the development of agriculture with digital technology;

- establish a logistics system for the development of the digital economy;

- create digital security (Cyber ​​Security);

- prepare to build a smart city;

- establish a telecommunications development fund and digital transformation and expand digital cooperation with foreign countries.
Finally, digital transformation and the creation of a digital economy is necessary and cannot be missed. The development of the digital economy and the digital transformation of Laos are the collective work of all ministries, departments, and societies at the central and local levels. Therefore, the Digital Economic Development Plan is not a specific development plan, but a plan to promote the socio-economic development plan in Laos, which has already been approved by the National Assembly. It is a plan to implement the resolutions of the Ninth National Congress and the 5th National Economic Development Plan.
By HENGMAHA
Enjoy this post?

Buy HENGMAHA a coffee