Thank you for all your coffee! Now that we need to stay inside all the time, to make sure that we're safe, it has been nice to have a ton of coffee around. I appreciate it.
Here's a quick update: It hasn't come in the mail yet, but loyal reader Joel is designing the Highlighter Hoodie and is getting it ready. It is going to be spectacular. Thank you.
And: Here's loyal reader Jonathan at the last HHH, extremely happy that he subscribes to The Highlighter. If you see him, please suggest that he buy me a coffee, too.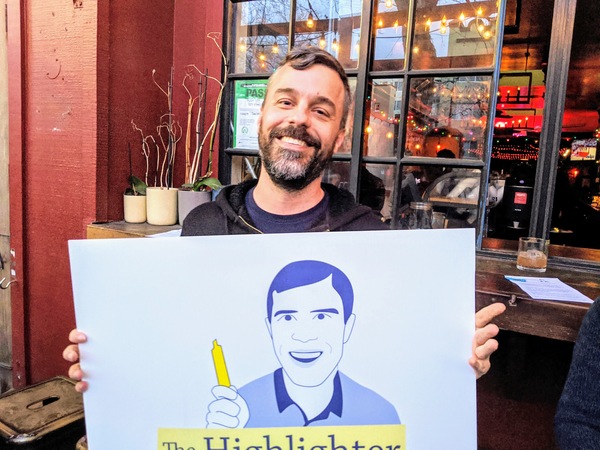 Also exciting this past week is that I got to interview author CJ Hauser for Article Club. There have been tons of great things so far about Article Club. Here are some:
We really annotate the articles — together on Google Docs!

The in-person discussions have great food. (Too bad we won't likely be able to meet in person next Saturday.)

The online discussions have folks from around the world. Plus now the authors are wanting IN on them, too.

What else? Oh, authors like answering our questions on podcast episodes.
If you used to listen to The Highlighter Podcast, you know that I couldn't quite figure out what would be the best format for the show. Now it all makes sense: It's perfect as Article Club!
Here's the latest podcast episode with CJ Hauser in case you want to "watch" and listen.
OK that's all for now! I am hoping that all of you are OK and that you're staying safe. Thank you again for the coffee — and for reading The Highlighter.