Moving from DSLR to Mirrorless with Canon South Africa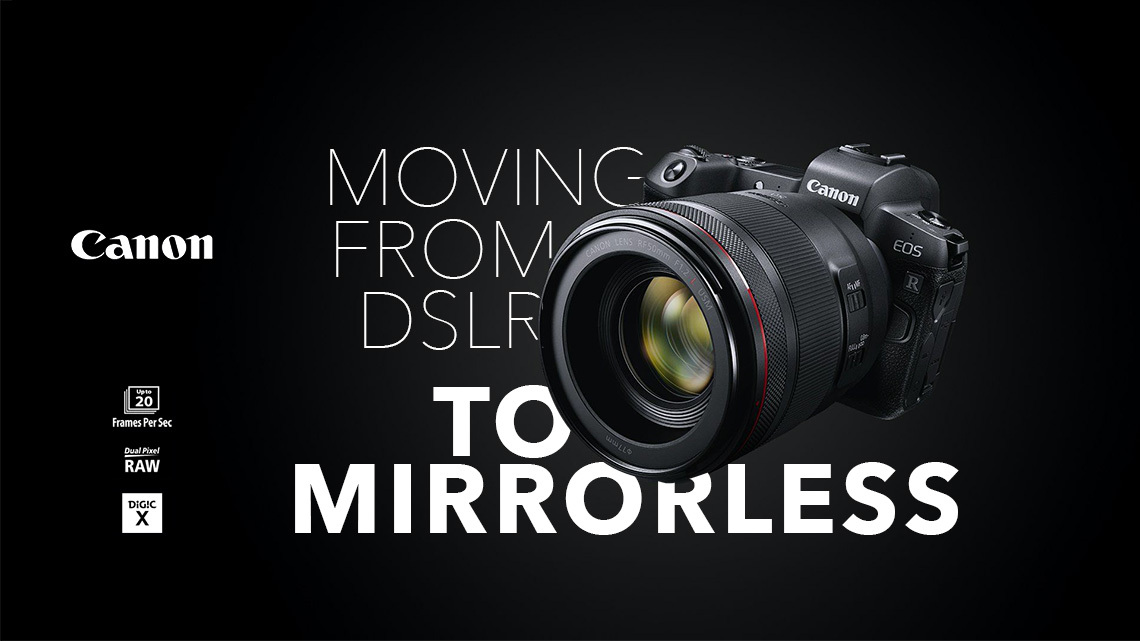 Roger Machin, Product Marketing Manager for Canon South Africa, speaks to Kierran Allen, a content creator from KZN, to discuss his move from DSLR to Mirrorless and the reasons he thinks is was the best move he could have made.
I have invited all the mirrorless Brands represented in South Africa to take part by chatting to one of their ambassadors and showcasing the gear and why their Brand and their mirrorless cameras are right for you. The first of our presentations by the mirrorless brands in South Africa is from Canon South Africa.
Kierran's feedback on going mirrorless.
Ok let me give you an educated opinion on mirrorless and guys I would just like to say I'm taking about a Canon R5 here as it's what I have.
The first thing you will notice is size. This might not be a problem for most people but for me the smaller the better when travelling. The days of carrying around big bulky gear are over. Have a look at the Canon R5 with the 800mm rf you will understand.
Autofocus
The Autofocus system on a mirrorless (R5) is hands down revolutionary to capture 20 fps at 45megapixels whilst tracking a birds eye against a bright sky is just well something you should all experience first hand! The AF is lightning fast and the cameras ability to track a moving subject is astonishing I would say the hit rate on a burst is around 95%. There has also been things like focus peaking and live histogram introduced which makes life hell of a lot easier. There is also the efs to rf adapter which gives full functionality of AF etc with no loss in speed etc for those that would still like to use their EF-s lenses
5 axis image stabilization system
The 5 axis image stabilization system is capable of 8-stops of stabilization with selected lenses. When the camera is paired with an IS RF lens, well the resulted are like imagine shooting a 2 second exposure handheld and getting an image that is razor sharp edge to edge! Not only will you retire your ronin but you will no longer need it for those day to day shots. I can literally walk down a road while filming and get butter smooth shots. Why would you not want that??
Multiply video resolution 4K 60fps,120fps etc
8k for those extreme shots. 120fps is now also available in FHD for those that can't handle editing in higher resolutions.
Mirrorless is the future
There are a number of things to also think about. Flip out screen, something I never thought I would use but do every time. Shooting with the evf is awesome knowing what your exposure is going to be every time, there is also a touch and drag af point selection feature that's pretty epic and super fast.
I'm going to end it here and suggest maybe getting a loan EOS R, R6 or R5 and trying it out for yourself. There is so much information online it's actually difficult to have an informed opinion without having that firsthand experience.
I will however say mirrorless is the future, it's here and it's here to stay all DSLR cameras will soon be discontinued and all those that called us cool kids will be forced to embrace change, I mean if nothing I mentioned above doesn't excite you then maybe become a lawyer because when Canon dropped the R6 and R5 it was a must based on functionality and ability to capture more, full stop.
This is of course a very complex question but in short those are my thoughts. Let me know if you would like to chat further.
This video is proudly brought to you by Canon South Africa.
Kierran Allen
https://theoriginalslife.com/
https://www.instagram.com/theoriginalslife/
Canon South Africa
https://canon.co.za/
https://www.facebook.com/CanonSouthAfrica
https://www.instagram.com/canonrsa/
Canon Collective
Enjoy this post?

Buy The Hunters of Light a coffee