Why Should You Create Carousel Post On Instagram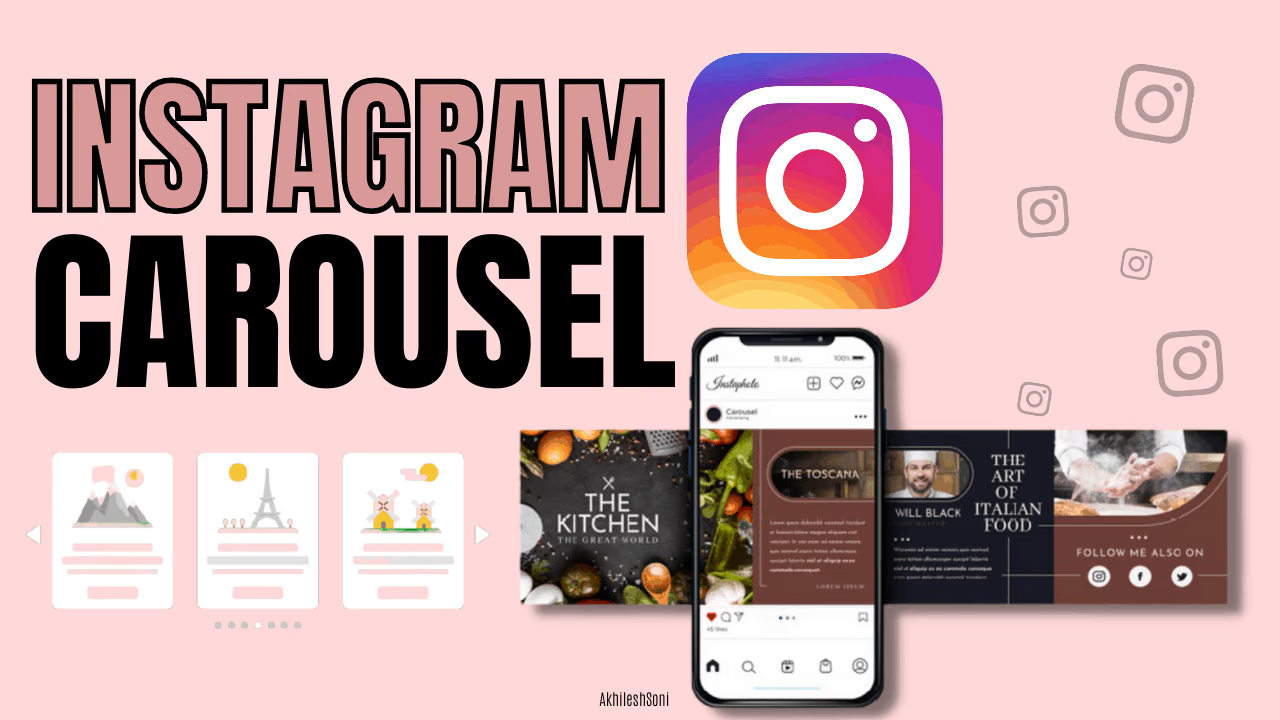 "Why Should You Create Carousel Post On Instagram?" is the biggest question everyone wants to know. Instagram is one of the best and trending social media app, where many creators are growing and setting up their business. Many more creators want to set up their business and want to grow on Instagram. But many of us are confused on how to post as professionals do?.
There are many things that upcoming creators want to know on "How To Grow On Instagram". I have recently shared an article on "INSTAGRAM GROWTH GAME RULES" in which I have shared different ways through which you can grow on Instagram in an organic way. But carousel posts also helps in high engagement and discovery rate on Instagram.
So in this article, I will be sharing " Why Should You Create Carousel Post On Instagram ". I will be sharing all the benefits you will be getting from creating carousel posts. So let's dive into the content creation world of Instagram.
First, let us talk about What is carousel post on Instagram?
Carousel is the Instagram feature where a creator can upload multiple media (photos, videos, etc) in one post. Carousel post helps to create larger content in multiple slides which makes a content looks in presentation look. To view different slides we just need to slide left to see the next slide.
In this way, we can break down our content into different slides which makes it look more professional and more presentational looks. Instagram carousel is the oldest feature after IG POST, Where they helped creators to make big content in smaller slides.
LIMITATION OF CAROUSEL POST
According to me, there's only one limitation of carousel post on Instagram that is, We can only add up to 10 slides in one carousel post.
But I think in the future maybe Instagram will update this feature and instead of 10 maybe they allow to add 15-20 or more slides on IG carousel post.
Having only 10 slides is not at all an issue because filling these 10 slides is also not an easy task. It takes a lot of brainstorming in creating content that consists of 10 slides.
And also we have to see that content is attractive and engaging which our audience wants to see. Our audience is not interested in our carousel post than what is the use of carousel post.
HOW TO USE INSTAGRAM CAROUSEL POST
It is very easy to use IG carousel post you just need to add a post as normally we use to add our new post through that "+" icon. After that, we use it to select the media that we want to upload. For the carousel post that we want to create just need to click on the "Double Square" icon placed on the top right side of the menu (as shown in the given image).
After clicking on this icon we are ready to select multiple media only up to 10. After selecting the number of media 10 or less than 10. Click on the next arrow button. Now here you just need to add an amazing caption that attracts your audience and finally, you are ready to post your carousel post.
See, this is the simple way of posting IG carousel posts hassle-free. And your content we boom in the game of Instagram. Through which you can grow on Instagram. Now, the biggest question comes in mind is why should we use carousel post on IG if we can post normally. So, let's Talk !!!.
WHY SHOULD YOU USE CAROUSEL POST?
See the previous paragraph we talked about how to post a carousel post. Now, it's time to know why should we post a carousel post.
See practically, Instagram is the game of content and engagement. The more your audience engages with your post and account the more your account grows. OBVIOUSLY. (But Why Carousel ?).
Like there's watch time on youtube, there's reading time on Instagram which many of us don't know, this is where most of the game is played.
When we create a single media post people see and scroll down they never stop for even more than 10sec. Now think, when you create a carousel post, First of all, the main page should attract your audience to get inside.
After you create curiosity in your audience's minds. They want to see more and swipe left to the end. Through carousel posts, your audience stays more on your content. This increases your account reading time. Eventually, the Instagram algorithm thinks that there is something in your content that people want to see and wants to read more.
So Instagram boosts your account and posts more on explore page. When your posts are discovered on explore page your account automatically gets more attention and you eventually grows on Instagram.
This is the main reason for creating carousel posts on Instagram. It helps you and your account to grow more and helps to increase the engagement and discovery rate and then comes the reach. Which touches the sky and you eventually grow.
So, I would recommend you to start creating carousel post on Instagram, If you really want to grow on Instagram and wants to go to another level on Instagram.
After good growth on Instagram, you will be able to earn a lot of money through your posts, promotion, collaboration and etc.
Carousel post is one of my biggest secrets of high Instagram growth in respective to engagement rate, discovery rate, and reach. Carousel posts can be the best way to boost your account growth in an organic way. This Carousel post is only just one way of increasing your Instagram account reach. There are many other ways through which you can boost your Instagram growth. I will be sharing more Instagram growth ideas and secrets that I personally use for mine.
The more you use carousel posts on your Instagram account the more organic way you can boost your Instagram account reach. If you use a single post on your Instagram feed no worries. I would suggest you also try uploading carousel posts. Maybe your audience wants to see that too in your Instagram account.
CHECK ||BOOKS YOU MUST READ IN YOUR 20's
For More Follow Me On
INSTAGRAM:- https://www.instagram.com/thecontentyouthhttps://www.instagram.com/thecontentyouth//
TWITTER :- https://twitter.com/IamAkhileshSoni
YOUTUBE :- https://www.youtube.com/channel/UCgQv08CZByLVqSA4e9GqweA
Enjoy this post?

Buy iamakhileshsoni a coffee