TubeBuddy Labor Day Flash Sale
Hello beautiful people🙋🏽‍♀️
If you ever thought about getting TubeBuddy, now is the time! Take advantage of the 25% off Labor Day Sale🇺🇸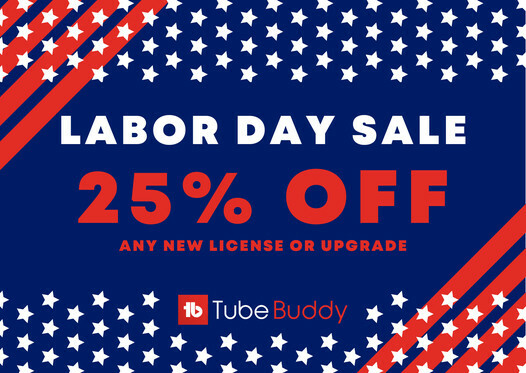 Get access to tools that will help grow and manage your channel with ease, including (but not limited to): Keyword Research Tool, Video Scheduling & Analytics, Custom Thumbnail Generator, Channel Management, A/B Testing, Mobile Apps, Click Magnet Tools and Social Media Integration. Plus all this makes running your own YouTube channel easier and more profitable than ever before!
When I got introduced to TubeBuddy I started to see huge growth on my channel I know that it helped me achieve 2,000,000 views and more than 11.5K subscribers on my YouTube Channel!
Here's a playlist of my Top TubeBuddy Tips and one of my popular videos.
Questions? Feel free to leave a comment and let me know.
See you on YouTube and stay beautiful!
~Ms. Ileane
Enjoy this post?

Buy Ileane Smith a coffee